Rachael Ray is SUCH A CUTIE!!!
Rachael Domenica Ray was born on August 25, 1968, in Cape Cod, Massachusetts. Her parents owned and operated a chain of family restaurants. Rachael's parents divorced when she was 13, and her mother took a job as a food supervisor in upstate New York. Rachael attended high school in Lake George, New York, a small town in the Adirondack Mountains, where she was a cheerleader and worked part-time as a waitress for her mother. Before graduating in 1986, Rachael was already an entrepreneur, running her own gift basket service on the side.
In 1993, after graduating from college, Rachael returned to Lake George and rented a cabin. However, she moved to New York City two years later due to a lack of opportunities back home. She got a job at the Macy's Marketplace candy counter, and was soon promoted to manager of the Fresh Foods department. She was able to learn a lot about gourmet foods, and she used that knowledge to help open and manage Agata & Valentina, a prestigious New York gourmet marketplace. But following bad personal experiences in the city, including a breakup and a mugging, Rachael moved back to Lake George in 1997.
rachael ray publishes her first cookbook
Rachael landed a job as a buyer and cook at Cowan & Lobel in nearby Albany, New York. As a holiday promotion, she started to teach a class on how to prepare meals in half an hour. They were such a hit that the local media ran a story on her, and the following week, Albany's CBS affiliate approached Rachael about doing a weekly segment for the evening news called "30-Minute Meals." In its first year, the show was nominated for two regional Emmys, and in 1998, Rachael published a cookbook, which sold 10,000 copies locally. Meanwhile, Rachael continued to cook on local TV and radio shows.
In 2001, Rachael suddenly got national attention from two sources. A Food Network executive listened to her on an upstate public radio show, while a producer of the Today show happened upon her book. Rachael was invited on Today, and drove for nine hours through a snowstorm with her mother to make it to the show. She was a hit, and the next day, the Food Network signed her to a $360,000 contract.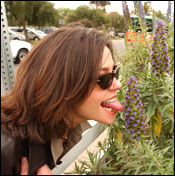 rachael ray on the food network
Rachael took her non-expert style to two Food Network shows in 2002, 30 Minute Meals and $40 a Day. She continued to write cookbooks, averaging more than one a year, and in 2004, she began appearing on a new show, Inside Dish with Rachael Ray. The following year, she landed a fourth show, Rachael Ray's Tasty Travels, which debuted with the second-highest ratings in Food Network history. Her newfound fame and fortune allowed Rachael to buy her Lake George cabin outright, in addition to a large apartment in Greenwich Village.
In September 2005, Rachael married John Cusimano, a lawyer and amateur rock band member who now handles the legal side of Rachael's burgeoning empire, which spans cookbooks to kitchenware. Her latest venture is a new bi-monthly magazine, Every Day with Rachael Ray, which first hit newsstands in October 2005. Rachael's most ambitious project yet, though, will surely be an afternoon talk show she's set to host in 2006, which is to be distributed by King World Productions in partnership with Harpo, Oprah Winfrey's production company.
What else do you need to know?