September 12, 2010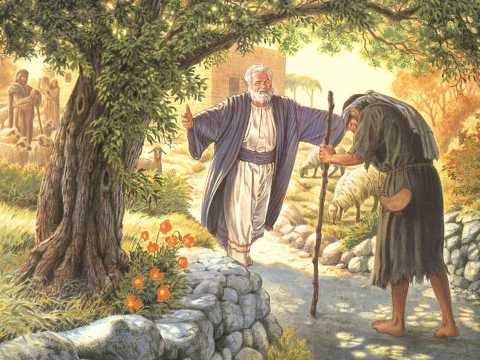 First Reading:
Exodus 32: 7-11, 13-14
7 And the Lord spoke to Moses, saying: Go, get thee down: thy people, which thou hast brought out of the land of Egypt, hath sinned.
8 They have quickly strayed from the way which thou didst shew them: and they have made to themselves a molten calf, and have adored it, and sacrificing victims to it, have said: These are thy gods, O Israel, that have brought thee out of the land of Egypt.
9 And again the Lord said to Moses: See that this people is stiffnecked:
10 Let me alone, that my wrath may be kindled against them, and that I may destroy them, and I will make of thee a great nation.
11 But Moses besought the Lord his God, saying: Why, O Lord, is thy indignation kindled against thy people, whom thou hast brought out of the land of Egypt, with great power, and with a mighty hand?
13 Remember Abraham, Isaac, and Israel, thy servants, to whom thou sworest by thy own self, saying: I will multiply your seed as the stars of heaven: and this whole land that I have spoken of, I will give to you seed, and you shall possess it for ever.
14 And the Lord was appeased from doing the evil which he had spoken against his people.
Second Reading:
1 Timothy 1: 12-17
12 I give thanks who hath strengthened me, even to Christ Jesus our Lord, for that he hath counted me faithful, putting me in the ministry;
13 Who before was a blasphemer, and a persecutor, and contumelious. But I obtained the mercy of God, because I did it ignorantly in unbelief.
14 Now the grace of our Lord hath abounded exceedingly with faith and love, which is in Christ Jesus.
15 A faithful saying, and worthy of all acceptation, that Christ Jesus came into this world to save sinners, of whom I am the chief.
16 But for this cause have I obtained mercy: that in me first Christ Jesus might shew forth all patience, for the information of them that shall believe in him unto life everlasting.
17 Now to the king of ages, immortal, invisible, the only God, be honour and glory for ever and ever. Amen.
Gospel:
Luke 15: 1-32 or 15:1-10
1 Now the publicans and sinners drew near unto him to hear him.
2 A the Pharisees and the scribes murmured, saying: This man receiveth sinners, and eateth with them.
3 And he spoke to them this parable, saying:
4 What man of you that hath an hundred sheep: and if he shall lose one of them, doth he not leave the ninety-nine in the desert, and go after that which was lost, until he find it?
5 And when he hath found it, lay it upon his shoulders, rejoicing:
6 And coming home, call together his friends and neighbours, saying to them: Rejoice with me, because I have found my sheep that was lost?
7 I say to you, that even so there shall be joy in heaven upon one sinner that doth penance, more than upon ninety-nine just who need not penance.
8 Or what woman having ten groats; if she lose one groat, doth not light a candle, and sweep the house, and seek diligently until she find it?
9 And when she hath found it, call together her friends and neighbours, saying: Rejoice with me, because I have found the groat which I had lost.
10 So I say to you, there shall be joy before the angels of God upon one sinner doing penance.
11 And he said: A certain man had two sons:
12 And the younger of them said to his father: Father, give me the portion of substance that falleth to me. And he divided unto them his substance.
13 And not many days after, the younger son, gathering all together, went abroad into a far country: and there wasted his substance, living riotously.
14 And after he had spent all, there came a mighty famine in that country; and he began to be in want.
15 And he went and cleaved to one of the citizens of that country. And he sent him into his farm to feed swine.
16 And he would fain have filled his belly with the husks the swine did eat; and no man gave unto him.
17 And returning to himself, he said: How many hired servants in my father's house abound with bread, and I here perish with hunger?
18 I will arise, and will go to my father, and say to him: Father, I have sinned against heaven, and before thee:
19 I am not worthy to be called thy son: make me as one of thy hired servants.
20 And rising up he came to his father. And when he was yet a great way off, his father saw him, and was moved with compassion, and running to him fell upon his neck, and kissed him.
21 And the son said to him: Father, I have sinned against heaven, and before thee, I am not now worthy to be called thy son.
22 And the father said to his servants: Bring forth quickly the first robe, and put it on him, and put a ring on his hand, and shoes on his feet:
23 And bring hither the fatted calf, and kill it, and let us eat and make merry:
24 Because this my son was dead, and is come to life again: was lost, and is found. And they began to be merry.
25 Now his elder son was in the field, and when he came and drew nigh to the house, he heard music and dancing: [26] And he called one of the servants, and asked what these things meant.
27 And he said to him: Thy brother is come, and thy father hath killed the fatted calf, because he hath received him safe.
28 And he was angry, and would not go in. His father therefore coming out began to entreat him.
29 And he answering, said to his father: Behold, for so many years do I serve thee, and I have never transgressed thy commandment, and yet thou hast never given me a kid to make merry with my friends:
30 But as soon as this thy son is come, who hath devoured his substance with harlots, thou hast killed for him the fatted calf.
31 But he said to him: Son, thou art always with me, and all I have is thine.
32 But it was fit that we should make merry and be glad, for this thy brother was dead and is come to life again; he was lost, and is found.
++++++++++++++++++++++++++++++++++++++++++++­+++++++++++++++++++++++++++++++++++++++++++++
Study Page
Overview of the Gospel:
* Last week, we saw how the multitudes were gathered around Jesus. This week, we see that in this multitude are "tax collectors and sinners" as well as members of the prominent religious parties, the Pharisees and scribes.
* These last were scandalized that Jesus associates (even sits down to eat with—see also Luke 5:29-32) with those they considered unlearned and unclean. As a result they complain against him ("murmur" in the RSV-CE—as the Israelites did against Moses and God in the wilderness. See Exodus 16:1-3).
* In reply, Jesus tells three parables about the compassion and mercy of God: the Lost Sheep (verses 4-7), the Lost Coin (verses 8-10), and the Prodigal Son (verses 11-32). The key to these parables are the attitudes and reactions of those in heaven (verses 7 and 10), the younger son (verse 18), the father (verses 20, 22-23, 31-32), and the older brother (verses 28-30).
Questions:



* In the First Reading, Moses had everything to gain and nothing to lose if he allowed the Israelites suffer for their sins (see verse 10). What did he do instead? What should be our response when we see our brother sinning? When he repents?

* In the Second Reading, what type of person was St. Paul before his conversion? To what factors does he attribute this change?

* In the Gospel Reading, how does Jesus' parable of the sheep relate to the complaining of the Pharisees?

* Who is it, exactly, who rejoices in heaven over a "sinner who repents" (verses 7, 10)?

* What stages does the younger son go through on his pilgrimage (verses 13-16)? What brings him to his senses? What does he realize then? With what sort of attitude does he approach the father? How does the father receive the son? Why?

* How does the older brother feel about his younger brother's return? Why? How does the father answer the older son's objections?

* Comparing yourself with the two brothers in this story, who are you most like? Why? Whom would you have identified with 10 years ago or in your youth?

* How have you experienced God as similar to this father? When have you been like the older brother, quietly resentful of God's lavishness to (apparently) less deserving people? Why?