She recounted how the hostage-takers eventually took off their masks. They had beards, long hair, and spoke with Chechen accents, she said.
When children started to faint from thirst, the adults urged them to urinate. It was so they could drink their own urine, Alla said.
We'll shoot until our guns stop. And when our guns stop, we'll blow up the building.
-- Captor in Russian school
The gymnasium was quickly transformed into an arsenal of explosives -- bombs dangling from the ceiling, set on the floor, strung up on walls. She said they seemed to be homemade, primitive packages containing bolts and nails.
"They're not human beings," Alla said. "What they did to us, I can't understand."
On Day 3, early in the aftern
oon, the explosions erupted, under circumstances that still remain somewhat unclear. What is known is that emergency workers had arrived at the time -- apparently with the militants' permission -- to collect the bodies of those who had been executed. Russian authorities insist they did not plan a raid.
Suddenly, there were blasts inside and outside the gym, Alla said. In the chaos, she couldn't figure out how they were set off. Gunfire followed. As the fight intensified, the rebels betrayed agitation for the first time.
"We'll shoot until our guns stop," a rebel announced to the crowd. "And when our guns stop, we'll blow up the building."
Making an escape
The hostage-takers began pushing people out of the gym and into the basement. That created an opening for the hostages: They began breaking windows and fleeing. Some captives literally started pushing children outside.
Alla said she helped her son and mother out of a window. She didn't manage to get out.
For some reason, a six-year-old boy -- whom she didn't know -- was drawn to Alla. She held him in her arms. He clung to her, she said, "as if he would never let go."
A group of hostages, including Alla and the boy, then made a rush for a set of doors in the gymnasium. As they fled, she noticed the bodies of captives strewn on the floor -- shot by the rebels, it seemed, as they battled Russian security forces who swarmed the area.
Some Russian soldiers appeared as they reached the doors. "At first I didn't believe it," she said. "I thought they were Chechens."
Her doubts soon vanished.
It's OK, the soldiers told her. "You're home now."
As Alla told her tale, townspeople kept coming up to her, asking her about the fate of their loved-ones.
A man, around 20, asked Alla if she knew what had happened to one of the captives, a woman.
She's dead, Alla replied.
The man bit his lip. He nodded.
And then he turned away.
Rest in Peace:
Rest in Peace:
Rest in Peace:
Rest in Peace;
Bodies of schoolchildren and hostages killed in a school seizure seen in a hospital morgue in Beslan, North Ossetia, Friday, Sept. 3, 2004.
Rest in Peace:
Ossetian men carry a coffin with the body of 2-year-old Georgy Daurov during his funeral in Beslan, southern Russia, Tuesday, Sept. 7, 2004. Daurov's grandmother and father were also killed during the siege and his sister remains hospitalized.
Rest in peace
Rest in peace
Rest in peace
Aftermath of the gym in School Number One
Packed into the school gym with wired explosives attached to the basketball hoop
Hostages in gym with blood trail on floor
Mourning for Irina, age 13, and Alina, age 12
Kids were their goal.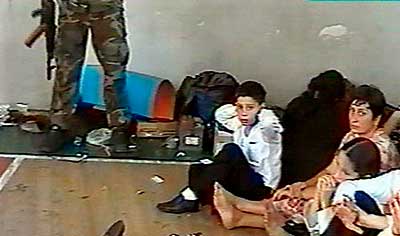 No child was too young
Before the terrorists murdered little babies and raped little girls.
Heroes to the rescue....
What terror looks like in a child's eyes.
What would you look like if this massacre had happened to your child's school?
Images a parent should never see....
Reminds me of that famous Vietnam pic...
May God bless them and hold the victims close for eternity. May the victims families take solice in knowing that their sons, daughters and wives will sit on the right hand of our Father away from the evils of this world.
.
.
.
.
.
.
.
.
.
.
.
.
.
.
.
.
.
MURDEROUS COWARDS - BURN IN HELL