So, I wanted to be able to get in to see DC v. Heller. I had been to the court a few other times and knew certain cases are tough to get into. I decided I would leave on Sunday and try to camp out for two nights in order to gain access. I had read online that the Grokster case drew people early the day before. This case is bigger so I figured I needed to be early. In fact, I was worried I would not be one of the first 50 to get there and have no chance of getting a seat. As it turns out, I was first in line at 535pm Sunday.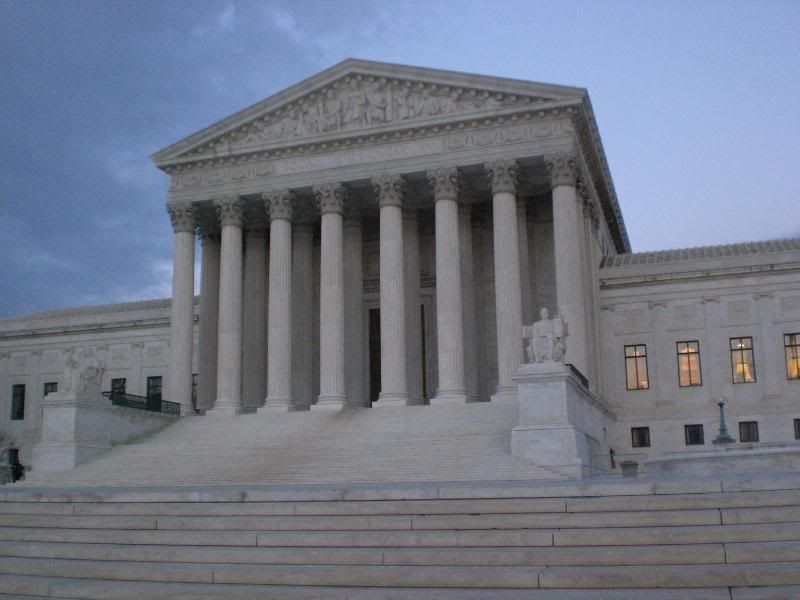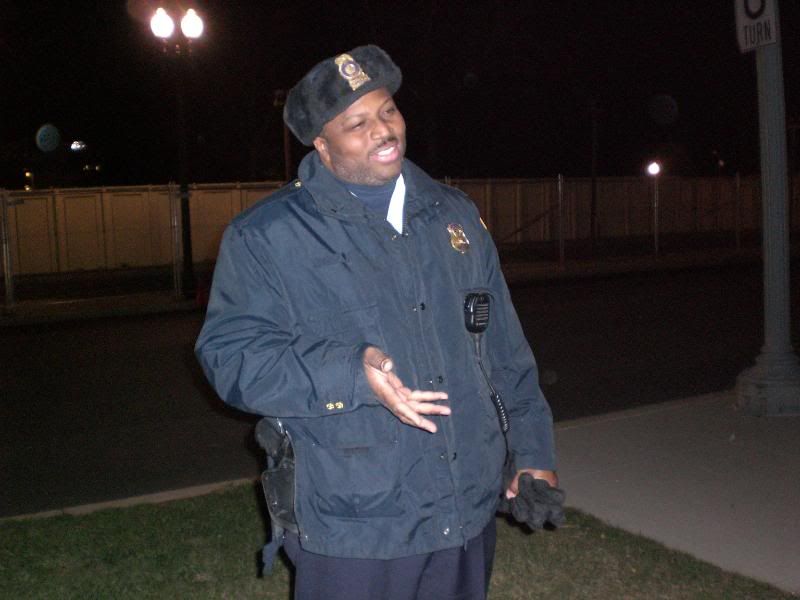 This Supreme Court police officer told us where to start the line. He was great. He told us a bunch of stories of other cases. He said Lawrence v. Texas drew an interesting crowd.
He didn't think we were lined up too early. He said other cases drew people even earlier. He had served in the ARMY.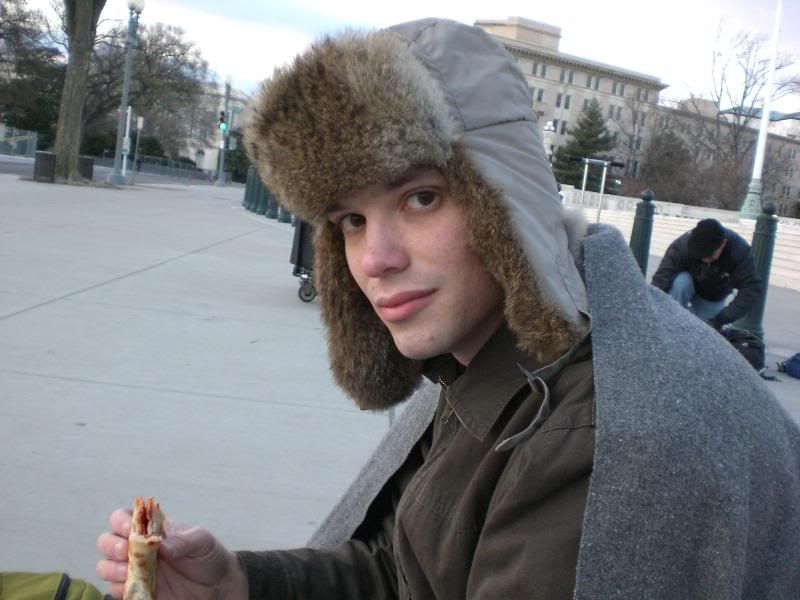 A picture of me and my rabbit fur hat. That hat is warm.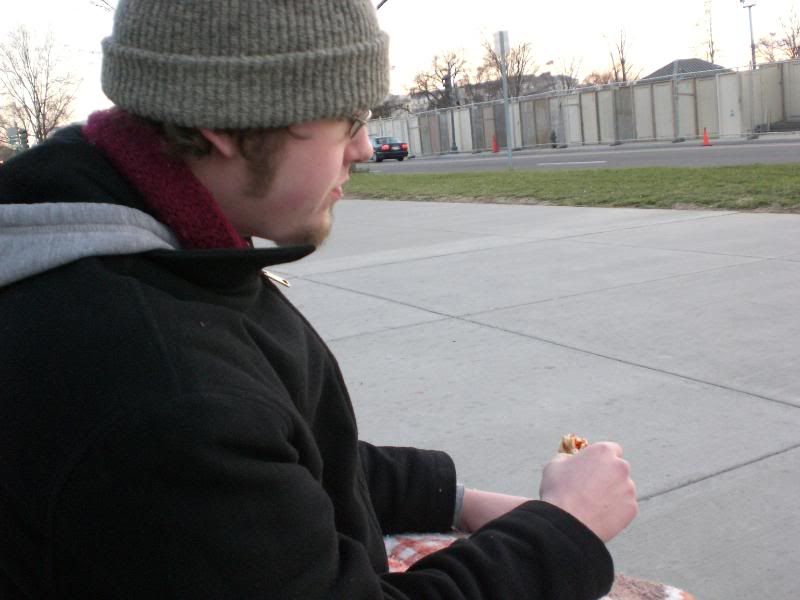 My friend Dan who I made take off work and come with me.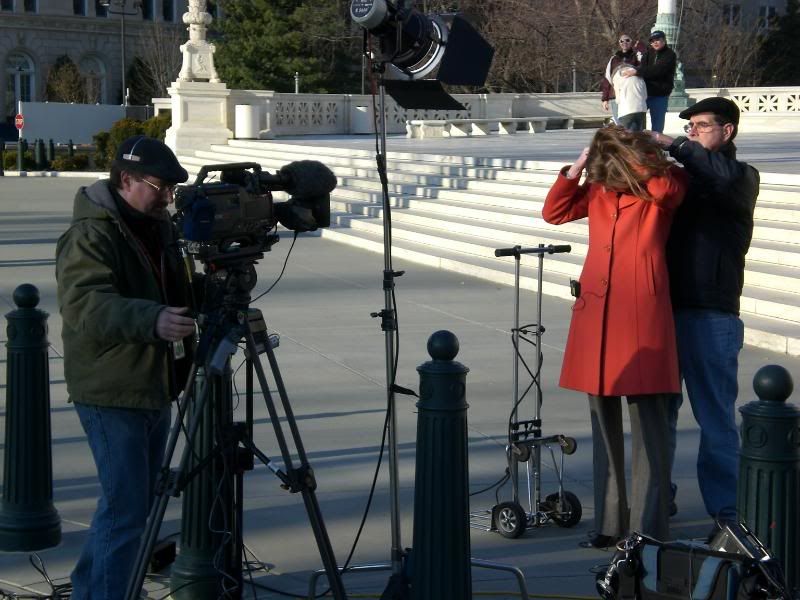 When we jumped in line Jan Crawford Greenburg from ABC news happened to be getting ready for a segment at the base of the steps. She wrote in her
BLOG
about us that night. Apparently a bunch of people read the blog and showed up extra early because of it!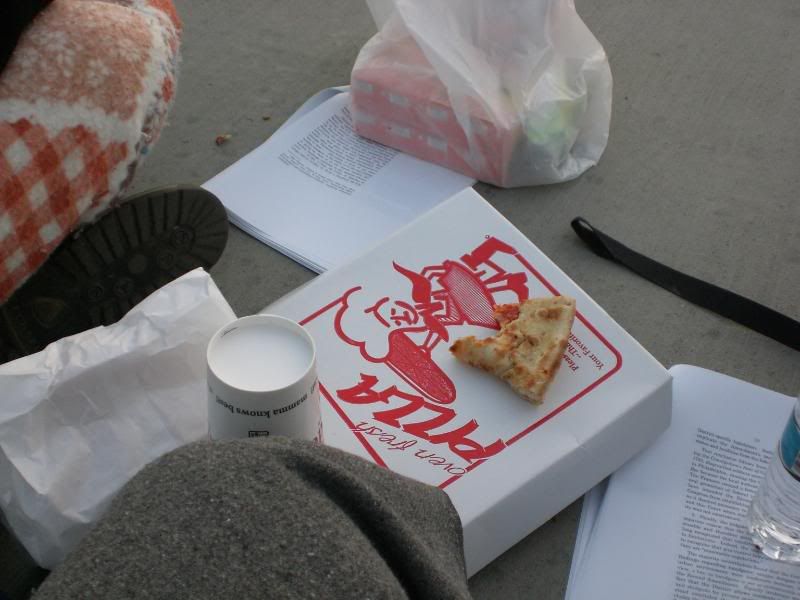 When we jumped in line,
Alan Korwin
who wrote the "gun laws" books and his friend Bob Blackmer were there. They had just flown in from Phoenix, Arizona and wanted to make sure the line was not already growing. Alan had a reserved seat but Bob needed to stand in line. We told them we'd call if more than a few people showed up that night. They left and came back about an hour later with coffee and pizza for Dan and I. We ate it and read the briefs.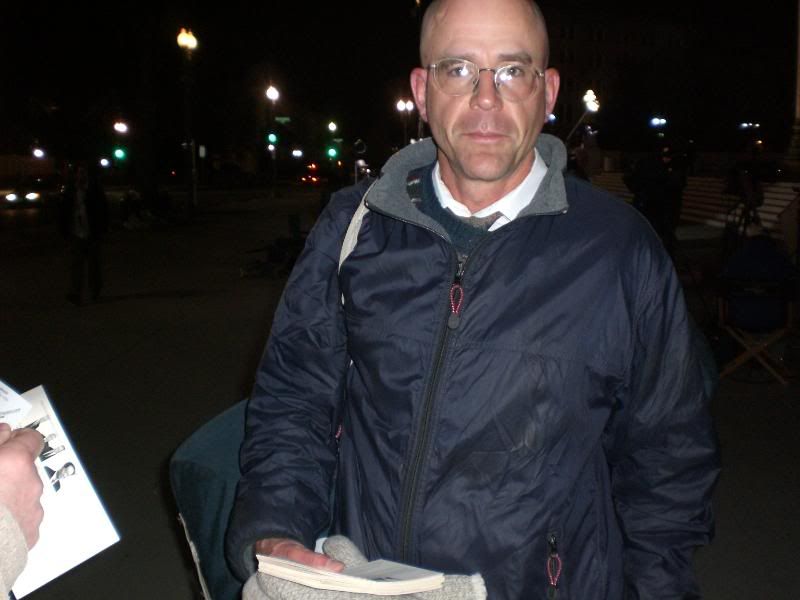 This guy walked by and started talking to us. He was pro gun and was glad we were here to show our support. However, he eventually started telling us how McCain and other Senators had implants in their brains that gives them LSD. The LSD counteracts the dementia causing radio waves from cell phone towers!
The CIA also drives around the ghetto with radiation. This is why dementia and Alzheimers are on the rise. Bush 1 and Clinton are also involved.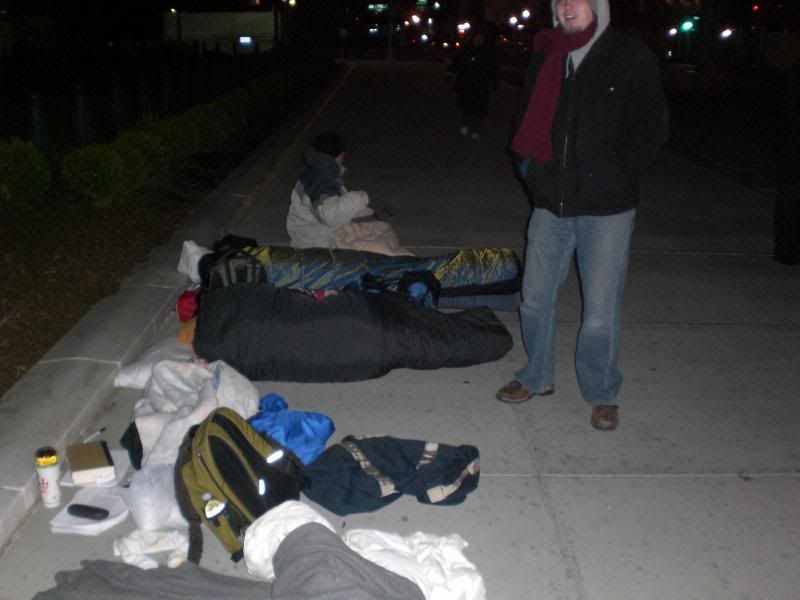 Later that night three more people showed up together. They lived in the area and two of them went to George Washington law school. All of them were on our side
Our pro-gun LSD friend came back again with a duffle bag full of blankets for Dan and I. There was also some old tin foil in the bottom of the bag. I didn't check to see if it counteracts the radiation.
Sunday night was cold cold cold, even with the extra blankets the wind sliced right through. After about 4am it was too cold to sleep and some reporters showed up to do bits for the 6am news.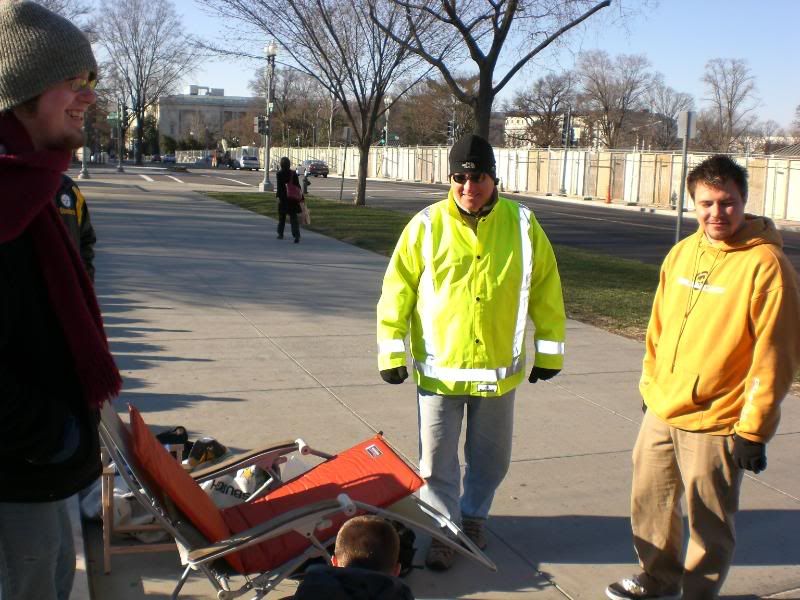 At about 7am Matt showed up (in the yellow jacket.) He was from New Jersey so I expected the worst. However, he turned out to be a Class 3 gun dealer!
If anyone else showed up I was going to call Bob and tell him to come but he made it by shortly after Matt.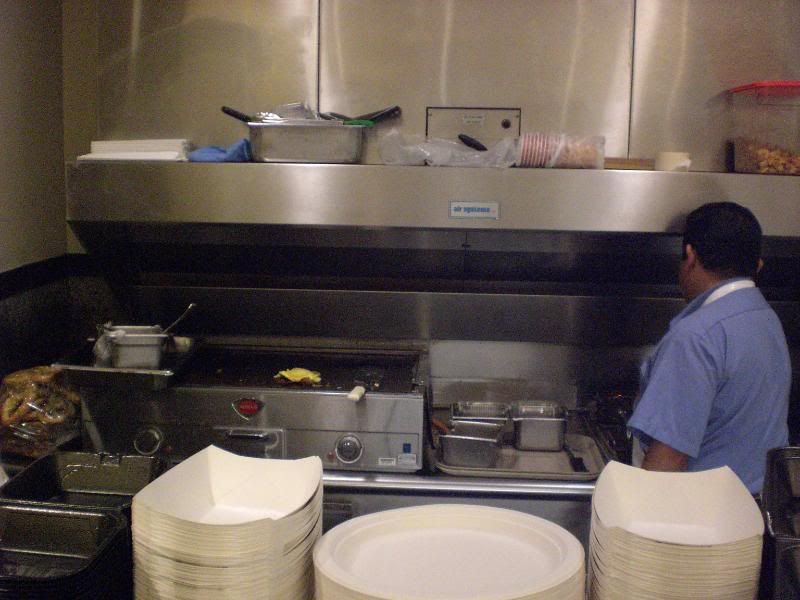 I had Dan hold my spot in line as I went in the side door of the court and grabbed a bacon, egg and cheese sandwich.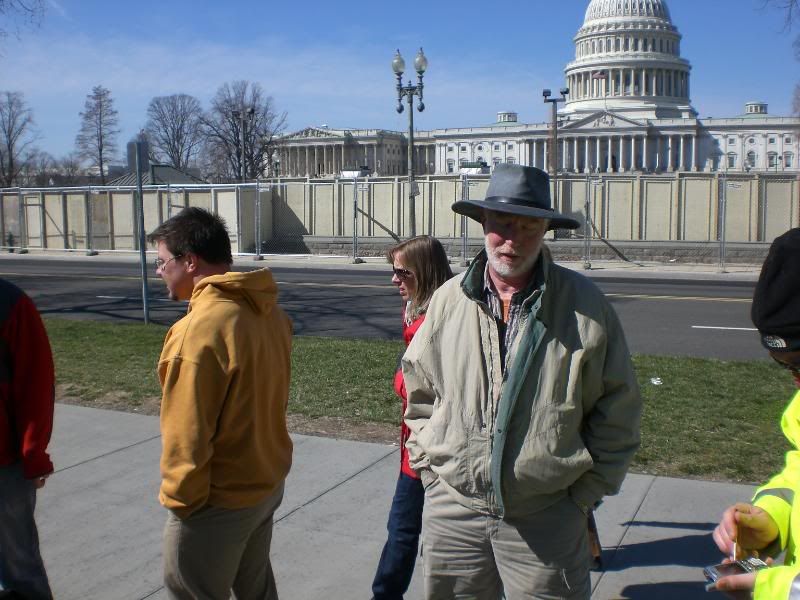 Alan came back and hung out with us most of the day. We talked about avoiding buzzwords if any of the media talks to us i.e. sidearm vs. handgun and pro rights vs. pro gun.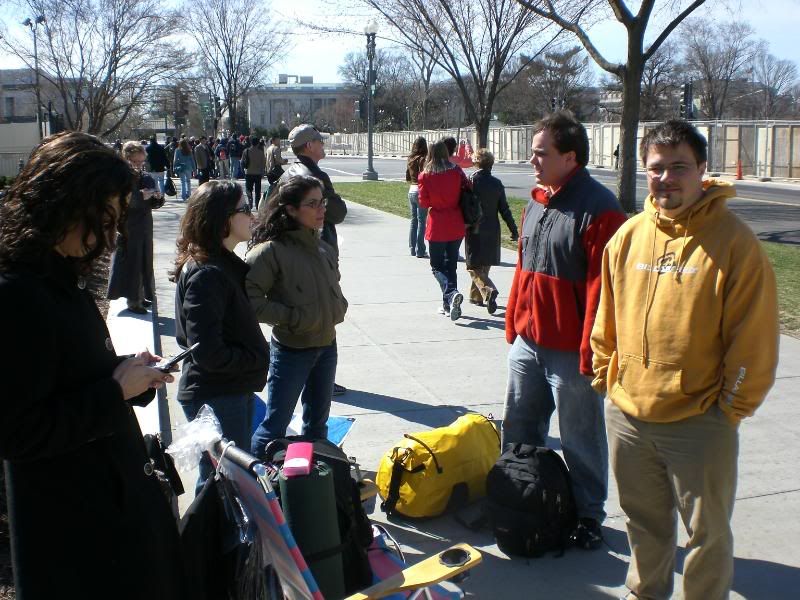 More people showed up, including law students from Harvard and Georgetown. None of them seemed to be anti gun.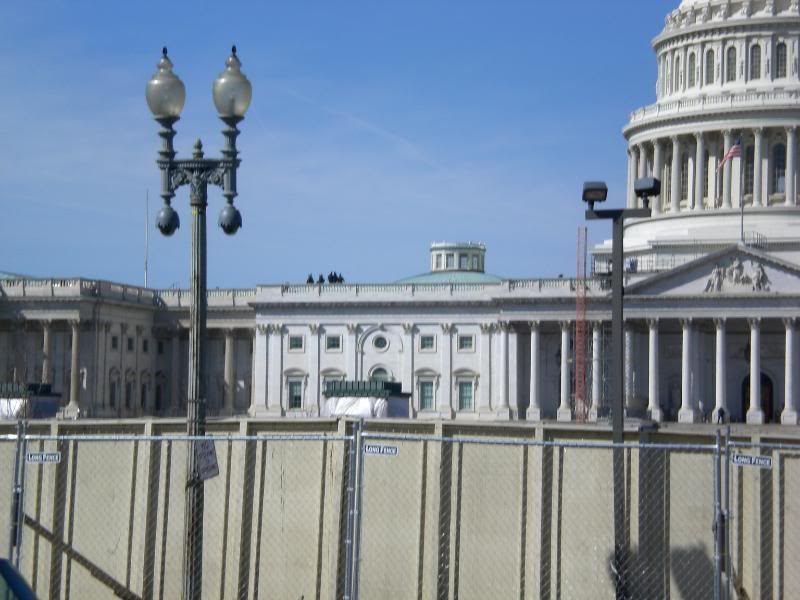 Someone was having a black rifle party on top of the capital and I wasn't invited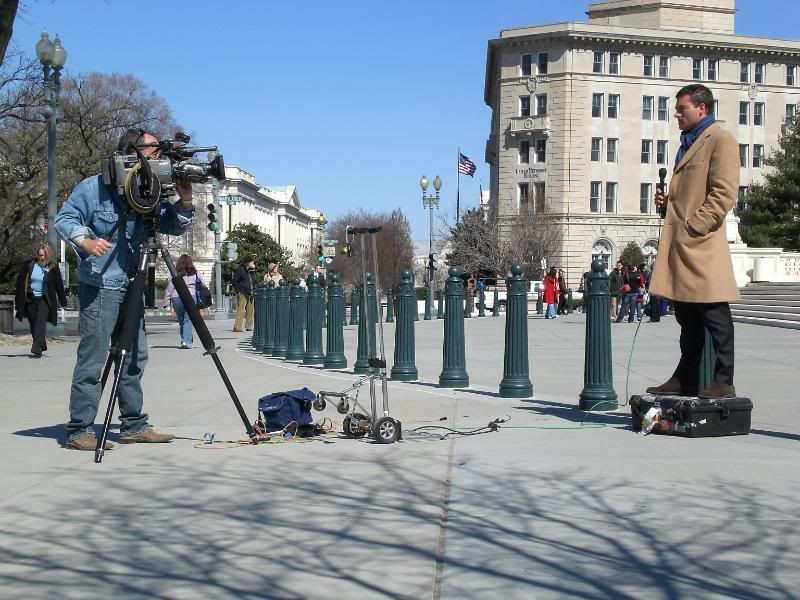 Swiss TV.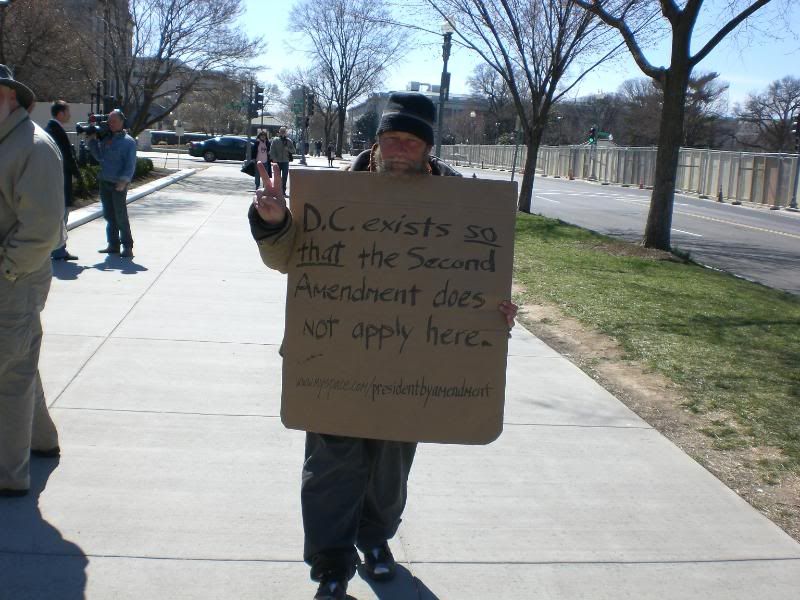 The sentence on this homeless man's sign makes no sense. I think what he means is that the 2A protects states but not DC. I didn't talk to him.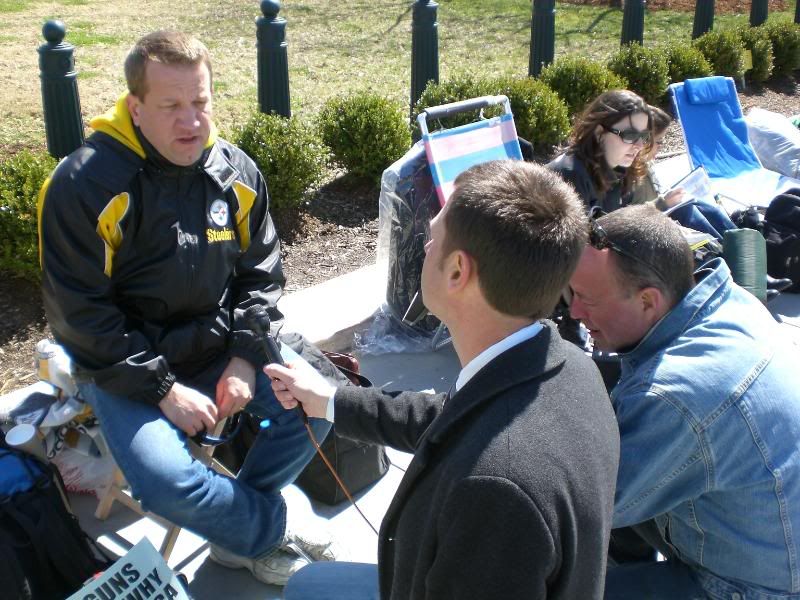 Swiss TV talking to Bob.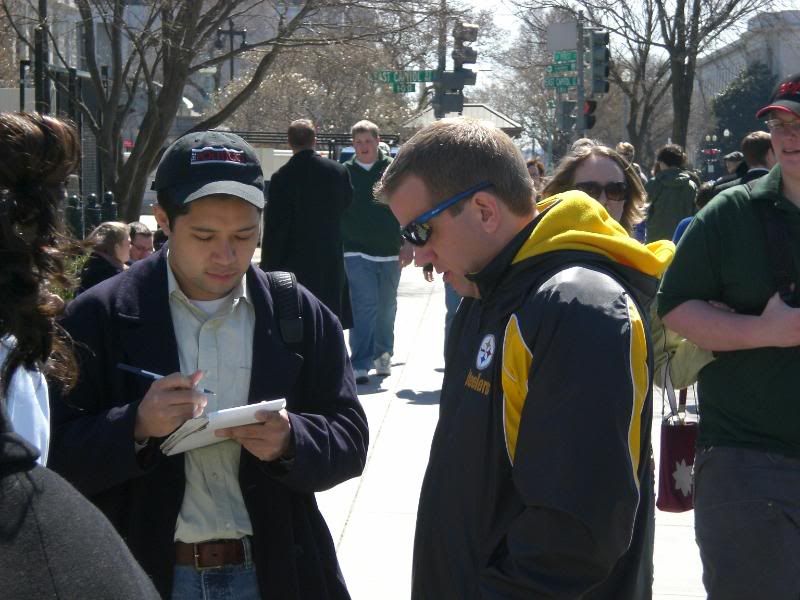 A blogger came by to talk to Bob. He took a video of him and Alan singing parody songs:
www.youtube.com/watch?v=B6qLd8prYCo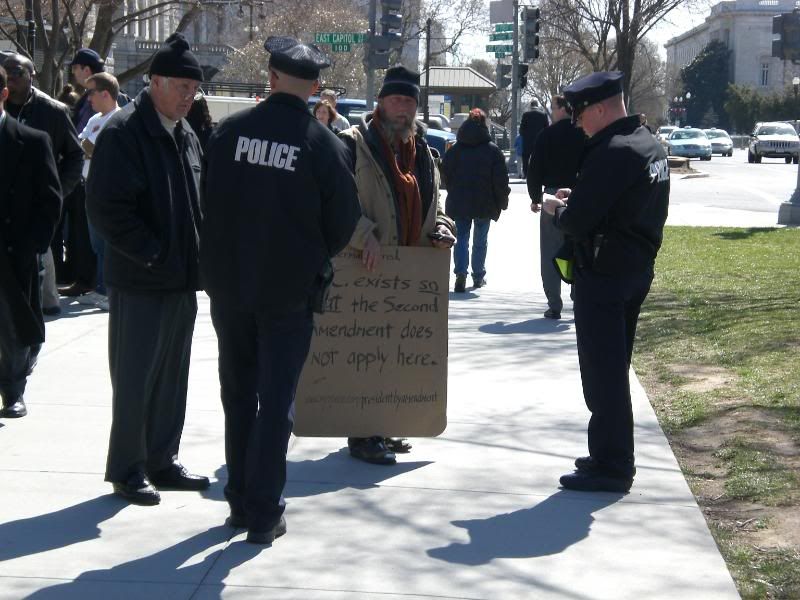 The SCOTUS police started talking to the homeless man. I'm not sure why. I think they might keep track of protesters in case there is a problem. I'm not sure.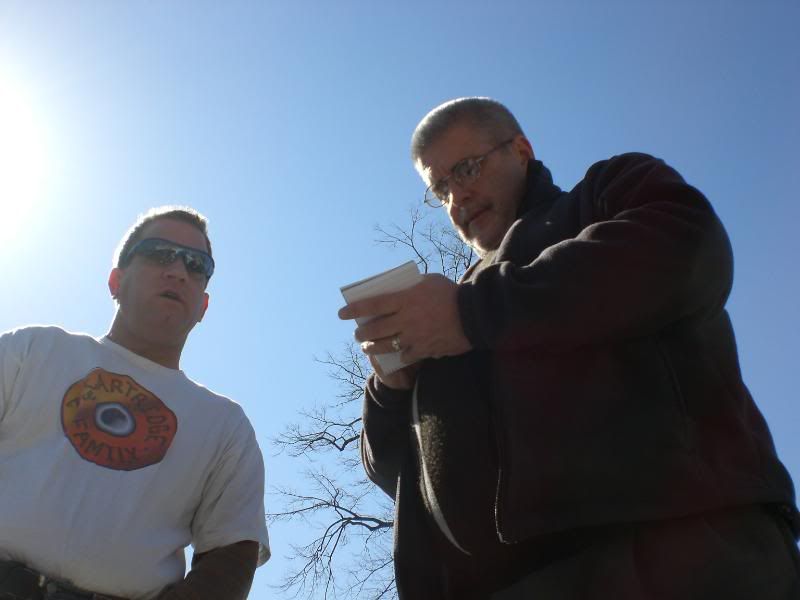 Bob talking to the guy from the Washington Post.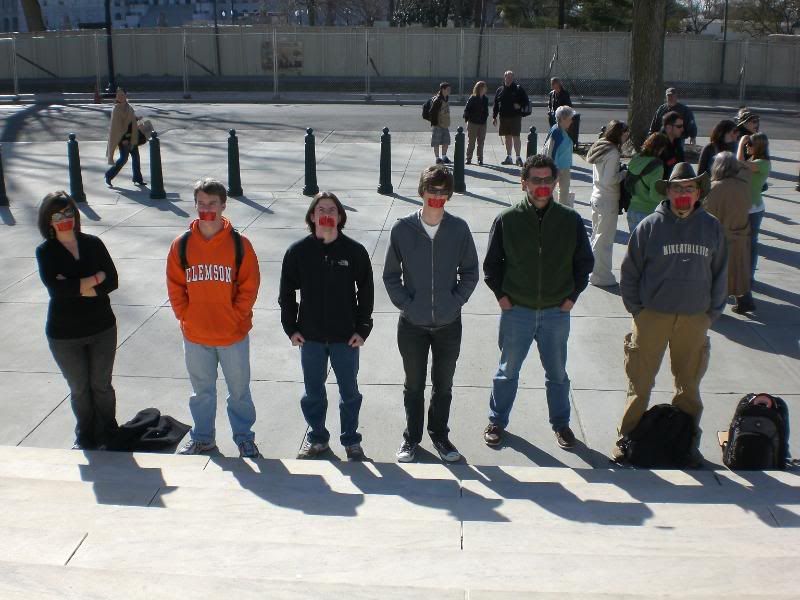 A group protesting abortion. Each night around midnight there was also a group who came and prayed about abortion (I think) and then sang songs.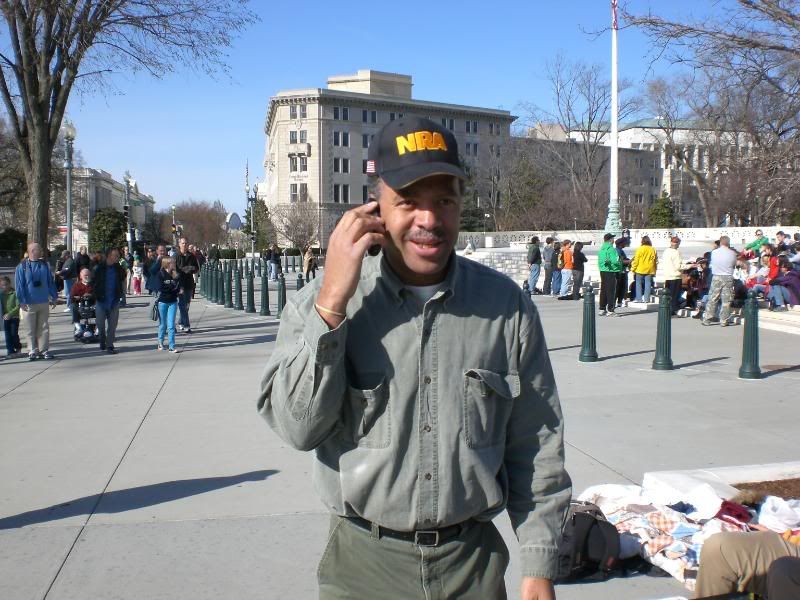 Steve showed up in the afternoon. He is a high school physics teacher in VA. He said he uses guns in his physics examples.
Steve wanted to watch the case but could not stand in line this early. He stayed for a few hours and left. Tuesday morning he came before the case and brought coffee and donuts for us! He also engaged the Brady Bunch when they showed up to protest. He is an upstanding gun owner.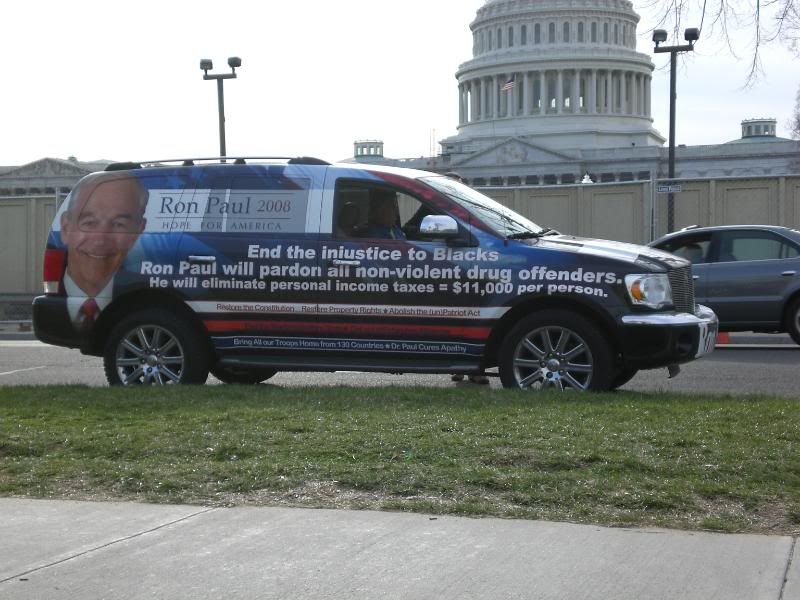 This RP mobile showed up. I think the guy had someone saving a spot in line for him.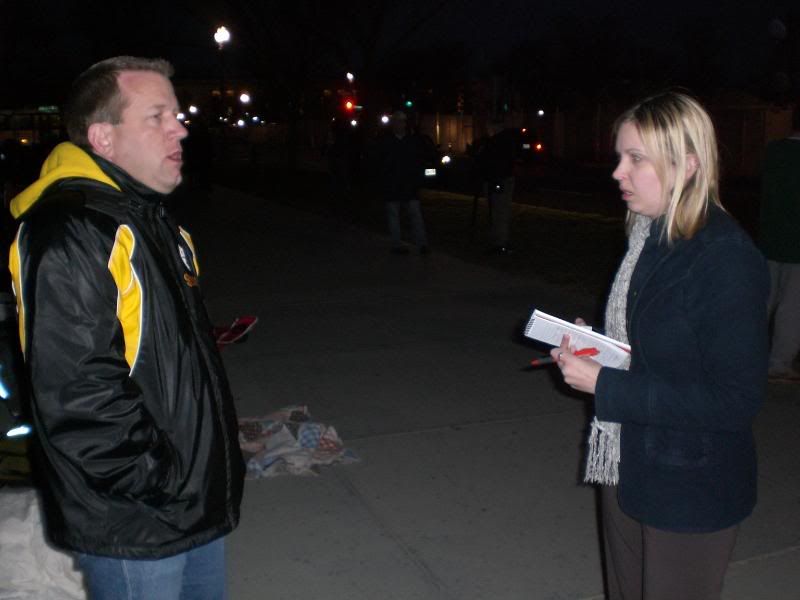 Bob talks with a woman from US News & World Reports.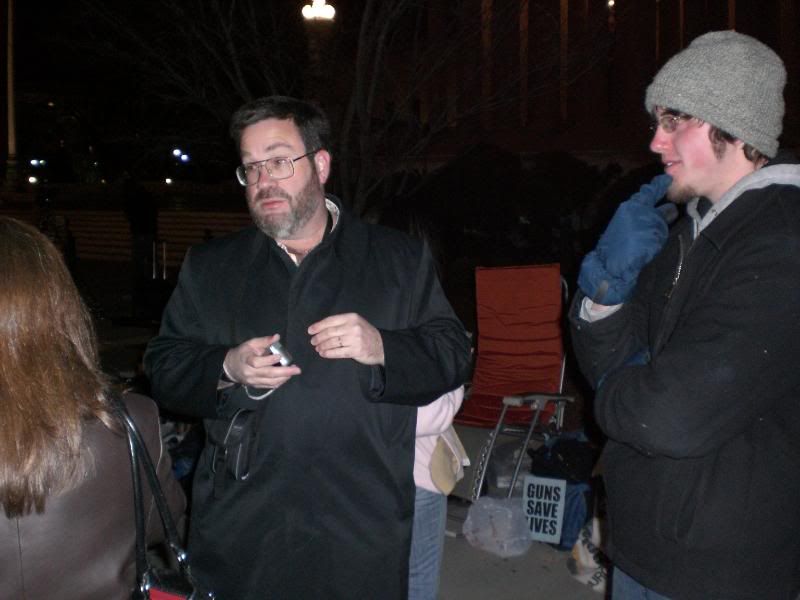 This guy wrote one of the
amicus
briefs. I'm sure someone here knows who he is. He was having a heated discussion with one of the two government lawyers from NYC who both contributed to
amicus
briefs. She was a self described libertarian except that she struggled with guns. She was open minded about the meaning of the 2A but concluded, after trying to give meaning to each word in the 2A, that the 2A prevented Congress from passing gun laws that prevent states from having armed citizens. Therefore, DC is not a state and the citizens are not protected by the 2A. So, it seemed she was saying that if Pennsylvania wants to let its citizens by machine guns at Walmart there is nothing congress could do about it. She had an interesting view. If you feel it is necessary to give the preamble meaning beyond stating a purpose, then her view is the best you can get.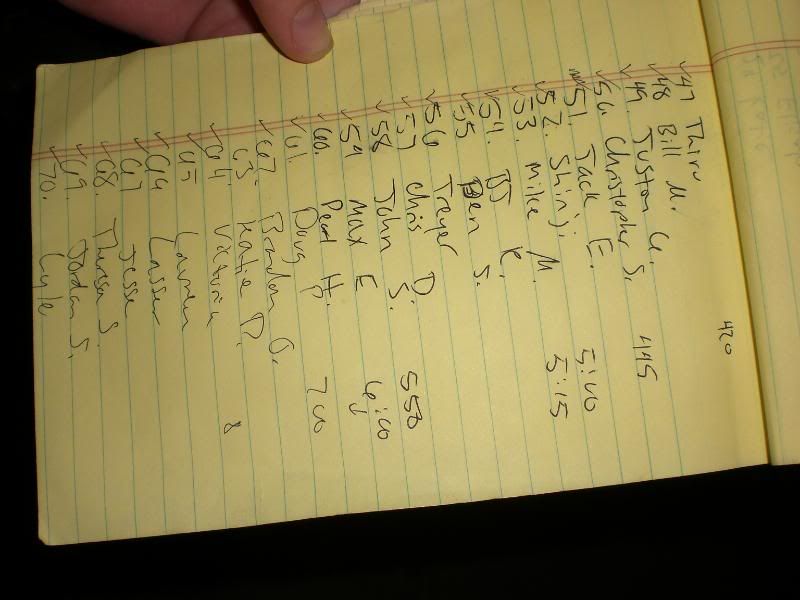 The law student from Harvard was keeping a list of each person in line in case there were disputes. The SCOTUS police said they will not get involved in a line dispute.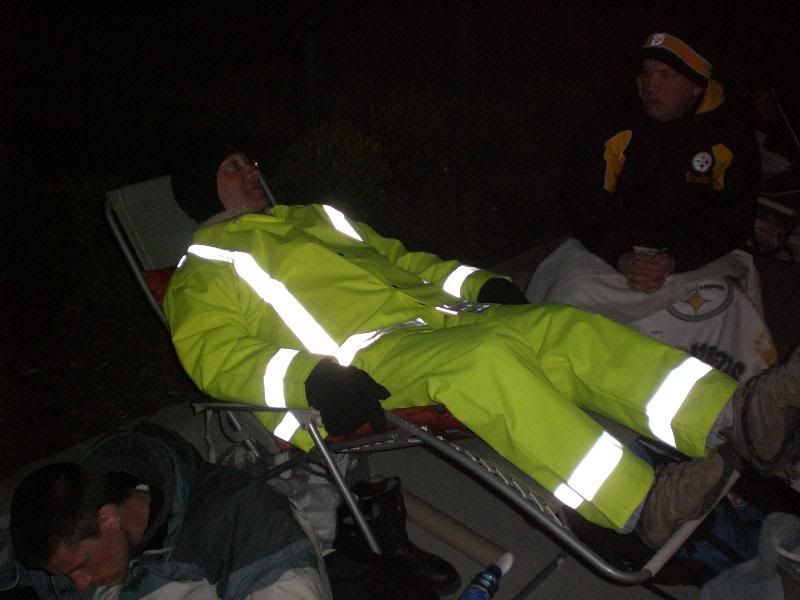 Matt had one of the most comfortable setups. Bob had a small propane heater.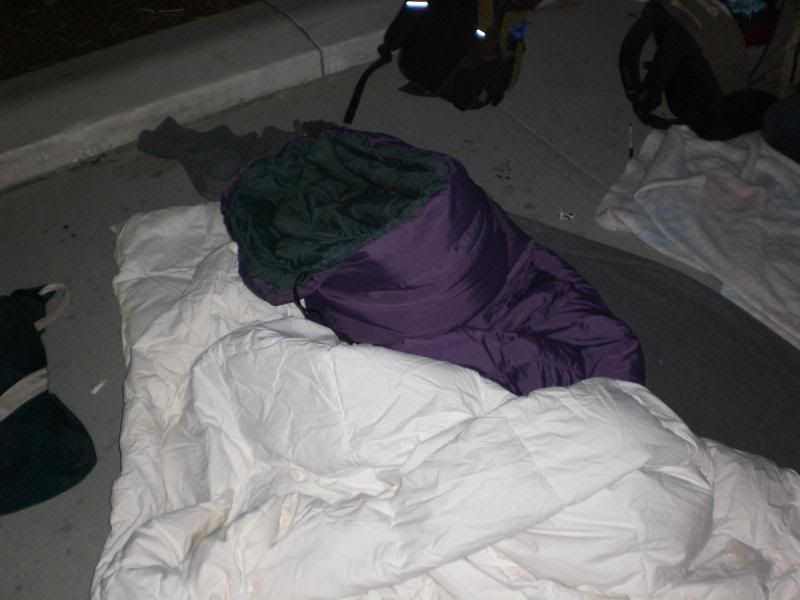 One of the GW law students had his wife bring sleeping bags for Dan and I. There was a great sense of camaraderie. The second night was less windy, less cold, and my new sleeping bag was warmer.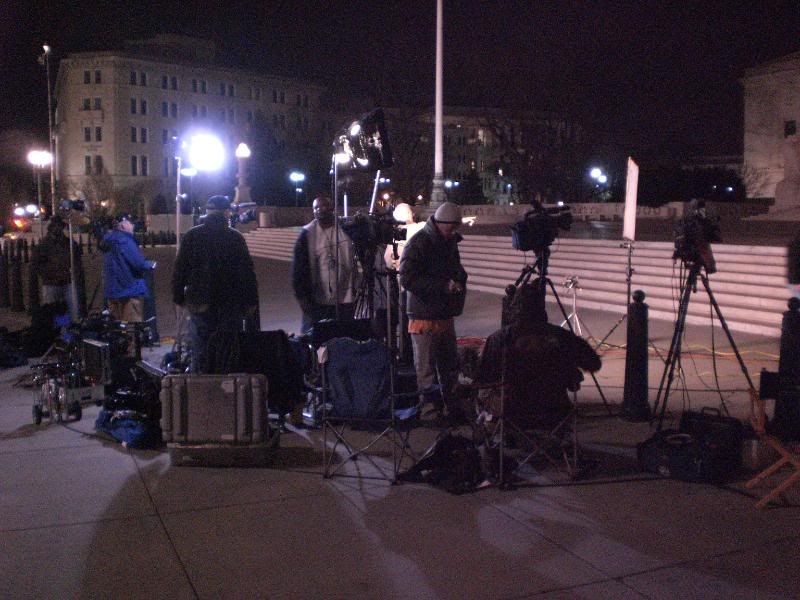 The news started showing up at 4 or 5 am again on Tuesday morning.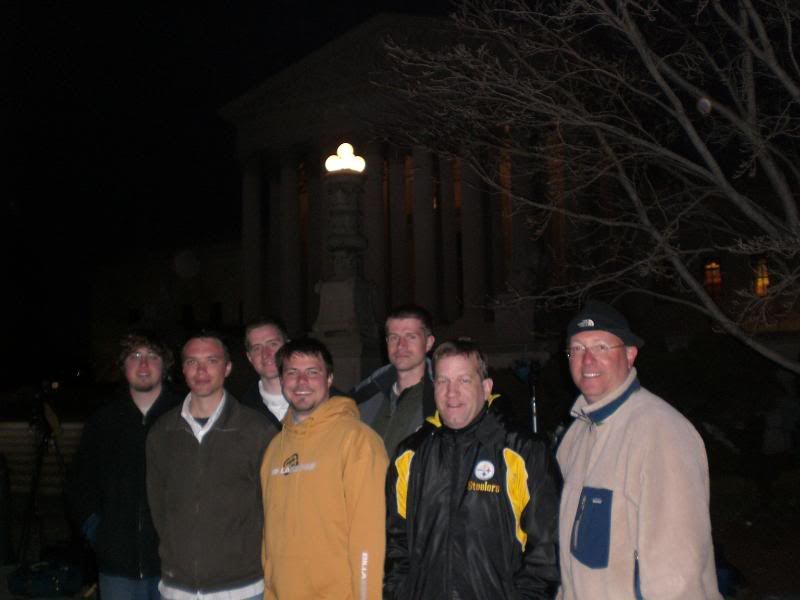 The "original 7" was also called ourselves the magnificent 7.......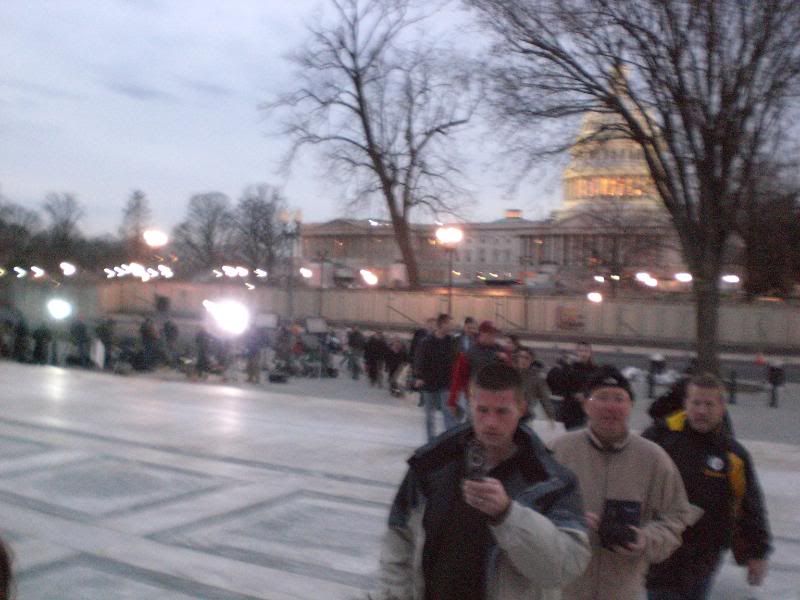 At about 7 the police moved the line up onto the foot of the main steps.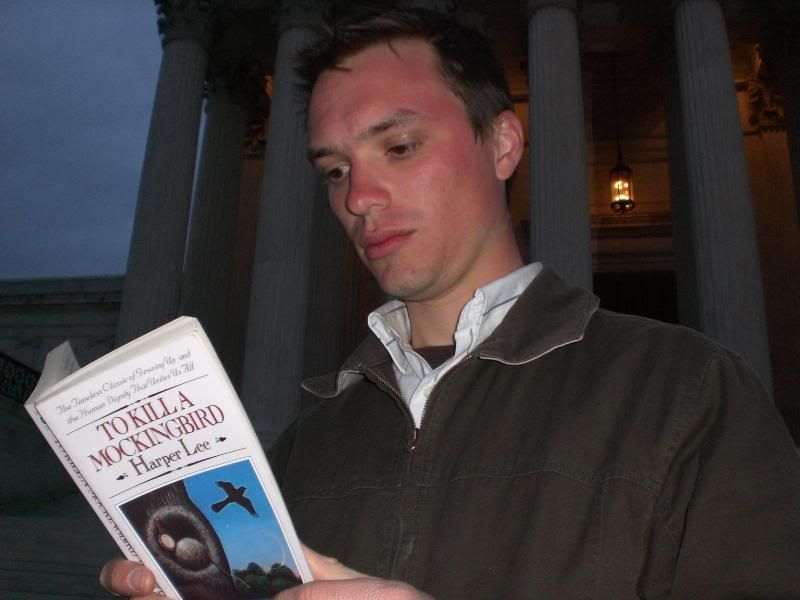 I brought TKAMB along to finish reading. I never had the chance because waiting in line was not as boring as I expected. My professor's favorite book is TKAMB and I thought he'd get a kick out of this picture.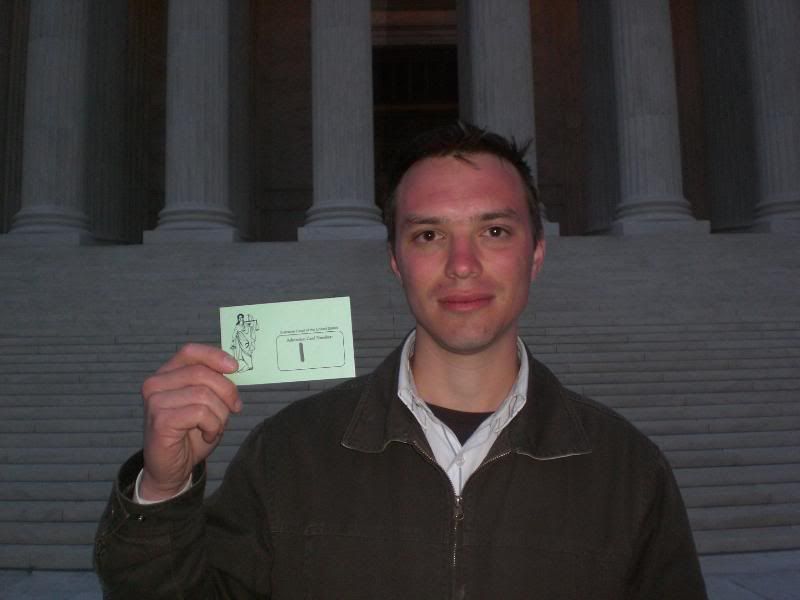 At about 730 or so, they handed out place cards. I wanted to run to the back of the line (now well over 100, only the first 50 had a hope to get in) and try to sell it to someone for $10,000.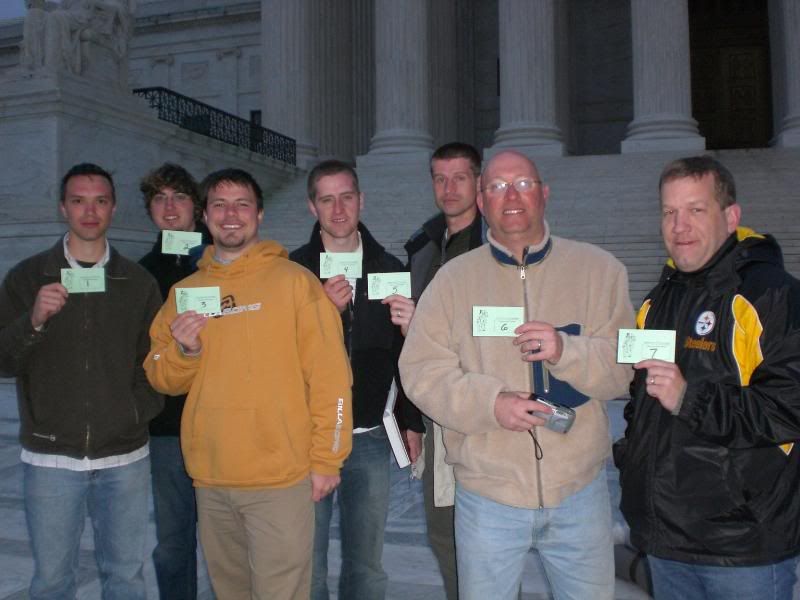 The originals again.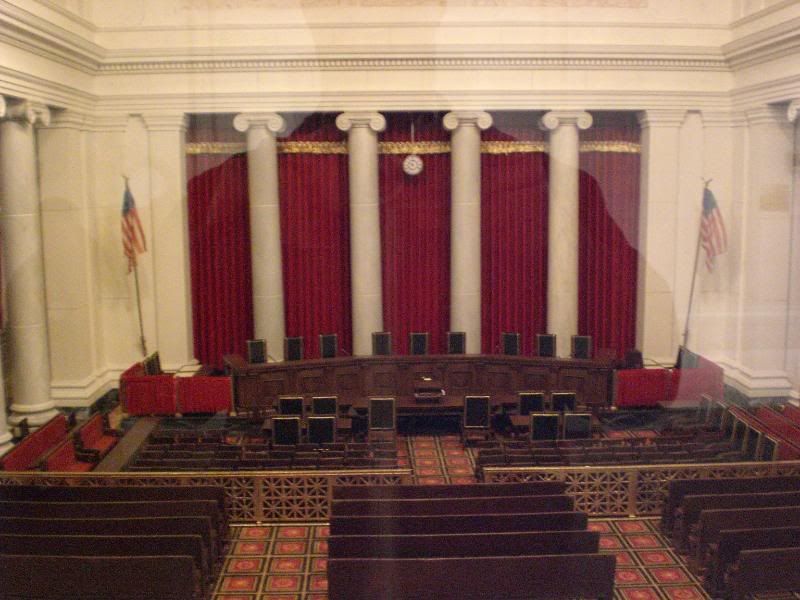 Scale model of the court. I was seated just to the left of the picture next to a pillar near the golden colored fence. The font row on the left in the public section was filled right before the hearing started. I asked one of them who they were, they said friends of J. Breyer. One of them looked kind of like Sen. Feinstein but Bob didn't think so.
There are three guards that monitor the court room. Under the seats where they sit were two small 12x12x4 boxes wrapped in a plastic/foil wrap. I wanted to ask what they were after the case but I forgot.
I'm sure everyone read the transcript so I wont go into that. J. Thomas was more awake for this case than any other time I've seen him. He did seem to sleep a little towards the end. Everyone had a nice laugh after Roberts made the comment about trigger locks.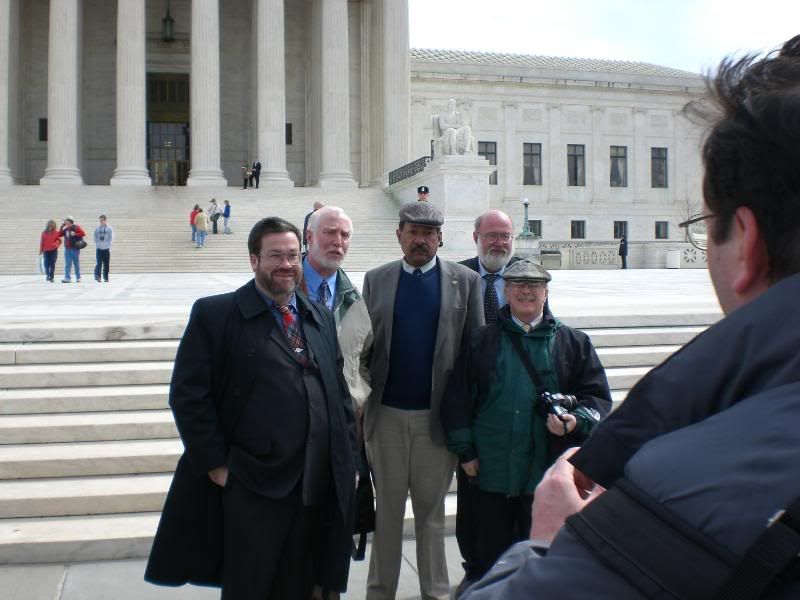 I don't know who all of these guys are. Someone here must know.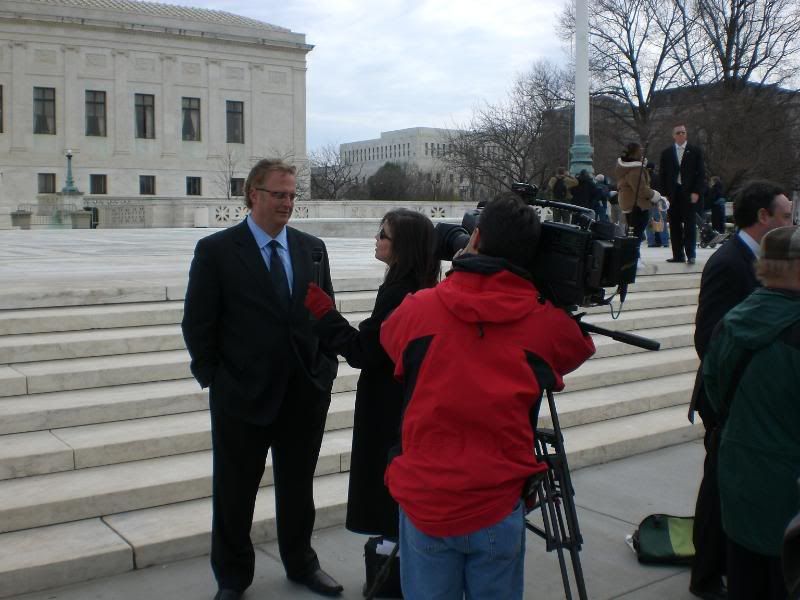 I was told this guy was someone from the NRA. I don't know. The lady interviewing him is from NRA news. We talked with her.
There was also a guy making a documentary that I talked to about the case.
Alan asked Bob if he wanted to go eat lunch in the SC cafe with him and some bigwig NRA/big name gun people. He said he'd rather eat with Dan and I. We went to the Dubliner near Union Station.
After lunch Dan and I had some time to kill and walked to the Capital building. The last time I went to the SCOUTS I posted that the SC police use Sig Sauers. Well the Capital police use Glocks. My guess is because if they run out of ammo they can always use it like a hand grenade and throw it at the terrorists.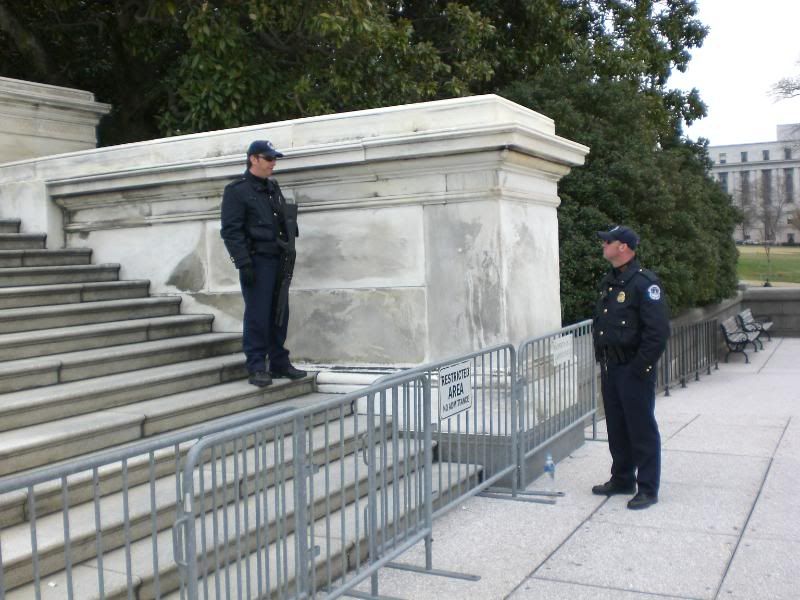 They also use semi-auto shotguns and M-4s of some kind.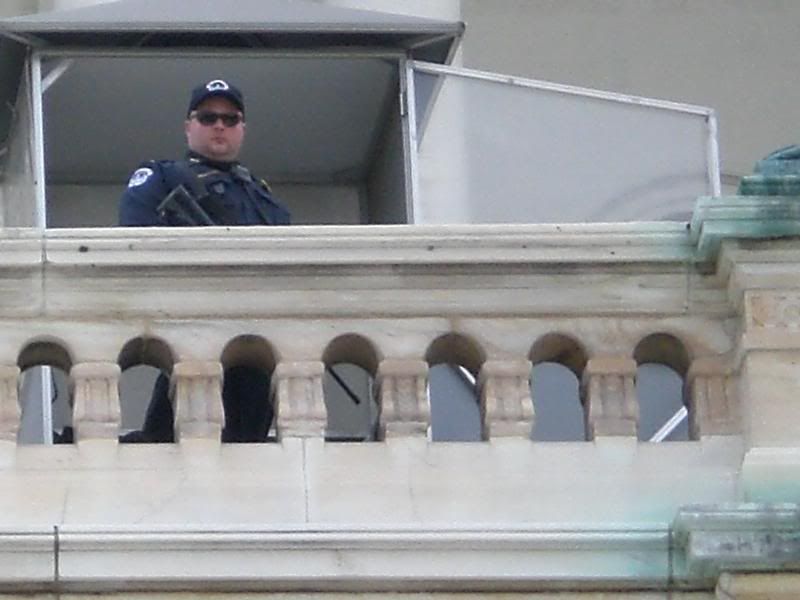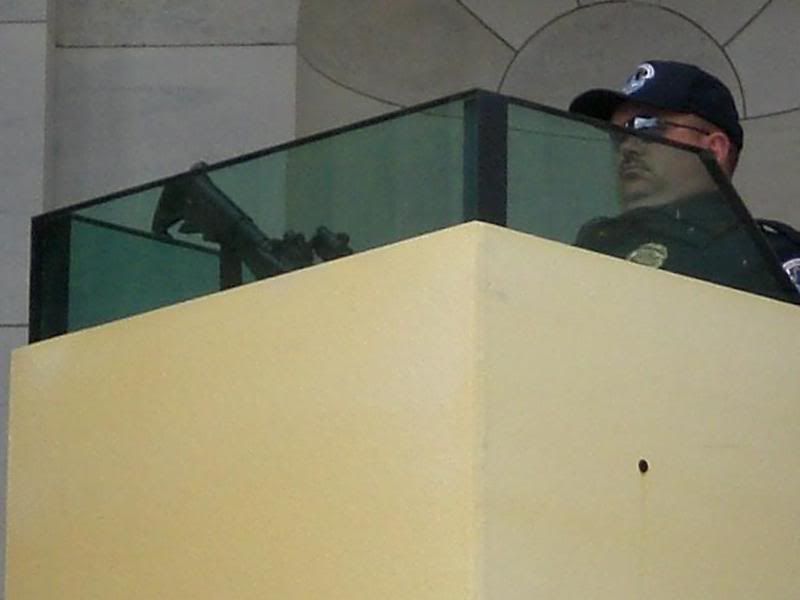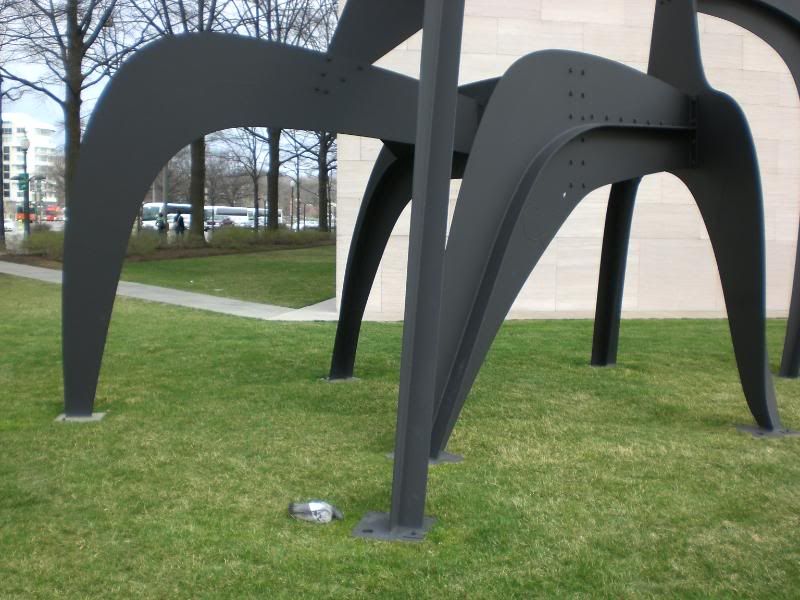 This piece of abstract art was so bad it killed this pigeon.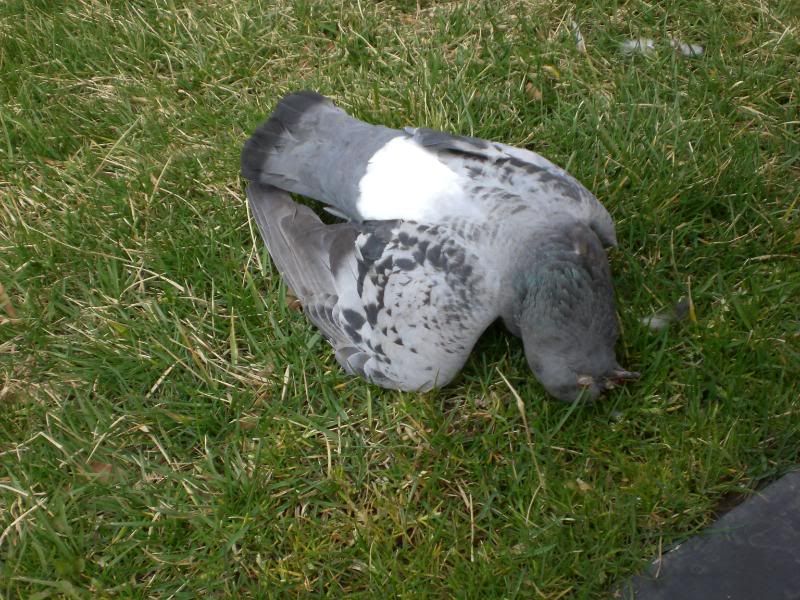 All in all it was a great experience (except for the sunburn). Standing in line and meeting people was worth it as an end in and of it self. I was interviewed by a bunch of news people including the AP whose article was picked up by a lot of news agencies. There were not many Brady Bunch types like I expected until the day of the case. Even then they were only there for a couple hours. I talked to a shop owner who wanted the ban overturned, he wanted to be able to defend his business.
I'm glad the first person in line was pro-gun, an NRA member, and most importantly an ARFCOMER!
Ask me questions if you have any. I'll try to put some of the video I took on youtube.

ETA: Here is some video clips I took.
www.youtube.com/watch?v=rxGGThyCWiU