PLEASE READ:
I have a slightly used Romanian SAR-1.
It has only about two cases of ammo through it. I bought it the week after 9-11
Very Accurate and shoots perfectly. I will guarantee that.
Never a hiccup, never a glitch. Only used at the range and one time coyote hunting.
Never abused, and everything is here. (cleaning rod and hidden buttstock cleaning kit too)
I bought an AR-15 and have failed to even pick this one up since then. I am only willing to sell it because I want the cash to buy another AR.
I bought this rifle new and have been the only owner.
Comes with assault case
(soft)
12 magazines
as follows:
1 - ten rounder (factory)
2 - five round hunting mags
8 - 30 round mags
1- 40 round mag
I am asking
$450.00
cash and am willing to trade say an AR upper or lower, by
Colt, Armalite, or Bushy only
Face To Face
is what I'd really like, I am not sure how to do the FFL and shipping stuff yet.
Here are some pictures I took yesterday of her. I will ship it if you are really interested in it. (you pay actual shipping and insurance on it though.)
I live in Arizona
The buttstock engraving reads: "May God Bless the USA 9-11-01"
I did it with a dremmel and sealed it with poly.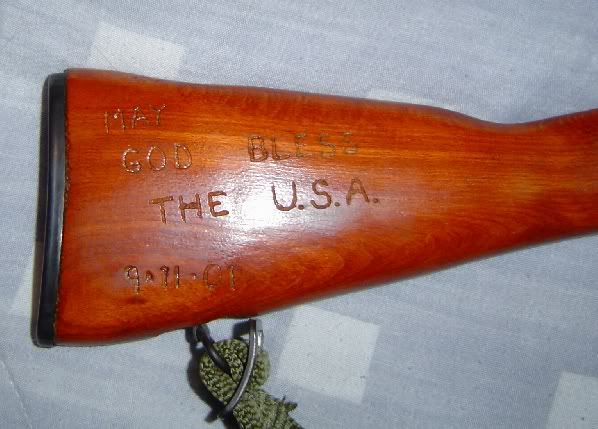 That was fast! Sold it in one day!