Hey
I have a PERFECT CONDITION AIMPOINT COMP M for sale.
THE GLASS IS FLAWLESS.
I can include a QRP mount for only $40!
There are slight ring marks, the CAMERA FLASH highlights them more than normal.
I would like $275 shipped to your door.
Please feel free to ask any questions you may have.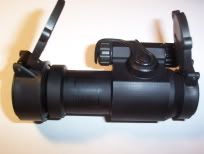 I ACCEPT VISA/MC
USPS PRIORITY MAIL + $3
I prefer a M.O.
I can accept PayPal +3%
Thank you for looking.