Quality screen prints on Jerzees T-shirts. Please allow 2-4 weeks delivery. Payment can be made in the form of a postal money order or paypal. Please add 3% for paypal. I have some shirts in XL ready to ship
Let's Rock Print
Black T-shirt w/multi color print
$15.00 shipped w/ Delivery Conf. for short sleeve shirt
$17.00 shipped w/ Delivery Conf. for long sleeve shirt
$21.00 shipped w/ Delivery Conf. for sweat shirt
$24.00 shipped w/ Delivery Conf. for hooded sweat shirt
Sniper print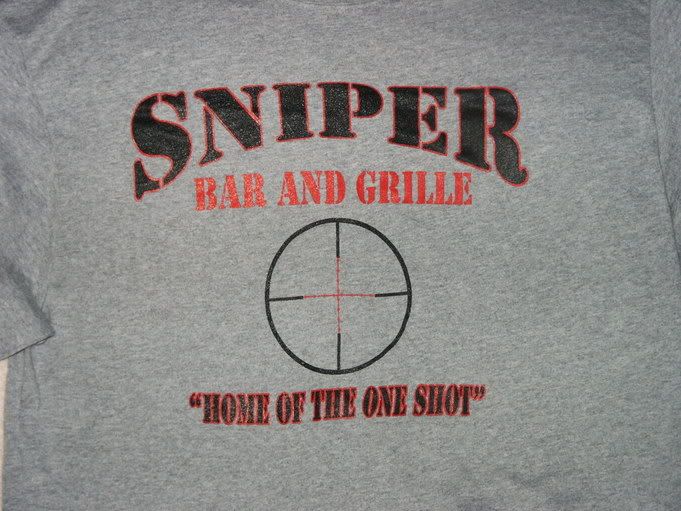 available in kaki or Gray T-shirt color
$14.00 shipped w/ Delivery Conf. for short sleeve shirt
$16.00 shipped w/ Delivery Conf. for long sleeve shirt
$21.00 shipped w/ Delivery Conf. for sweat shirt
$24.00 shipped w/ Delivery Conf. for hooded sweat shirt
Hunting permit print
available in kaki,Gray,olive green, or white T-shirt color
$14.00 shipped w/ Delivery Conf. for short sleeve shirt
$16.00 shipped w/ Delivery Conf. for long sleeve shirt
$21.00 shipped w/ Delivery Conf. for sweat shirt
$24.00 shipped w/ Delivery Conf. for hooded sweat shirt
Sizes available- S-M-L-XL-XXL-XXXL please add $2.00 more per T-shirt for XXL and XXXL.
when ordering please e-mail me w/ the following information at brian@nicsweb.com
-Size
-Quanity
-Shipping information
You will recieve order confirmation w/ payment details when order is processed.
For quanity discounts on orders of 5 t-shirts or more please contact me.