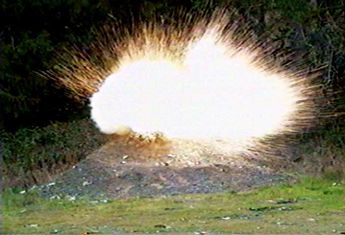 Completely safe, stable and truly kick ass targets! When hit with a high velocity rifle bullet these targets explode with a chest thumping boom and flash. I think the saying is "Guaranteed to give grown men woodies". Requires no license for use, completely safe and cannot be set off by handgun rounds, fire, impact other than rifle shots.
Thoroughly Mix bottle contents 1/2 pound target with 1 tablespoon of activator. Pour back into target container, recommended minimum range of 100 yards.
(JTAC Supply not responsible for injuries due to misuse or out of control fun
)
When sold in unmixed form (Binary), Tannerite is non-hazardous and can be shipped without expensive hazmat fees. It is also exempt from CFR storage requirements. Must be used by adults with clean criminal records. Must be used at time of mixing to avoid violation of storage laws. The catalyst mixes easily into each 1/2 pound target. A free instructional video is provided with every order which shows the legalities and requirements regarding the possession and use of this awesome product.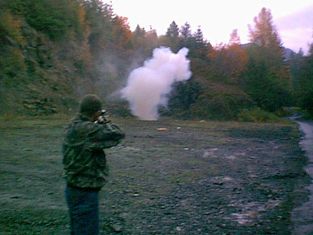 Pricing:
Half case of 10 1/2 pound targets with mixing jar, activator and video $60
Full case of 20 $89 with jar, activator and video $89
$8.50 by the half pound bottle with mixing jar and activator.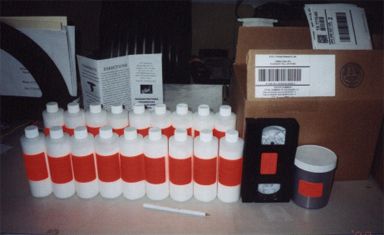 Visa/MC, AMEX, Money Order, Cashiers Check, or Paypal. $5 shipping flat rate on all orders in the US.
paypal@jtacsupply.com
JTAC Supply
2999 Mountain Road
P.O. Box 90
Panola, OK 74559
918-465-3257
Thanks!
Jason