I bought this to build a backup gun for training and have since decided to part it out to make room for another project.
It's pretty much stripped. Standard FSB, front sight post assembly included, no delta ring, handguard cap, or barrel nut. I can throw in a LaRue Barrel nut if desired. It does, however come with a Vortex G6 (may be G6A1, I dunno) flash suppressor. No gastube, unless you opt to purchase it for $10 extra. Barrel has also been MP Tested.
As noted above, this is a 1/7, 4150 steel barrel with a midlength gas system. The bore and chamber are chromelined. It's in superb shape. I put about 350 rounds of BH red box through this one. I've never shot for groups with it, but it'll ring 6" steel at 300M with a 1.1-4x Short Dot and BH 75 grain Hornady Match. I didn't do get around to any running and gunning with this one, and the bore is in perfect shape.
One of the taper pins has a shiny spot from FSB removal, and it has a tiny spot of finish wear under the FSB from a set screw low profile gasblock.
It'd be an excellent barrel for a REECE gun, as it's a semi-LW profile (closer to Gov't Profile than HBAR).
$165 plus shipping for the barrel and Vortex. $175 with the gas tube.
Options follow:
LMT Fixed Front Sight for $40
RRA (I think) M16 Bolt and Carrier with Wolff Extra Power Extractor Spring and Colt Black Insert $100
Trijicon Tritium '04 marked night sights for $50
Bushmaster A1 Upper (with FA and ejection port cover, but no rear sight parts) for $90
A1 style handguard slip ring and barrel nut for $15
LaRue Low Profile Gasblock $70
These parts are only for sale with the barrel. If the buyer doesn't want them, I can put them to use on other stuff.
In trade, I'm looking for a Bushmaster stripped lower receiver locally (TX), a LaRue SPR-E mount, Noveske Krink FH, Troy MRF-MX, or a LaRue BUIS. Email or IM any other offers.
I can be reached by email at krzyperson@aol.com, or by IM. Thanks for looking!
-Cap'n
I can provide more pics if anyone wants one of something specific.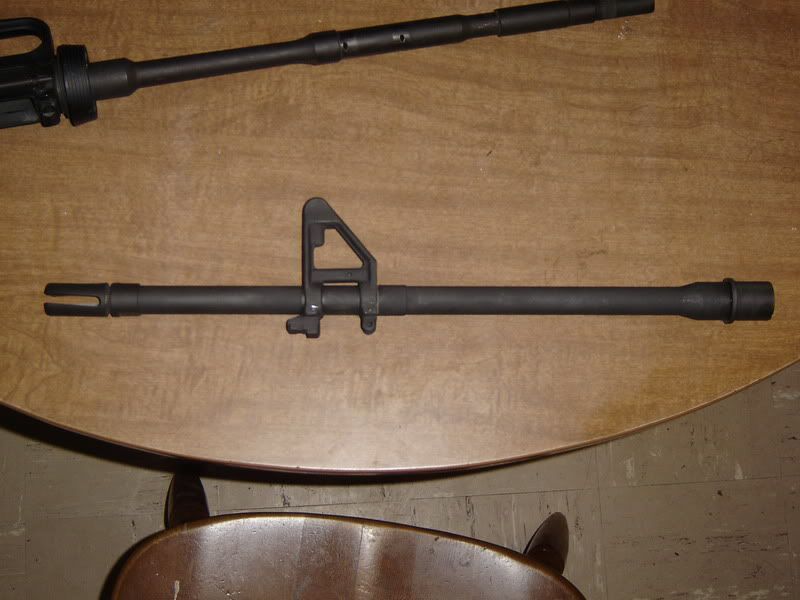 SOLD, SOLD, SOLD!