I have been cleaning out the spare parts box and decided to get rid of some of the extra parts I've been having sitting around for YEARS! I got a huge box of parts at a garage sale back in the late 90s since these were "old school parts" and nobody wanted them. Well, that was before the retro world came into being and a new found love for the simpler things came back into style. I've built my share of retro rifles from some of the parts, held on to other parts as spares but really, am I honestly going to need to hold on to all this stuff taking up space and collecting dust or sell it to folks that will give it a good home? I'm opting for the latter!
I haven't built a retro or kept up with prices for a long time now so I have no idea what it's all worth. I know better than to ask pricing questions on the retro board and trying to find the same parts online for price comparisons isn't easy either when most of these parts have dried up. Please forgive me if my prices are on the high side. I'm NOT looking to gouge anyone nor do I want to undervalue these parts either. I figure if I priced it high then slowly reduced the price over time, I should find the right person willing to pay the right price. Anyways, on with the show!
Original 601 Upper Receivers:
I have 2 of these up for sale. Both are in pretty good condition. I'm asking $450 for 601-1 since it's missing the ejection port cover and $500 for
601-2
.
UPDATE
I was informed that the ejection port cover on this receiver is incorrect but the ejection port cover on 602-3 is correct. Being a retro junkie myself, I believe that it would be appropriate to swap these parts to ensure the most correct part is going out to the buyer. Therefore, 601-2 now has the correct ejection port cover and 602-3 now has the smaller pad later style ejection port cover.
UPDATE:
601-2 SPF. Thanks.
602 Upper Receivers:
All of these are the original rare 602 series upper receiver that has the inscribed windage knob directions rather than the raised arrow on the later models. All are in pretty good condition although 602-5 has what might be some corrosion above the ejection port cover. Asking $500 each for 602-1,
602-2
and
602-3
, $475 for
602-6
as it's missing the ejection port cover and $450 each for 602-4 since it's missing the ejection port cover and rear sight assembly and $450 for 602-5 because of the suspected corrosion.
UPDATE:
The early large pad on the ejection port cover has been swapped over to 601-2 receiver and the smaller pad on the 601 receiver is now in it's place. Just wanted to make sure any buyer knows about this. Sorry for the retro faux pas.
UPDATE:
602-2 SOLD, 602-3 SPF, 602-6 SOLD. Thanks.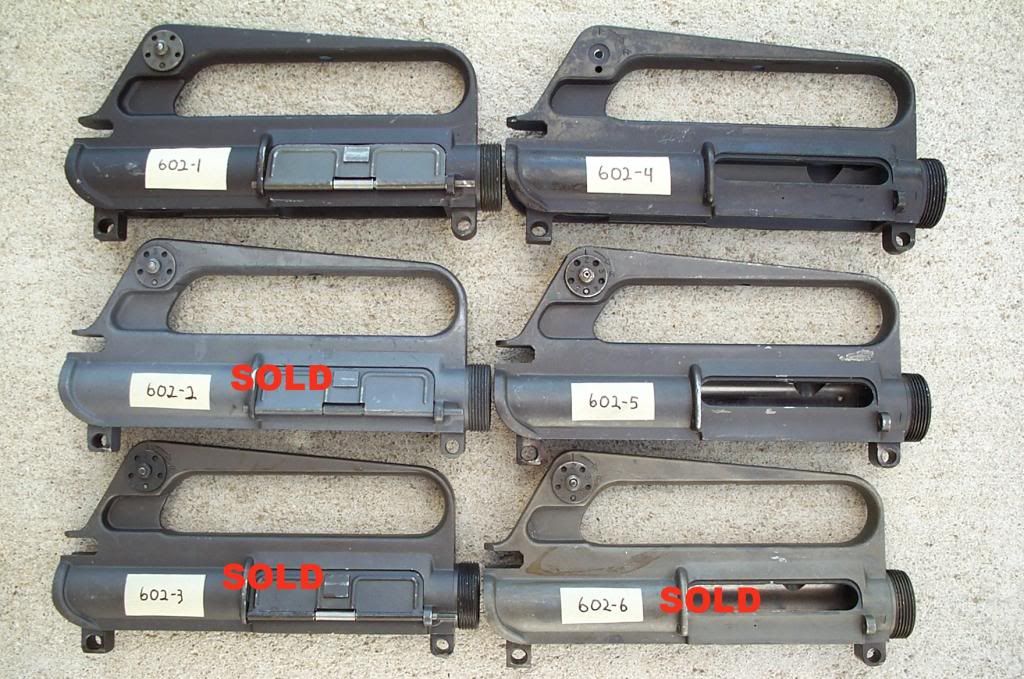 603 Upper Receivers:
All are original CH stamped receivers and in pretty good shape. Asking $200 each for 603-1,
603-2
and 603-3. Asking $175 each for 603-4 and 603-5 as they are missing the ejection port cover and $150 for 603-6 as it's missing the ejection port cover and forward assist.
UPDATE:
603-2 SPF. Thanks.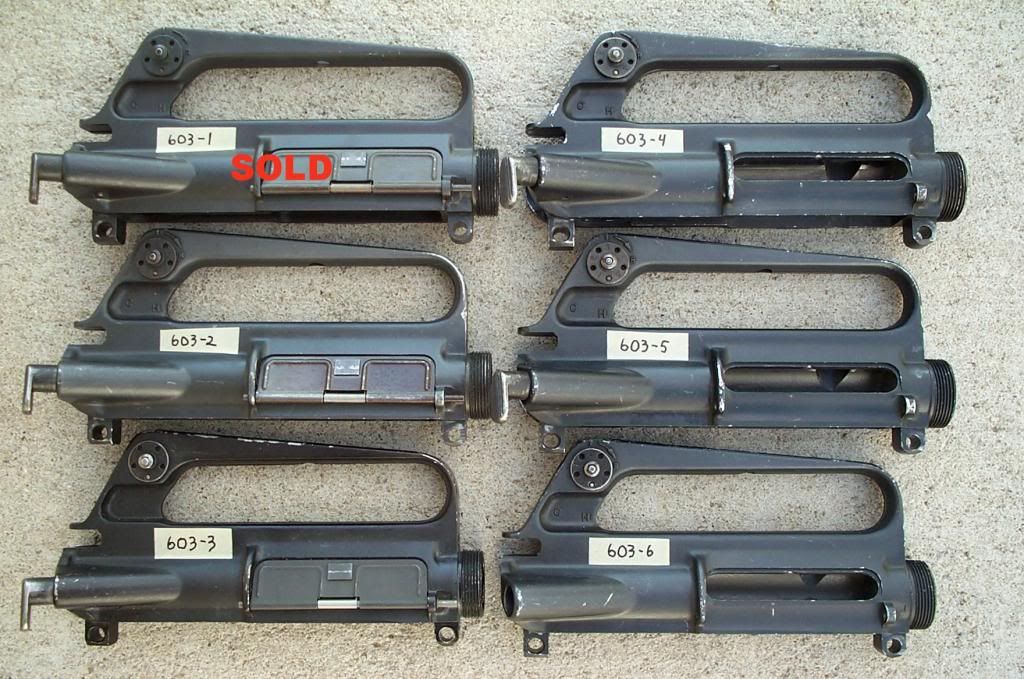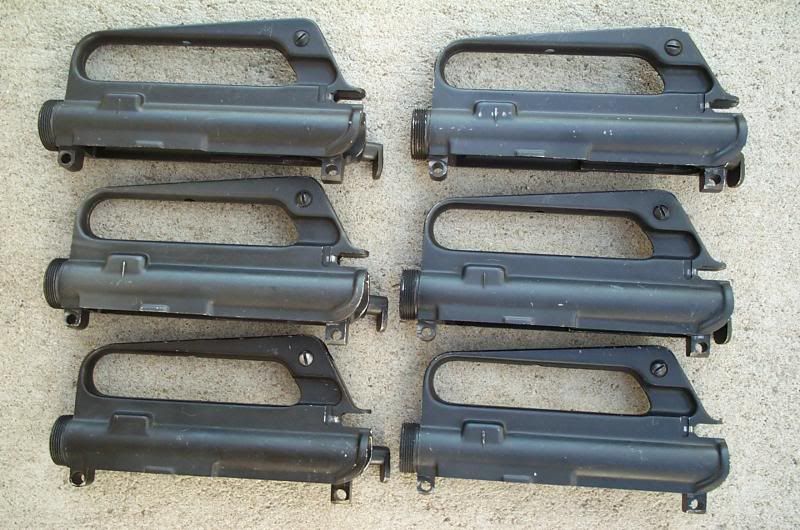 604 Upper Receiver (early design):
You don't see too many of these around either. This is an early 604 series upper in pretty good shape yet. Notice the smaller receiver metal below the ejection port signifying the earlier style. Asking $300 for this receiver.
UPDATE:
SOLD. Thanks.
604 Upper Receiver (late design) I have several of these in varying conditions. Asking $200 per complete receivers (604-2 through 604-8) and $150 for
604-9
since it's a stripped upper.
UPDATE:
604-9 SPF. Thanks!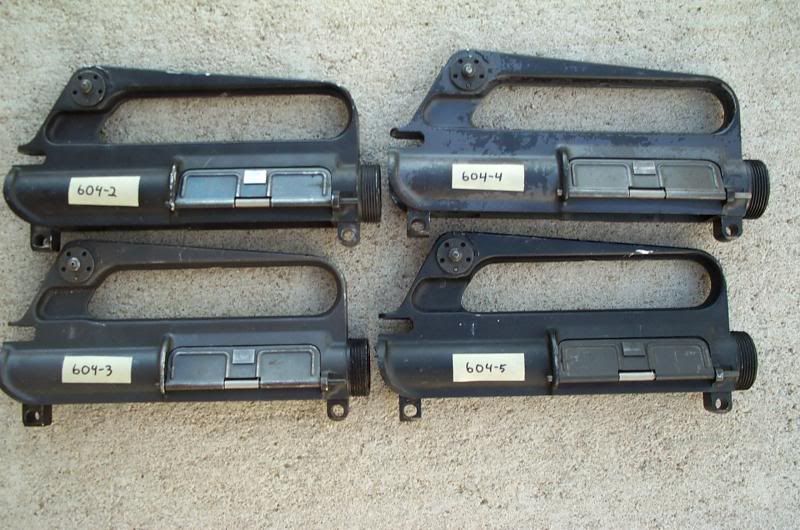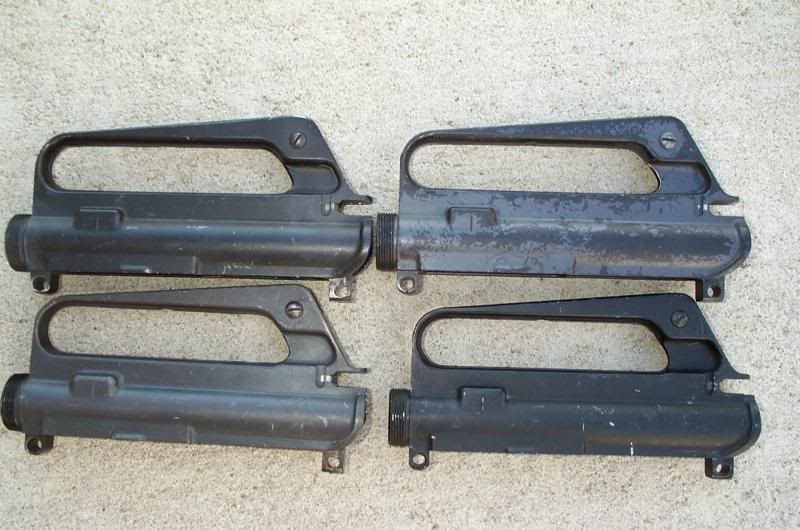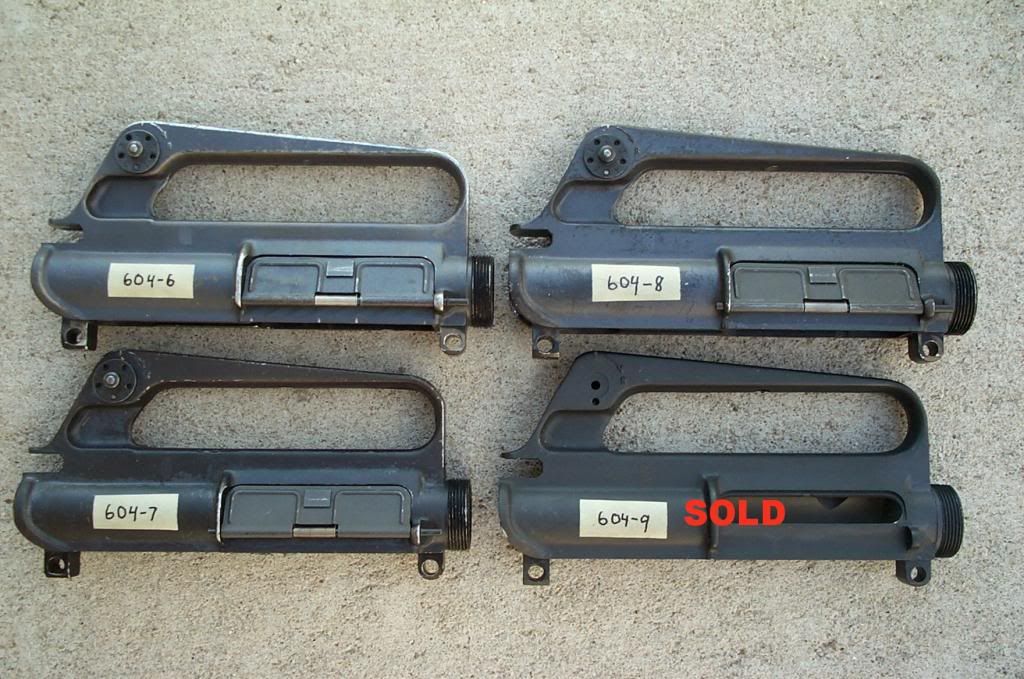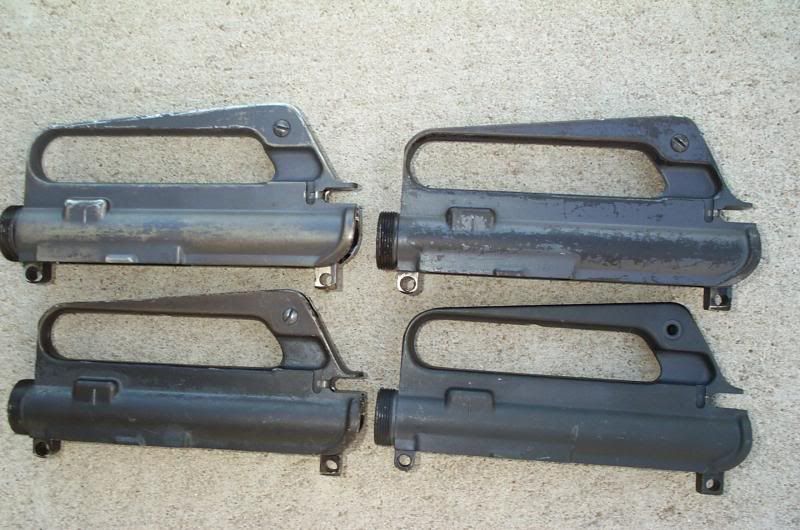 Original 601 Triangle Charging Handles:[/

span] OK, I can see why these went away pretty quickly after the 601 series! Anyways, these are all original and in pretty good shape as well. Asking $50 per charging handle.

UPDATE

All sold pending funds. Thanks







Slick Side Phosphate Bolt Carriers:

I have a couple of the late style 604 phosphate coated slick side bolt carriers without forward assist notches. Both of these carriers have the chrome plated gas keys. Asking $300 per bolt carrier. In the same picture, I also have an old Colt C-style bolt carrier from I am guessing the mid 90's. Not really sure if they make this design anymore. Asking $150 for this maybe rare carrier.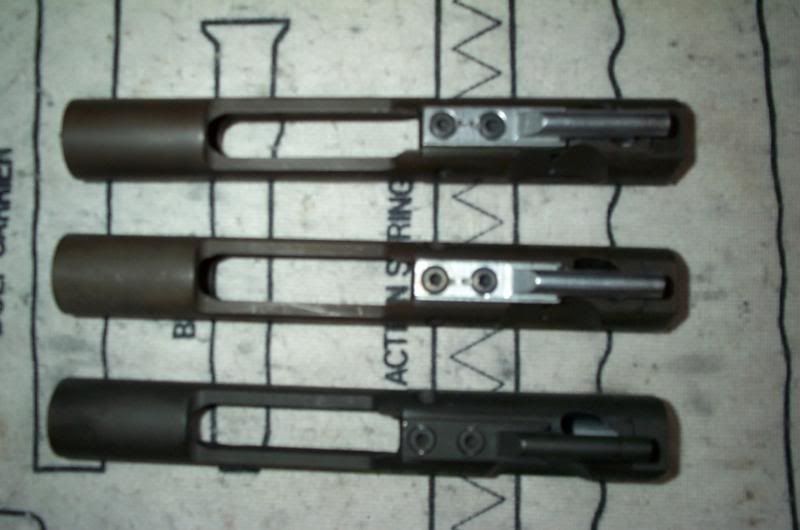 Original Chrome Bolt Carrier:

Original chrome plated bolt carriers as used in the 601, 602, and early 604 series rifles. These have no markings but when I got them, aftermarket chrome plated carriers weren't on the market yet so I believe they are original. Asking $300 per carrier.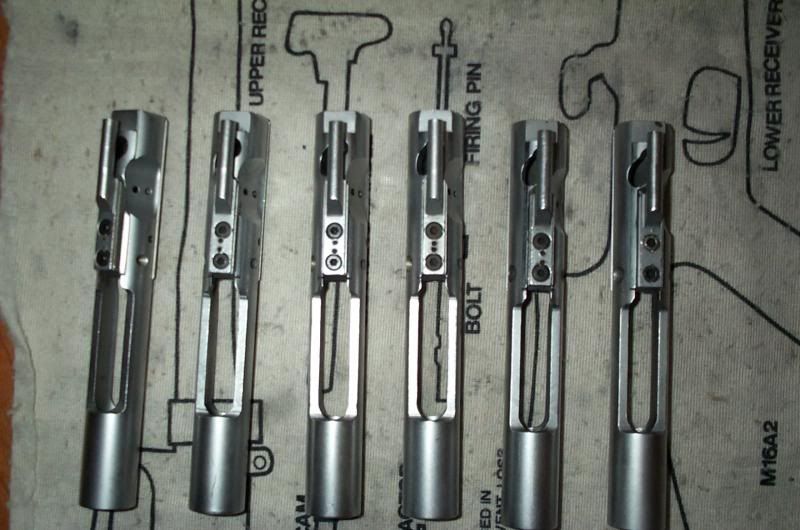 20" USGI A1 Barrel:

Not short enough to be cool I guess. These were still in their foil wrapper buried at the bottom of the box I bought. I opened one to verify that it's a Colt manufacture barrel and that they weren't damaged being in the bottom of the box. These are original chrome lined Colt barrels but oddly enough, the one I unwrapped has a square A2 front sight post. In any case, these barrels are excellent still new in their original wrappers that I will throw in for free!
Asking $400 per barrel.

UPDATE:

ALL SOLD PENDING FUNDS. Thanks.







Original Green 601 Series Pistol Grip:

I have

3

(now 1) green original 601 pistol grips with a lot of paint left on them yet. Asking $50 per pistol grip.

UPDATE

Outer grips SOLD but still have the middle grip. Thanks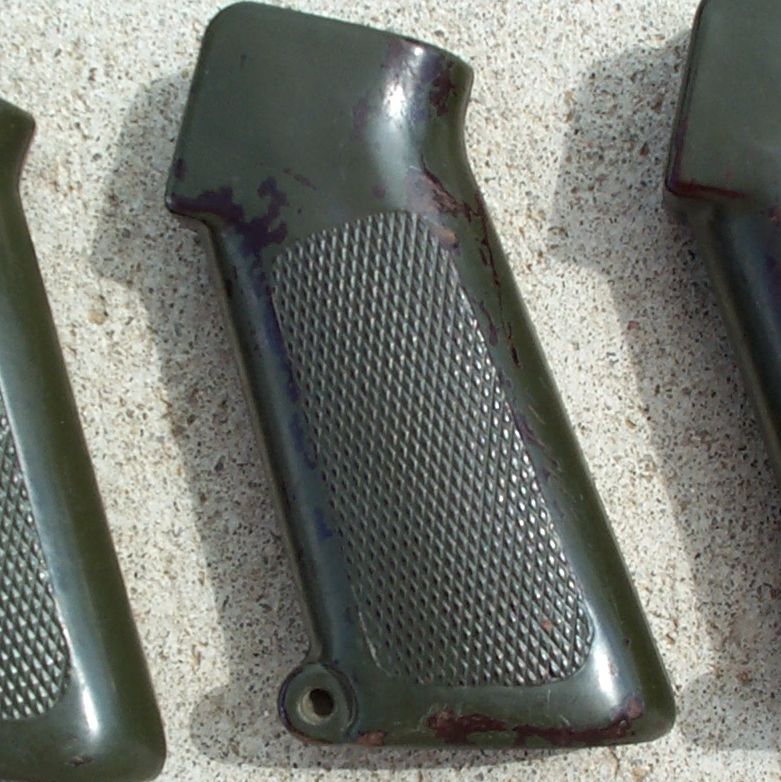 Metal CAR Stock

and

Bushmaster Slip-Over Flash Suppressor

: Not really sure who the maker of this stock is although I have to assume that it's an original Colt production item as well. It comes without a buffer tube but I have tried it on my military grade buffer tube and it fits fine. There is no plastic covering like later stocks so this may have been an early model? If not, it sure looks like it! Asking $200 for this stock. The Bushmaster slip-over flash suppressor is something I actually bought for my CAR-15 years ago. Just didn't live up to my expectations as far as aesthetics and I didn't like the extra weight. Selling this for $10. [span style='font-weight: bold;']UPDATE:
CAR-15 stock SPF, Flash Suppressor SOLD. Thanks.
As far as shipping goes, add $10.00 per barrel and $5.00 for any other additional part. I ship USPS as delivery services here tend to be a bit limited. I accept Postal money orders or pay-pal +3% so you're really better off doing the money order route, besides, pay-pal isn't very gun friendly in the first place!
Like I said, I apologize if my prices are out of line since I'm not 100% sure of the current value. Reasonable offers will be considered and if it doesn't sell at the current price, you can wait for it to come down a little more...as long as "the other guy" doesn't snatch it up first!
Thanks for looking.