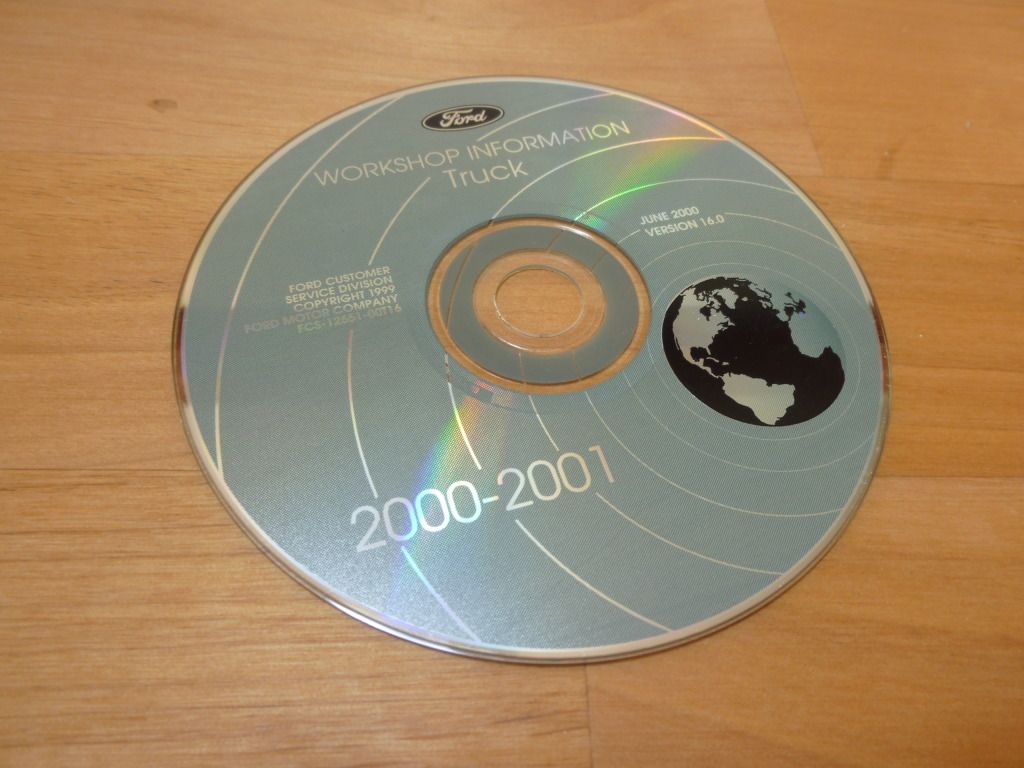 Ford 2000 - 2001 Truck & Van Factory Workshop Information - CD-ROM
I can't find these for sale for less than $130 anywhere. I sold my F250 I'm passing this CD on. I paid about $150 6 years ago.
Does not work with Windows 7
Use on Operating System: Windows 95/98/NT/2000/XP, 32 bit only
Item Number: FCS1255100T16
June 2000, Version 16
Publisher: Ford Motor Company
Media: CD-ROM
Operating System: Windows 95/98/NT/2000/XP, 32 bit only
This CD-ROM is used by your local Ford dealership technicians. This is a used Ford CD-ROM in excellent condition. This CD-ROM is comprehensive and contains all you need to know about how to disassemble & repair components on your Ford truck. The CD-ROM diagnostic procedures show you complete diagnosis, pin-out tests, disassembly, repair and reassembly. This CD-ROM contains multiple factory Ford Motor Company Manuals, in fact all truck and van factory shop & service manuals are included for 2000 & 2001 model year Trucks & Vans. Ford Motor Company repair information is considerably more detailed and accurate than 3rd party aftermarket manuals. The information is professionally formatted with sufficient pictures, exploded views, charts, specifications and detail to complete any job. It contains all Ford shop and service manuals for 2000 & 2001 Model Year Ford Trucks including:
2000
ECONOLINE
EXCURSION
EXPEDITION
EXPLORER
F-150
F-650/750
F-SUPER DUTY (F250/350/450/550)
F53 MOTOR HOME
MOUNTAINEER
NAVIGATOR
RANGER
VILLAGER
WINDSTAR
2001 COVERAGE INCLUDES ONLY:
F-150
EXPLORER SPORT/SPORT TRAC
This information is the exact same as used by technicians and is considerably more detailed than any of the aftermarket manuals. Includes highly detailed text, diagrams and pictures. For the professional or the do-it-yourselfer technician. The information included on this CD allows you to fix your vehicle every time and save the cost of each repair visit! Includes all general information, assembly, disassembly and diagnosis instructions.
EVTM: The Electrical and Vacuum Troubleshooting Manual: Contains all Wiring and Vacuum diagrams including wire colors, circuit numbers, connector numbers and locations, connector views, ground location, and component locations. Each section in the EVTM list trouble shooting diagnostic sections.
PC/ED (Powertrain Control/ Emission Diagnostics Manual: Contains information associated with the electronic engine controls and how to diagnose and trouble shoot the system. Covers check engine light diagnosis, pin-out testing and repair procedures.
SERVICE MANUALS (Unit Repair Sections): Contain disassembly and assembly procedures plus diagnostics manuals for the following systems:
POWERTRAIN, DRIVETRAIN
GROUP 2: FRAME MOUNTING
GROUP 3: ALL AVAILABLE ENGINES
GROUP 5: DRIVELINE
GROUP 7: ALL TRANSMISSIONS
GROUP 8: CLUTCH SYSTEM
GROUP 9: EXHAUST SYSTEM
GROUP 10: FUEL SYSTEM
BODY, CHASSIS
GROUP 1: BODY
GROUP 4: SUSPENSION
GROUP 6: BRAKE SYSTEMS
GROUP 11:STEERING SYSTEMS
GROUP 12: CLIMATE CONTROL
GROUP 13: INSTRUMENT AND WIRING
GROUP 14: BATTERY & CHARGING SYSTEM
GROUP 15: AUDIO
GROUP 17: LIGHTING, GROUP
GROUP 18: ELECTRICAL DISTRIBUTION
NO EXPIRATION DATE: CD-ROM WILL WORK FOREVER
$39 shipped
2-3 day (Pay Pal no fee or Money Order)