G&R Tactical is now stocking the CQC SERPA Holsters and Mag Pouches (in matte finish)! These products are made in the USA and some of the best holsters on the market today. I am offering them at 20% off! I accept Paypal, Visa, MC, Discover and Money Orders. Please e-mail me with any questions.
sales@gandrtactical.com
C4
www.gandrtactical.com
I currently have the SERPA holsters (matte finish) in stock for the Glock 17/19/22/23/31/32, 1911 (without light rail) and the SIG 220/226. All holsters are for right handed shooters.
Retail on the SERPA-Matte Finish holsters is $45 and my price is $36! The Mag Pouches retail at $18 and my price is $14.40
CQC SERPA Tactical Drop Leg System $48
The Tactical Holster Platform allows you to take your CQC Carbon-Fiber Holster and mount it to the THP, giving you a tactical option for your holster. Designed with the SERPA Holster in mind, this platform gives the professional the option of wearing the SERPA Holster on the leg, when needed for raids or other special operations.
*Unique Y-harness with quick-disconnect articulated belt attachments
*Dual leg strap design can be used with both or just the bottom strap
*Two Picatinny rails allow attachment of CQC accessory pouches
*Flexible platform conform to the shape of any leg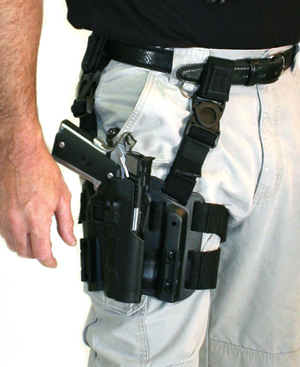 CQC HOLSTER w/ SERPA Active Retention System
This unique holster design allows you to forget old-fashioned thumb breaks that slow your draw and complicate re-holstering. The patented SERPA lock engages the trigger guard as you holster the pistol and won't let go until you release it. The release is made using your normal drawing motion, with the trigger finger beside the holster body.
As your trigger finger naturally comes to rest on the SERPA lock's release mechanism, simply push the mechanism as you draw the weapon and it releases the gun for a smooth, fast draw. No awkward use of a middle finger release or thumb break to interfere with a full combat grip, the SERPA lock lets you draw the weapon quickly while establishing a full grip from start to finish.
Unlike thumb breaks, which can sometimes be difficult to fasten one-handed, the SERPA lock allows you to re-holster quickly and securely every time, using only one hand. The SERPA holster has the same speed cut and concealment enhancing design of our Standard Model Carbon Fiber Holster.
All BlackHawk® CQC™ SERPA holsters come with both belt loop and paddle platforms.
Glock 19/23/32 Holster
CB/OD 1911 Holster
Carbon Fiber Mag Cases - Matte Finish
CQC magazine pouches have a built-in tension spring, to hold your magazine in place until you need it and to allow the use of a variety of magazines in each pouch. The proprietary belt clip functions as a clip-on design but has the stability of a belt loop, thanks to the hold and strength it gets from its' aggressive talon and special Carbon-Fiber blend.
The single stack magazine pouch works with all caliber single column mags, from 9mm to .45 caliber. The double stack magazine pouch will take all 9mm and .40 caliber staggered column magazines, including polymer-body designs.
The most interesting thing about our magazine pouches is that the unique belt clip can be removed and they can be placed side by side on our Dual Rail Accessory Platform, for those wanting a double magazine pouch, on the same carrier. Or, they can be placed beside one of our light carriers, for a combo light/mag carrier.
Double Mag Pouch
Single Mag Pouch