Aznav's Ammo Dump - One size fits all!
Because of the high cost of shipping (and admin) I'm going to sell this altogether. The price is a little more than half than what I paid for. Shipping will be the EXACT cost, to be determined by distance - probably UPS. I have tried to be exact on the amount but I could be a round or two in either direction. So, please, gimmie some grace. If there is some giant goof on the round count I'll square with you.
ps. in the pic is some 20 gauge powershot boxes. Those are gone.
.380 Winchester Target Range 95 grain FMJ (59 rounds)
38 SPL Winchester Target Range 130 GR. FMJ 4 boxes of 50 rounds each. + 11 loose.
38 SPL (+P+)147 Hydra-Shok JHP LEO 1 box of 50.
Also 20 loose rounds +P JHP
3 speed strips
38 SPL Federal Premium Low Recoil 110 Grain Hydra-Shok JHP. 1 box of 20
357 MAG Winchester JHP (mostly), loose box of 20.
30 Cal M1 Carbine "OARB" 31 loose rounds
44 Spl. 200 Grain Blazer Hollow Point (49 rounds) 240 Grain PMC (20 rounds).
About ten rounds of 40 cal Winchester FMJ.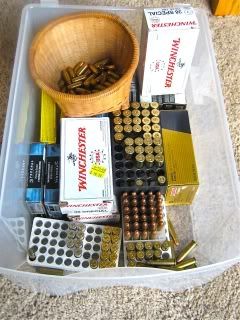 $190 FOR THE WHOLE ENCHILDA.
Hit reply with I'll take it and then please email me: aznav at comcast dot net.
tx!