EVERYTHING SOLD PENDING FUNDS
WTS: XD9 Tactical Customized by Canyon Creek NOW $670
Really awesome gun for USPSA Production Division in excellent condition. I got it less than a year ago and had it customized by Rich at Canyon Creek .
www.canyon-creek.com/xd.htm
It's functioned flawlessly for me, and I like this gun. I've been torn on selling this gun because it's really such an awsome gun for the money in USPSA Production division, but I prefer shooting guns with thumb safeties like my CZ-85 Combat and 1911s. I like a high thumb grip resting my thumb on the thumb safety. That's really the main reason I'm selling. Plus I've got too many really nice guns and I want to fund other gun projects I've got going.
FEATURES INCLUDED (custom features were added by Canyon Creek):
Full trigger action job for over travel/reset/pretravel and 2.5 lb pull
Dawson Precsion fiber optic sights with adjustable rear sight and 0.100" front
Extended mag release
Tungsten insert guide rod
Polished feed ramp
KG Gun Kote finish in matte black on metal parts
TruGrip grip installed with two spares
Includes two 15 rd mags
I paid $450 for the base gun. The very nice Dawson Precision sights were $130, and the Canyon Creek work cost me $350. I added a TruGrip for $24. You'll get over $950 worth of gun and mods that are hardly used for $670.
You pay for FedEx handgun shipping to your FFL, or I'm in Kennewick WA.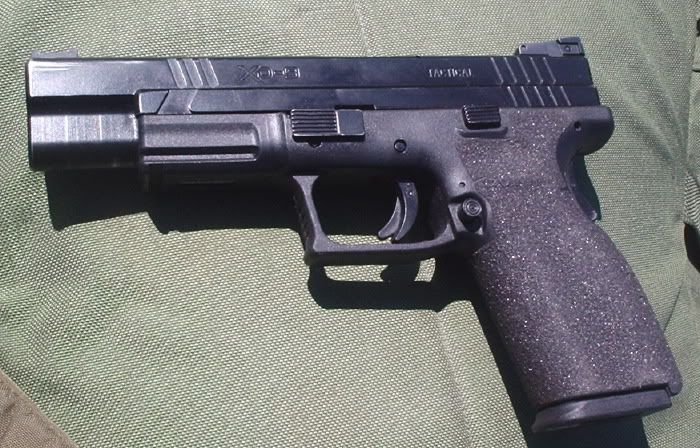 More pics at:
photobucket.com/albums/y7/Eager/XD9...r/?sc=1&multi=2
I'm also selling separately the following (used) items that are made for this gun:
Comptac kydex belt holster with 1.5" belt loops for right hand in matte black finish, am selling for $40 -
SOLD
One factory 15 rd mag $15 -
SOLD
Six factory 10 rd mags $13 each
SOLD PENDING FUNDS
You pay shipping