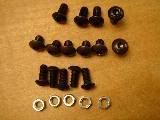 The screws for the front and rear trunions are the proper length needed. All screws provided EXCEED Grade 5 standards; their Rockwell hardness is C39-C44 (trunions I have measured are usually C39-C42). Minimum tensile strength is 145,000 psi.
Each 20-piece set is $7.50 ($8 if you use Paypal), including shipping.
Each set contains:
6 – 10/32 front trunion screws
4 – 10/32 rear trunions screws
5 – 8/32 trigger guard screws
5 – 8/32 special small pattern machine screw nuts


I also have the proper METRIC retainer clips for your hammer and trigger pins. These are the EASIEST way to keep your pins in place (other than the $19 Red Star retainer).
FREE
with a screw kit, $2.50 shipped otherwise.

Also offering trigger guard rivet kits. 5 of the proper size rivets, substitute FREE
for trigger guard screws in the screw set, $2.50 per set shipped otherwise.
My
Paypal
address is the same as my email, low_leadATyahooDOTcom
If you are building an underfolder or any variant that requires 6 rear trunion screws, tell me this in your email to me and add .50 for the 2 additional screws.
Thanks guys for all the business!