EDITED - All are currently Sold Pending Funds.

Please feel free to contact me if you'd like a back up spot just in case something falls through
Hey All,
Tough Times and Medical Bills mean I have to let my last few guns go.
I have THREE of the excellent AR-7 Survival Rifles.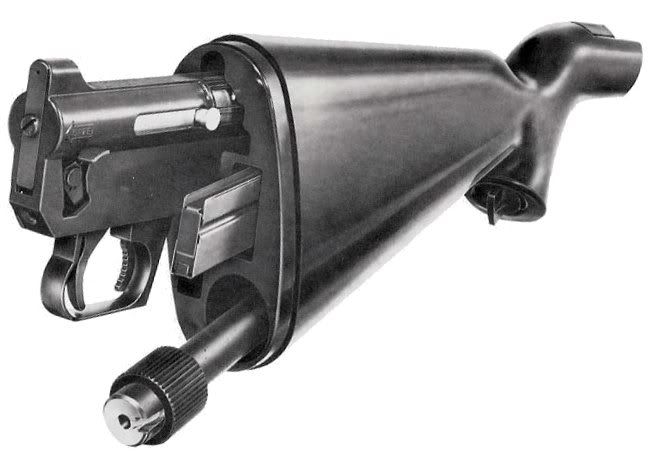 Some History (For those who like to know!)

The ArmaLite AR-7 Explorer, designed by Eugene Stoner, who also designed the famous AR-10 (7.62x51mm NATO) and AR-15 / M-16 / M-4 (5.56x45mm NATO) rifles as well as the Bushmaster 25mm automatic cannon, is the civilian-commercial version of a rifle developed for the US Air Force as a pilot and aircrew survival weapon. Its intended markets are backpackers and other recreational users as a knockabout utility rifle. AR-7 is often recommended by outdoor users of recreational vehicles (automobile, airplane or boat) who might have need for a weapon for foraging or defense in a wilderness emergency.

The prototype of what would become the AR-7 was designed by Eugene Stoner at ArmaLite Inc., a division of Fairchild Aircraft. The rifle shares some of the features of the bolt-action AR-5, another rifle designed by Stoner for ArmaLite and adopted by the United States Air Force in 1956 as the MA-1.[1] The MA-1 was intended to replace the M4 Survival Rifle and the M6 Aircrew Survival Weapon which was a superimposed ("over-under") twin-barrel rifle/shotgun chambered in .22 Hornet and .410 bore, using a break-open action.

Armalite sold the design to Charter Arms in 1973. Charter Arms sold the design and rights to Henry Repeating Arms in 1990.

The AR-7 uses a blowback semi-automatic action in .22 Long Rifle but retains the AR-5/MA-1 feature of storing the disassembled parts within the hollow stock, which is filled with plastic foam and capable of floating. Like the bolt-action AR-5, the AR-7 was designed as a survival rifle for foraging small game for food. The AR-7 is constructed primarily of aerospace materials to keep weight to a minimum. Aluminum is used along with plastic for the stock and buttcap. Even the barrel is aluminum, using a rifled steel barrel liner in the center. The AR-7 measures 35 inches overall when assembled. It disassembles to four sections (barrel, action, stock, and magazine), with the four parts storing inside the plastic stock measuring 16 inches long. The rifle weighs 2.5 pounds light enough for convenient backpacking. The rear sight is a peep sight, which comes on a flat metal blade with an aperture (in later production two different size apertures), and is adjustable for elevation (up-down). The front sight is adjustable for windage (side-side). Accuracy is sufficient for hunting small game at ranges to 50 yards.
I have THREE of these sweet lightweight and very accurate rifles that need new homes. You can't imagine a better Trunk / Truck gun for your car (just in case!). A great low visibility way to have a rifle when you are camping, hiking, canoeing or just being outdoors as all the components fit inside the stock and only take up 16" so it will fit easily in a pack. These are not super heavy target rifles, but they will consistently hit a 1" target (think Rabbit or Squirrel head) with a steady hand shooting in the field.
These rifles come with the factory 8 round .22LR magazine, and I'm including a 25 round Pre-Ban Ram-Line AR-7 Banana Mag for your plinking pleasure! These magazines are NEW still in
A new Henry AR-7 (current manufacturer) runs $225 wholesale purchased on-line, and then you still have to pay for the shipping, the F.F.L. Transfer and those danged taxes.
I really need to raise money for an expensive insurance bill, so I'm biting the bullet and letting each go for only $125 in Houston / Clearlake or for only $140 shipped direct to you in the state of Texas. I can ship to other states for the same rate, but it must be sent direct to your F.F.L. to transfer to you (sorry not my idea – just the law!).
These rifles are lightly used (mostly trunk carry in a padded case) in Very Good condition with excellent bores (no rust) and function perfectly.
Please claim your AR-7 in this thread with a C-L-E-A-R "I'll Take It" and then contact me by E-mail (preferred) or IM (Plan B) to make payment and pick up arrangements.
Thanks All
BIGGER_HAMMER
EDITED Information - the guns are beautiful basic black. These are late model Charter AR-7s Never had a single problem with any of them