I recently started putting together a MOLLE belt setup. I took it with me to a class two weeks ago, but ended up not using it or my chest rig. I shot the whole class with a kydex belt holster, one BHI CQC pistol mag pouch, and a single Specter M16 mag pouch (flap tucked inside). Extra ammo was in trouser pockets or on the ground back behind the line.
That said:
Someone on ARFCOM, I think it was one of the Cav Arms guys, mentioned that the waist/kidney portion of the MOLLE II FLC (Fighting Load Carrier) could be removed and worn separately. I came across one of the new Coyote MOLLE II FLCs and decided to give it a go: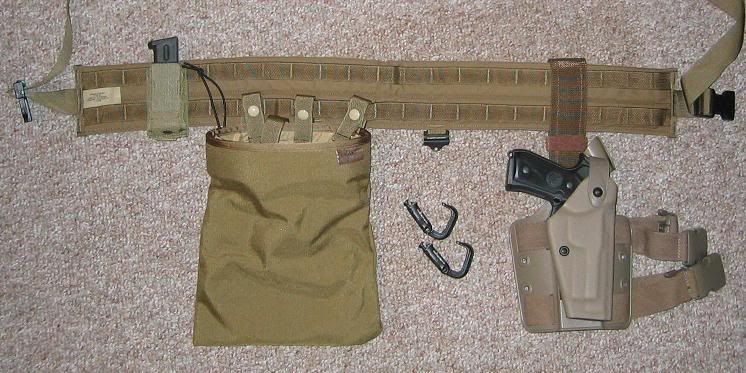 L-R as you see it: Eagle MOLLE FB M9 pistol mag pouch, CSM Gear improved (stowable) dump pouch, Safariland 6004 in Coyote.
The metal ladder lock buckle in between the dumper and holster is there because the whole thing is upside down; normally it's on top to attach to the FLC's rear shoulder straps. I set the FLC belt up upside-down because the seam at the bottom seemed to fit better, plus wouldn't roll over under the 6004. I think I can pull out the center row of stitching and replace the padding with some thicker closed-cell foam. Once I figure out the right spot, I'll pull out a column of stitching on the PALS webbing and route the 6004 drop through that.
The black Grim-locs come with the FLC; I'm not sure if it's for a specific purpose or just to attach stuff.
Since that picture I added another FB-M9 pouch. I'm looking to get an FB-M4 pouch (same idea as the pistol, but for a rifle mag) or put a TT shingle on there. I also replaced the metal buckle with a 1" SRB to attach a GemTech TRL, and removed a column of stitching where the 6004 strap goes.