Have had several inquires on my suppressed PSL.
Yes its a inaccurate rifle but its cheap to shoot and I love mine. Plus the suppressor made it so much more enjoyable to shoot.
Sent the gun to a guy in Wisconsin along with one of my Mosin to have barrels chopped and left hand metric threaded.
Barrel was cut back to 18" and threaded for M14x1 Left hand since it doesn't require as much barrel material .625 vs .551 OD's YHM makes mounts in this thread so that's why I that thread. This did remove the front sight.
Suppressor being used is an YHM Ti 762 QD, use it on my AR's, .308 guns, a Mosin, and the PSL. 500+ Rounds of surplus corrosive ammo without any signs of damage to the baffles.
Video of my 70lb cousin shooting it, .308 unsuppressed bolt gun on left. Video was before set screw was added. Don't have any updated video of gun.
http://www.youtube.com/watch?v=r3cAsCelCmA
Recoil reduction is phenomenal! Something that use to beat up my shoulder now feels like an unsuppressed 5.56 AR. I can shoot it without ear protection and my ears never ring or hurt.
Gun was way over gassed from the get go, I wanted to soften the cycle a little, so I bought some vented set screws from mcmastercarr 8-32 x 3/16" long and tapped the inside of the gas block, and drilled the vent set screw out to 1/16". Cycles softer but I need to get some smaller drill bits and drill some of the other set screws smaller than 1/16" to soften it even more. Tried .081 .0781 .07 all worked but I was trying to find the smallest that still cycled the gun. So 1/16" was what I stuck with. The vent came from mcmastercarr at .042" but it wasn't enough to cycle the action.
Has had no negative effect so far on the gun. Probably 300 suppressed rounds put through it since all work has been done. Only shot a few rounds unsuppressed but it's been fine as well. Only throws bass 10 feet instead of 25 feet…
Set Screw's
Nuts to hold Set Screw in vice
Tap
Drill bit I used
Here's the picture I went off of, I did try a 10-32 tap at first but it wouldn't get started with out being drilled out. Tried the 8-32 and there was enough material there for a good thread without having to drill it out. Also went with a shorter set screw. Removing the piston and hand guard allows just enough room to get a tap down in the gas block.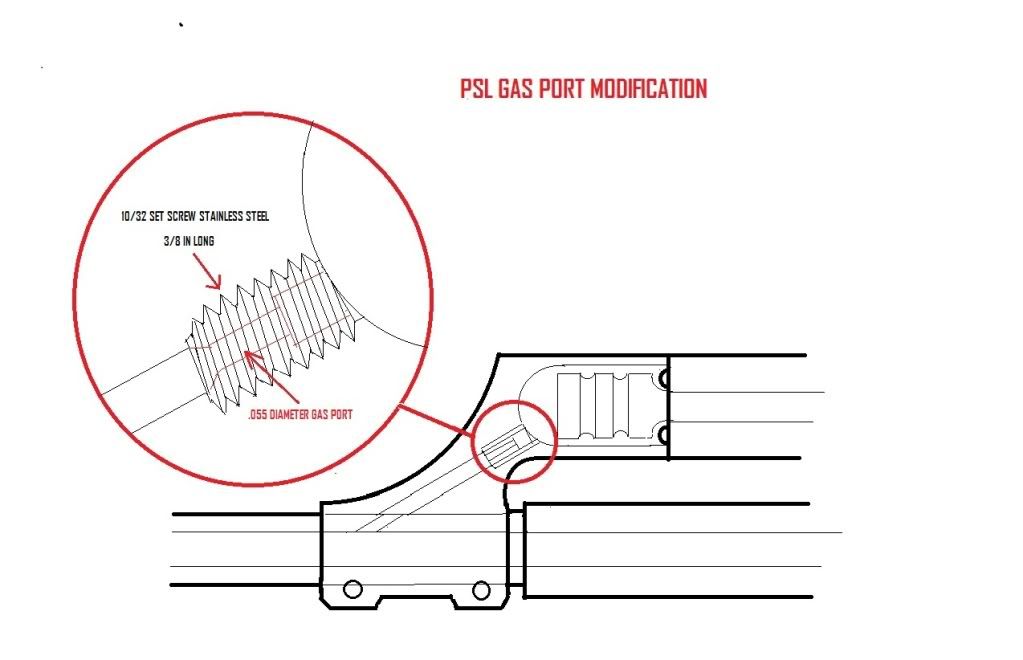 I haven't noticed any difference in accuracy with the shorter barrel.