I know this is an AR board, but I've gotten a lot of good info off the Armory pages recently and I'm sure there's someone going through the same search.
After the second
Virginia AR15.com Black Rifle Day
I did a
review of my 3-gun gear
and decided that pants pockets were not ideally suited to carrying shotgun shells. It lead to this
search for shotshell pouches
thread. I wanted something that was reasonably accessible yet protected, and able to segregate ammo by type. I decided on a BlackHawk
S.T.R.I.K.E. Shotgun Pouch
. I know some people have a gripe with BH, but save it. No one else made something comparable that fit the bill, just copies of the USGI ALICE pocket.
So I picked up the BHI STRIKE shell carrier from board sponsor
G&R Tactical
at the BRD. Not the smartest thing putting brand new gear right into action, but 3-Gun's just a game. (Darn fun though :D )Pulled it out of the package and saw that it's pretty versatile. Kinda shaped like a burrito. There are 6 loops on the outer face of the pouch, 6 on the inner part that stays against the wearer, and a strip of 7 on a piece of webbing that's anchored to the bottom with a snap at the top.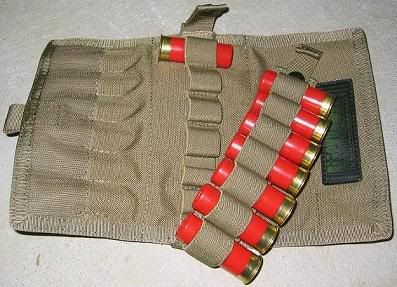 It'll hold 19 rounds, but ends up sort of overstuffed. 13 is probably a better fit if you're carrying it on a belt. You can putt 13 all inside and not have any exposed if the situation dictates. MOLLE compatible webbing on the back. It only requires one column to attach, but is as wide as a M16/M4 mag pouch.
The feature I like the most may have been accidental. If you load 6 on the flap and 7 on the strip, you can arrange it into a large panel: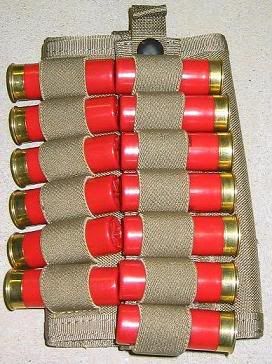 Giving you a baker's dozen of 12-gauge goodness right up front.
Anyway for the match I was using a borrowed chest rig for mags, so I just stuck my pants belt through the top loop on the back. It was a little low, but usable and out of the way on the front of my offside hip. More than fast enough to get the rounds out, and none came loose. Very heavy duty construction throughout, loops appear to be triple stitched at least. I'm pleased with it, YMMV.
FYI, last weekends
3rd Virginia Black Rifle Day
and my latest
Gear Critique
for my fellow Gear Queers.