Originally Posted By tojan19:
There has been pictures posted here of someone who strapped a vibrator to their powder measure. I've been meaning to try that one.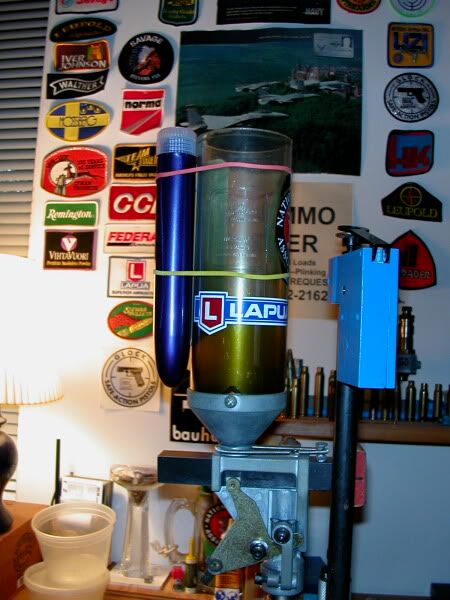 That was me.
What the OP is experiencing––powder bridging, is somewhat expected when using the small diameter powder funnels found on things like the 223 caliber.
OP can take some rigid Q-tips (wooden handles) or a Dremel tool's polishing tip and polish the top of the powder funnel (part that slideds up/down in the powder die, which is attached to the measure itself) and the inside pathway, to a nice sheen. This aids in keeping STICK powders from clumping/bridging and spilling out all over the bench and floor.
Been there, done that. It's even worse when you just finished cleaning the crap up and it happens on the very next pull!
You can also polish up your powder measure proper, the main funnel where the powder rests inside of the plastic hopper making that and the main chute through the measure's body, as smooth as possible.
There are links showing this in our FAQ section somewhere.
After each session, once polishing has been done, I'll swab that powder funnel with rubbing alcohol and get any powder residue off the inside passageway, for the next session. I'll also frequently repolish the powder funnel's top and inside area, as it's worth the few minutes with metal polish.
Just REMEMBER to swab everything with alcohol after using metal polish, as this leaves a residue which makes the stick powders stick a bit! Ask me how I know?
The vibrator thingy should work for more consistent charges, but long stick powders will often jam in those narrow passages, it's just the nature of the beast and even Dillon recommends ball powders with those tiny funnels.
Chris