Got out to the range today. It was a beautiful 45degrees here in Michigan. Slight breeze 5-10mph. The above rifle has a Leupold 2-7x33 scope on it. Not the one I hope to have as I want a 3-10x or 4-12x but its all I have right now. I took it off my muzzleloader which I wont need again till November.
I cleaned the barrel after every shot for the first 10, then after every 3. I have to say the rifle surprised me. I was hoping for 1-2" groups for my first time out and I got <1" with Hornady TAP 168gr VMax. I didn't have any 168 or 180 grain bullets on hand for my reloads. I had to settle with 150gr Hornady Interlock SP and IMR4064, loaded to Hornady published length. Will be using a chamber gage this week and hope to start tweeking the reloads with some better bullets.
I mounted the scope on the Mossberg and just eye balled down the bore to bore sight it. To my surprise I shot this 3 shot group with shots 2,3, and 4 at 50yards with the Hornady Interlock 150gr handloads. Happy with that I moved to 100yrds.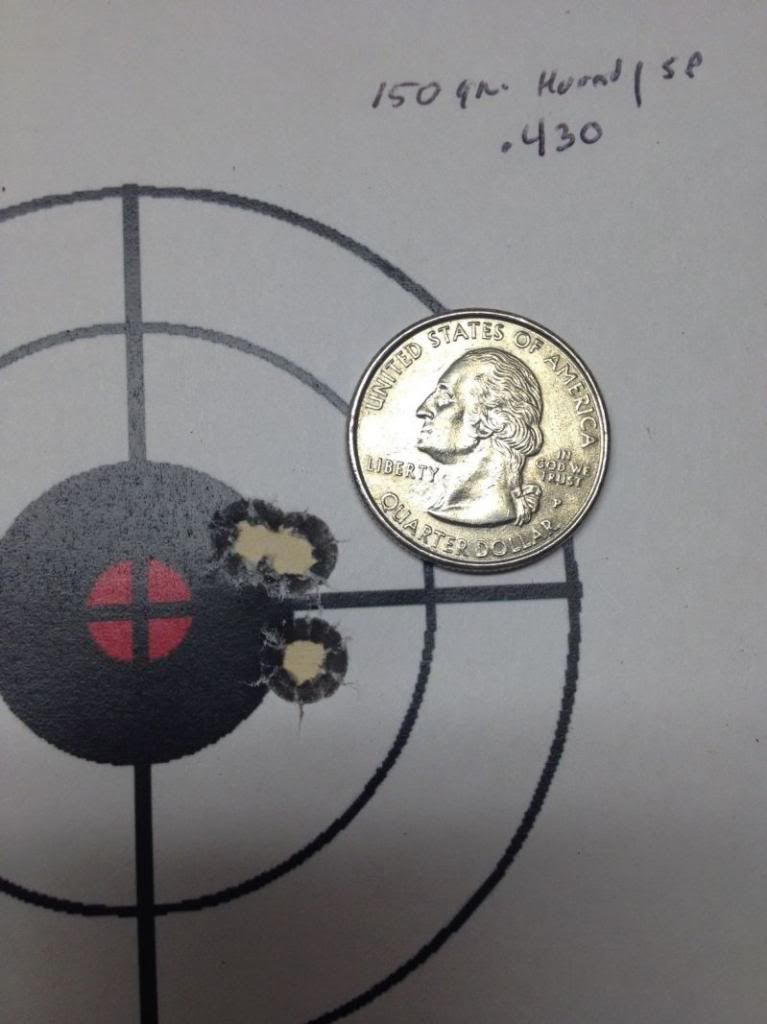 The 150gr Interlock groups opened up to about 1-1.5" at 100yards. My best was 1.150". The TAP rounds did better as expected. This 3 shot group was .895" at 100yrds with the Hornady TAP 168gr.
All and all I'm quite pleased. I think with a little work and a better scope the rifle will consistently be sub MOA.
A note on function. The bolt action/feeding is a little ruff. I can see that the feed ramps will need polishing. The Mossberg magazine needed more push to strip the rounds. The M1A mag performed better. The Mossberg mag is also very tight when inserted with a full mag and the bolt closed. Its also difficult to drop the full mag. The M1A mag had no such issues. Hopefully cleaning up the feed ramps will make the M1A mags perfect. If not I may try a 10rd Magpul mag to see if the bolt riding over the polymer works smoother. I wonder if the bolt fluting is also adding to the ruff feeding. I noticed some brass on the bottom of the bolt when I was done.
All and all a well spent $500. Looking forward to the fall deer season already.