This should work well for me. The grey tray in the bg doesn't work right for 40 sw. the cases sit too deep for the powder funnel to mate with them correctly.
So i followed dryflashes' lead making my own.
made the template also pictured on top of the "universal" reloading tray on the comp pretty simple with some copy pasting and layer snap turned on in photoshop.
Then snagged the couple blocks of wood from work.
taped the template down and center punched the holes with a nail.
Couldn't find a 7/16ths forstner bit so had to get the 1/2" pictured in the rear block.
little too big but works ok and the added bonus is it will work with 45 as well 45 case pictured in block with forstner bit.
Used my friends drill press with depth stop set so the holes are just a hair over 0.3" just enough for my lee funnel to sit on top of the cases properly.
my rcbs funnel is too deep to use with this block but at least 223 cases don't punch through it.
my pattern is probably a little tight for most but it fit my wood and is narrow enough that i don't have to flip the block around to get all the cases under the powder measure.
thanks for the info already here these ones came out much better than my failed attempt at a 223 block with 2x4s, a hand held drill and an ordinary bit.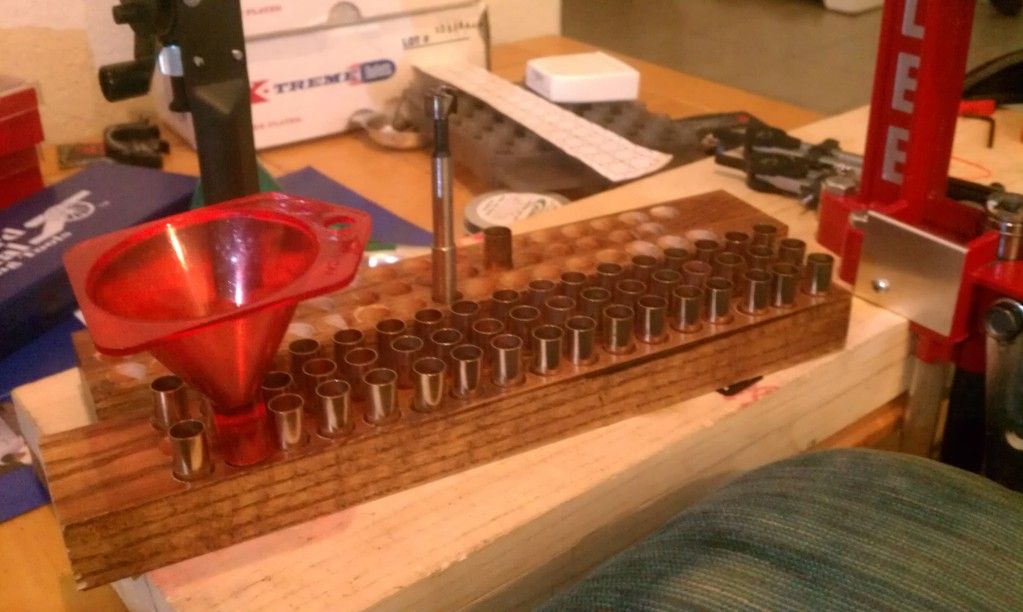 just need a 45 now