---
Originally Posted By Trick:
I'm attending Trident Concepts combative carbine 2-day class this month.
Items in inventory:
Bushmaster A2, GLOCK 19
Hatch shooter's gloves
TAG rigger's belt
BHI drop-leg holster
BHI Serpa retention holster
BHI STRIKE chest harness
--4 2-mag pouches, 2 pistol mag pouches, dump pouch
32oz. Nalgene, 2lit camelbak
First-aid kit, weapon cleaning kit, personal care kit
Eye/Ear protection

I am not military or LE, so I have a couple of questions.

1. Which holster should I use at class? I use the Serpa holster daily for concealed carry, but I would like to learn to shoot from a drop-leg.
---
Have you tried to wear the CCW holster with your chest rig yet? I use 6004's for sidearms and haven't found anything better.
---
Originally Posted By Trick:
2. Should I also wear a duty/load belt, or will the rigger's belt be stiff enough if I use the drop-leg (I'm also considering a drop-leg sub-load for mags in place of the chest harness).
---
I use my 6004's on a 2.25" duty belt, the Bianchi with velcro and a velcro inner belt (no keepers). A double belt setup makes for easier on/off changes, but the duty belt can conflict with your chest rig.
---
Originally Posted By Trick:
3. What are the most common AR parts to fail/break during class?
---
Unstaked carrier keys, bushmaster bolts (like to lose lugs with ~10k round count), pins/springs... I run 500-1000 rounds through before I take a carbine to class. It's also a good chance to verify zero. Oh, and LUBE!!!
---
Originally Posted By Trick:
4. I need comfortable knee/elbow pads. How are the Hatch pads?
---
I have the blackhawk 'hellstorm' pads, and both I and a team mate have broken one each. They cracked right down the middle. My current pads are Arcteryx 'knee caps', which they are now making for .mil use as well. The Alta pads with the 'alta-lock' buckle are supposed to be good, and I'm planning to get a pair eventually. Like all good 'tactical Teds', I spend a lot of time on my knees...
---
Originally Posted By Trick:
5. Is there anything not on my list that I might say, "Man, I wish I would've brought that!"?
---
A cooler and iced down water or hydration drinks of your choosing. Bring a couple gallons, if you don't use it yourself, you might help save somebody else's butt if you have extra. Bring a hat, extra points for a 'contractor cap' with velcro all over. I use mine to secure my ear pro under my nametapes (plugs on a string, not muffs
)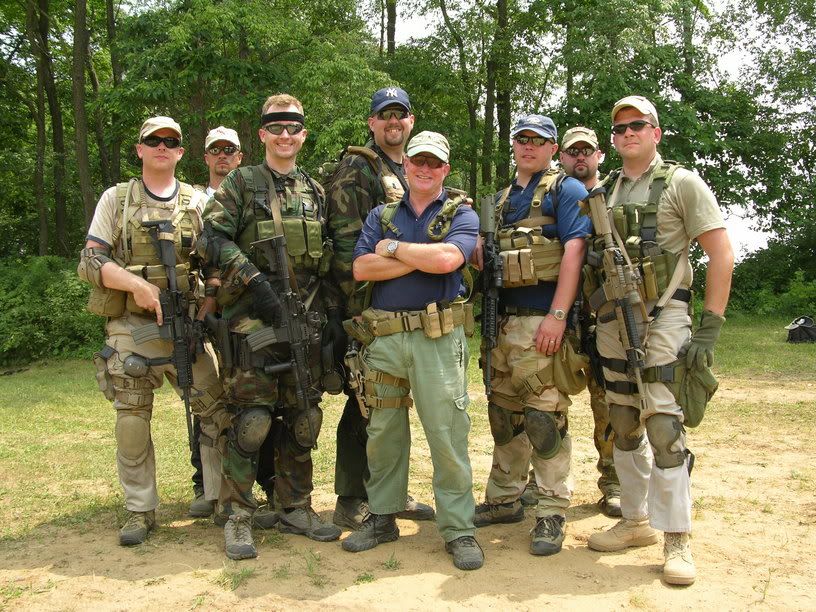 ... pic borrowed from LF that shows an assortment of gear used at the PR class I attended ...