When I went to the SHOT show, I found this booth, with this really tall dude named Trey. The booth was the PolarMAX booth, and Trey is the marketing manager for PolarMAX.
At the PolarMAX booth, Trey was pushing a new line of quick-wicking, fast-drying garments, called XGO, along the lines of Under Armour, et al. Having tried Under Armour (UA), and having been less than impressed with so-called "wicking" materials, I was skeptical. Trey put on a small demonstration at the booth involving a countertop, a puddle of water, and both UA and XGO fabrics. The XGO definitely out-wicked the UA, but I was still not convinced. Countertops are not sweaty bodies, and it would take more than a fancy parlor trick to change my mind about something made of the same synthetic polyester fibers as the leisure suits of yesteryear and my horribly hot-in-the-Summer, cold-in-the-Winter EMT uniform. So Trey gave me a sample for testing and evaluation.
What I received was the XGO Phase 1 Technical Silk t-shirt. Made from polyester, it is very thin and light, with a slightly "meshy" look and feel about it. It is stretchy, but not elastic, and it fits between the looseness of UA Loose Gear and Heat Gear. The seams are flat, so as to maintain a lower profile under clothing and equipment, with the smoother side of the flat seam on the inside of the shirt. It is a very comfortable shirt to wear as a base layer. The armpits are slightly meshier than the rest of the shirt. The whole shirt does have a light, silky feeling to it, befitting of the "Technical Silk" name.
I proceeded to test the Phase 1 shirt, along with a number of other items, on a hike up to Turtlehead Peak in Red Rock Canyon, just outside Las Vegas. I wrote a review of the products tested, and based on my comments on the XGO Phase 1 shirt, Trey sent me some other garments he felt would better suit my needs. The following is a review of each piece I've used so far, including the Phase 1 shirt.
-Phase 1 Technical Silk.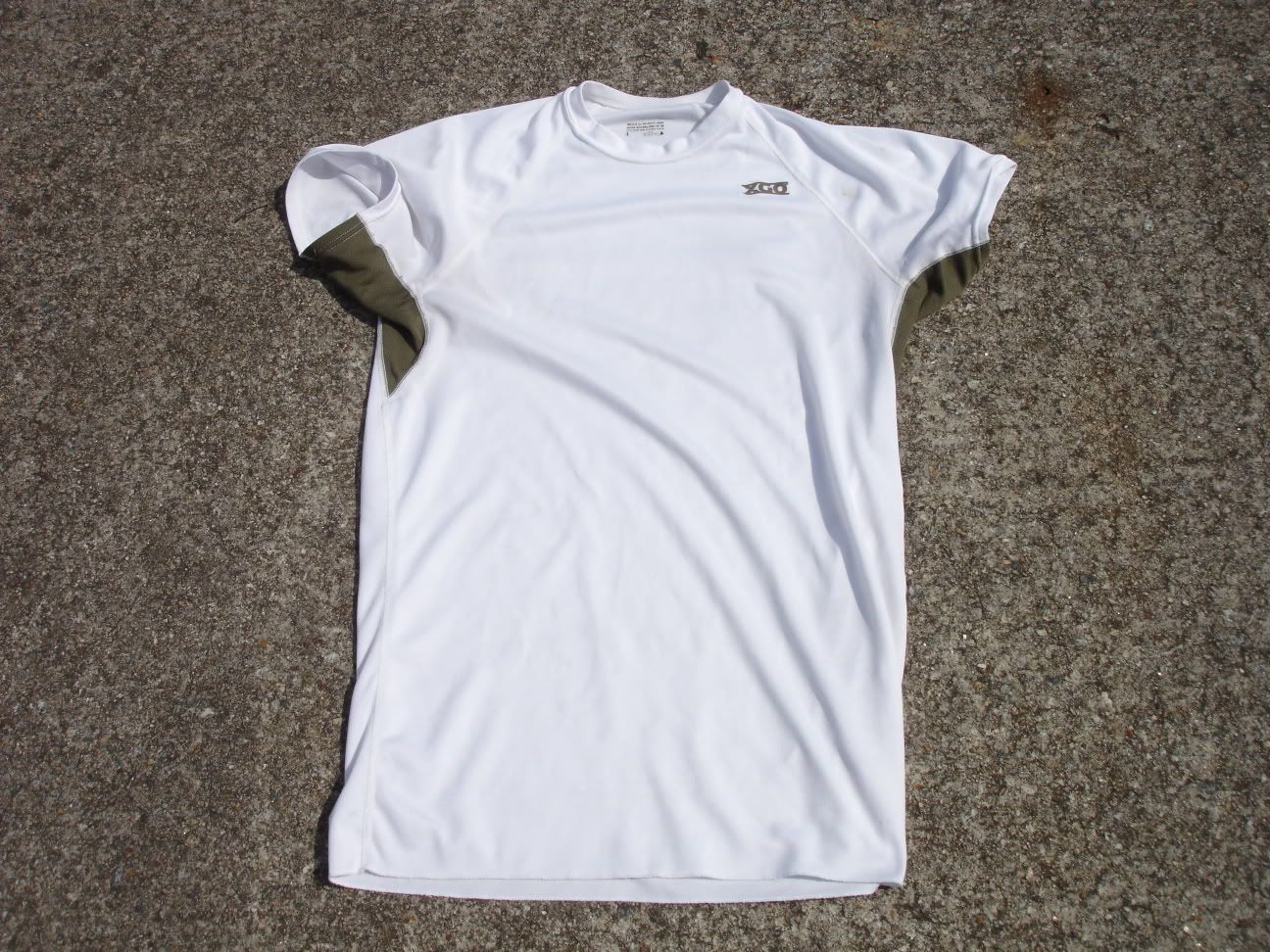 This shirt is VERY light, very comfortable, but very thin. It's very mesh-like in appearance, texture, and weight. Similar to the Under Armour Loose Gear, the Phase 1 shirt is intended as a base layer, to be worn against the skin. This garment is made of 100% polyester, but it is light years from the material of which my EMT uniform is constructed.
In the past, when wearing Under Armour, I have been less than impressed. It didn't seem to do much for the cost. A little bit better than pure cotton, UA was the only product I had tried until this XGO shirt. The XGO was markedly better. When wearing a cotton t-shirt over it, and a fully loaded ruck over that, this shirt performs pretty well. My ruck is set up to leave a little gap between the frame padding and my back at the shoulder area. In doing so, more airflow is allowed across my back. During hikes, I have noticed very marginal sweating on my back. When have noticed wetness, it was because my pack had been contacting my back more than normal, causing me to sweat a little more in that region. What I found was that the moisture I felt was actually in the cotton shirt, not the Phase 1 shirt. The Phase 1 shirt was totally dry, and any time I moved the pack back again, my back felt instantly cool and drier.
Basically, the Phase 1 shirt wicks all the sweat away into the cotton, where it's harder to evaporate. The straps of the ruck are decently soaked with sweat at the end of the trip, as expected, but my shoulders are always relatively dry. This tells me again that the XGO fabric does a pretty good job of wicking the moisture, spreading it out in a larger area, and allowing it to dry.
The other advantages to the XGO shirt for me are that it's loose and easy to wear like a normal t-shirt, not tight and elastic like UA (though the Phase 1 shirt is very stretchy, it doesn't feel like spandex). The seams are also flat, so there's no rubbing or discomfort under pack straps. There are also no seams at the tops of the shoulders, which is another plus for people wearing packs or other gear with shoulder straps. The seams are forward and aft of the tops of the shoulders. The armpits are somehow supposed to be anti-microbial. I'm not sure if it's a construction or chemical issue, but it seems to work. The whole shirt generally smells less after a good workout than other shirts. I have a feeling that a large part of that is due to not holding enough sweat for long enough to build up the bacteria that make the stink.
This is a great product that I wish I'd found before purchasing a couple of UA shirts that didn't work. For reference, I have both the UA Heat Gear and Loose Gear, and neither worked like the XGO shirt did. This Phase 1 shirt makes a fantastic base layer undershirt. It is too thin (and somewhat transparent) to wear as the sole layer much of the time. If it's really hot, it works as such, but otherwise requires another layer over it to keep the wearer from getting chilled by wind or cooler weather. This is solved for the most part by the thicker XGO garments reviewed herein.
Trey told me that the finish on the garments he sent me is a little rough, implying that the finished production pieces will be a little smoother in the seams and such. Honestly, though, I have no real issue with the way they're constructed as of yet. I haven't had any seams coming unthreaded or any problems with the actual construction of the garments at all. No shrinking, pilling, fading, unthreading, or any other malfunctions from the shirt.
Flat seams. Note placement away from tops of shoulders.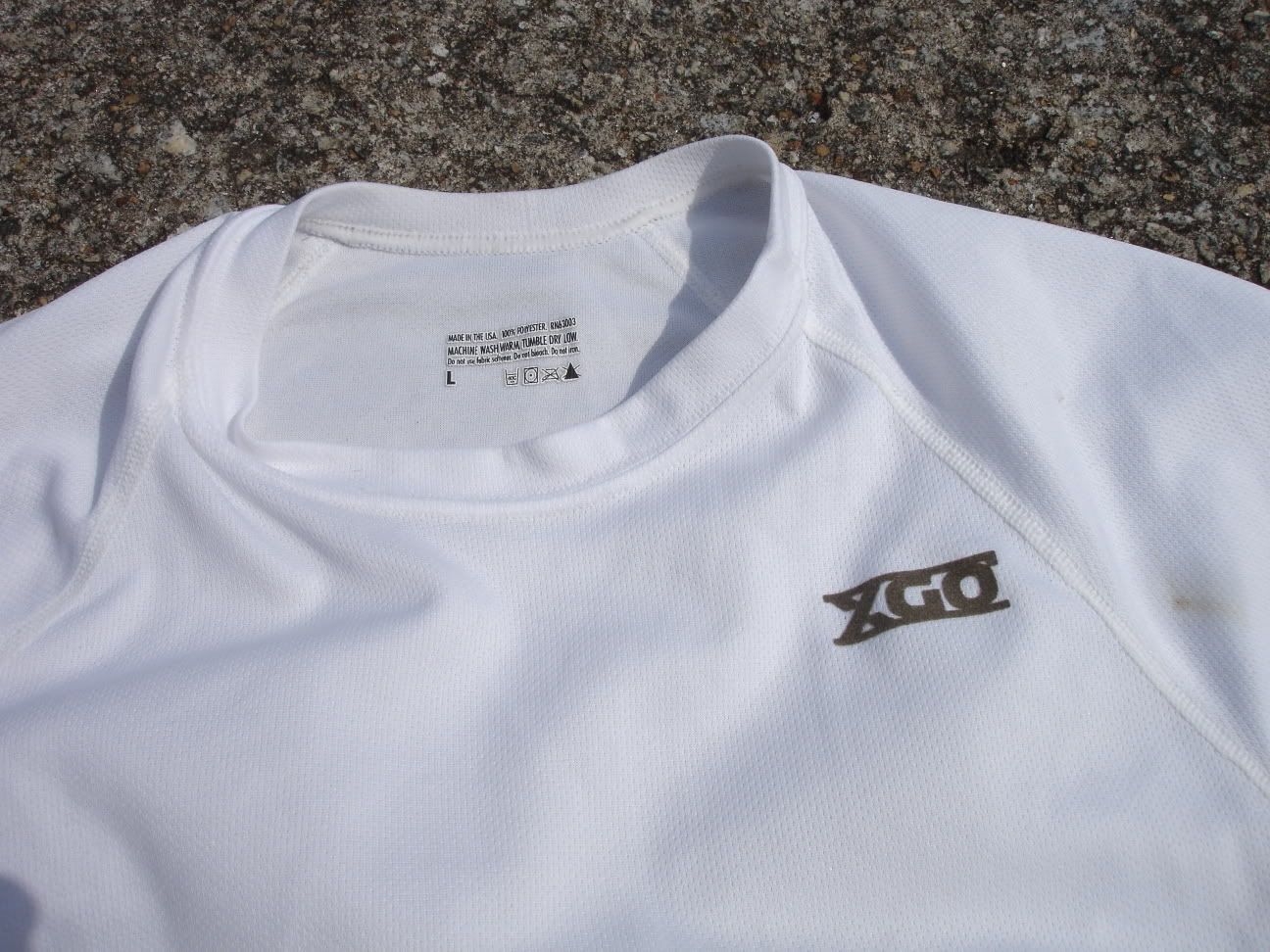 Rough hem.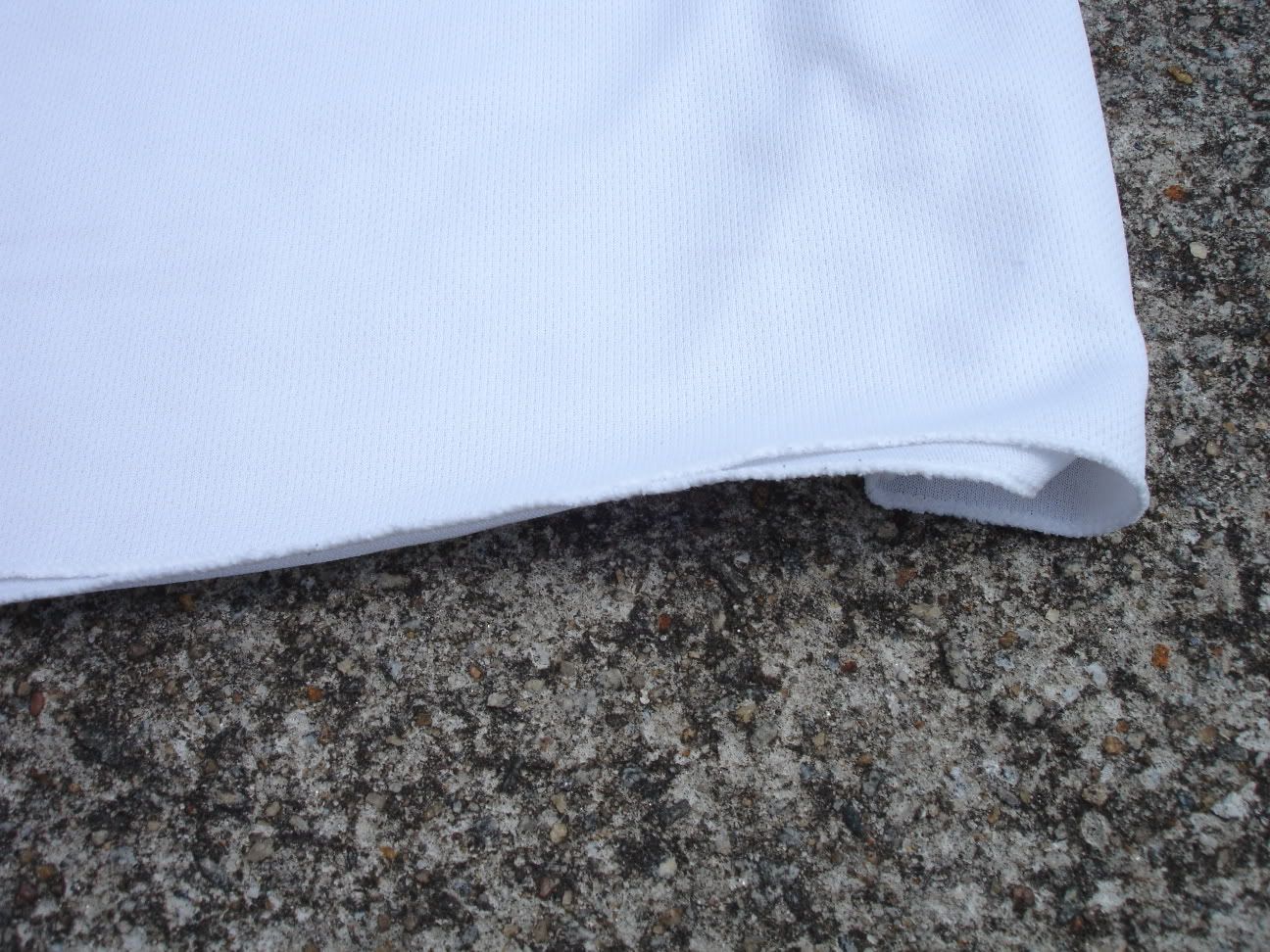 Mesh armpit.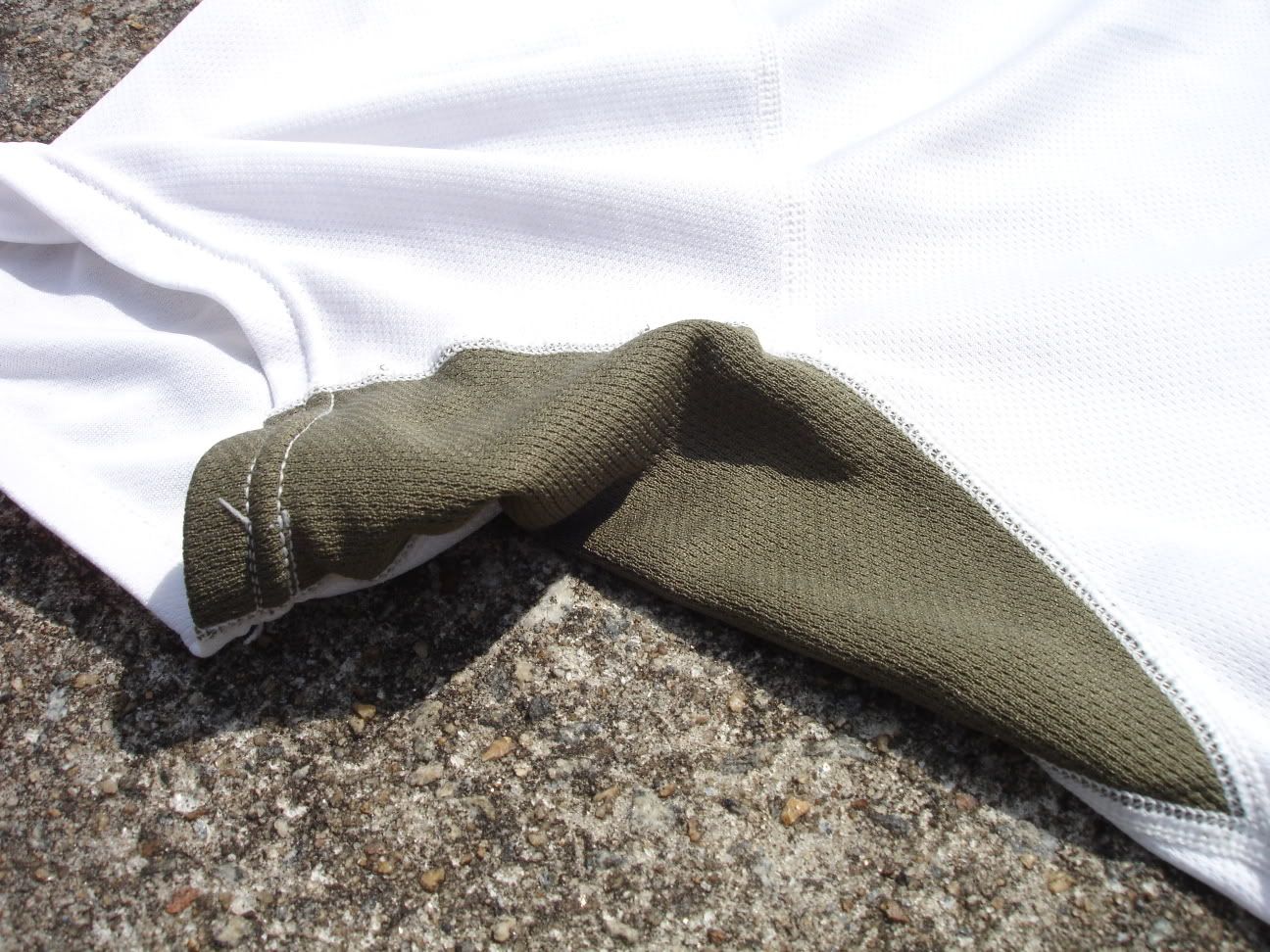 Inside of mesh armpit. Texture is a little fuzzier inside than out.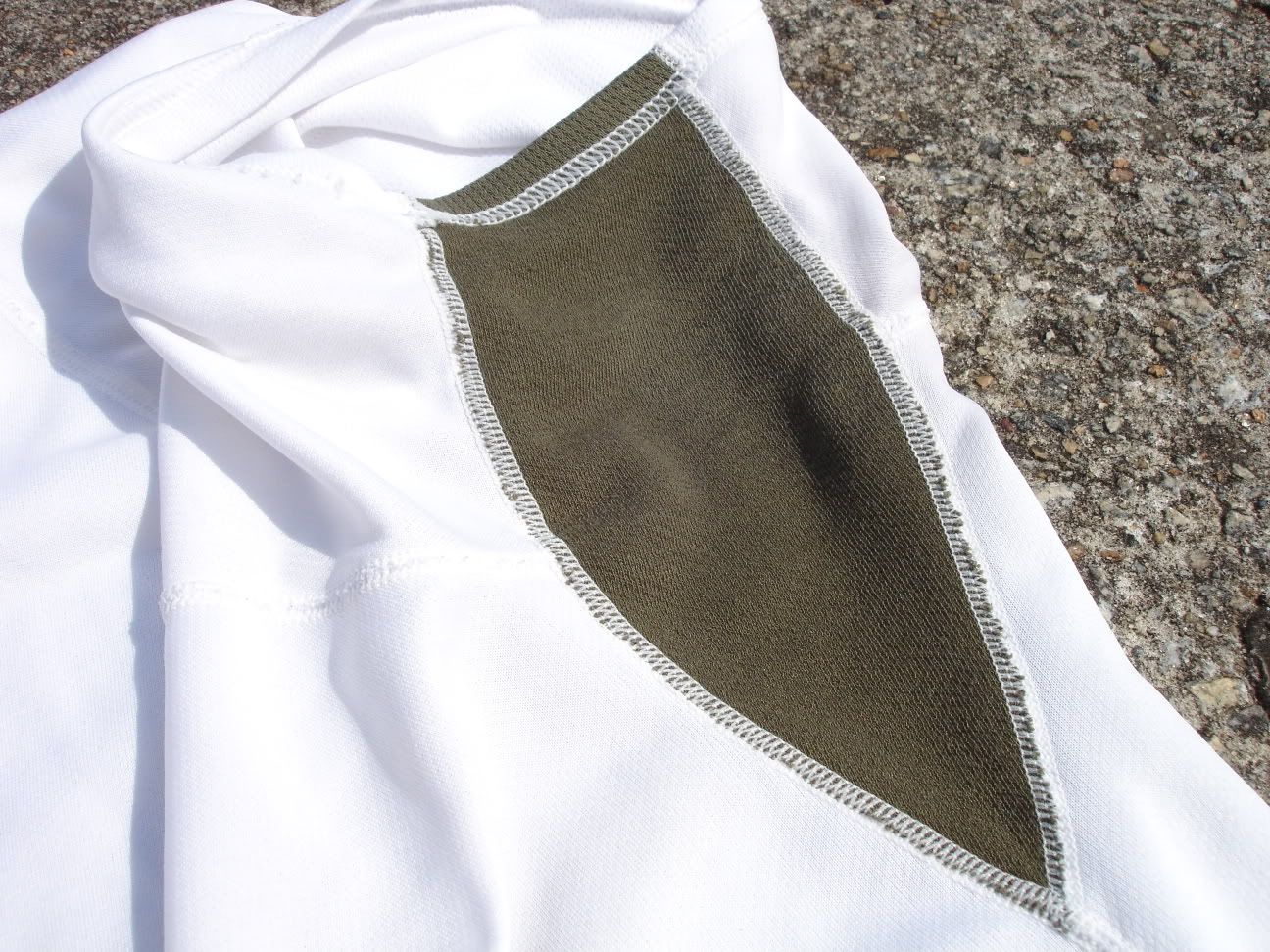 -Phase 3 Unifit Tactical T-shirt.
The next XGO garment is a slightly beefier version of the Phase 1 shirt. I'm not honestly sure of the official product name of this shirt, since there were no stickers or tags on it when it arrived. I'm pretty sure, however, that it is the Phase 3 Unifit Tactical T-shirt. It's made from a 90/10 blend of polyester and spandex, respectively. It's definitely markedly thicker than the Phase 1, and since there is no Phase 2 shirt like this on the XGO website, I'm assuming it's the Phase 3. The body and sleeves of the shirt are more like a slightly looser, much thicker version of Under Armour's Heat Gear. The shirt is loosely snug to the body, but not tight at all. The other construction features are the same as the Phase 1 shirt, as far as seams and finish.
This shirt does make a good base layer. I use it very frequently under my uniform shirts. Just like the Phase 1, wicking is remarkable. Temperature control is a little more stable in the winter months with this shirt, as it seems to have much better insulating properties than cotton. I have noticed that Under Armor Heat Gear has this same effect. I do not know to what feature of these shirts I should attribute this phenomenon, but I have noticed that if I take off the shirt, my body gets instantly colder, to match the temperature of my already-exposed arms.
When hiking with a pack, I teamed this shirt up with the Phase 1 underneath it. Great combination. It fixes some of the problems that I previously had with a cotton shirt over the Phase 1 during a mountainous, windy hike in Nevada. Hiking up a mountain here in Georgia with these two XGO shirts and nothing else under my pack made the strong, cold winds feel much more comfortable, especially while moving. When stopped, it is still sometimes necessary to put a light or medium fleece on over the two XGO shirts.
With the Phase 1 and 3 shirts together, I noticed an improved wicking action compared to a cotton t-shirt worn over a Phase 1 or Phase 3 shirt. Pack straps were less damp. The shirts weren't really wet at all except in one place: below the belt, where the shirts tucked into my trousers. At that point, my cotton boxer briefs and the britches I was wearing prevented the XGO fabric from breathing and drying out. Plus, there is a decent amount of sweat in that area, and much reduced airflow compared to the upper body. All in all, the Phase 3 works as a great base layer underneath other shirts, and works even better as a layer over the Phase 1. Wind still cuts through it, but you can add layers on top if necessary.
There are some changes I would make to this shirt, however. The sleeves are a bit too short. If you want to wear it as the top layer over the Phase 1 shirt, you should check your farmer's tan first. My shoulders are of normal width, and this shirt's sleeves just barely come down over them. It just feels funny to me, being used to normal-length short sleeves. The bottom of the shirt, due to the elasticity of the fabric, sometimes tends to roll up a little bit. Minor problem at the very most, but it's a contributing factor to the non-wicking when the shirt is tucked in. The rough edge at the bottom of the shirt may or may not have something to do with this rolling. A more finished hem may or may not correct the problem.
Rough hem.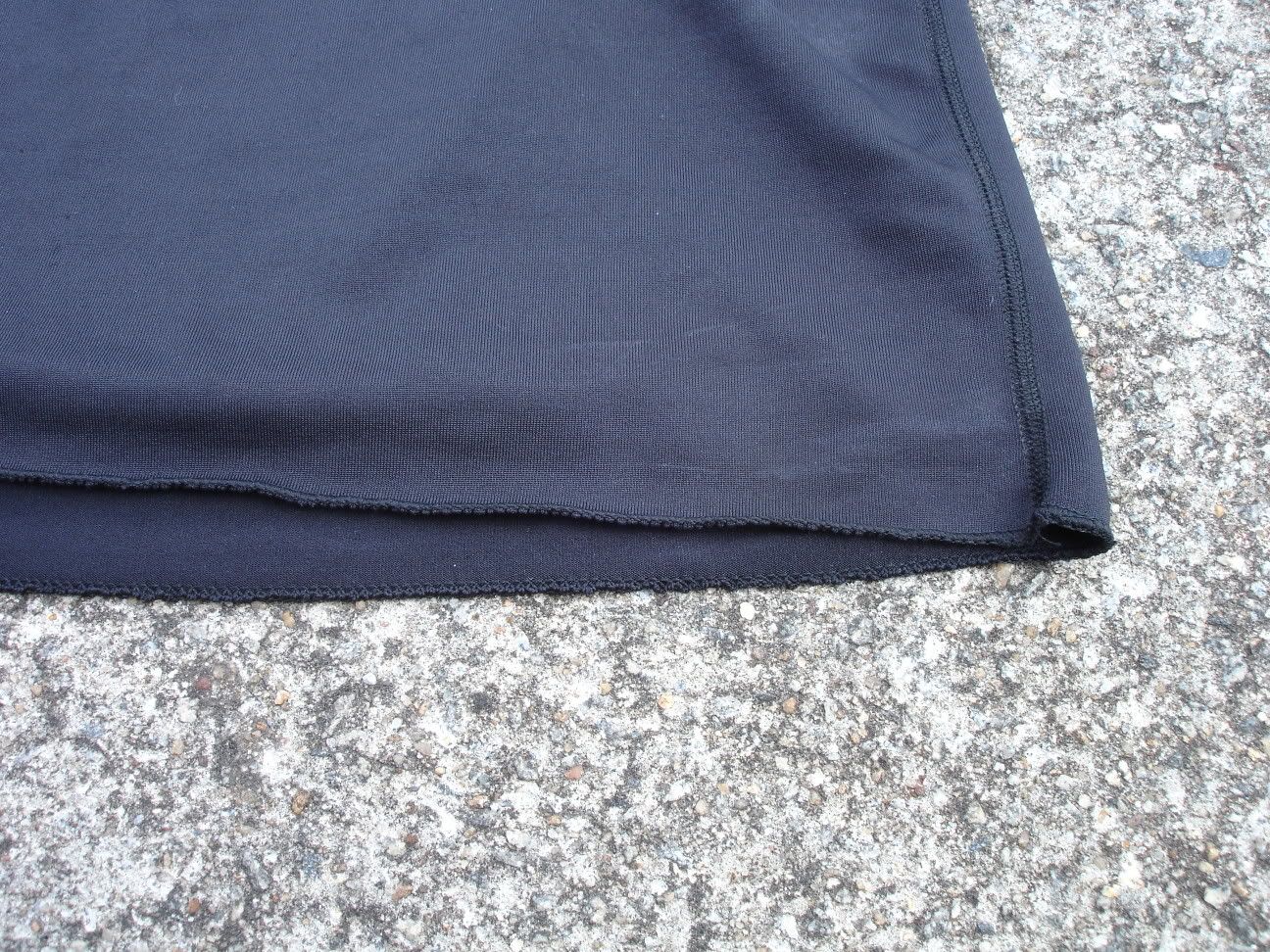 Mesh armpit.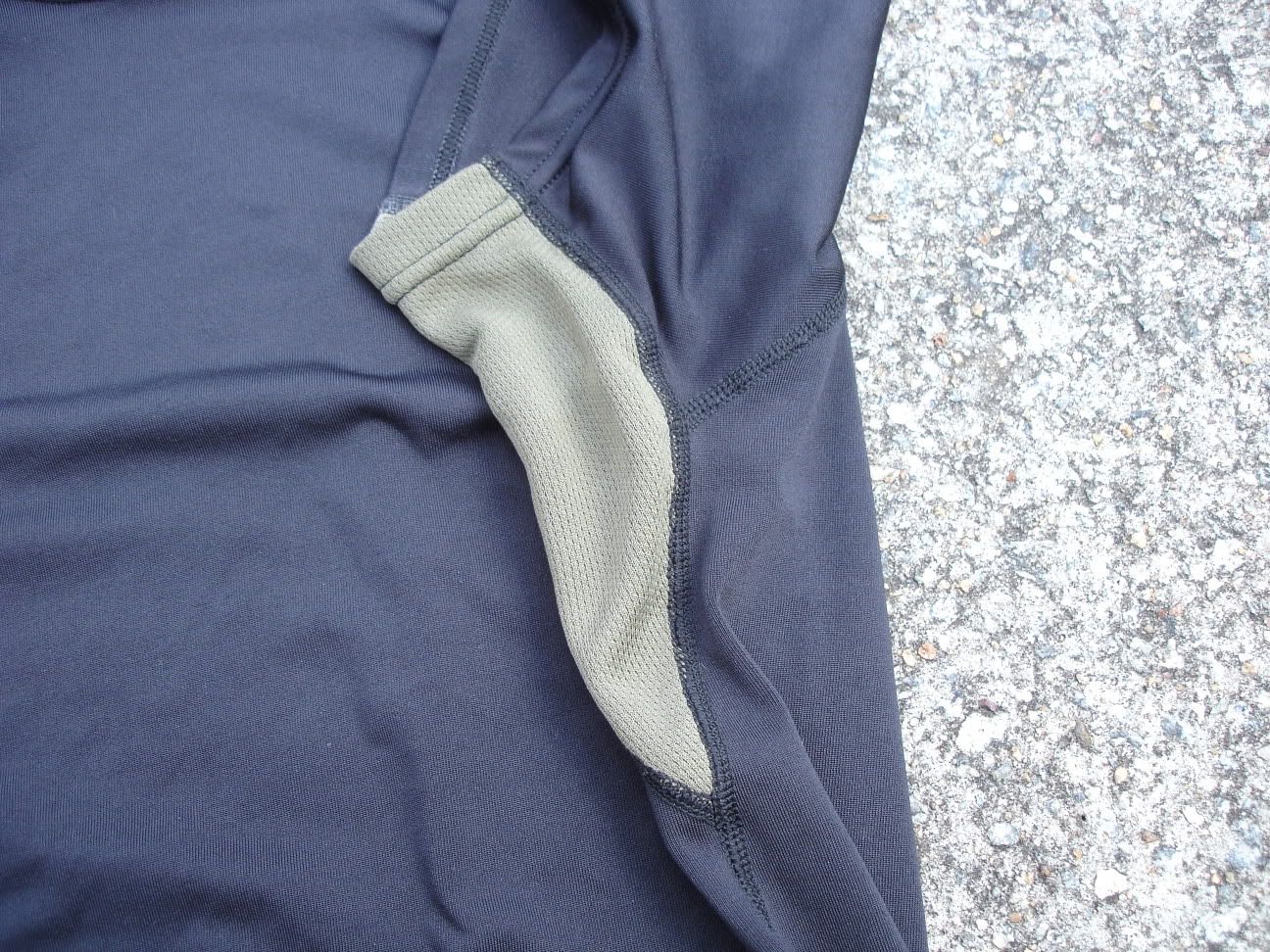 Inside of armpit. White stuff is deoderant residue. Sorry.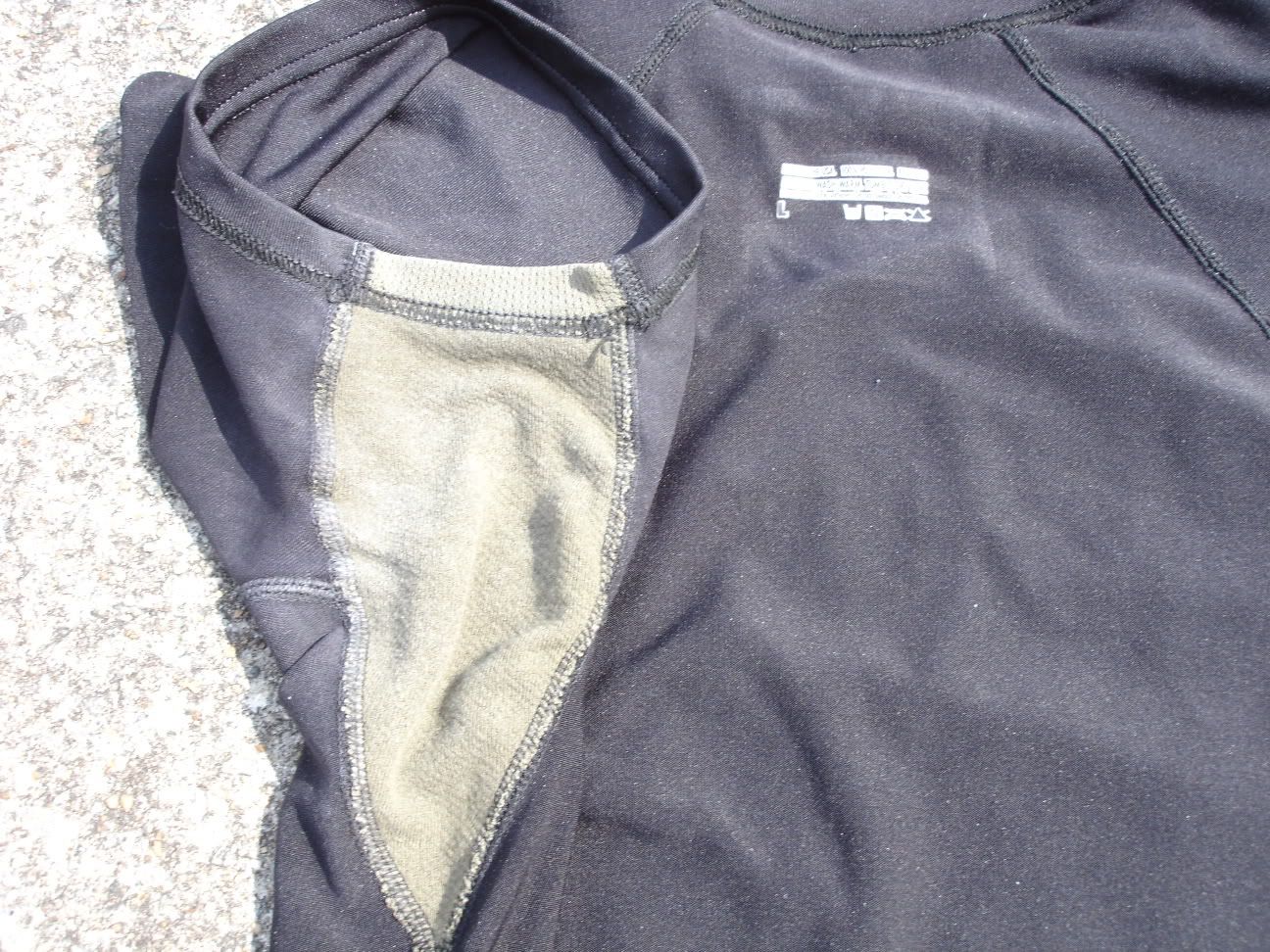 -Unifit Long Sleeve Crew.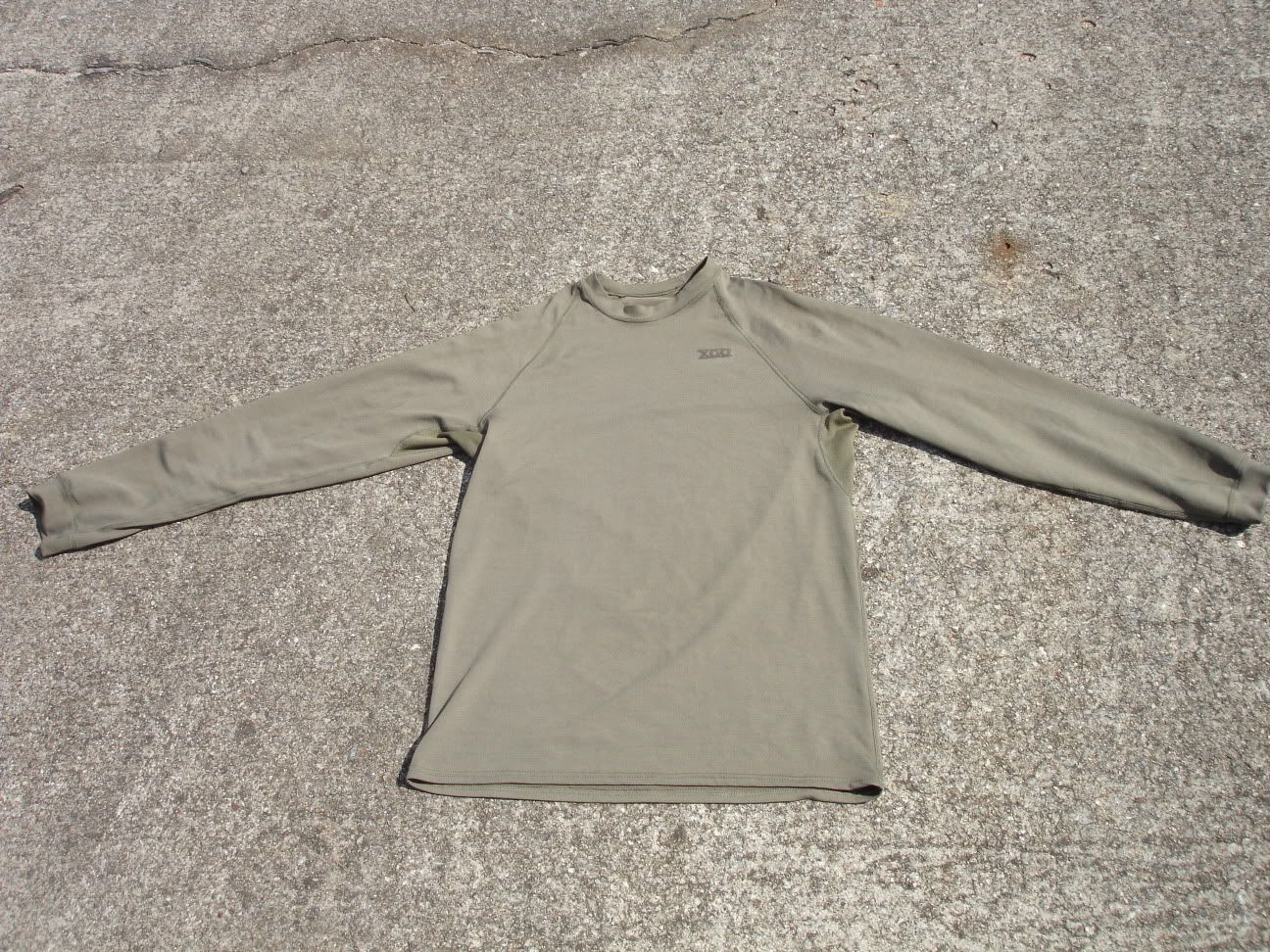 Almost the same weight and type of fabric as the Phase 3, this long-sleeved shirt is a little heavier-weight and a little looser fitting than the Phase 3. It has the same construction features as the Phase 1 and 3 t-shirts, but in a medium fit and heavier weight compared to the other two. Made of the same 90/10 blend as the Phase 3 t-shirt, the long sleeve doesn't quite hug the body as much, but is not quite as loose as the Phase 1.
When dealing with cold, windy conditions, this shirt helps a bunch. Wind still cuts through it, but there is not the same bite to the cold wind as when skin is exposed. This shirt worked pretty well over the Phase 3 t-shirt in 50-degree weather with light wind. Such mild temperatures are perfectly comfortable for me with this combination of shirts. The long sleeve also did a good job of keeping me warm in 45 degree weather with moderate to strong winds when wearing the Phase 1 t-shirt under it and a cotton t-shirt over it. I never noticed any sweating, even under exertion. I was not wearing a pack with this combination of garments, however, so there was much more airflow, and less obstruction to the normal wicking action of the XGO fabric.
I also wore the long sleeve over the Phase 3 t-shirt, but under my uniform shirt during a 12-hour-long EMS standby at a charity shotgun match. It was in the 30-45 degree range, some occasional wind. There were a couple of gusts early in the morning that made me glad that there were warm, open fires placed around the grounds of the match. No noticeable moisture the whole time, despite continuous walking periodically broken by standing next to the flames.
This long sleeve shirt fits me pretty well, but the sleeves are about a half-inch to an inch too short. When you raise your arms out in front of you, the sleeve ride up too much for my liking. The looseness is very comfortable, especially if you're wearing a layer or two underneath this shirt. There is a standard sewn hem, unlike the raw hems on the Phase 1 and 3 shirts. There was no rolling noticed at the bottom of the shirt when tucked in or exposed. I'm not sure which Phase this really is, as it's loosely cut like the website shows the Phase 2 long sleeve crew, but thicker than what I've labeled as the Phase 3 t-shirt. I believe the Phase 4 long sleeve is an entirely different material (more like a micro-fleece) than the other three phases, leaving Phase 2 as my intuitive choice.
Mesh armpit. Note flat seams again. In the picture above, note the finished hem.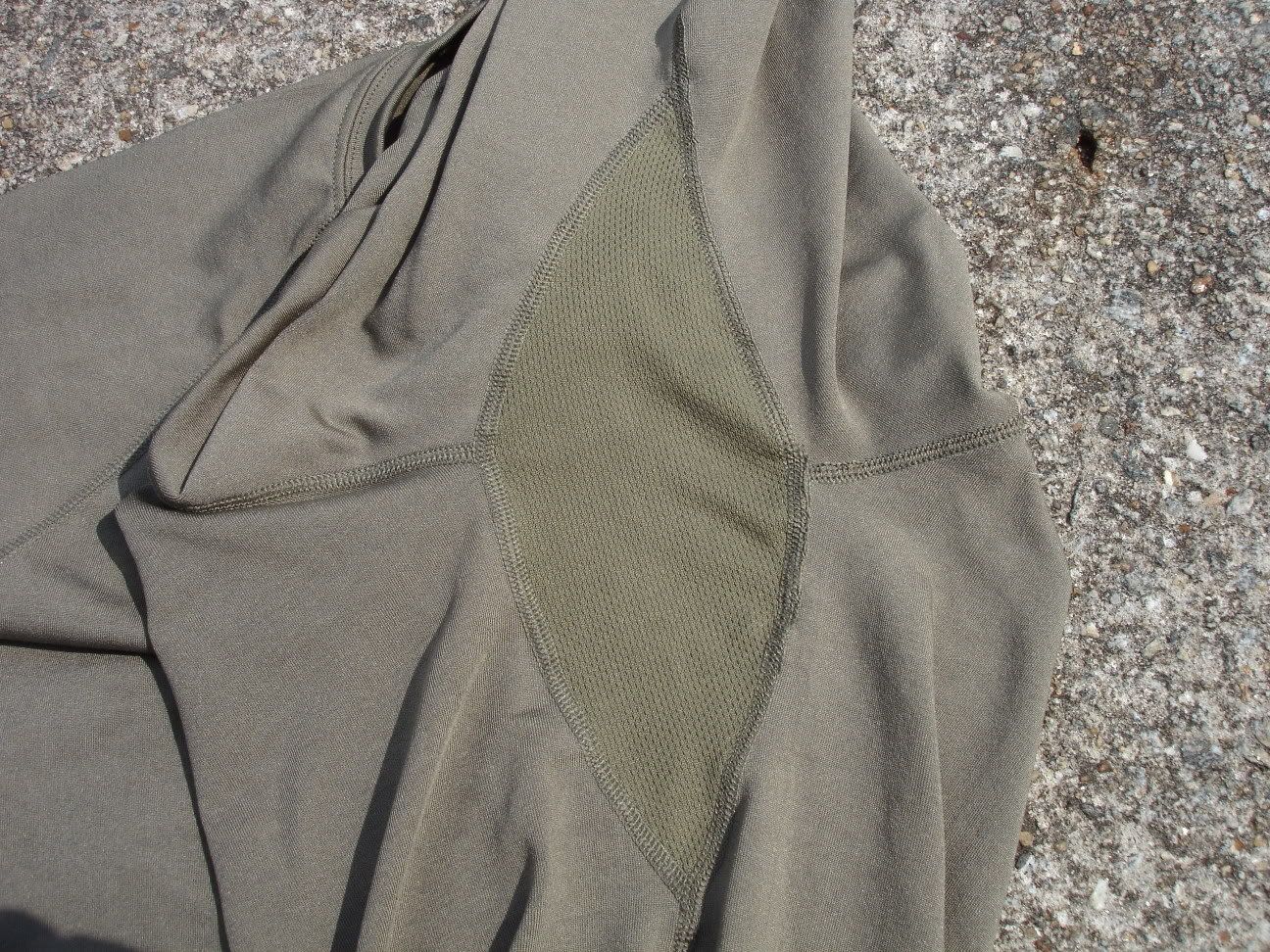 Inside of armpit.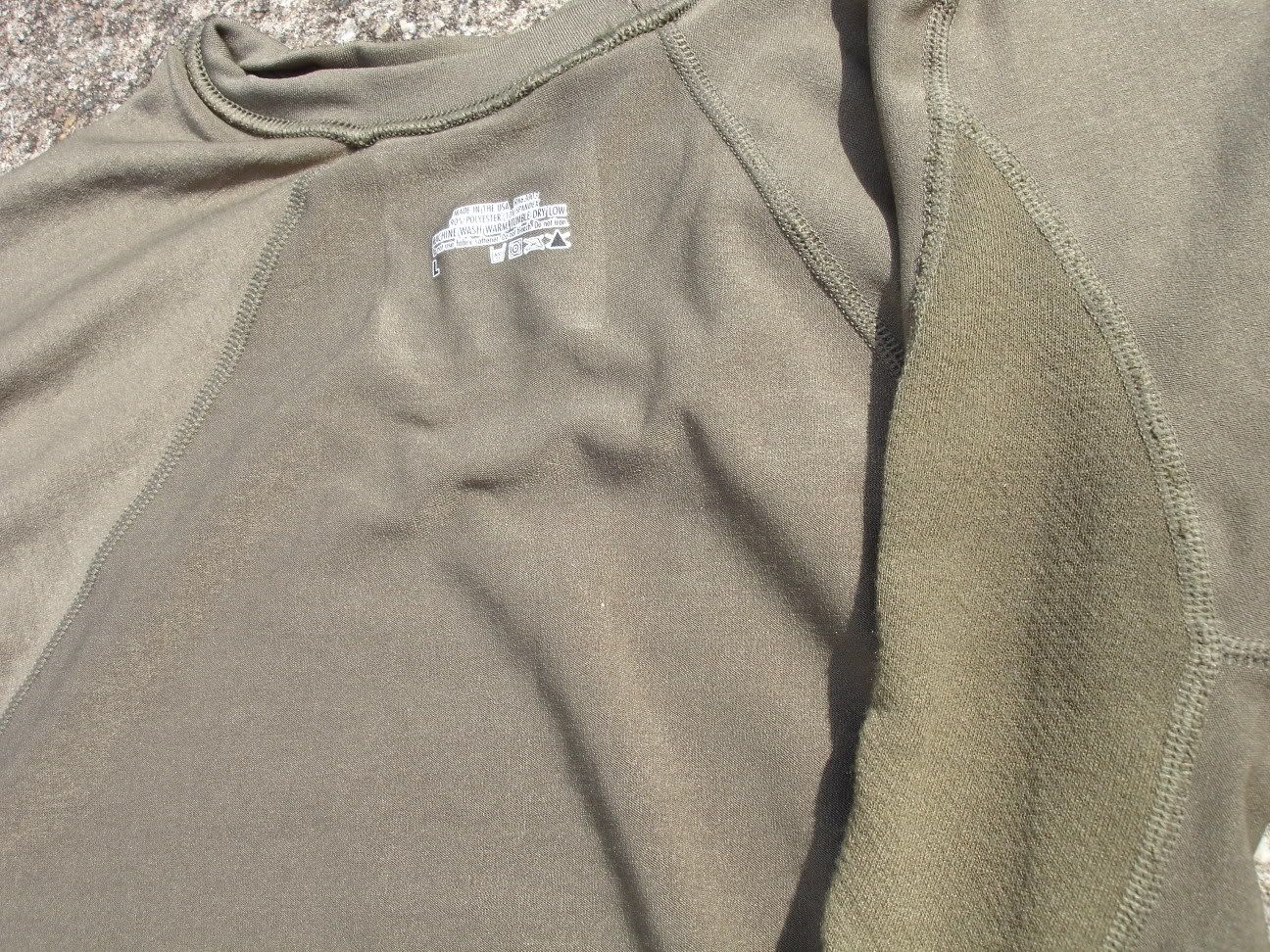 -Phase 3 Men's Pant.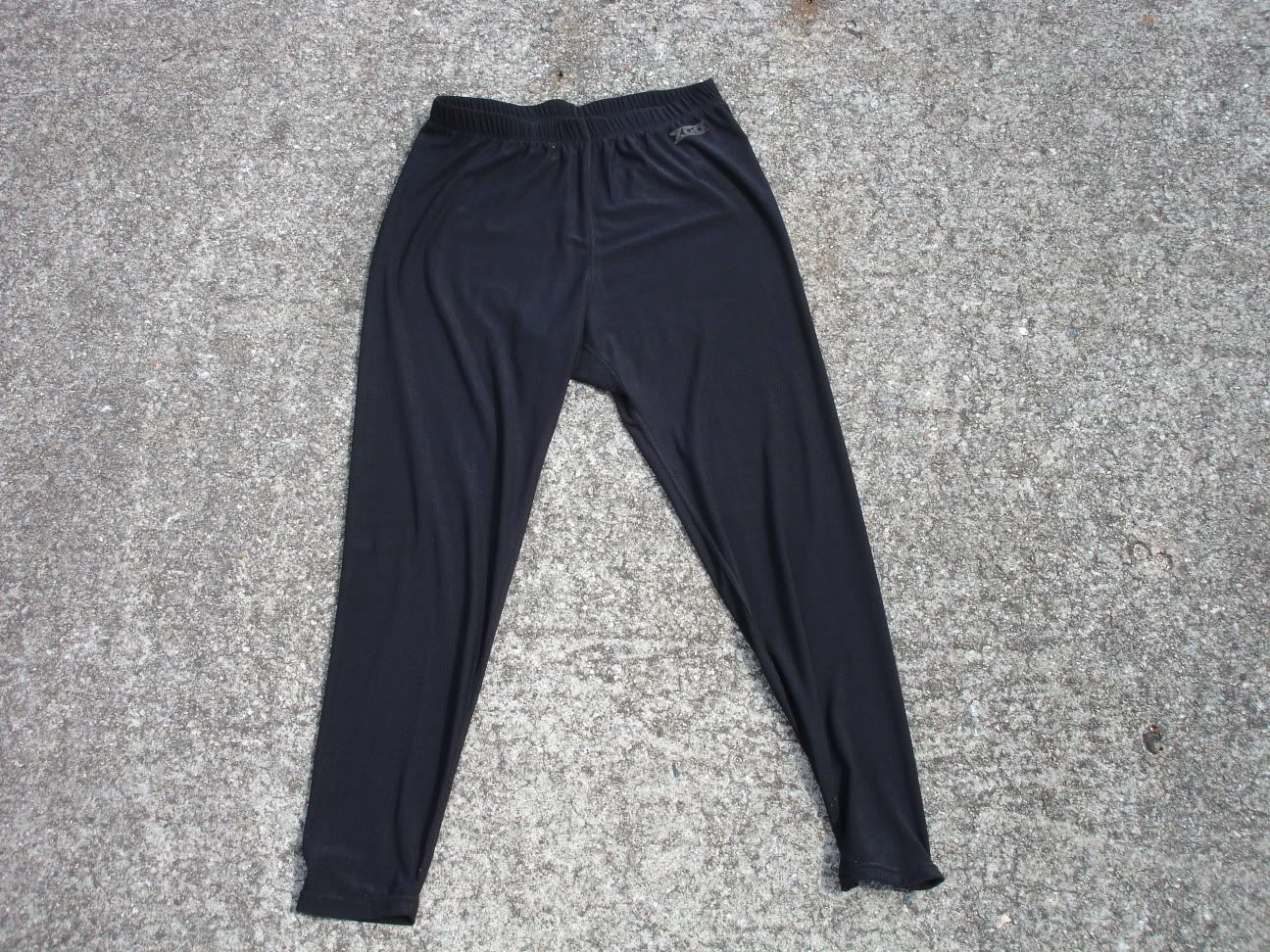 Of the same material as the Phase 3 t-shirt, these britches fit snugly/tightly depending on your body type. I wore them with cotton boxer briefs under them, but they still worked well when I used them. I have only worn them once, just to keep my legs warm on a really cold night. Here in Georgia, whoever controls the weather is on crack cocaine. It went from 80-degree temperatures to 30's overnight, and thus, my furnace was not on in my house. I sleep next to an exterior wall and window. I was cold. So I put these pants on over my underbritches.
They definitely kept my legs warm. My feet were cold, though. I now see why women sometimes wear pantyhose or tights to keep their legs warm in the winter. I have not worn these pants during any kind of exercise or physical activity, so I cannot comment on the wicking action or long-term comfort under clothing. I would say, however, that they make a great alternative to the military-style polypro thermal undergarments.
Construction is in the same manner as all the other XGO garments reviewed. There are no mesh panels, since there are no armpits in the lower body. The crotch area is constructed in such a manner so as to allow maximum room and flexibility. That's about all I can say at this point about the pants.
View of the crotch panel.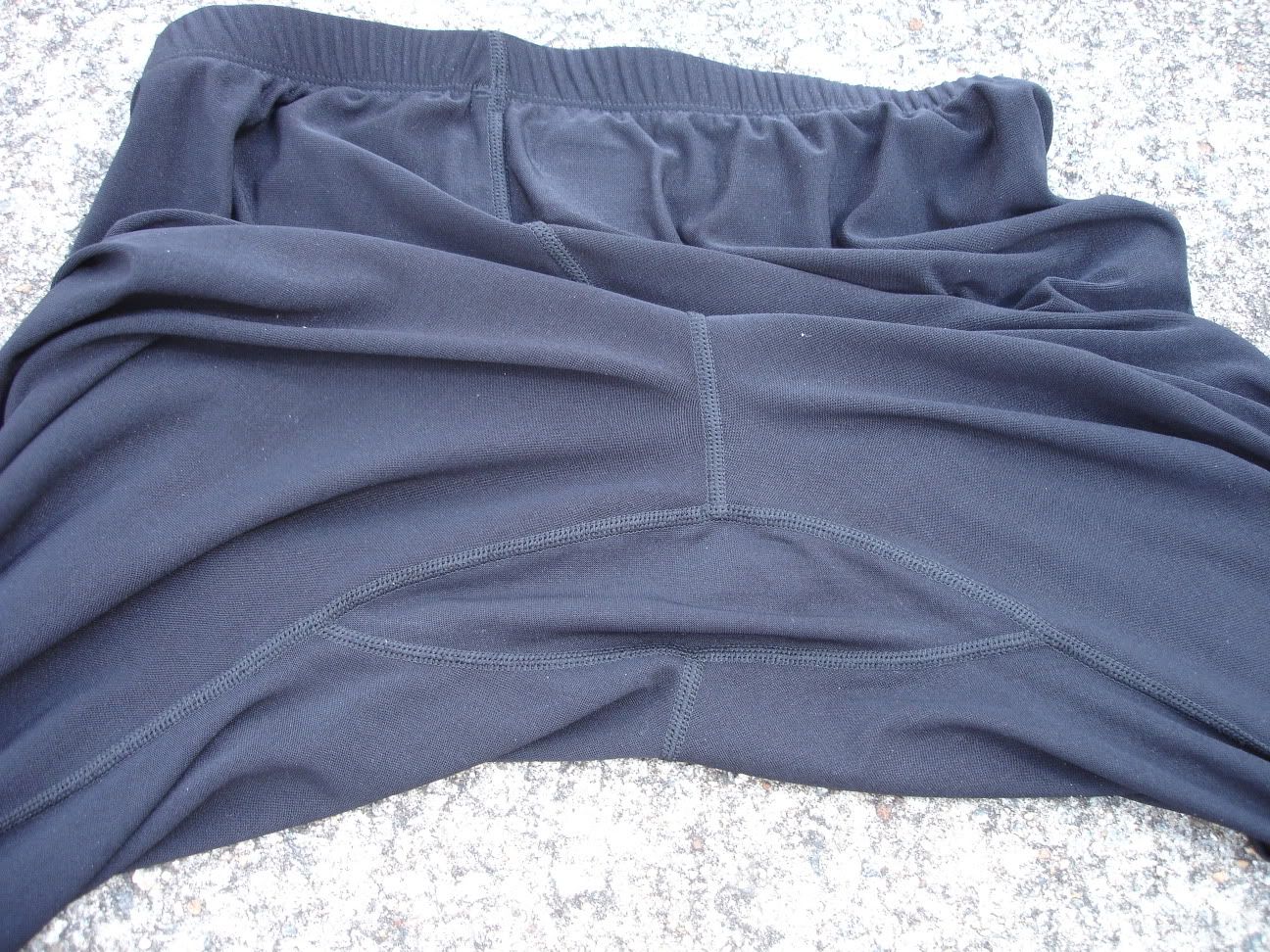 Shot of the waistband.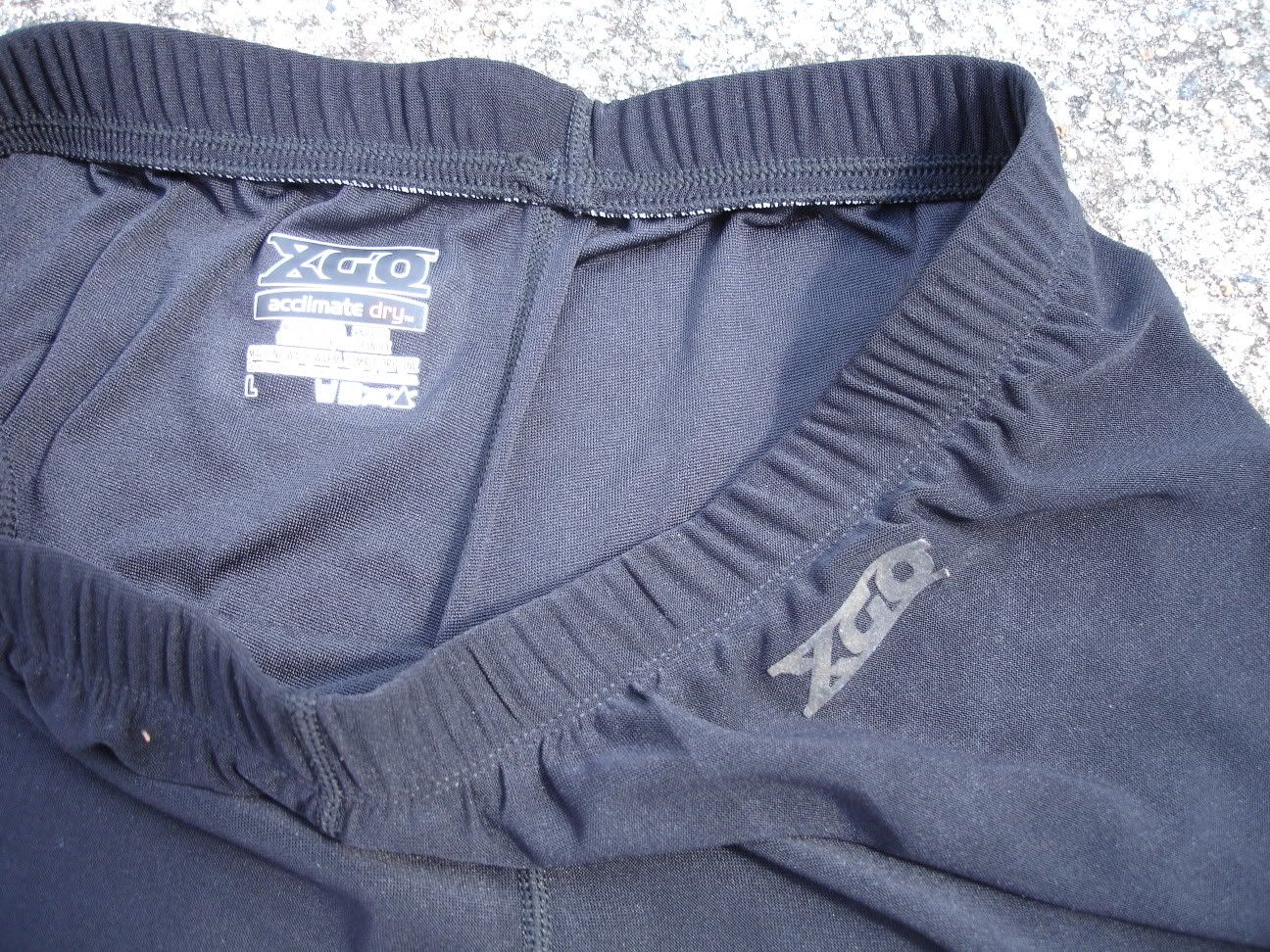 -General Points.
The XGO line in general has outperformed Under Armour and my expectations. I'm a firm believer now. I would really use only XGO t-shirts as my undershirts, because of the properties of the materials. Whether at work or at play, these shirts excel in comfort. I'm not a fan of skin-tight clothing, and none of these shirts is skin-tight. The tightest one is on the loose end of tight fitting. The material is very elastic, so even if it hugs the body, the uncomfortable squeezing of a tight fit is not present.
These shirts work EXTREMELY well inside-the-waistband concealed carry. The t-shirts are long enough to tuck in without worrying about them coming untucked if you draw. They have a slick, satiny feel to them, which facilitates faster draws. You don't get your hands or pistol hung up on the material. It also means that the inboard side of your holster moves smoother against your undershirt. The snugness of the shirt to the body leaves less material to interfere with a draw or reholster. Combine that with the slickness and the length that helps keep the shirt tucked snugly, and you've got a great undershirt for IWB carry. If you're like me, in the summer, or in general, you sweat against your holster. These shirts would keep that sweat from soaking into a leather holster, onto your pistol, etc. Much more comfortable than cotton.
PolarMAX is coming out with a flame retardant version of the XGO line. If it performs as well as the regular XGO stuff, then that would be excellent for anyone who might be exposed to flames, flashes, or other high heats where normal polyester-based wicking undergarments would be out of the question. Firefighters, tank crewmembers, people who normally have to wear Nomex…they'd all benefit from having something like this under their uniforms.
I find myself washing and wearing these shirts pretty often now. So far, they've held up to everything I've thrown at them and outshined any competitor's product that I've ever used.