So I bought a square deal from a guy on armslist for $200. it was setup for .45 ACP and was missing anything related to small primers. powder measure was old style, powders bar was old style, primer feed system was old style, and I had delrin bushing where they started using brass ones in 1998. I had it up and running .45, but figured I would call dillon for refurb, clean and lube. Basically, you pay for return shipping, and packaging, and ship out on your dime. fine by me.
I wish I took more before pics, but this is the only one I have, excuse the bench clutter, I was organizing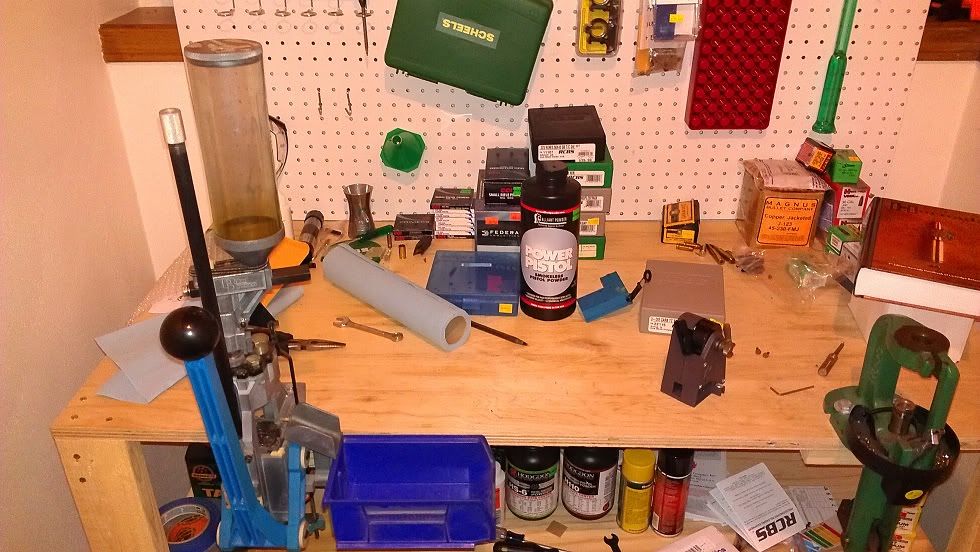 They said they are running about 3 weeks when I called them, I sent it out the end of june, and arrived in scottsdale on July 3rd. I was away for the holiday and got a call while out shooting at my cabin on July 5th, "your press is ready, we just need a CC number"
Sweet!
Got it back thursday, and this is what was in the new dillon box with specific square deal foam (I sent them a cardboard box with newspaper packing
)
Bunch of new parts, retail price on parts replaced came out to $326 (no charge to me)
If it wasnt for markings on the frame where its mounted, and the tops of my dies having marks from wrenches, I would almost think it was all brand new. I had them throw in the .40SW conversion and toolhead which I also paid for, and after added some more lighting, and beefing up my bench. How it sits now is like this
So if you find a dillon cheap, just buy it