Wilson Combat has introduced a new can to the market, and I have one for review. I also have two other suppressors which are prototypes, as I have been involved with the development of the final design. My testing of this can is admittedly limited as I only had one day to test it, after returning from SHOT. This can is bored to 7.62 and will be used to test new .300 AAC BLK loads, bullets and chamber variations. I used only live fire testing and casual comparisons to other branded suppressors. One was a Gemtech G5, and the others, an AAC M4 2000 in 6.8 and a SCAR SD in 7.62. Many of you will agree that alot of the 7.62 cans work very well on 6.8, so that seems a reasonable test subject. All cans were fired on the same guns with the same ammo, including subsonics.
Here are the specs of the can, as claimed by WC:
* Oversize 1-7/8" Main Tube Diameter Effectively Captures More Propellant Gases for the Ultimate in Tactical Weapon Suppression while Closely Matching the Diameter of Low-Profile Rifle Rail Systems
* Completely Machined from Lightweight, Quick Cooling, Heat Erosion Resistant and 100% Corrosion-Proof Virgin Billet Titanium (Ti) in our Shop in Berryville, AR USA
* Compact (6 5/16") Overall Length and Lightweight (17.8 oz.) 100% Titanium (Ti) Construction Enable Easy Full-Time Operational Use
* Short Suppressor Design Adds Only 4.5" Additional Length Over a Standard USGI A2 Flash Hider Equipped Rifle
* Lightweight, Efficient Titanium (Ti) Monocore Baffle Design Actually Improves Accuracy
* 100% Welded Construction Eliminates Baffle Displacement or Loosening
* Thorough Testing Shows No Significant Negative Zero-Shift or Impact on Barrel Harmonics
* Minimal Back Pressure for Cleaner Semi-Auto Function
* Comes with Melonite Treated Rapid-Thread Muzzle Brake in 1/2" x 28 or 5/8" x 24 Thread Diameter - .740" Barrel OD Behind Threads Recommended
* Bead Blasted Titanium (Ti) Gray Finish is Standard with Heat Resistant Armor-Tuff
® Coating in Black, Gray, O.D. Green, Flat Dark Earth & Desert Tan Available as an $50 Option
I did not have sound testing equipment but I have several locations for shooting. One is under a cover, the worst possible place to shoot a suppressor, so this was the "handicap zone." The other location is on a slope, on my range, where there are few trees for reflection of sound. All shooters took turns in the "pit," which was 10 feet from the shooter, and approximately 5 feet back for safety. I stood in the same place each time one of my shooters fired each can. Whether 6.8 of 7.62 cans were used, the subsonic loads (.277" 160 NP over 7.8 grains Trail Boss) were Hollywood quiet.
NOTE: I shoot JET, AAC, Surefire, TacSol and Silencerco cans and I consider all of them to be excellent quality but each having different characteristics that might make them suitable for one user, and perhaps not so for others. My "favorite" cans are short (under 8 inches), light (under 20 ozs.) and suppress as well as larger, heavier cans. These are now available. I mentioned them above. I do not shoot my cans full-auto, and almost never on barrels < 10.5 inches. I shoot more 6.8 SPC than anything else but sometimes train and plink with 5.56. I like some thread - on cans and some quick-attach, but they also should have the other qualities. Of course, they have to stay on the gun, too.
WC's Whisper is a very aesthetically pleasing can. I have the "raw titanium" finish and I like it alot. All surfaces were smooth, no welds visible, and the brake also had excellent fit and finish. The logo is modest and the grooves make it easy to grip the can to put it on and take it off. I liked the engraving on the base of the can.
The attachment is snug, but I worried a bit about the diameter of the brake at its muzzle end. WC said this was done because the can sits concentrically on the barrel even if it were to loosen a turn or two. A very good idea, but I found that I had to "shimmy" the can down the brake and the threads made contact with the brake before they got to the male threads. Bill Wilson told me this is going to be revised, and will try a brake turned down to about .003-.005" smaller dia. Once the can was on, it stayed on. We fired 25 rounds, rapid fire, then while warm, we turned it off the brake. Again, we felt the threads contact the brake surface on the way out, and it made a screeching sound. We let it cool and slid it back on. This time, we did not tighten it aggressively, though we made sure the can seated down onto the radiused surface of the brake. We fired 25 more rounds and the can never loosened up a bit. None of the three cans I have used with this mount have ever come loose...at all.

Some of you did not seem to like the recommendation to use this can on barrels no smaller than .750." The confusion was that WC wants the shoulder, supporting the brake, to at least equal .750, for obvious reasons. So, even if you shoot a pencil barreled SP1 or similar, the barrel steps up a bit for the purpose of supporting a brake anyway. As long as the brake can seat against about .700 to .750, I see no problems arising. Moreover, the small sleeve at the bottom of the brake disallows use on barrels over .800". This means that in the current form, the brake will not fit on some bolt actions or varmint profile guns. WC plans to offer brakes that have no sleeve, and a thinner wrench flat, so that the length added to the OAL of the gun is not increased. This little can only adds about 4.5" to the OAL (versus std muzzle brake equipped barrel), and that allows for your SBR of say 12" to roughly equal the length of a 16" barrel. The increased diameter adds volume and thus, sound suppression capability, to this compact can. The larger diameter does not detract from aesthetics of this can, IMO.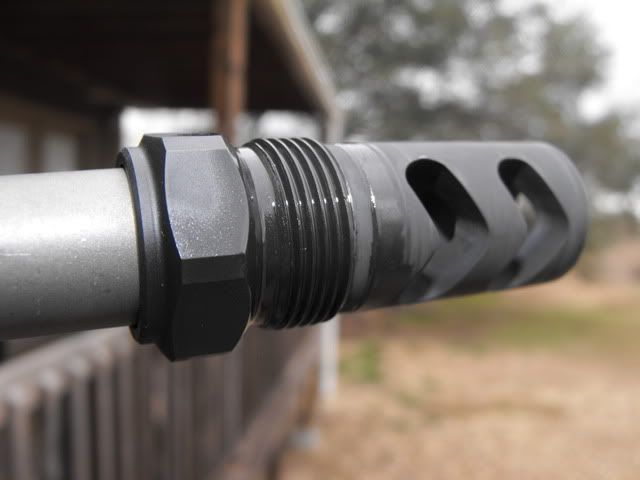 We then took the can off and shot one gun with a .700 barrel, at a silhouette. Then, we placed the can and fired for a quick look at the POI. The bullets (90 grain Speer TNT over 29 grains of Re7) went right on top of the first three shots. Obviously, not an exhaustive POI test, but I doubt we will see lots of POI shift, because, in my year of testing the prototype cans, I never saw more than 1.5 MOA on any gun. Most were < 1" and my Noveske LW Rogue 6.8 showed about 1.2" low to 6 O'clock, at 100 yards. Definitely acceptable for me. That load, the 85 TSX over St. Mark's blended powder, gained about 30 FPS with the can versus unsuppressed. I am different from some of you in that I see POI shift as irrelevant (provided it isn't 6 inches), since I rarely shoot unsuppressed. Once the rifle is zeroed with the can, I never, shoot it without, unless deer hunting and my 20" ARP 6.8 barrel still puts all the rounds into 1 MOA with this style can on or can off. The AAC M4 2000 seemed to be most similar in these parameters.
As a very casual comparison, we shot the can against several others that I personally like. The AAC, Surefire and Jet, all sounded so similar, that no one at the ranch could tell which was which on the same gun, when blinded to the brand of suppressor. The one difference I saw was that with the WC can, the back pressure was indeed minimal, and with the fast burning St. Mark's powder, the brass came out quite shiny. Ejection pattern was not altered significantly, either.
All in all, I would say this can will be an excellent compact Ti can with surprising amount of sound attenuation, given its relatively small size. The brake needs a little more work, but I can assure you that WC does not make anything that is sub-par, and this one should be consistent with their quality standards. I have been hunting with the prototype for over a year, and could not be much happier with mine, save for the need for a little additional tweaking to the mount. Bill Wilson tells me that this is already in the works, based upon this feedback.