Did a post in the AR15 forums under optics.. but this seems to be the proper spot..
So I got one in last Tuesday...
Does not come with the AA batteries (x2) or the CR2032.
Its SightMark Photon 5x42 Digital NightVision Rifle Scope #SM18003.. Normal pricing so far is like $599..
Says made in Belarus Russia..
They recommend (for obvious reasons)
HIGH
30mm diameter rings.. (I am waiting on mine)..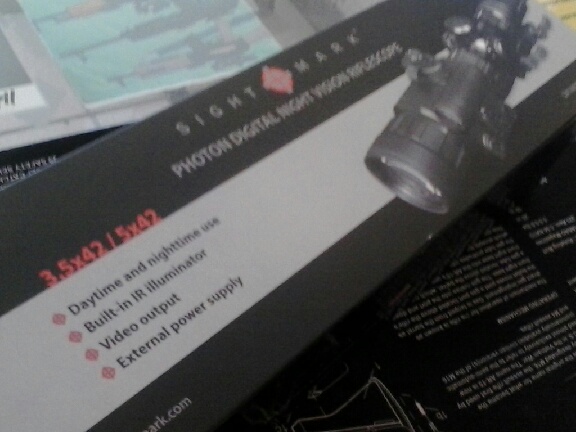 The digital part has jacks for external battery pack to power the unit.. and a RCA video out jack to record or view what you see..
The IR on the 5x42 is listed as a 780nm
laser
.. There 3x42 model says IR
LED
is 805nm..
OAL is 13 1/2"
Ring distance is only 4 1/2"
The adjustments is 1/4 MOA.. and are finger adj. turrets under the caps..
The Illuminated DOT in the middle of the black cross hair has a total of 11 settings..
Day Time picture with my crappy phone..
Some guy over in the UK did a video review at night.. this is screenshot from
his
review at night..
I will be checking this tonight and will report back with my findings.
-------------------------------------------------------------------------------
Ok.. initial testing.. (still waiting on my HIGH rings..)
No moon present @ 9pm.. just stars.. used the built-in IR illuminator..
+ able to see my 16x32 plywood ground level targets at 170 yds.
(daytime pic of targets)
+ able to see my 10x12 pink paper target at 100 yards.
(daytime pic of the pink target on my hill)
- screen is bright.. but adjustable..
- built in IR gives off slight red glow
- pic rail on right side of scope does not have clearance for my flashlight mount to go on.. (gap between rail and case is too narrow).
(this could be my mount is too thick as well)..
I do not have a good camera that I can hook to the 'feed' this unit offers.. I cannot hold the scope steady enough either to get a good shot at night with my crappy cell phone..
Stay tuned however for RINGS and LIVE FIRE testing report..
-----------------------------------------------------------------------------------
The unit is all one piece.. Pulsar makes a Dig NV device for scopes but its WAY out there in pricing..
There is 4 screws on a ring on the back of the digital part.. but I am not the one to want to play and void my warranty..
Here is a picture on my BCM Middy with Magpul.. This balances pretty well I might ad...
Note the scope is almost centered on the FSB post.. but no worries the FSB post doesn't show up in the picture..
Shooting on Saturday night with local LEO.. stay tuned..
----------------------------------------------------------------------------------