Colt's placed the AR-15 into production in late 1959. These had the ArmaLite devleoped brown fiberglass furniture. Apparantly after making a couple hundred of these Colt's began painting the brown furniture green. This is my project, not quite done, but figured I would share pics of where I am at on it:

Note early bolt catch. This part had to be beefed up once ball powder was used. Also note the waffle ArmaLite/Colt's steel mag. Colt's literature says they are stainless steel, but they did have a rust problem. These were dropped from production early on. Aluminum 20 round mags date back as far as 1960.
Early rifles did not have the drain hole in the buttstock screw, also no trap door.
Early swivels were not rubber coated.
Swivels were held on with a roll pin rather then riveted. Also note the triangle marking on barrel, indicating the barrel had been proof fired. This is a early barrel and there are no markings indicating that it had been magnetic particle inspected.
Close up of left handguard, someone painted it black.
Right handguard has a hole in it. You can see the fiberglass strands. These handguards are extremely brittle
.
Detail of the original Colt charging handle, cool looking but impractical. Also note the shelf at the rear of the receiver where the handle locks under. It is squared off rather then the later rounded shape.
Top of bolt/carrier group, note that the cam pin, and carrier key screws are not parked.
Right side of bolt/carrier group, no forward assist cuts.
Left side of bolt/carrier group, note solid firing pin retainer.
Close up of carrier key, 60's carrier keys were staked with one square stake per screw (some stackes were round, but done in the same spots).
Detail of bolt/carrier group, note heavy firing pin, solid retainer, and parked cam pin.
Detail of bolt with P proof mark. Earlist bolts were simple etched with a P for Proof fired. Later chrome bolts were marked MP for Magnetic particle inspected, Proof fired. These early chrome bolts were not shot peened and made of a lower grade steel then later production. No buffer was used with the extractor spring, instead the spring was longer then current springs.
Edgewater recoil spring guide. Was replaced by a buffer after the switch to ball powder.
Detail of old style flash hider/grenade launcher.
The right and arrow for windage was engraved on early rifles. Earliest rifles had the engraving on the rear sight drum rather then the receiver. Later this was made part of the forging. Also note no forge codes on the carry handle.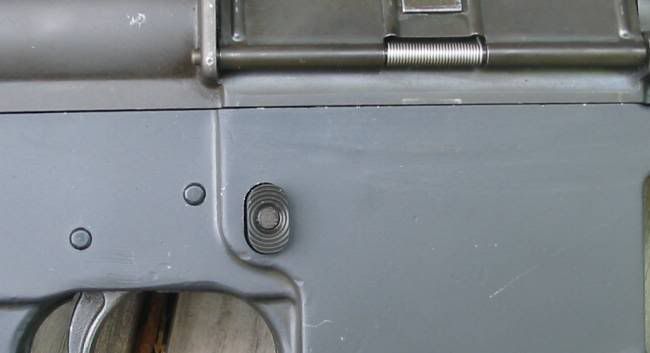 This is a early mag button, it has more "circles" cut into it. This part probably dates from 1964, and there is a earlier version I don't have.
Castings were used for the front sight base in the early 60's. You can see the round mold marks in this picture.
Another view of the FSB, notice the squared contours.
The arrow and up were raised and part of the casting.
First pattern port door. Looks kinda like an A2 port door huh?
First pattern gas tube on top, modern on bottom. Gas tube was switched to stainless steel construction, and the bend was repositioned (probably to gain room for HBAR barrels that were experimental at the time).