My story of how I became an AR owner:
As a teenager, my friends and I were all gun/military freaks. We researched them and discussed them in detail. A man in town we came to know was an ex-ranger and enjoyed our enthusiasm about the military. Well one day he bought the Colt AR15 we all drooled over at the local gun shop (drooling on guns at the two local shops was a pasttime for us) and let us shoot it. Obviously, we had a blast. Anyway, I always saw the AR15 as an awesome gun, but never thought I would be able to own one--they were expensive and it just seemed like too much of a fantasy to be real.
On my eighteenth birthday, I bought a Mini 14 from the local shop. Sure I would have rather had an AR, but I couldn't afford one, and the mini seemed like the next best thing. I had a blast with my mini 14 and researched ways to make it more accurate and enjoyable (I could never leave a gun that I owned in stock condition).
I came to arfcom to browse the General Firearms section of the armory in search of mini 14 info. I also spent a lot of time in the handgun section trying to decide what pistol to start saving for. I steered clear of the AR15 section for the first year and half I was active here--owning an AR still seemed to surreal to even hope for.
A little over a year ago, around the demise of the AWB, curiousity got the better of me, and I clicked on the AR15 tab. After browsing the wealth of info, I learned that it was possible to build an AR15. I decided that I would slowly buy parts to spread out the cost. I spent hours every night learning everything I could from this site and ordered a lower from a board dealer.
Less than a month later I put together my first AR--an M4gery. Yeah, I
really
took my time aquiring parts
By Christmas it was topped with an Aimpoint.
Here she is: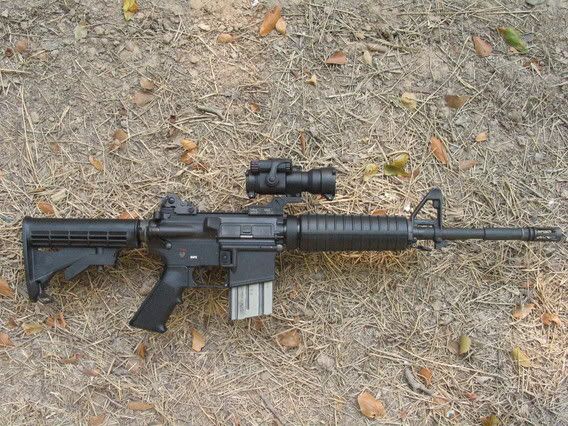 Long story short: ARFCOM is what motivated me to buy my first AR.
And you want to know the really discusting part? I'm just as poor, but now have a RRA NM build and have parts for a midlength A2 in the mail.
ETA: No way in hell is this AR going anywhere. Almost any other gun in my collection is fair game, but this one stays.