Vortex Viper 6.5-20x50mm
If you saw my other thread I made I first tried the Millett TRS-1, at anything abour 14x the eye relief was horrid, your eye needed to be in an exact place or you couldnt see anything, and when you found the right spot it was still cloudy as all hell. What sealed the deal for me sending it back was that it would not adjust to be parralax free.
After sending that back I found a hidden Gem, the Vortex Viper 6.5-20x50mm scope. I will admit I missed it at first because I was looking for "tacticool" knobs, and this scope has them hidden under caps. It was $170 more then the TRS-1 @ $470 plus shipping. Doing what an arfcommer SHOULD was I found a site sponser, who then price matched another website's 5% off coupon and free shipping. Thanks Marshal @ Primary Arms for that. All said it done it was $437 shipped.
Before you read this review I want you to be aware that I do not own any top dollar glass (other then my aimpoint PRO), I am upgrading for a $150 chinese scope.
Initial Impressions:
When I first got the box it looks and is built like the two other boxes the chinese scopes came in, the vortex box was a little heavier but it was still packaged very cheaply. It had two squar pieces of foam on either end holding it. The scope comes with VERY cheap bikini covers on it that are worthless, this to me was dissappointing as my $50 barska scope came with these on it!
The scope itself has a perfect and very smooth finish on it, and it feels considerably light, especially in comparison to the Millett TRS-1 I just returned. The caps on the "turrets" are actually pretty hefty, but they seem to lack an Oring, which I thought was odd. I read that on other people's rifles the caps would loosen under recoil and I think Orings would help with that. On the button of the adjustment area Vortex USA, the serial number, and Phillipines is machined into the scope.
It also does not come with a sun shade, which I ordered for $30 extra from adorama.com who had free shipping on it.
Now I will definetly be criticized for how I mounted it. I have a LT-104 but using the UBR it feels unnnaturraly and uncomfortably high so I used Two LT-152's, yes on is on the FF DD M4 rail. I will have to shoot farther then 100 yards to see if there is any negative effects from doing this.
Adjustment Turrets:
Now Vortex uses a different system to "zero" the turrets. All you do is pull up on them and turn them to zero and let it pull itself back down and your turrets now are zeroed. Now I read that this required you to pull hard to do this, but Vortex must have read that and reduced the power of the springs because I thought it was very easy to pull up, too easy, I would rather have the springs be much stronger. As for adjusting when turning it made very positive clicks that were nut mushy at all, but I found the turrets seemed a bit loose and could spin freely a very small amount un-aligning the adjustment lines. I think that this is do to how you zero the turrets.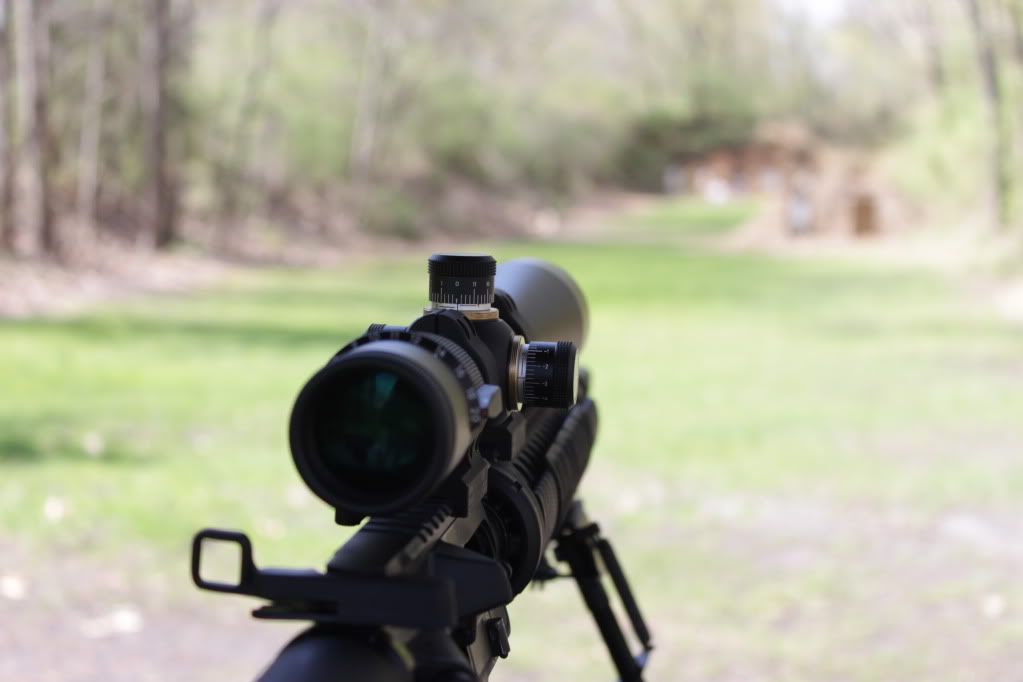 Without the caps on the turrets are very low profile...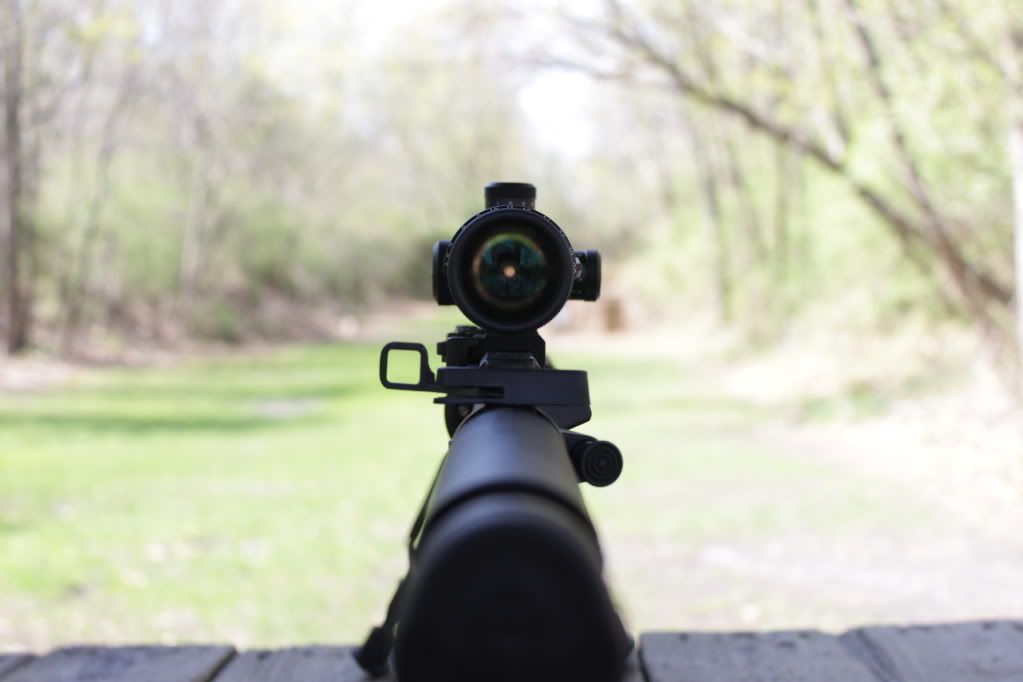 Magnification Ring:
This is one of the best things about this scope, but its also the one thing I would want to change. Below on the picture you can see how the numbers are raised and the red mark that is actually attached to the ring you sping. Without moving your head much you can easily see this and I really like it, but If I were to have made the rifle I would have made the red mark stay stationary and ahve the numbers move because the ones on the end are kind of hard to quickly read.
Also as you can see there is a thick white line by 14x, which is showing how the crosshair is made to be used at 14x, another thing I was dissappointed with was it didn't make click when you get to 14x to let you know you are on it, you need to visually set it at 14x.
Optics:
I cannot compare to any high dollar scope, but I can tell you that they are super bright and clear at 6.5x all the way up to 20x. The best part is the eye relief and eye placement are changed between 6.5 and 20x.
When adjusting parrallax you need to ignore the sharpness or your target, only adjust for reticle movement and then use the eye piece to focus. took me 15 seconds to get a perfect parralax and focus at 100 yards.
Now when I first got the scope I took it outside and looed at my shed which is 50 yards away. I was able to easily read the number that the dial was at on my masterlock combo lock. I will not beable to take this any further then 100 yards at an actualy shootings range until the summer but it works perfectly at 100.
Now the scope is VERY low on my rifle there is only 3-5mm of clearance between the objective and my front rail, at 20x and maybe 30-40 rounds I could see the heat coming from the rails/barrel when using the scope at 20x.
100 yards @ 20x: red squares are 1", so are the solid and hollow circles. Now I'm not sure how to get a good picture but obviously the picture make the optics look like shit, one day I will figure out how to take a good picture, for now this is what I can do...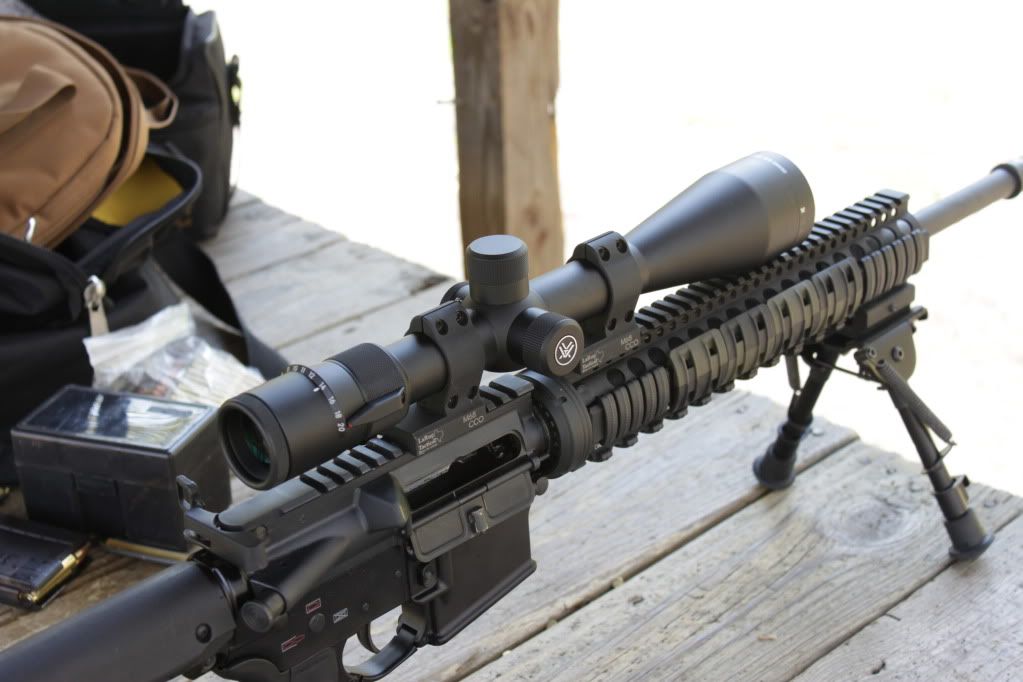 Length with sunshade and how it resides now...
To be honest, I dont think I will ever buy a cheap chinese made scope after handling this. I was actually going to get a Falcon Menace scope, but I am damn glad I got this thing. If I ever need another scope Vortex will be where I look first, for the money this scope is rediculously good. To anyone that thinks a $100-200 scope looks good, do yourself a favor and save up for one of these.
EDIT: Also if you are thinking about a Millett TRS, add this to your cart instead
Little addition to my review....
To show the clarity I decided to look at my masterlock on my shed through the scope.
I just measured with google maps and the lock on my shed is actually 38 yards away, so I went out and tried with 14x magnification, and if you do that math, 14x at 38 yards is actually a little less then 20x at 50 yards.
TO me it looked perfectly clear and focused on the lock but my camera wouldnt take a sharp picture, here is the best I could manage with manual focus...
Also I dont know if you can tell or not, my shed and the lock are in the shade....
Cropped....
Yes that is paintballs all over my shed.