The Islamic refusal to let non-family men search women or womens quarters has resulted in the US Infantry units in Iraq grabbing female GI's from anywhere they can to do these searches.

Spc. Melissa Kranning, a petroleum supply specialist attached to A Company, 2nd Battalion, 6th Infantry Regiment, 1st Armored Division, pulls security on a patrol in Baghdad July 9. She is a member of the 47th Forward Support Battalion, a 1st Armored Division unit out of Baumholder, Germany. U.S. Army photo Spc. Ryan Smith, 372nd MPAD
---
Female Soldier Patrols Baghdad Streets with the 1st Armored Division

By U.S. Army Spc. Ryan Smith 372nd Mobile Public Affairs Detachment

BAGHDAD, Iraq, July 10, 2003 -- The debate has gone on for years: should women serve with combat units in the military?

If the question asks whether female soldiers are up to the challenge and rigor of infantry duties, one woman serving in Iraq would answer with a definite "Yes."

Spc. Melissa Kranning, a petroleum supply specialist attached to A Company, 2nd Battalion, 6th Infantry Regiment, 1st Armored Division, is serving in what is regularly an all-male combat unit. Although not actually a part of the infantry unit, she and two other females are attached to the unit, for duty in Baghdad.

Due to religious and cultural beliefs in Iraq, female soldiers serving as de facto infantrymen have become a necessity. Soldiers serving as gate guards must pat down civilians coming through the gate, to ensure that someone does not smuggle a weapon or explosive device onto the U.S. compound downtown, while soldiers on patrol (outside of the gate) search people suspected of looting or other crimes. Often, however, the people who are being searched are Muslim women who do not wish to be touched by men -- especially American men, whom they do not know.

Therefore, Army leaders requested female soldiers to volunteer to work with infantry units, whose duties include patrolling the streets and guarding the gates to coalition posts in Baghdad.

Kranning, 20, a Minerva, Ohio, native, deployed to Iraq with her unit, the 47th Forward Support Battalion, a 1st Armored Division unit out of Baumholder, Germany. When offered the opportunity, she volunteered to be attached to the 2/6 Infantry Regiment.

Kranning's regular unit is currently stationed at the Baghdad International Airport, and many soldiers in the 47th FSB do not have reason to leave the secured area there.

She saw this as her opportunity to experience something new and different from her life with her regular unit. "I get to go out and see the city," she said. "That's something a lot of people in my unit don't get to do."

Kranning also found that life with an infantry unit is much different from what she is used to. "It's a totally different world."

"They have a different way of thinking," she said. "They have a 'go out and get them' kind of attitude."

As far as duties are concerned, Kranning does not see a distinction between herself and the other soldiers in A Company.

Her job is to search women for weapons coming through the gate while she's on duty there, and to interfere in any crime while she and other soldiers in the unit are on patrol. If women are suspected of a crime, Kranning searches them.

" She's a hard worker," said Staff Sgt. Julio Fortis, her squad leader from A Company, 2/6 Infantry. "She sticks with us in extreme heat, and long road marches while we're on patrol."

" And she doesn't fall out," he said after a patrol in which another soldier in the company had to be treated for dehydration.

" The way she works, there should be females in the infantry," Fortis said.


---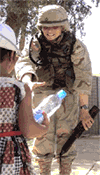 U.S. Army Pfc. Amber Bryant
---
Medic Volunteers to Serve

by Sgt. Mark Bell, 372nd Mobile Public Affairs Detachment. (released).

BAGHDAD, Iraq - Pfc. Amber Bryant, a medic with C Company, 47th Forward Support Battalion, 1st Armored Division, wants to be on the front lines of Operation Iraqi Freedom every day.

Bryant volunteered to stand guard duty at Baghdad's busiest checkpoint at the former presidential compound, the scene of frequent protests and sometimes violent demonstrations. In addition to being ready to perform first aid to U.S. soldiers and Iraqi civilians in case of emergency, she also works with sentries searching women and girls wanting to enter the compound.

"Why sit around in a hanger and wait for something to happen," she said. "I want to be where the action is and what better place than right here." Although her medical unit's headquarters on the Baghdad International Airport has electricity, running water and a nearby Burger King, Bryant chooses the life of the infantryman as her role in the ongoing peacekeeping mission inside the city's center.

"I'll be honest, I joined the Army for college money," she said. "I never thought I'd be here in Iraq, let alone in the middle of protests and riots, but I am here every day helping the Iraqi people after the fall of the regime of Saddam." To some, it could be seemingly unimportant, but Bryant's job of searching females requesting entrance to the compound is just as important as the male soldiers standing point at the razor-wire's edge.

"Females are just as capable of delivering a bomb or weapons into the palace," she said. "Because in Iraqi society, men can't search females, and that is why I am at the front gate," she explained. "I also believe it shows the women of Iraq that women are equal and can do anything a man does - even fight a war."

Bryant is no stranger to danger. Reporting to the main gate is an adventure in itself. From rock throwing to sniper attacks, Bryant and fellow soldiers controlling the gate put their lives on the line daily. As the media paints a different picture than Bryant sees each day, she said it is important to tell the real stories about the Iraqi people.

"Americans who disagree with what we are doing, might understand how much we've helped this country and its people," she said. "We are doing the right thing here. I just know it. Maybe not today or tomorrow, but someday, people will see the change we made." Bryant said not only should people support the military but also join the military to learn true discipline.

"No matter how mad you get at your boss, you just have to say "Roger, Sergeant," and move out to execute the mission." Bryant said she is proud to be serving side-by-side the infantrymen and sharing the goals of Operation Iraqi Freedom: to bring freedom and safe and secure communities to the Iraqi people.


---
By the way, this is all in violation of the law against women in combat as infantry.
It works though. The UK forces, who havent had any gurellia type attacks since May, had 6 MPs killed in a suburb of Basra three weeks ago by a mob who rioted when the local British commander refused to allow his female personnel to go on patrol with the infantry and resulted in male British soldiers searching women.