We all know what it is. Its basically the HK416 with some accessories. I did a little review for you all
Basically what you see is what you get.
5.56 Piston Driven, closed bolt rifle
Trijicon TA11SDO-CP ACOG with Trijicon RMR on TOP all mounted on a LARUE TACTICAL QD Mount
Safe, Semi, Full Auto (FA switch has the typical HK selector marking with a "30" next to it which i thought was funny considering its replacing the SAW)
HK416 Collapsible stock
Free Floating 1:7 Twist 16.5" barrel with a A2 Flash hider (of course
)
Bayonet lug
Larger charging handle latch
Quick detach 11" rail system (by QD i dont mean a lever, but a single screw that takes literally 10 seconds to take off)
Harris Bipod that has to option to swivel or be fixed with a LARUE TACTICAL QD mount
KAC Back up iron sights
Manta Rail covers (which i thought were actually really cool and easy, they are a mushy, flexible rail cover thats real easy to take off and has a nice grip)
KAC vertical grip with Manta grip cover just like the rail cover
Has a different buffer, not sure what the differences is but im almost positive its just a heavy carbine buffer.
Blue Force quick adjust sling (NOT PICTURED, because it sucks and i rather use my own VTAC Padded 2 point quick adjust sling)
Let me go straight into complaints:
1: First and foremost the thing that angers me the most and this was addressed a long time ago, HK decided they wanted to change the dimensions of the Magwell. Why? With a STANAG dimension magazine inserted the standard magwell, too much dust, sand, and crud could enter into the upper receiver, even with the dust cover closed. HK could not control magazine dimensions, so they solved problem by making a tighter and longer magwell, that reduced the amount of dust and sand that entered into the receiver. Companies like Magpul decided to make their own magazines, not of STANAG dimensions, were designed to seal up the space in a standard magwell among other things, so ultimately PMAGS or any magazine that isnt of STANAG dimensions, will not work or seat properly. If they do then its dangerously tight. The USMC never specified whether or not the M27 needed to be compatible with non mil-spec magazines so why would HK result to the old magwell?
I was issued 6 Brownell's AR Mags with Anti-tilt followers. Yeah they work but i would prefer Pmags with Windows. If im suppressing an enemy, especially on FA, i would want to be able to see how many rounds i have left considering it uses 30 round mags. It sucks that i cant use them, but you cant have everything right? It just doesnt make sense to me why HK would take into account Pmags considering they are almost at the point of being the "standard" in M4/M16/AR-15 magazines, but of course everything is based of NATO standards so what can we do?
Supposedly E-Mags work with this weapon, but i have not looked into it that much yet. I know Magpul designed these for foreign weapons and have won a contract as the standard issued mag for the British.
I am not sure if they addressed the Surefire 60/100 round mags but originally, because the magwell is LONGER, it did not accept the Surefire magazines because the magwell would HIT where the mag opened up wider. I HEARD they might have fixed them but im not really sure. It would be nice to rock the 60 round mags out of this thing.
The whole which magazine to use ordeal is a mystery to me. Its a weapon the USMC specifically asked for that needed better cookoff resistance for the required Rate of Fire. I guess for this standard they asked, limiting the capacity to 30 round magazines would make sense. I only imagine dumping a 60 round Surefire mag would render the cookoff resistance standard useless.
Fact is and long story short, when the IAR project started in 2005 (I think?) im pretty sure Pmags, SF Quad stacked mags and all these other poly mags, did not even exist. So it technically meets the standards we asked for. All i know is im not buying $50 HK SS M16 Mags
I will stick with the Brownell's mags i was given.
2: Im not sure how the barrel will hold up to constant fire granted the situation calls for a high RoF. The RoF can crank up to 800-900 RPM at the cyclic rate as opposed to the SAW's 800 RPM at the cyclic. This is of course is based on holding the trigger down aka Cyclic Rate as mentioned. The SAW has a quick detach barrel and the IAR does not. Obviously mag changes can factor in. Of course im sure this has been through all the testing in the world so i dont think the barrel thickness will be an issue. As long as there are no glowing gas tubes from a DI M16/M4 I think there will be no issues. It would defeat the purpose of the weapon entirely if it was changed.
3: I'm still not sold on the TA11SDO. On the SAW the "horse shoe" reticle was great for target detection and recognition, but on this rifle its not something i would want to use. I understand this rifle is supposed to be the new "suppression weapon" replacing the SAW but like i said above, i had to QUALIFY with this thing from 200,300, and 500m on an optic that doesnt even have a 200m BDC or post. You basically had to aim where the horse shoe was cut out right above the 300m and during the rapid fire portion of the qual it was kinda annoying to get a follow up shot on a cross hair that did not exist unlike the TA31RCO thats on the M4's and A4's. HOWEVER the RMR dot on top of the SDO is pretty neat. Pretty cool for MOUT room clearing.
4: There is no real fixed sling mount on the front of the weapon. Its comes with a Blue Force 2 point sling that I dont like. The front sling is mounted on a flat head screw mount thats mounted on the side of the rail. So if you LOSE that piece, you are pretty much screwed unless you find/buy something else to mount it on and im sure if you turn it in to the armory they might complain about it, not to mention if you get issued a different weapon, the next person who gets that rifle wont have a sling mount. The Rear sling mount however is nice and is PART of the buttstock on both the left and right side. It also have a loop on the top for "Hook" type sling adapters.
5: I cant really complain about the Harris Bipod by itself but the way these issued weapons naturally get handled and beat up, that thing will not last long before it breaks or gets damaged. On the flip side to that, is the QD mount made by Larue. If you dont want it or simply dont need it, just a flip of a switch and it pops off. Obviously that needs to be put back on when you return it to the armory. If i HAD to complain about the Harris on THIS weapon its that there are alot of adjustment points on the legs and being very familiar with the SAW, you might need to change bipod lengths REAL QUICK when you are in the heat of the moment. With all the adjustment points it might be a pain to get BOTH legs at the same position in a hurry. The situation obviously dictates. The other complaint is that no matter how tight you tighten the swivel on the bottom, eventually it starts to come loose, especially if you try to "dig" into the rifle in the prone to get a more stable position or need to lean. The fixed bipod on the SAW swiveled regardless and it made it easier to "walk" in rounds if you needed to. It also has a loose tolerance for when you "dig" into it so there isnt much stress on the joints. The M27 bipod and the SAW bipod both have their obvious pros and cons. It will also loosen real quick if you are doing things such as buddy rushes where you are constantly dropping into the prone in a short amount of time.
6: The A2 Flash Hider. Pretty sure the only reason why they have this thing on there is because of the Bayonet lug and the fact that there are no cuts on the bottom on the FH to kick up too much dust. The SAW however had its own FH and NO Bayo lug obviously, so why cant this one have a different FH or even a compensator? I guess this rifle serves as a middle man but just because you can, doesnt mean you should.
7: I do like the buttstock, dont get me wrong, but the curve on the end kinda sucks for getting steady accurate shots. I would prefer it be flat or curved in the other way. However if you are patrolling or doing MOUT style engagements, its good for "rolling" into the Ready position from the Alert when its shouldered. This is more of a personal preference.
8: The HK416 has a grenade launcher (AG416?) that mounts onto the 416 but as far as i know its not compatible with the IAR. Not really an issue, because thats not really what it was designed for right?
9: Election Port Cover/Dust Cover is made of a flimsy plastic. Lets see how long that lasts before it breaks.
Pro's:
Overall, in my honest opinion, it serves as an excellent General Purpose weapon somewhere in between the M4/M16 and the SAW. In a perfect world i would love to have all M16's replaced with the IAR and M4's replaced with a 14.5" HK416 with a TA31. The piston design in general whether it be on the 416 or any other after market AR-15 Piston kit, is a great idea. The quick detach hand guards on the M27 grants you quick access to the piston for cleaning and maintenance. There is alot less cleaning involved. The piston is very simple and quick to clean. No hassle at all. The chamber, receiver and bolt assembly is generally alot cleaner and easier to clean than its Direct Impingement counterpart that blows carbon straight into the receiver and its children. Its a solidly built, very accurate weapon system and i really have nothing bad to say about the craftsmanship of the Germans.
PICTURES:
Sorry for the crappy pictures and lack of detail. These were field pictures.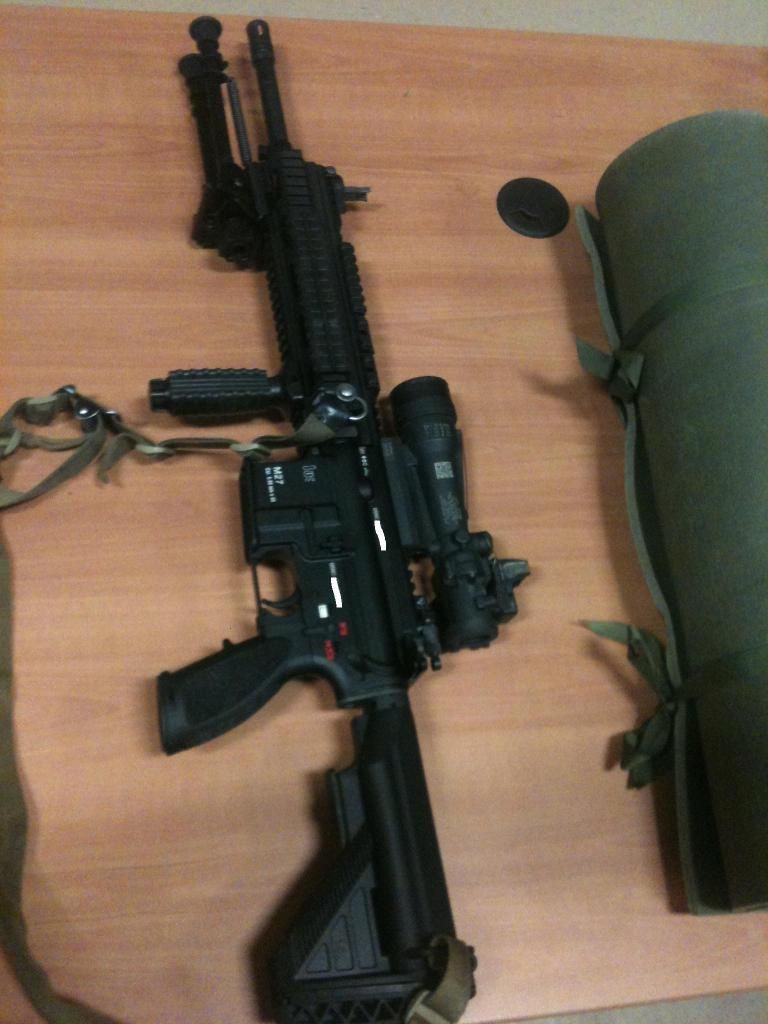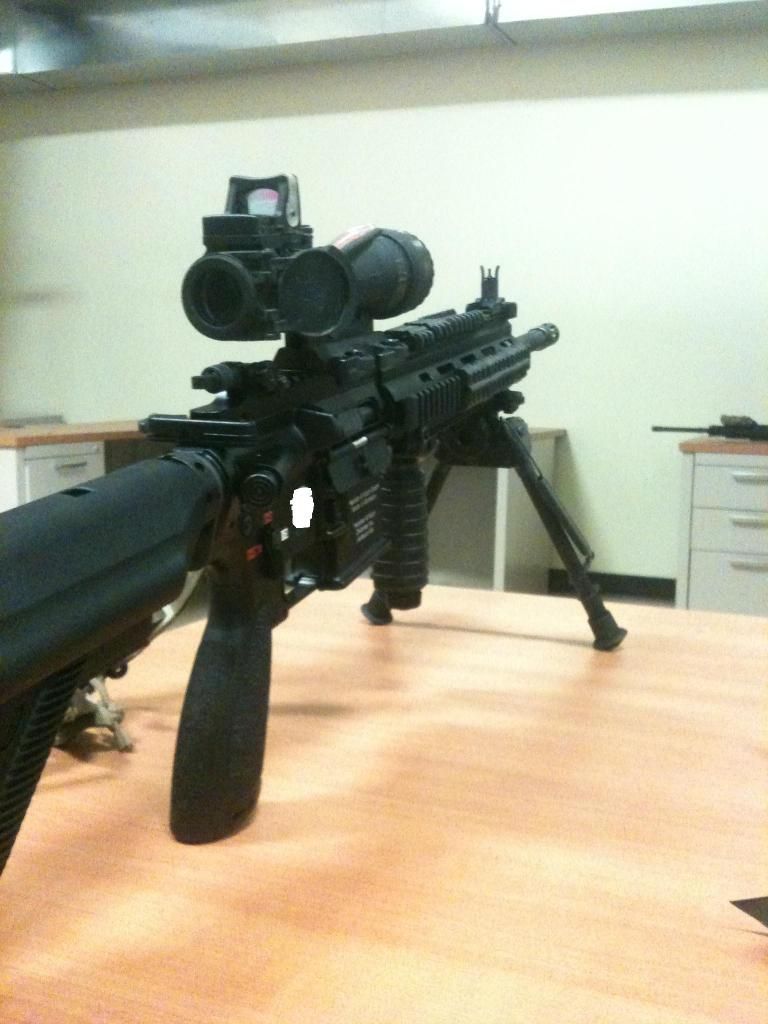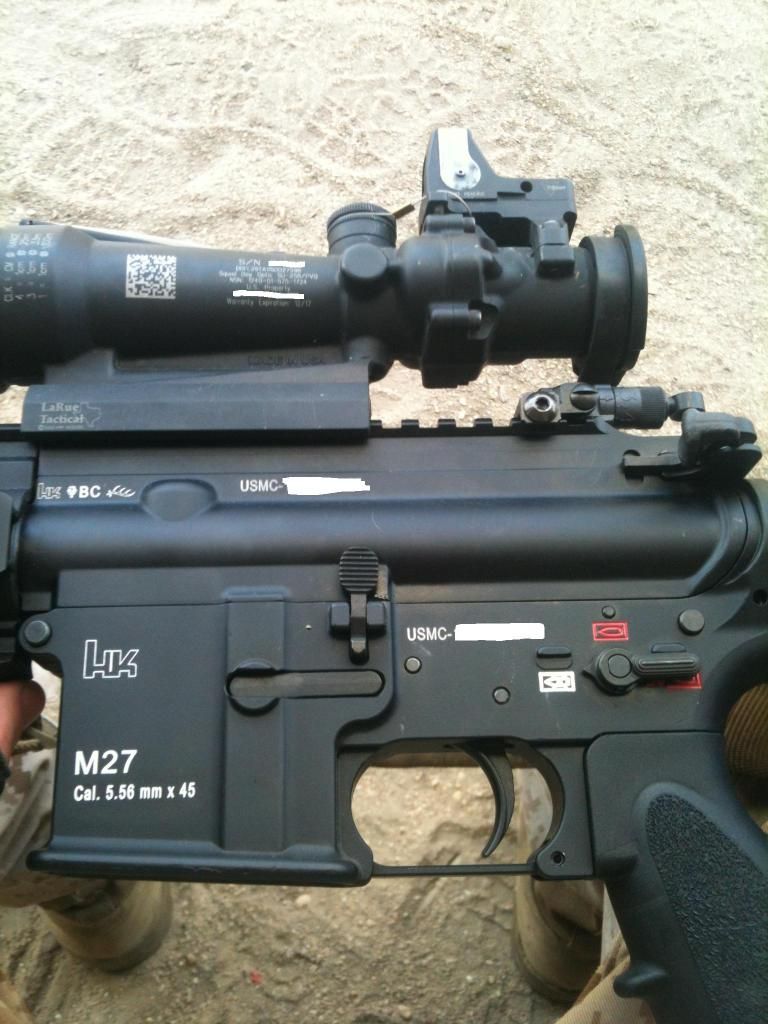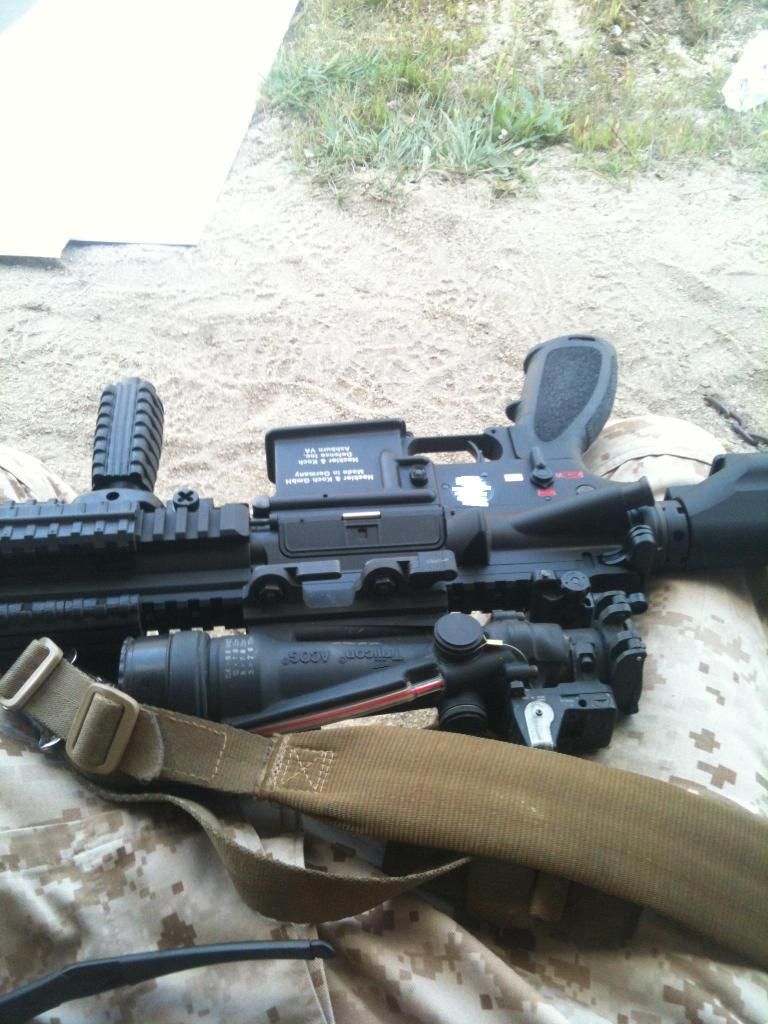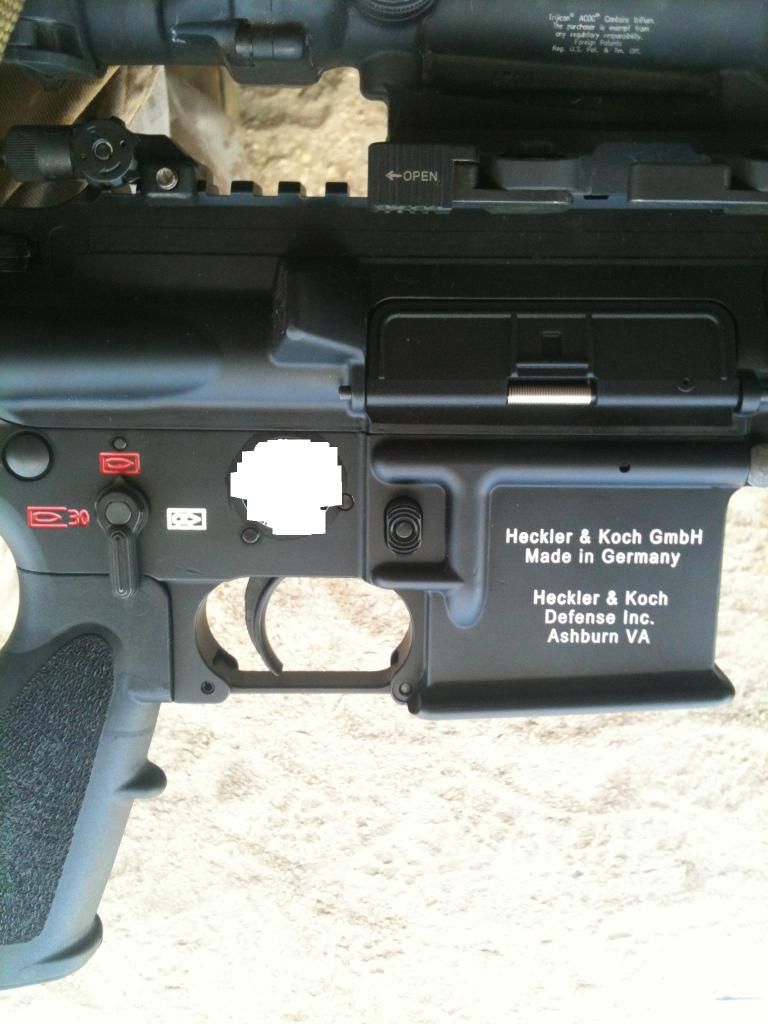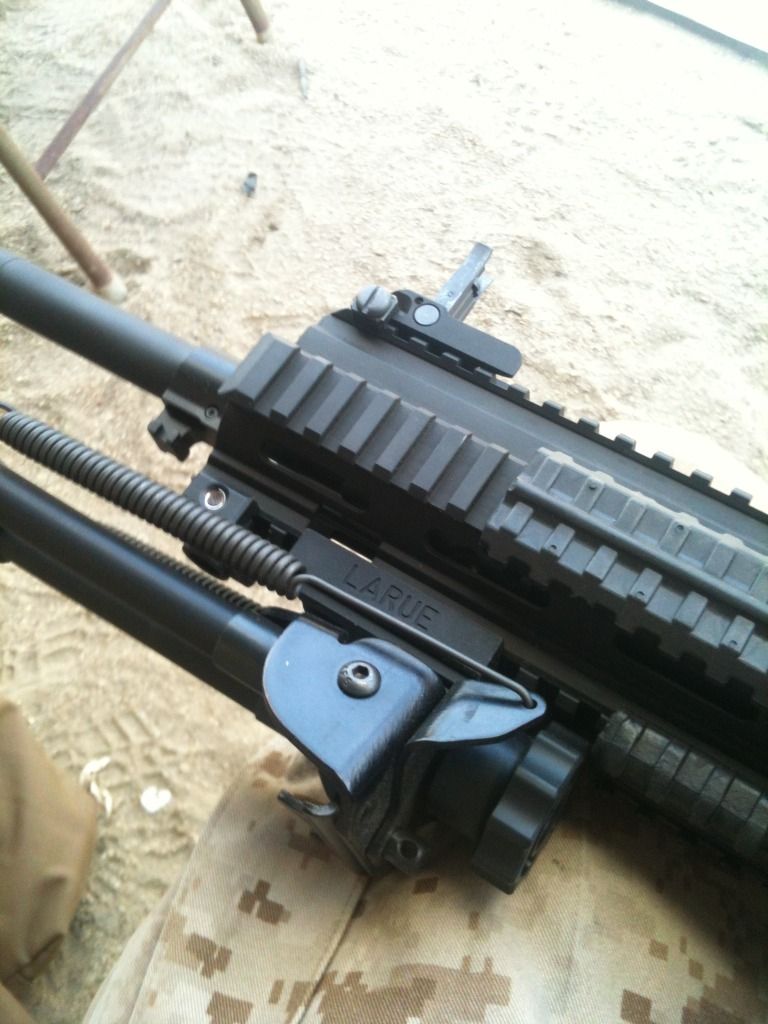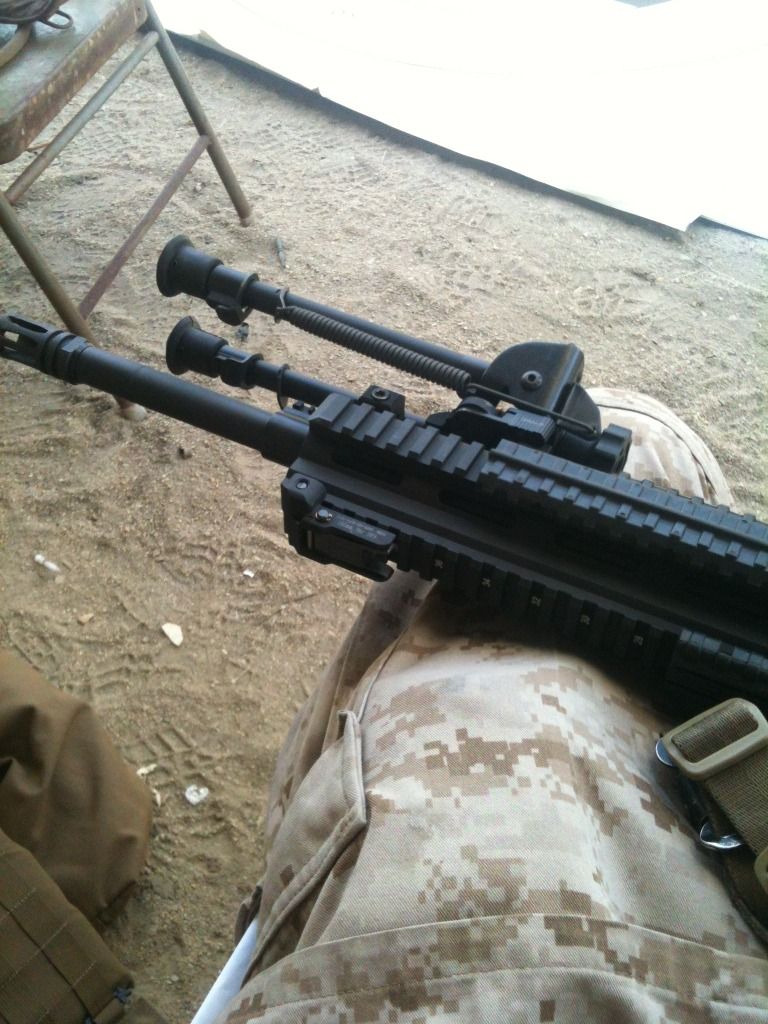 This little Cross looking screw is what holds the Hand guard in place.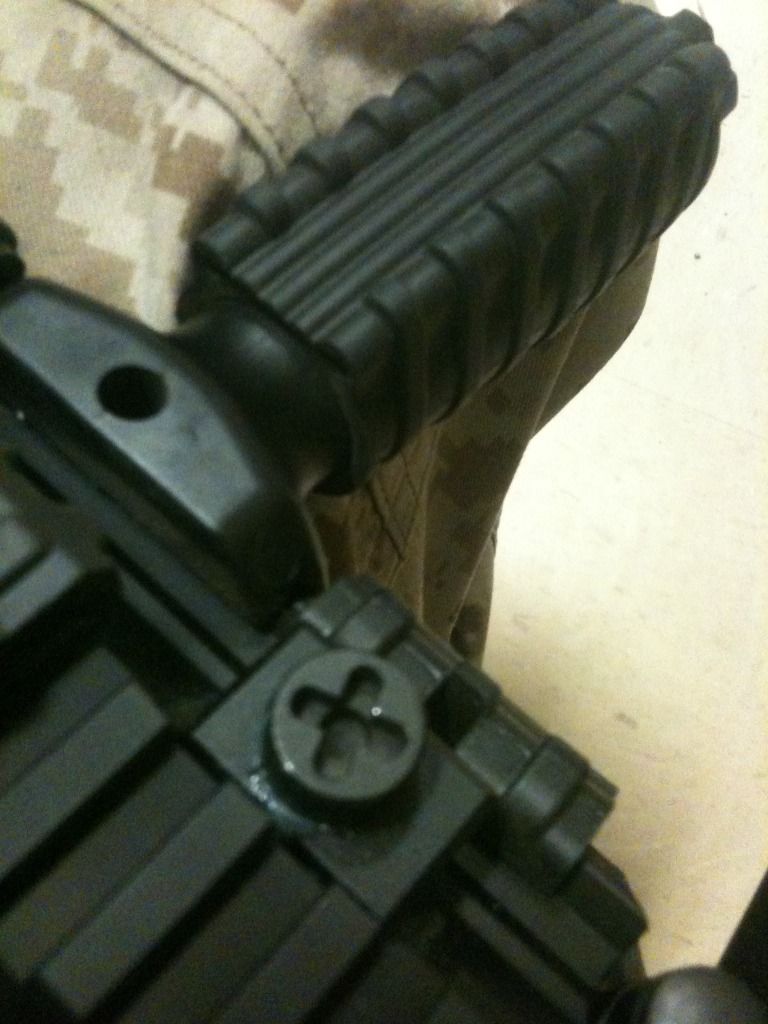 The Bolt. Notice the differences? There is a lever that you lift to release the firing pin once the retaining pin is pulled out. The Bolt is spring loaded and the spring is located around the firing pin. The second picture you can see the hole and inside you can see the spring. Why is that hole there? No clue, maybe its for lubrication. The side of the bolt also does not have holes for lubrication from what i saw. Believe it or not...this BOLT itself is what you use to unscrew the Cross looking screw that holds the hand guard in place. I guess thats a good idea so you dont need an extra tool to get it out but i think it could have been done another way to minimize bolt face damage.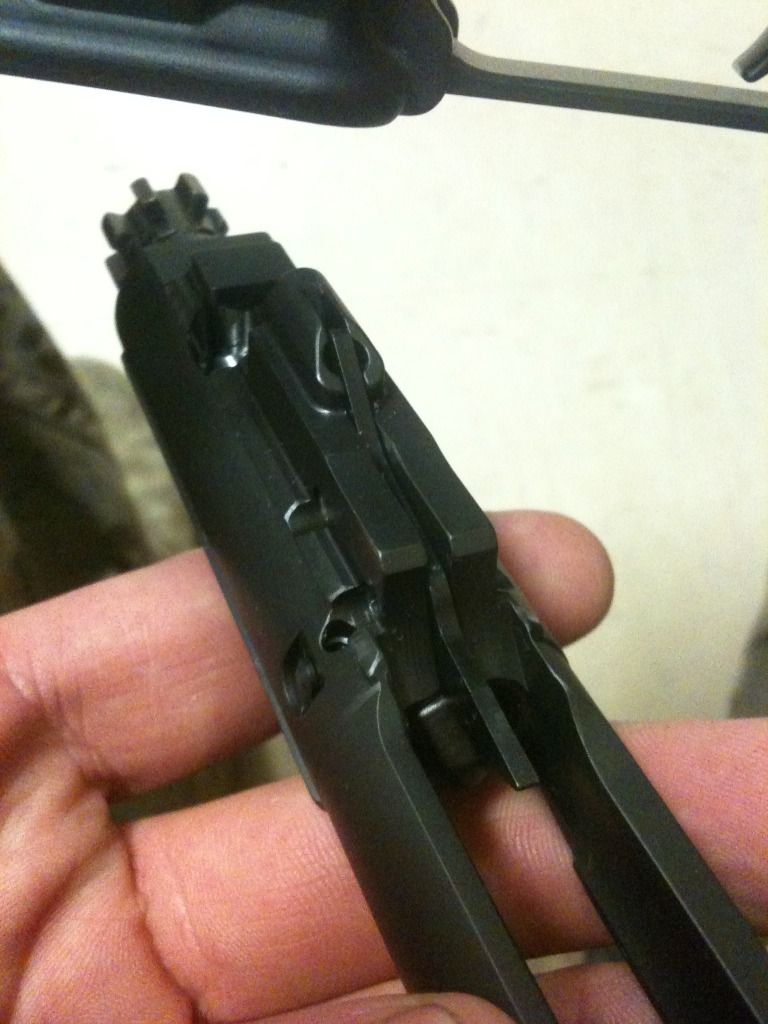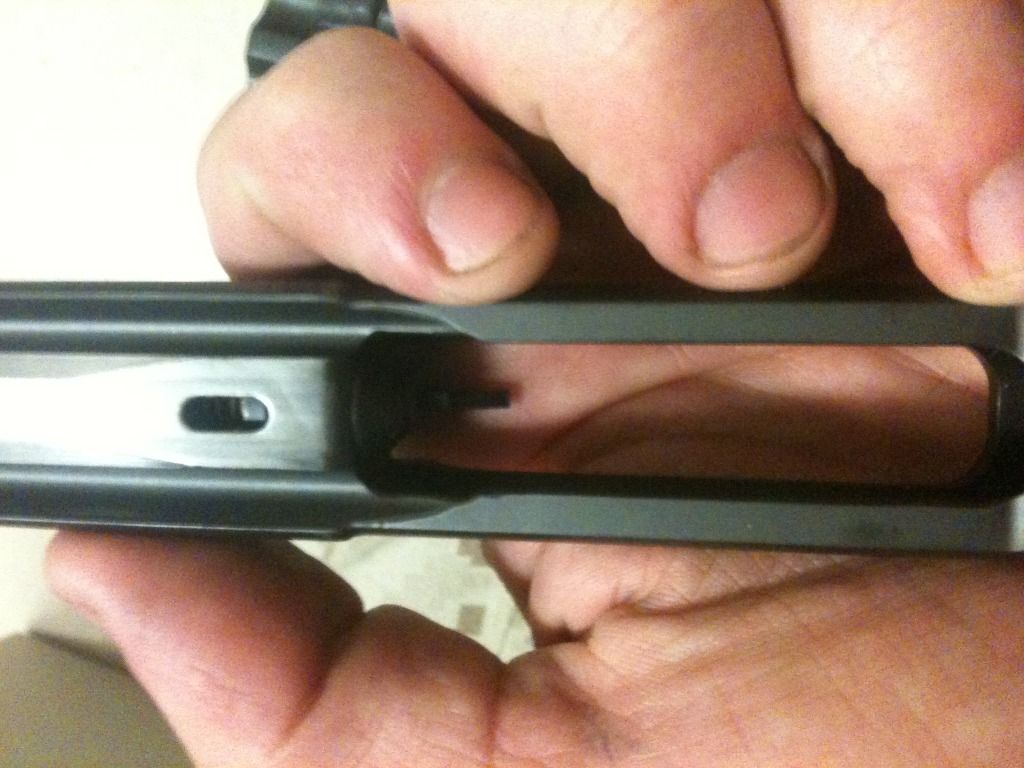 Once you take that screw out the handguard just slides right over top of the barrel like pictured exposing the piston.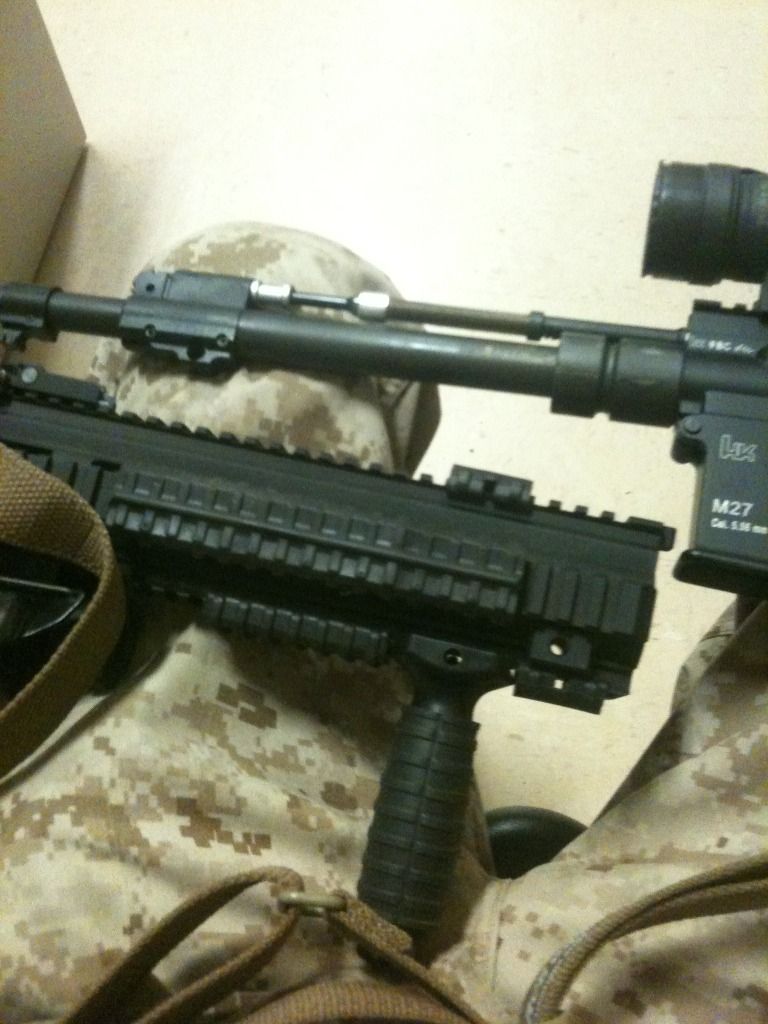 The piston in 2 parts. The smaller pieces is what gets inserted into the gas block. Thats the only part that gets remotely dirty because of direct contact with gas. The other part is obviously the spring and everything that gets insert behind the smaller piece and into the upper reciever.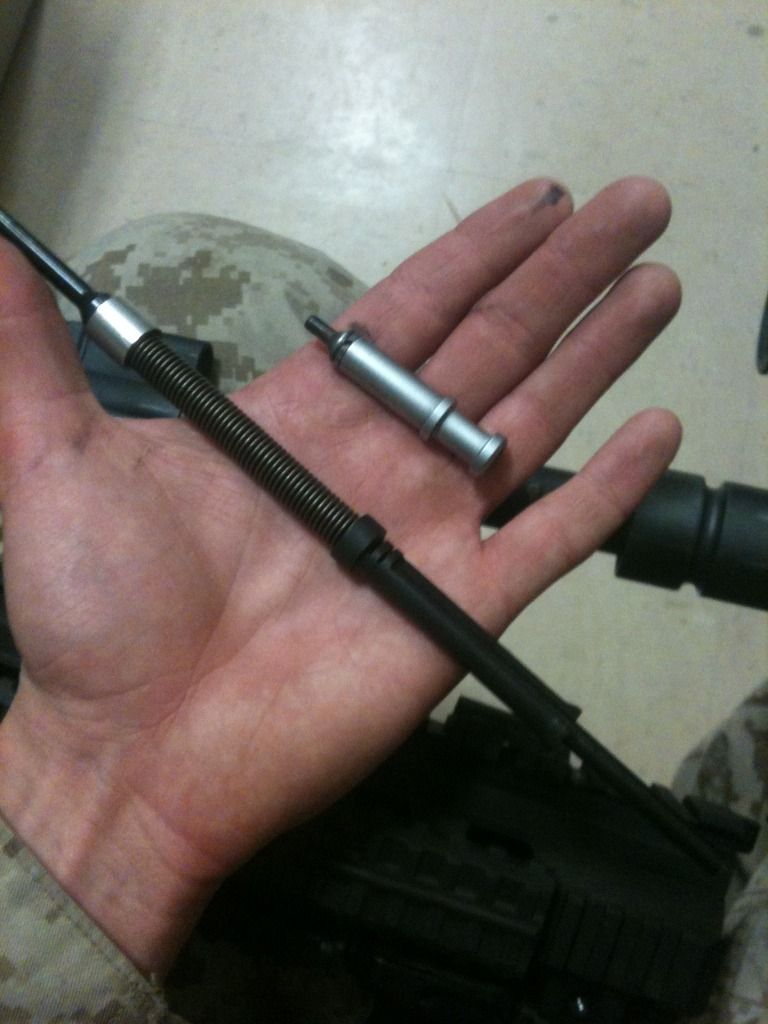 Reticle of the SDO
and a really crappy picture of what it looks like through the actual optic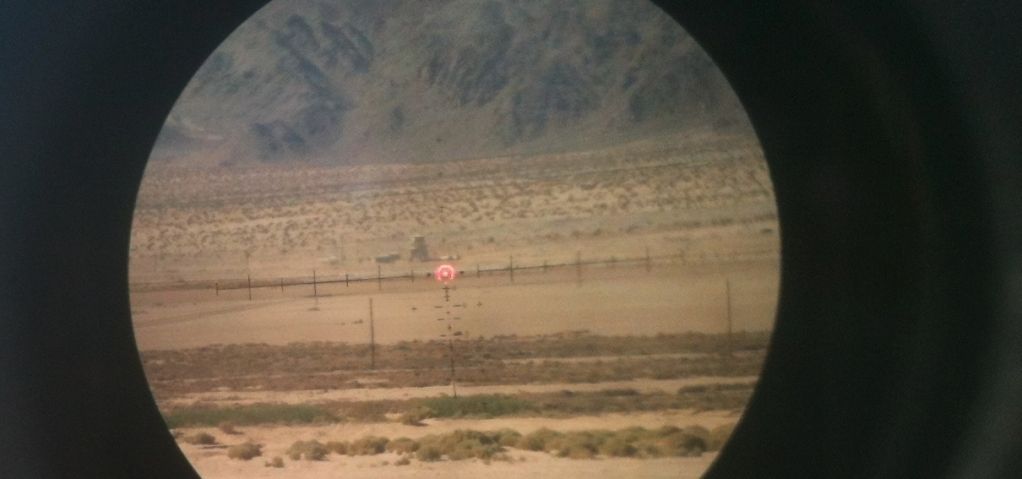 That's basically my own evaluation of the HK M27 IAR based on my personal experiences and some facts i can remember off the top of my head. If you can google legit facts about some of the things i said, and the reasons why things are the way they are, then i would love to hear them....AKA If you are an HK fanboy and want to correct me, by all means.