I was very fortunate to have had the opportunity to pick up one of those new Surefire Helmet Lights at the Shot Show. As cool as I feel this thing is, I do not have a helmet, nor do I use one. So I feel I would not be the best person to review it. I gave it to a guy I know who is better qualified to givee an honest review and he did appreciated it. JimW doesnt post here much but is a mod on LightFighter and is over on 10-8 often enough. Here's what he had to say...
(Review by JimW)
One of the more useful thing-a-ma-bobs I saw at 2006 SHOT was the Surefire helmet light. I've been playing with it for a couple of weeks now and I like it. It's one of those pieces of gear you thought you never needed until you use it for a while and than wonder how you ever got along with out it. This light mounts to the helmet via three screws. Once tightened down it isn't coming off easily. The light runs off of one (1) 123A lithium battery. The upper toggle switch has three (3) positions:
CENTER = off,
UP = Three white light LEDs
BOTTOM = Two blue light LEDs
The Lower toggle switch activates a very dim pulsating red light that is barely visible to the naked eye in low light. In total darkness the red strobe is visible from only a few feet away. When viewed through NODs it is very bright, hence the IFF designation.
The checkered button in the center will adjust the intensity of the white and blue light in three increments of low, medium and high.
The light is detachable from the mounting base by means of a push tap located at the rear of the unit. This allows the light to quickly be removed for hand held use.
This light is very bright for a small LED but is not as bright as a combat light needs to be. However, that is not what this light was intended to be. For navigating through darkness or non combat admin duties this light is more than adequate. If you already are running a weapon light this light augments it well if your one of the head-on –a-swivel crowd.
I'll have to get back to you on the battery life.
All in all I like this light and would recommend it to those looking for a helmet light.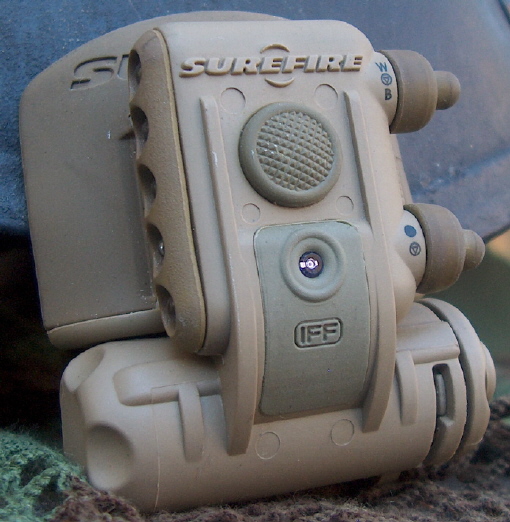 Blue LEDs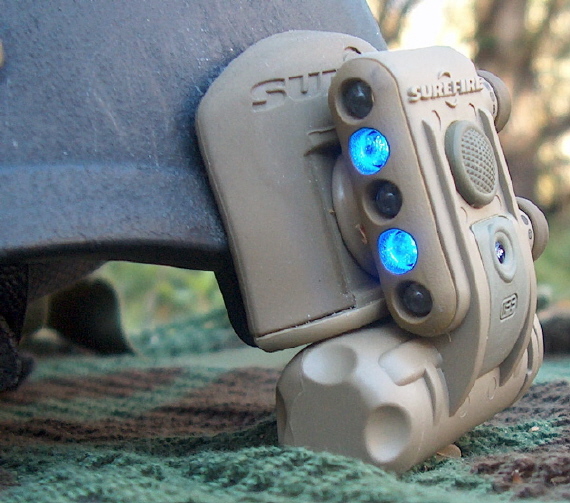 White Light LEDs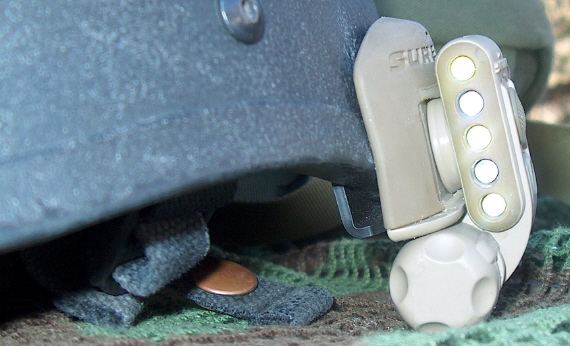 The light works well as a navagation light for moving to breach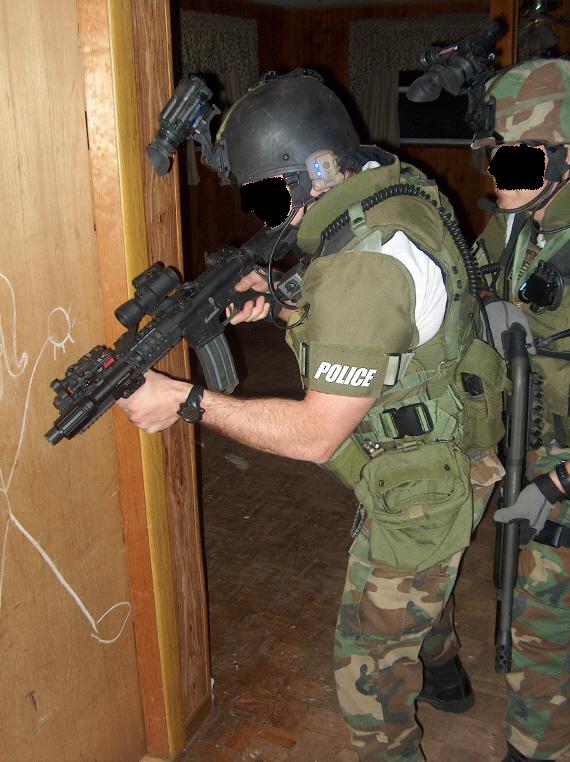 You want one, don't you?