One of my family members wanted an x39 AR after shooting mine so I got them a complete x39 upper from SOTA arms for $399.99 shipped, an enhanced x39 firing pin for $20, a New Frontier Armory complete polymer lower for $98.25 shipped plus $10 FFL, and a Wolff XP hammer spring for $5. I gave them one of my ASC 30 round X39 mags to feed it. It took SOTA just less than 4 weeks to deliver the upper. I called them before I ordered it to make sure they had all the components and I would not get stuck with an indefinite back order or some other delay. They returned my call the same day and confirmed they had it all in stock and available. Like most places they have backlog of work so it takes a while to assemble, test fire, box, and ship.
Here is what was in the box: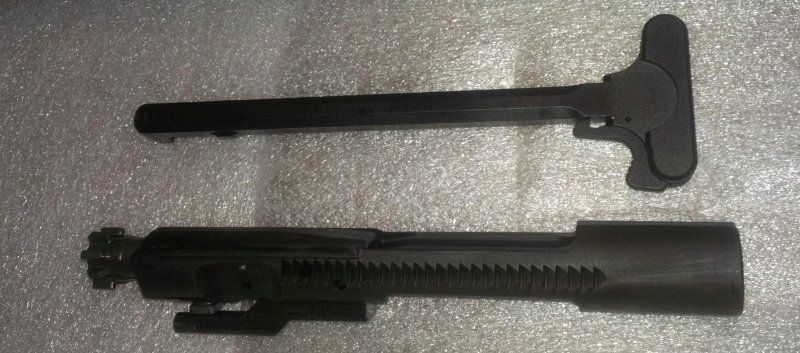 I took it apart to make sure there were no visible issues and all I found were a few cosmetic blemishes. I am not concerned with the cosmetic blemishes as I did not expect this upper to be a beauty queen for under $400. I found 3 cosmetic blemishes and none of them impact function.
The most noticeable is on the FF tube nut (barrel nut). You can see some raw metal exposed where the finish was scraped off when it was tightened. Not a big deal.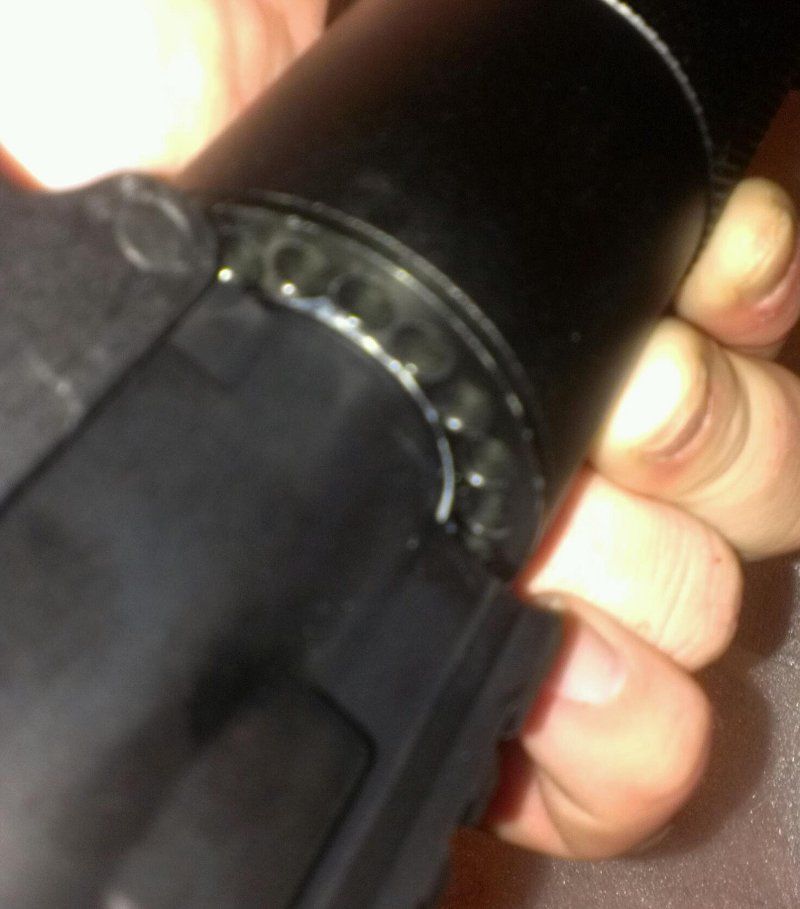 There is a blemish on the FF handguard where it had been banged into or dropped on something removing the finish and some of the raised portions. Someone seems to have tried to cover it with a black marker which really made it worse (the camera flash does not allow the color difference to be seen). It is on the bottom of the tube so it is not readily visible and I am not concerned with it.
This may not be an issue but I noticed it so I am showing it. There is a scrape on the inside of the receiver in the charging handle/gas key recess where the finish has been removed. Not sure if the CH did this or if it is normal for an AR to have this. My other ones do not but they are not normal receivers (LAR side chargers). Again I am not really concerned with it as it is not visible and does not impact function.
Here is the upper mounted on the NFA lower.
I cleaned and oiled everything, reassembled it, and did a function check. All was well so Saturday morning I took it to a local range to break it in. I used my ASC 10 and 30 round mags to feed it Tula FMJ from WalMart. I loaded one round and it fired with no issues but the bolt did not lock back. I loaded 2 rounds and fired it. The bolt locked back after the first round. I hit the bolt release and fired the next round. The round fired fine but the bolt did not lock back. I took the upper and put it on my M&P lower with PSA internals, loaded a 10 round magazine then fired all 10 rounds with no issues and the bolt locked back on the empty mag as it should. I then shot 30 rounds through it with no issues. I put it back on the NFA lower and it was back to being a single shot. I put my other x39 upper on the NFA lower and it worked fine. I decided to swap out the buffers/springs between lowers to see what would happen. I put the NFA buffer in my M&P lower and put my other upper on it. It ran fine with no issues so I put the PSA buffer in the NFA lower and put the SOTA upper on it. It ran perfectly and I proceeded to put the balance of 400 rounds through it non stop. I was using a cheap set of UTG sights ($42 for the pair) and shooting a metal tank hanging at 50 yards. I had no FTF, FTE, or light strikes. I got the gun so hot the sandbag I was using for a rest melted and started smoking where the handguard was touching it. I put a towel between the handguard and the sandbag and proceeded to keep shooting and I melted the towel (I was not being gentle as I wanted to see if the bolt was going to break). I missed 3 shots out of all of them (my fault) and there was almost no tank left when I was done. I am not sure what the difference in the buffers were. They were both standard carbine buffers. I don't have a scale to weight them but they feel the same to me. Most people would not run an x39 on a polymer lower so I am not considering this an issue since its a lower part.
The gun is decently accurate and I am very satisfied with it. I would have snapped some pictures but it was too humid and my camera lens was all steamed up. I had put the Tapco butt pad from my other x39 on it for the abuse session to help make the stock longer for me. It helped a little and the butt stock shaped bruise I now have on my shoulder would have probably been worse without it. LOL
I am extremely pleased with the SOTA arms 7.62x39 upper. The cosmetic blemishes are not an issue for me and I am not complaining about them. I just wanted this to be an honest report. Most likely if someone bought another upper from them, it would not have these blemishes. I added ASC magazines, an enhanced firing pin, and an XP hammer spring to ensure reliable operation just like any other x39 upper. I am not affiliated with this manufacturer and they did not know I was going to write this report. I just like taking cheap parts and having them work with no issues. I would not hesitate to buy from them again. There seemed to be a lot of people who were interested in these uppers due to the price point. I wanted to let everyone know that mine has done well and they seem to have worked out the bolt issues they had in the past. I have not contacted them about the handguard blemishes and I do not intend to as they do not bother me.
Bob