"Technology is not evolving anymore, technology IS evolution!"
I was very enthusiastic to write this review. I've long been a clap-happy fan of practical optics, versatile carbines, and industry savvy. When SWFA announced the creation of a new line of low power variable heavy duty optics – I was immediately intrigued. Why? For one – SWFA stocks, handles, and sells virtually every optic commercially available. By trade SWFA has a finger on the pulse of the optics industry. They know what works, what doesn't, what sells, and what the end user wants in a comprehensive scope for the AR platform.
SWFA ventured to assess, design, manufacture, and drop such an investment into the mosh pit of competing heavy duty optics. This maneuver is a true testament to their confidence over the Super Sniper line of products. That's definitely worth noting and inspires some legitimate curiosity as to what makes this scope worth your while. This review is intended to help satisfy that craving. It will also share my personal observations with regards to how this scope compares to others in its class. Lord knows I've tried many an optic over the years. So many incredible options, each with its own set of pros and cons. For each scope I've tried, I've also found a reason to get rid of it. There was always a technical compromise that prevented the low power variable from serving in the capacity of a general purpose optic. By "general purpose" I mean that which is best suited to hit typical silhouettes with no specific range limitations.
Before I get too far into this…let me come right out and state that from my perspective the SWFA SS 1-4 HD is the long overdue culmination of several proven and popular scope designs. They've taken the best mojo from other capable scopes placed them all into one. If you are in the market for a high quality do-it-all optic and mount combo under $1,000 for your AR15 – read on.
My range time (aka free time) has been very limited this month. Consequently to date I have only fired 200 rounds of M855 behind this scope to establish a 50/200 yard zero and feel out the basics of what the SS offers. To really dig into the details of its long range accuracy potential past 200 yards I'll reference a great field review by Arfcommer 357sig:
SWFA 1-4 HD Field Test (long w/photos)
Official AR15.com Thread SWFA SS 1-4X24 HD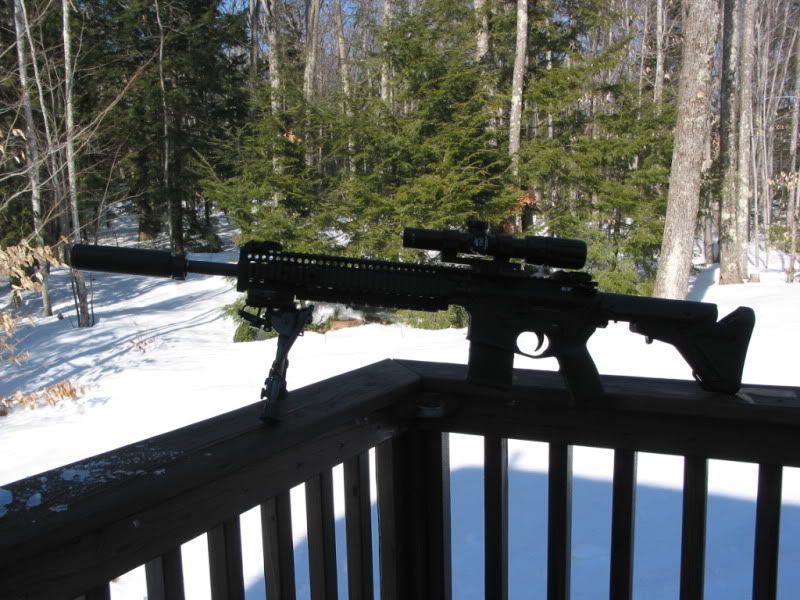 What SWFA has essentially done here is create an exceptionally rugged and high quality 1-4X variable that caters to the standard 50 / 200 yard zero yet offers unparalleled advantages when dialing out to the limits of one's abilities. A great deal of innovation went into its design.
For my review I elected the model with the CQB circle and capped turrets. SWFA also offers this model with an open MIL crosshair and uncapped turrets. My shooting efforts with the 5.56 cartridge rarely exceed 200 yards, so for my perceived shooting venues I wanted a zero that I could set and forget. In the event I want to move to a bipod in the prone position and exercise my carbine's accuracy potential beyond typical ranges – I could…and with great ease. The way I see it, extended shots past 200 yards are the exception and not the norm. If the opposite were true one would likely opt for a different caliber and / or higher powered scope. To be able to cap the turrets all together is a great benefit.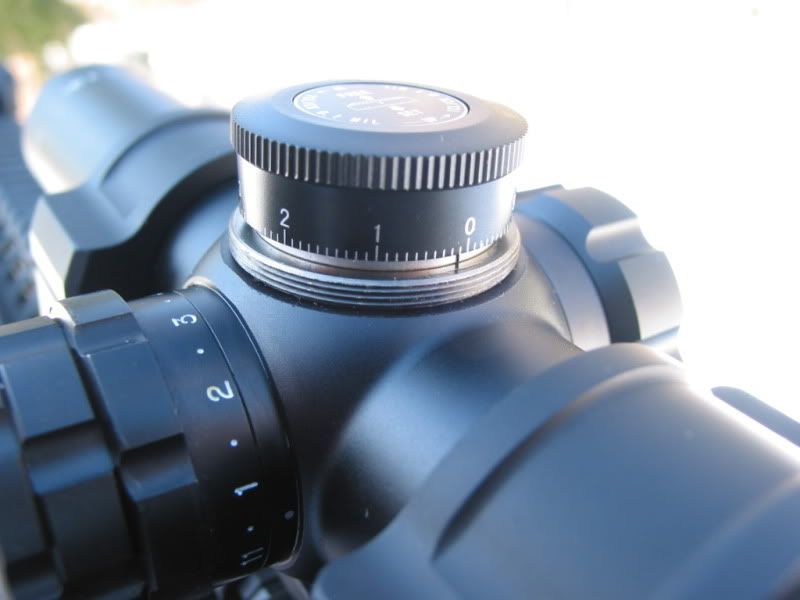 When stacking up the important components of a low power variable optic – a short list of must haves come to mind:
1) Durability
2) Glass
3) Reticle Design
4) Turrets
5) Eye Relief and Exit Pupil
6) Weight
7) Illumination Potential
8) Battery Power
9) Customer Service
10) Affordability
These factors all contribute to a scope's worthiness over a firearm. Those who have spent enough time behind an occular can certainly appreciate how very important such details are. The SS 1-4 HD capitalizes on each of those factors by incorporating the best resolutions available. To elaborate:
Its components are very Spartan and robust. In my view it stands shoulder to shoulder with the level of quality standardized by Nightforce. Rated -50 to 130 degrees Fahrenheit, weather proof, etc – it'd serve under any condition one would consider shooting in. Such parameters should be a given for any scope labeled "HD." Turret caps are well secured. Occular adjustments lock up tight. The rheostat knob is well seated by threads and gaskets. It rotates with a positive feel with off settings between illumination levels, inspired by Leupold's MR/T perhaps. The magnification dial rotates from 1X to 4X with a 180 degree rotation. I can do this with two deliberate wrist moves. Keep the cat tails…you won't need it. The body has a hard matte black finish. In hand, to me, this scope feels very rugged. It appears to be on par with Nightforce and S&B. In short – it's definitely heavy duty. No issues here. To speculate further would be unsubstantiated. I don't plan on using mine to pound roofing nails in order to make a point!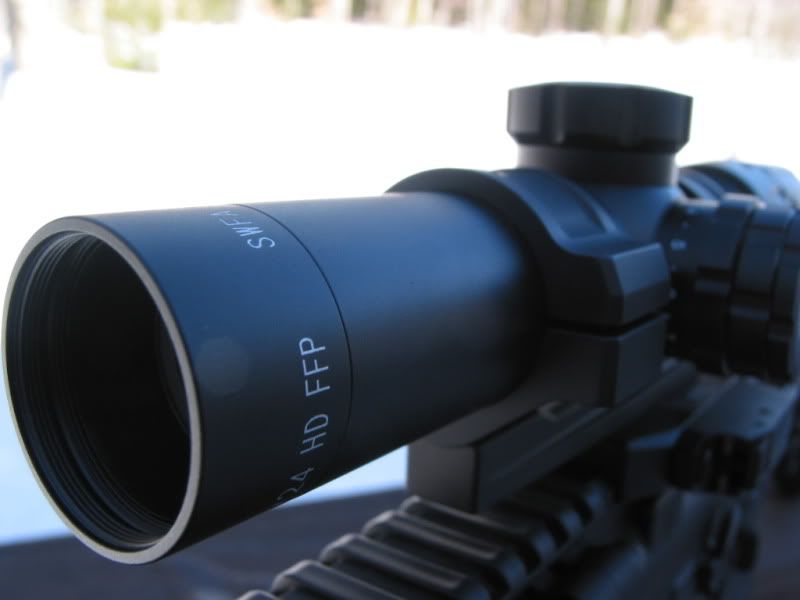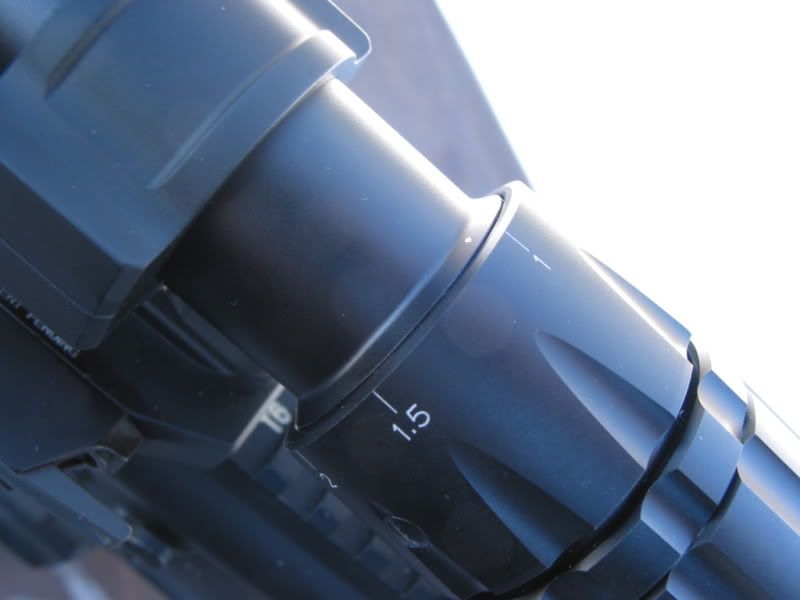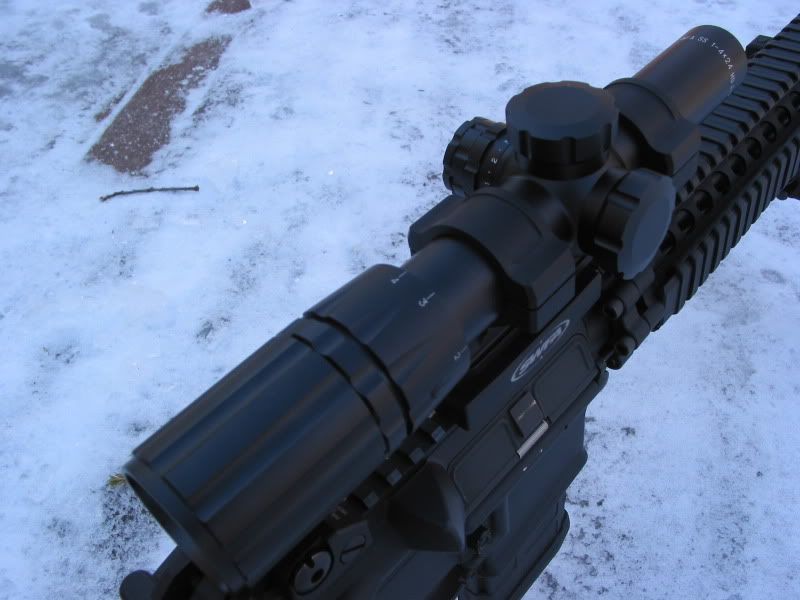 Glass quality is superb. The sight picture is crystal clear from edge to edge and boasts a generous FOV regardless of magnification level. Light transmission is incredible. I have no means to gauge it but it's akin to looking through a clean glass window. The view contains three high contrasting black posts that taper into the SS's simple and efficient CQB circle. Reminiscent of the Nightforce FC-2 the circle truly dominates your sight alignment by naturally drawing your eye to the center. Inside the circle is an innovative FFP Mil / Mil crosshair. At 1X magnification the crosshairs becomes a ghosted center point which perfectly compliments the speed and accuracy potential of the reticle when shooting with both eyes open. Crank it up to 4X for incredible clarity and a precise aiming point. The circle is large enough to center on a silhouette but small enough to stay out of the way at higher magnification. The dimensions are right where they need to be. In a way, the SS gives you two reticles to work from – one at 1X, and the other at 4X.
The treeline past the snowfield is 150 yards away: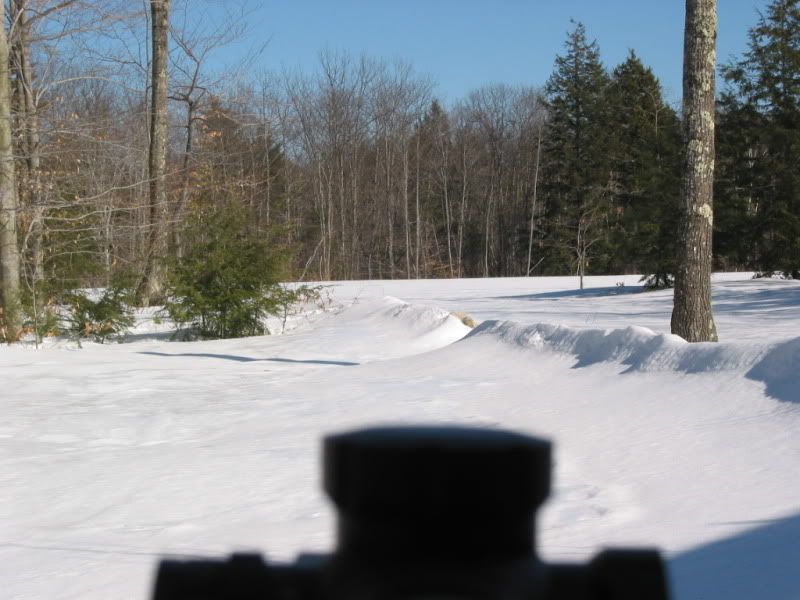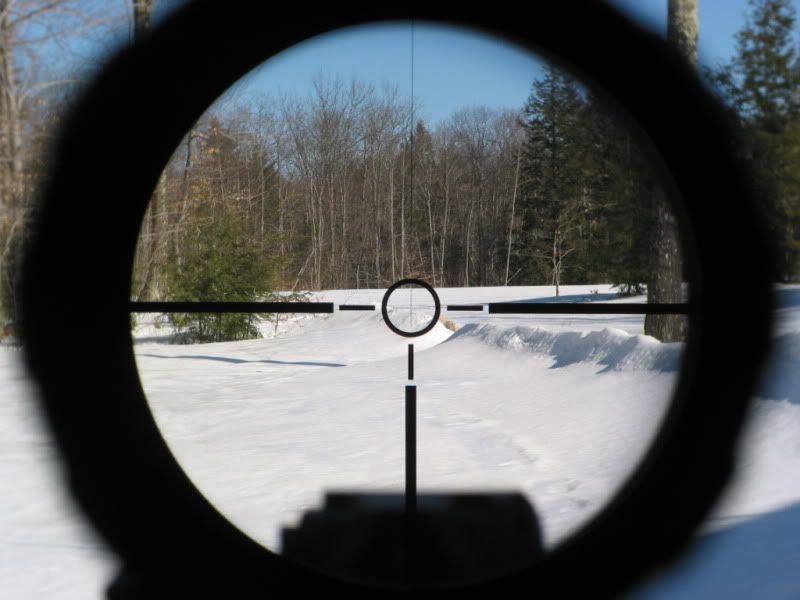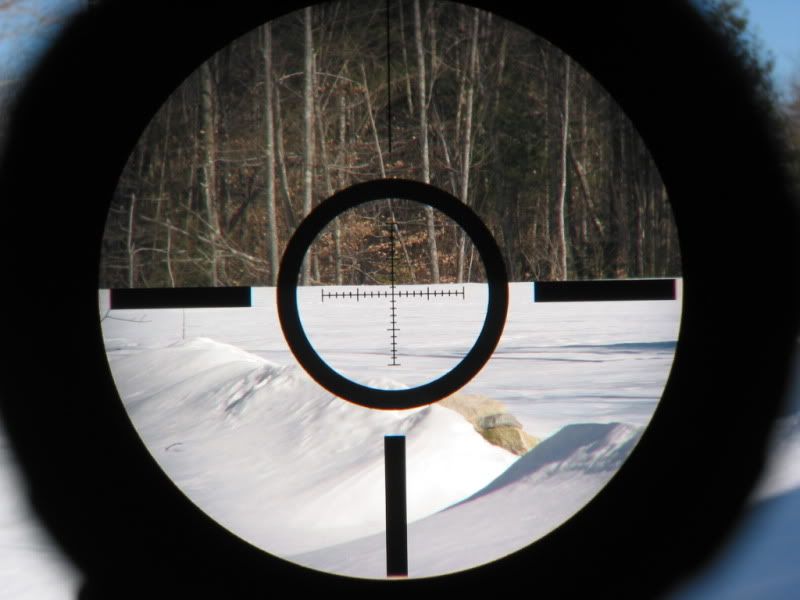 At 4X the tapered posts and circle become the backdrop for what may be the SS's most unique aspect compared to other scopes in its class. Whereas many low power variables cater to venues >50 yards or <200, the SS's reticle successfully bridged the gap and gives the shooter the absolute best aiming system regardless of range. Finally! The reticle is simple and effective. You don't lose it in the FOV nor does it get overwhelming.
The Mil / Mil crosshairs provide a universally accepted and consistent means of correcting and calculating elevation and windage. SWFA deserves a lot of credit for going this way as it transcends specific bullet drop calibrations and stadia based on certain cartridges, loads, etc. Many scopes like the Burris XTR do this and I find it limits the scope's potential and muddies its simple usability. Even with bullet drop compensation it's typically load specific and is influenced by so many other variables. ACOG's pull it off. Not sure who else does....with great success. I like the template the mil system offers with regards to customizing your specific firearm and ammo. With a 0.10 Mil adjustment – it certainly delivers flexibility to the shooter. On the capped model the turrets lift up for calibration and are pressed down once corrected. From there you dial accordingly and accurately. Again, shooting that far isn't (in my view) the norm for a 5.56 carbine so the added effort of removing a turret cap for adjustment and ranging are duly warranted. Of course the the same could apply to a 7.62 rifle. The ability to utilize the same reticle for CQB, typical shooting venues below 200 yards, and long range shooting is in my view the most powerful advantage of the SS 1-4 HD. Even without messing with the turrets, one could range their respective cartridge(s) to the horizontal stadia for holdovers. Options are good!
How about that illumination! The circle and crosshairs are daylight visible. SWFA told me they went as bright as technology would allow. I can attest…the illumination is certainly all that and more. With the reticle's surface area illuminated….you get a circular visual very similar to looking through a Swarovski 1-6. The SS is bright enough to allow for some blooming as well, seen as "spillover" from behind the black posts. Additionally, it's worth noting that even without the illumination – the glass quality and black reticle is crisp and contrasts incredibly well on its own. Illumination, while important and favored amongst many – isn't entirely necessary. For myself, a large portion of the year is blanketed with snow and a black reticle is actually preferred. I'm also of a fan of the rheostat's orientation on the scope. Similar to Nightforce, the knob is on the side of the scope but retains the same on/off layout as Leupold's MR/T. Not 100% sure on the battery life yet – I'll update when I learn more or do the experiment myself. More information about the illumination can be found by perusing this thread:
Optics Talk Review of the SS 1-4 HD
So how does the SS stack up to other optics in the mid-range price bracket of $600-$1200? I personally think this is the most comprehensive optic ever made available for the AR15 platform. Mind you, as certain aspects of optics mean more to others – your own preferences may vary. For example, if you don't shoot past 200 yards, a Nightforce FC-2 or NP-1 would suit you well. Same could be said for the daylight bright Meopta K-Dot or the battery free Trijicon Accupoint. If you find yourself shooting 50+ yards then the MR/T, XTR, IOR, NF, etc should be on your short list. There are so many optics to choose from. Let the venue drive your selection though. If weight really matters then no low power variable will suit your comfort level and you should look at the ever popular Aimpoint with a QD magnifier or an ACOG like the incredible Trijicon TA33. If cost matters then you may wish to check out the Vortex PST which hosts a ton of features around $500. There is a lot of great options out there and I don't mean to discredit any of them. There are pros and cons to each optic and they all provide something that the other doesn't.
To that end, if you want the best of everything and the worst of none – then you should feel very confident in selecting a SS 1-4X24 HD. In all my years shooting AR's, "nothing comes close" to the value offered in this scope. It is extremely rugged, very clear, ultra bright, easy to use, and will serve your AR15 well regardless of range. As with the rest of the new SS HD line of products – it's a safe assumption to classify these low power variables as workhorses. I really like mine and fully intend to keep it. In my view it's the best 1-4 scope it its class and worth every penny at $799. These aren't the tried and true fixed magnification scopes of years past. This round of Super Snipers have evolved substantially. Hope this review helps.
Don't forget the mount! The Bobro (pictured) is very nice. If you roll with Larue - I'd suggest the extended version. It'd give you more positioning freedom, especially if you shoot NTCH.