Well as some of you may know I got my 1st parts STAG stripped lower,STAG m4 complete upper,RRA lpk and 6 pos stock a few weeks ago and last saturday I put it all together.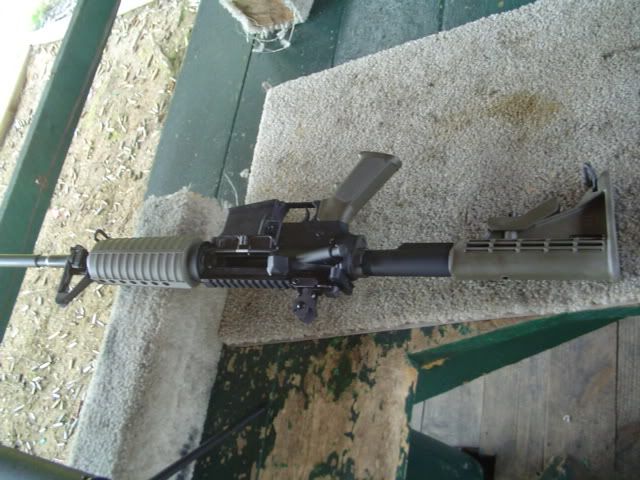 Well today was the momoment of truth with my creation and I went to the range and put 60 rd's through it and went home but when I got home and began to diassemble it to see if anything looked funny and give the barrel a quick wipe down a problem arose.
I wanted to diassemble the bolt and carrier to remove some carbon and stagger the gas rings but as I removed the firing pin retainer and firing pin I rotated the cam pin and moved the bolt reward in the carrier to lift out the cam pin.
Heres the problem the cam pin is partiallly blocked by the carrier key.
Arrrrrggggghhh
I scared the crap out of my lab(swearing like a sailor on shore leave).
When I received the upper and looked at the inspectors tag I took the bolt out of the carrier briefly to clean the bolt face and give the internal's a quick lube. The bolt was put back in the upper and returned to battery. Nothing felt out of the ordinary(all this happened last saturday).
Today I took it out of the safe an removed the bolt to run a dry patch down the bore to remove the coat of oil I had put in last saturday and put it back together again. Then I went to the range and bought 3 boxes of Winchester(Q3131A)55gr FMJ and proceeded to shoot for a 1hr & 1/2. The rifle always went banged and grouped nicely.
The rifle fired the 1st time I pulled the trigger and nothing felt funny at all or was out of whack. So I continued to fire the remaining rounds over the following 1hr & 1/2.
Last target of the day 100yds
Question is how do I fix this problem.
#1 E-mail/call STAG arms and let them know I have a problem with their carrier. Are their upper's even under warranty or just their complete gun's?
#2 Buy another bolt?
#3 Let the store I bought this from know theirs a problem.