So, I bought a Gladius a few weeks ago to play around with... I've found it to be a nice little learning experience for myself, and those unfortunate enough to call themselves my friends and family.
I've been interested in the development of this light ever since I heard Ken Good was going to market his own lights under the Strategos name. Ken has been a pioneer in the art of low-light fighting for as long as I can remember, and I thought that if anyone could turn out an innovative hard-use light to compete with SF, it would be him.
After reading the initial specs and capabilities of the Gladius about a year ago, I became even more intrigued. I checked out the demo video and read the SHOT Show reviews... But I just couldn't throw $250 down for another light when my SF M3 and E2D were doing so darned well.
I eventually broke down. My favorite tactical gear pimp had one on hand, and I just had to check it out. As I was handling it, the offending gear dealer was trying to show me a new Kimber Warrior. I just couldn't put the light down, however. It was that neat. Needless to say, I bought it. It wasn't the color I wanted, and I really couldn't afford to spend that much cash on a light at that point, but I threw caution to the wind and bought it.
The Good
For the next week or so, I made it a point to strobe the piss out of all of my friends, family, pets, and anything else that I could point the Gladius at. Yes, it is fun. The other modes of the Gladius are nice, but nothing gets used like the strobe.
The constant on/dimming mode is also very thoughtful. The tailcap is very intuitive, and I've grown to love the long throw of the activation button.
It wasn't as complicated as everyone had made it seem. Once I got used to the controls, it was easy to go from mode to mode without going to the wrong setting. The tailcap gives you a nice tactile "click" when changing modes, which I prefer to the SF style lockout. Did I mention that I like the long push of the button?
White Light NDs are pretty hard to come by with the Gladius, even when using less than traditional grips on the flashlight. While being more difficult to ND with, it's still a breeze to activate the light when needed.
As to what the beam is like... It's damn bright. The corona is nice and even, and the throw is respectable. The Gladius easily has the best throw of any LED I've ever used. It's not quite as good as an incandescent, but it's good enough to ID objects and people from 35-40M (the furthest I've tested).
The strobe is a godsend. I can guarantee it has to be one of the biggest steps in less-lethal history. I've only used it to deter my 80 lb poo dog when crossing my yard, but people have mentioned that it would definately make them want to increase their distance from it.
The lanyard is pretty sweet. It's very similar to that of higher end camera lanyards, and it appears to be very high quality. The lanyard attachment points are in the bat wings on the body, and looks like it was designed with lanyard use in mind. The lanyard attachment is very secure, unlike the newer SF style lanyards (I'm a big fan of the older ones).
The large size is nice if you plan on using your light as an impact weapon, and it feels nice in the hands.
The hard case is a nice touch... What else can I say, its a hard case with fitted foam, and I like it.
The Bad
Being just a serf with public schooling and a little college under my belt, I felt that the manual wasn't all that clear on how to reassemble the tailcap to the body after battery changes. Why do I say this? Yes, I stripped out the tailcap the first day I had it. Call it ham-handedness, lack of coordination, or just plain dumb, I managed to screw it up. It still works, but battery changes have become a two-man operation. Enter my life with a crew served flashlight.
I don't feel that the tailcap attachment method is exactly idiot proof, but I'm sure it's more than adequate when you have a more qualified end user. I don't break things for a living, but I'm pretty good at doing it recreationally.
The light, although it packs a lot of light into a small-ish package, dwarfs even my 6P. It's pretty large. Not M3 large, but pretty damn big. It's not unmanagable by any means, but it limits carry options a tad. I'm running it in a Spec-Ops Brand bezel down pouch, and it's not too bad.
The Ugly
People make really goofy faces when you strobe them for ne reason... I usually make a much worse one as I'm running away to escape retaliation.
The inside of the body is pretty nasty where I stripped the tailcap thing out.
Geez the Gladius is big.
Final Thoughts
Was it worth $250? I think so. I like it. I would like it a lot more if there was a version w/ a crenelated bezel that was closer in size to my E2D, but that's just me.
I like the OD CeraKote (sp?) finish, but I would have been a lot happier with Dark Earth. I don't really like the "tan" color, as it's too light for me.
I would love a weaponlight version, especially with an integral LaRue mount (hint, hint) like the LaRue Battlelight. I would even settle for a 1" straight body version, without the bat wings.
Sorry for the poor pic quality, it's so humid right now that the lens fogs almost immediately when exposed to the air.
The OD Gladius with lanyard attached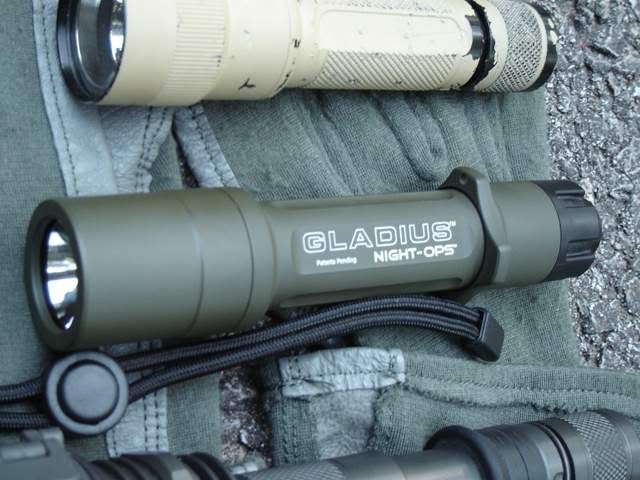 OD Gladius (center) next to a rattlecan-tan 6P (top) and an M3 (bottom).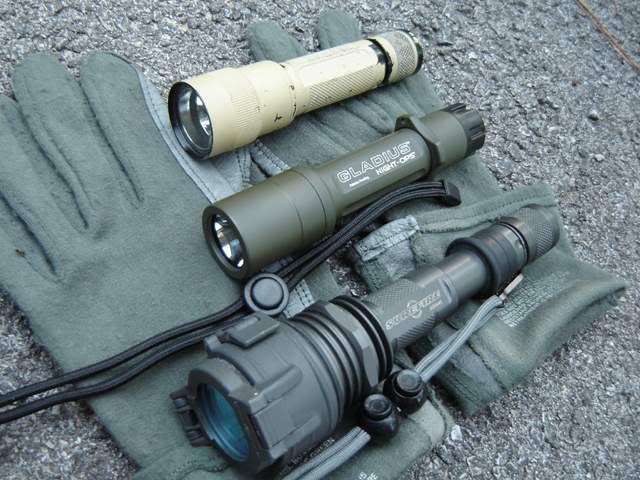 OD Gladius in factory hard case with lanyard and manual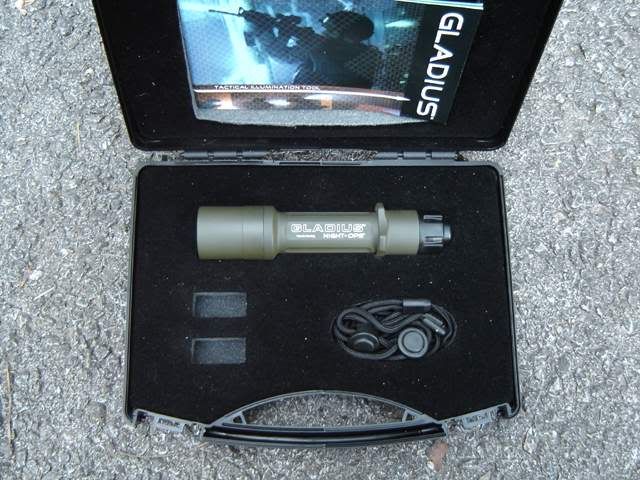 OD Gladius with Glock 34, for scale