Wow, what a question...
Flavors: Carbines, Mid-length Rifles, and full-length rifles
Carbines: 14.5" barrels w/ permanently welded flash hiders to get the 16" minimum length, and 16" barrels with threaded muzzles. Similar to Colt M4s. Everyone makes them, just about. I bought my 16" Carbine with flattop upper from CMMG. I bought the upper for $499, then the lower separately for $254. I pushed two pushpins together and had a complete rifle for $754!
Mid-length: 16" barrels w/ threaded muzzles. These have a longer gas system which reduces heat and wear, have a longer sight radius, and bayonets can fit on them as opposed to carbines with 16" barrels. (Carbines with 14.5" barrels with perm FH can accept bayonets.) Fewer manufacturers are making mid-length ARs.
Rifles: 20" barrels with threaded muzzles. These accept bayonets, have even a longer sight radius, have even a longer gas system, and are readily available from a number of manufacturers.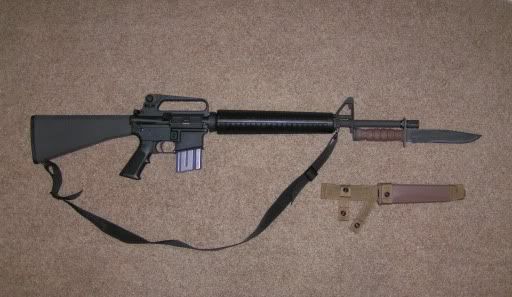 Then we can get into barrel types.
HBAR: heavy (1" thick) under the handguards, thinner out front. Usually don't have the "M203" notch cut out in front of the front sight base on carbines. Undetectable on midlengths or rifles in pictures, but are considerably heavier and are stamped "HBAR" on the barrel. Very common, as it is the cheapest to produce (less machining of the barrel to "contour" it.)
A1: "Pencil", or "lightweight" barrels. These are the skinniest barrels available. Standard on original M16A1 rifles. These are coming back into vogue due to their lightweight characteristics. Somewhat common, but not available from all manufacturers.
M4 Profile: A1 thickness under the handguards, regular thicknes out front of the FSB. Have an "M203" notch cut out of the barrel just in front of the FSB. See the pic of the carbine above. Very common.
Socom: not quite as thick as the HBAR under the handguards, but thicker than the standard thickness in front of the FSB. Have the M203 notch cut out. Rare.
Custom: all sizes, lengths, thicknesses, chamber types (Wylde, Saami, 5.56NATO), stainless, carbon fiber, etc....
Then you need to pick an Upper Receiver.
A1: lightweight fixed carry handle with older style "tool adjustable" sights.
A2: 80's era fixed carry handle with A2 "finger adjustable" sights. (se e above pic of rifle)
A3: flattop receiver to accept a detachable carry handle or BUIS (Back Up Iron Sight), red dot sight, scope, etc... (see above pic of carbine)
Then you need to pick a buttstock.
A1: fixed short length stock of early rifles.
A2: longer fixed stock on later rifles. (see above pic of rifle)
CAR/M4 stock: These are adjustable "tube" stocks that collapse to different lengths from 2 positions, to 6 positions. (see above pic of carbine)
Ok, I'm tired now. I think you get the point...
ETA: Oh, and for barrels, you can pick Chrome-Moly, Stainless, Chrome-lined, etc... I would pick a Chrome-lined barrel for most applications. If you stated you wanted a long-range tack driver, I'd suggest a stainless barrel. I would never recommend a chrome-moly barrel unless you just couldn't afford the extra $25 bucks.
For a general purpose rifle, my recommendation would be for a carbine or midlength with an A3 upper receiver and M4 profile, chrome-lined barrel.