Brought this up on another board, nothing came of it, thought I would bring it up here. At first I thought it was just chance I was seeing these, but am having second thoughts.
Have heard/read reports of "loose barrels" on M4 Carbines as early as 2001/2002 (specifically, USMC testing). Initially thought it was all bunk, but in the last few years I have seen some interesting stuff. Like barrel nuts that are not tight, and flop around the gas tube. On a friend of mines M4 upper there was enough room between the sides of the index pin that the barrel can be rotated a degree left and right. Really, I mean you could grab the FSB in one hand, and the upper receiver in the other, and twist it back and forth and feel slop in it. This has been described as a "loose barrel".
First thing out of the box I checked the gas tube play at the barrel nut of my brand new M16A4/Colt's Model 901/905 upper with a born on date of 98. There was none. The nut was over indexed a few degrees too far so that a tooth of the nut was resting against the tube. The bolt carrier would pass over the tube with no resistance, but once it got withe an 1/8 of an inch or so of it's stop against the barrel extention it had a slight bind. Had to loosen the nut, and line it up correctly to get proper carrier key to gas tube mating. The barrel nut was not over torqued as in too tight, but simply not indexed properly at 12:00 TDC.
With the over torqued barrel nut the gas tube is in a bind and won't mate properly with the carrier key. This binding leads to malfunctions with the fired case staying in the action, failure to eject. This upper is from a 2000/2001 SFG issue M4A1 (RO921HB). The barrel nut is timed a few degrees farther then TDC. The barrel nut is contacting the gas tube (I have had two USGI RO921HB uppers like this, and on one the nut was on WAY tight):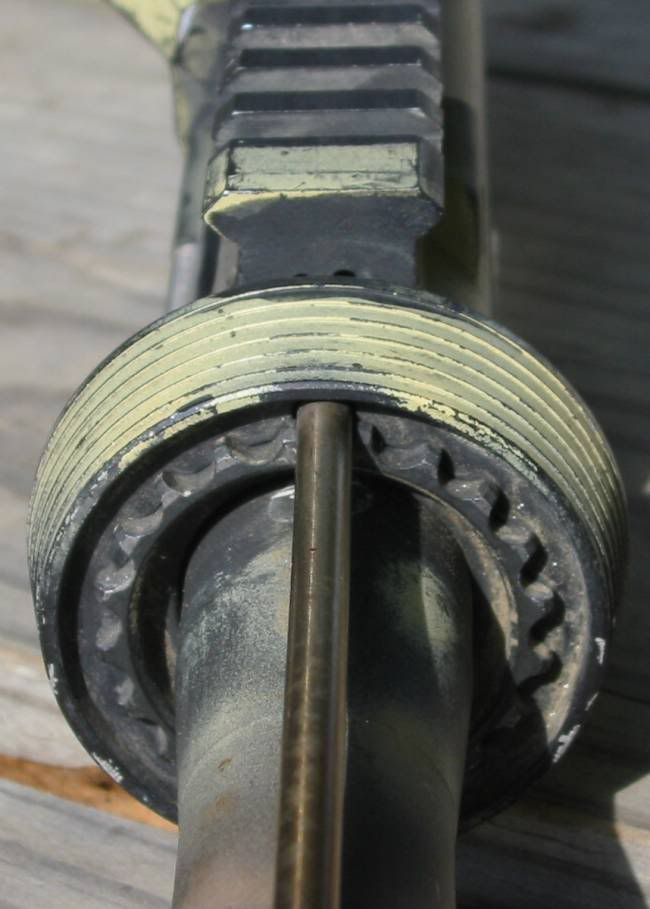 Only seen one of these, again another 2000/2001 SFG RO921HB upper. On this one the nut was not index to TDC but stopped just short. Again causing the gas key to bind on the gas tube:
The reason I bring this up is that I tinker with factory original USGI uppers that date as far back as 1963 and it has not been until the last few years that I have seen miss aligned barrel nuts with carrier key/gas tube bind. The oldest one so far I have found with bind had a barrel date of 1998. My experience with USGI XM16E1, M16, and M16A1 arsenal rebuilds is the same as pre-98 factory stuff, 100 percent correct carrier key gas tube alignment. Three out of the four RO921HB upper I have had carrier bind, and as a result not capable of reliable function.