---
Originally Posted By Green0:
I'm wondering how well zero is retained with a 14 in front of a day optic.

Has anyone shot it at night? With a 3x magnifier on the PVS14?

I have been wondering how much light my USO SN4 will transmit [it's on order] and just thought about the possibility of forward mounting the night sight and 3x magnifier and leaving the USO at 1 power magnification as a possible solution of course the problem I can see running into is the reticle's ranging wires not being visible as I expect the USO to have a constant scale reticle and thus be tiny at 1 power.

I really like the way the 14/3x magnifier transmits light and resolution but I'm having a hard time finding a way to integrate it into a long range sighting system.

I was thinking about the possibility of getting a PVS22 but haven't seen a transmitted image to know what performance is like and expect the price to be rediculous.
---
As Ink stated and what was reported from Pete (IPSC_Guy), the zero shift is pretty bad, as well as the ACOG Tritium on the NSN model anyway is way too bright no matter what the Trijicon folks are saying.
Here is a thread on it. More info there.
www.ar15.com/forums/topic.html?b=2&f=209&t=148889&page=1
In regards to the 3x magnifier, indeed light transmission and resolution are VERY good. What distances are you needing? You might be reaching the limits of the 14/3x mag if you're engaging past 250m at small targets. I have shot routinely with the 14 and the mil-spec 3x mag out to 250m with center mass hits with my 6.8 SPC. Spending $3500-$4000 for a D-740 or D-760 dedicated NV rifle scope might be a logical step instead of spending $7,000-$8,000 for a (PVS-22) if you need more distance from 300-600m. Indeed, the PVS-22's are a very good system with virtually miminal light loss, no zero shift issues, etc. Presently, they are not even for sale to the general public!
Ya know the more I hear from you thinking folk out there, the more sense it makes to have BOTH dedicated night and day platforms. In my case, I go a bit overboard and have day and night dedicated systems BOTH for CQB/Mid-Range and long range applications.
Realistically though, two AR platforms is all I need to cover my CQB, mid and long range solutions. My first Day/Night solution is a .223 carbine for CQB with a PVS-14 EO and IR laser. Mid-range is the same platform and just add the mil-spec 3x mag. My mid to long range solution is a 6.8 SPC dedicated NV rifle scoped D-760 system which I bang center mass steel plates all night long from 300-600m. My CQB system will change when I replace my .223 carbnine with a LMT 6.8 carbine VERY soon!
Hope this helps.
CQB Platform;
.223 Carbine, PVS-14, EO and laser.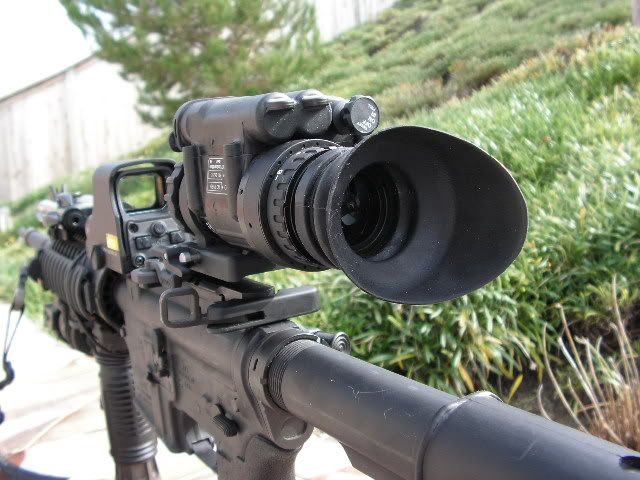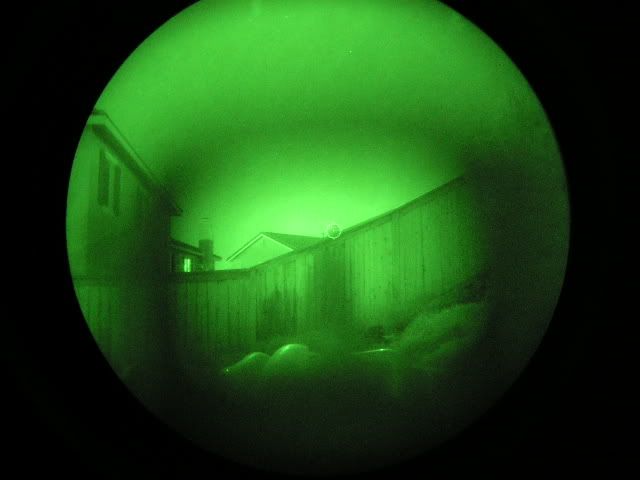 Mid-Range Platform;
.223 Carbine, PVS-14, Mil-Spec 3x lens.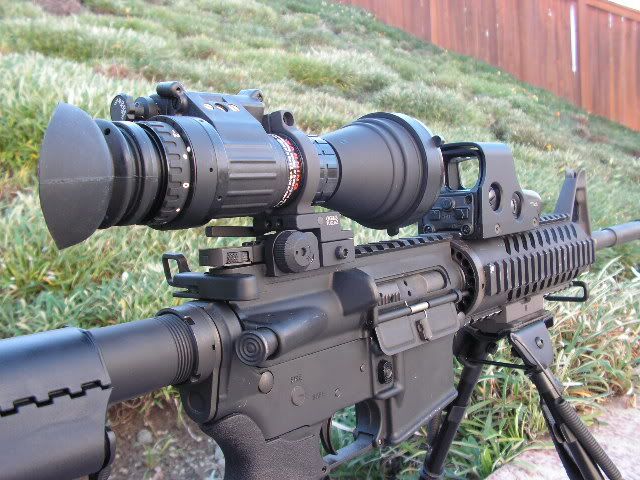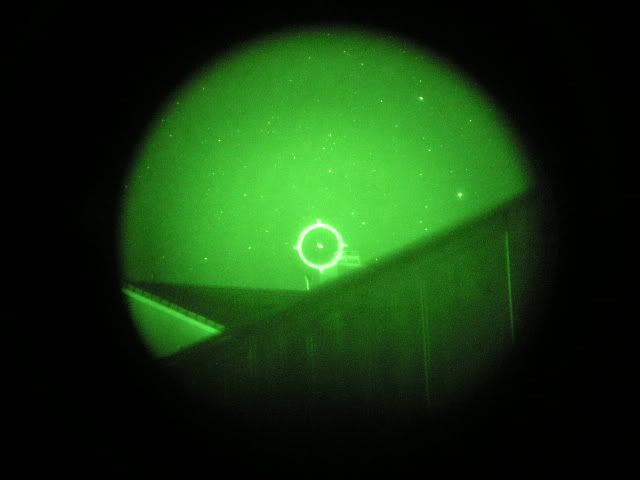 Mid to Long Range Platform;
6.8 SPC, D-760 and D-740 Dedicated NV Rifle Scope (.223)