If you are like me, you want your firearm to be 100%. Sure, we can get a dud round with .22, but I want the gun to feed and eject like it should. My rifle seemed to be running pretty good but then every mag one or two rounds would fail to feel properly. These would jam at an angle as they lifted up off the magazine and tried to swing into the chamber. You know the routine, drop the mag, clear the round, re-insert the mag, chamber the next round, start shooting again. Lets be honest here, we shoot .22 ARs to BURN ammo, not do the single shot rifle thing. That is for bolt guns!
Two common complaints with all firearms and especially .22 AR's are failure to feed ( Here called FTF) and failure to extract (Here called FTE) We could break these down further into sub-categories but lets keep this quick and easy today. Also, both of these conditions do have some overlapping causes too, so I will just go over the steps to deal with both. I won't get into magazines here. Let's face it, with the mags we are currently using on .22 AR's we aren't going to be dealing with making adjustments to feed lips, etc.
On your new dedicated upper you want smooth parts. I am talking smooth like shiny and slick. We want that round to have an easy, unobstructed pathway up from the magazine (at a slanted angle), up against the feed ramp and then up and around into the chamber. Next, its going to fire, the brass will expand and then contract, and then its going to be pulled out and pitched aside. Our firearm was designed to do this and do it very quickly. Its like a beautiful dancer doing all these moves in perfect time. If we add any excessive friction to this we are going to have problems. Stop and think about this process in slow motion, one step at a time and picture this round rubbing against all these un-lubricated parts
Here are some simple, DIY steps you can do that will make any firearm run better.
Lets do the chamber first. This area has a lot of metal moving across it and oiling it is out of the question. So, make it slick. Slick here does NOT mean it has to look like chrome. What we are looking for is a smoother surface. All machined areas will have marks where the metal was cut. Small marks are NOT a problem as long as the area is smooth. We don't want to remove metal here as it could make the chamber too large. But, we do want it clean and smooth. On their site CMMG will tell you to take a chamber brush and chuck it in a cordless drill. Then, spin that brush in that chamber until the brush gets warm. I do with with a little Hoppe's #9 to clean things up after a big day at the range. As I spin the brush I am moving it in and out and letting it smooth out the area. I don't want any ridges or rough spots that can grip on the casing or the nose of the bullet. I once had a .22 Brand "X" conversion that had a plated finish that got into the chamber. I actually had to take some 400 and 600 grit emery cloth (sand paper) with a touch of thin oil on it and lightly spin that in the chamber until it was smooth. It worked great and saved a good unit from being sold due to its unreliable operation. This is NOT something you would normally do as you can enlarge the chamber and cause other problems. This was an extreme case.
Tools for cleaning the chamber: Note a brass bore bush mounted to a cordless drill motor. I dip this in Hoppe's 9 to clean the chamber. A little light oil if you are smoothing it up. CMMG says run the brush until its warm on their forum. As you are "buzzing" the chamber I like to move that brush in and out as it spins. Many recommend you do this after every other, or every, range session. It really depends on how much you shoot and the ammo. There are days when my rifle shoots many hundreds of rounds. I definitely want to buzz her out after that.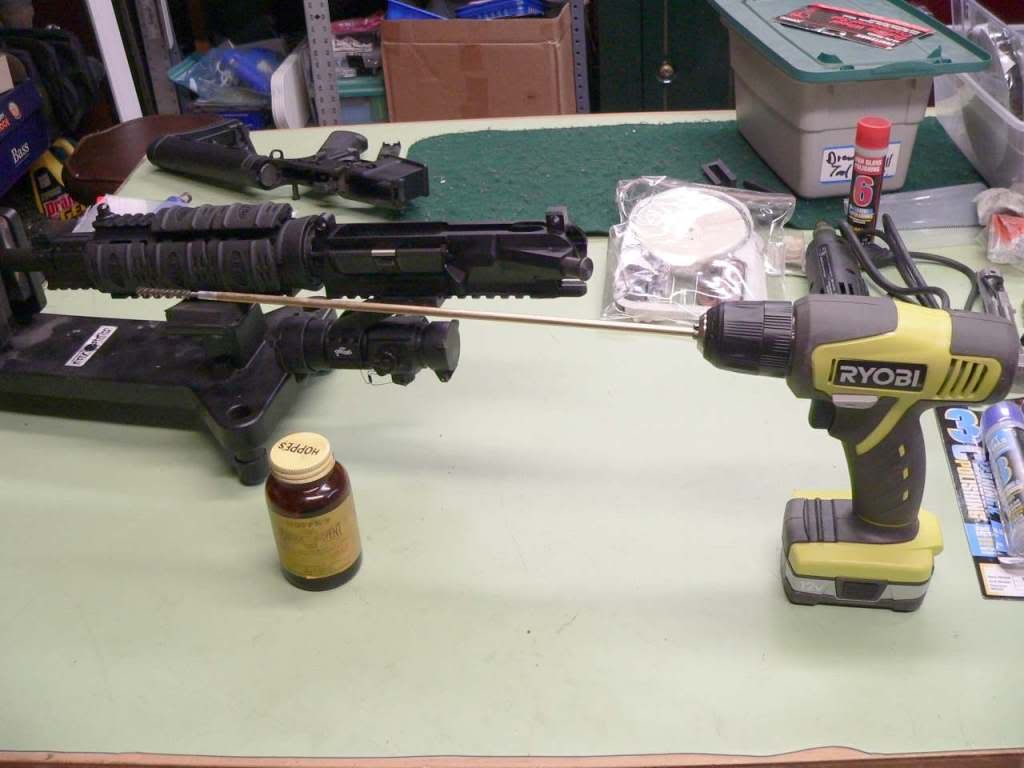 Brush in chamber. Remember, its only the chamber area that needs the polishing job. Some machining marks are normal from the reamer that cut the chamber. We just want to smooth off the rough edges. We don't need to go in so far as to hit the rifling. That will be taken care of during normal cleaning.
Once the chamber is nice and smooth lets work on the next common feeding area, the feed ramp. That is the sloped part where the round coming out of the magazine first contacts and gets pushed up into the chamber. Any roughness here will results in FTF, jamming, etc. Its amazing how little roughness here can really screw up the dance. Here we will use a Dremel type tool. Do NOT use a grinding wheel or sanding wheel! The angle on the feed ram is critical and any changes to it can give some nasty bad results. What we are trying to do is make is slick and smooth. We are going to use one of those little white soft polishing wheels on this. To do this you need some polishing compound that is made to polish steel. This will be listed on the compound. Pay attention to this as there are four to six different compounds you can buy, each for a different material. You can get these many places. Sears, Tractor Supply, etc.
Polishing supplies: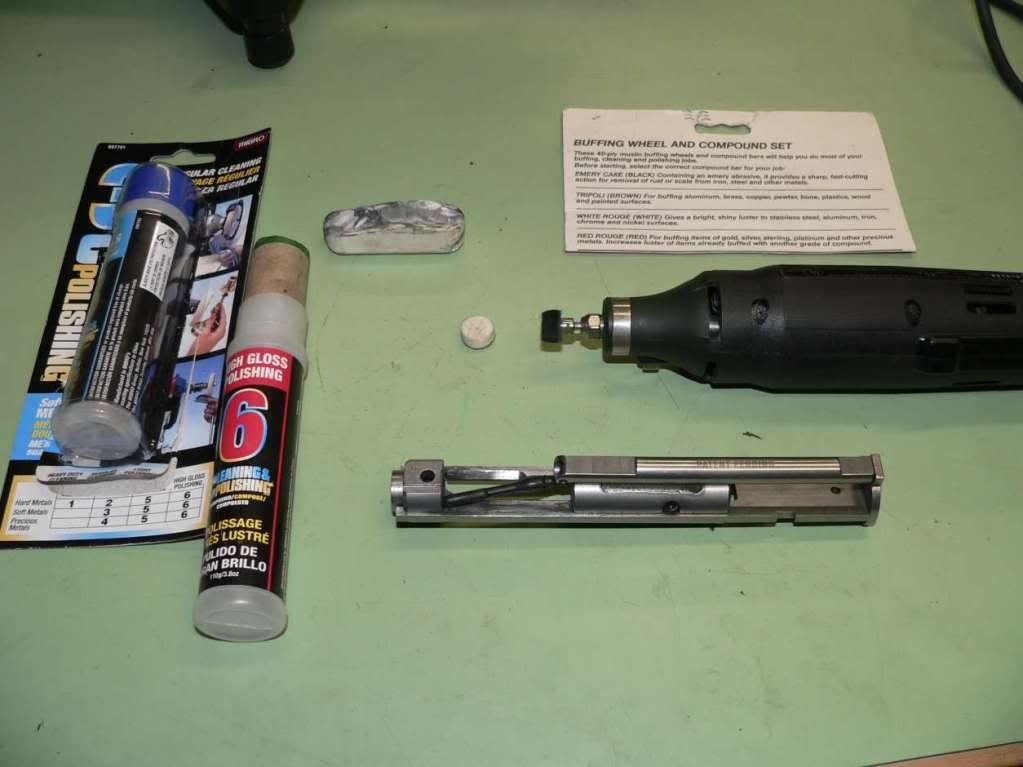 Put on your safety glasses ! (OK lawyers, there you are!) Chuck up your white cloth polishing wheel. Spin 'er up and apply some compound to the wheel until the wheel is the same color as the compound. Now, using a light back-and-forth motion proceed to polish the feed ramp. After a bit of work is will begin to look like its chrome plated. GOOD! This is what we are looking for. Keep polishing until that thing looks like a chrome piece off a show car. It may have a few smooth ridges or lumps on it from the manufacturing process. Don't worry, its the surface we are concerned with. As long as you can put a shine on it you should be OK. We do NOT want to try to use a grinder to take those out. Doing so may well change the angle on the ramp. This will cause a new set of problems that will be difficult if not impossible for you to fix.
So, make is smooth and shiny and it will run better. I have had to do this on many firearms over the years. It has saved me many headaches and solved many feeding and extracting problems. There is a lot more to know in these areas but for simple .22 these two things will solve a majority of our issues. You could send it back in, or you could try doing these things yourself first. I think its a fun hobby to "master" your firearm and fix it yourself.
CMMG recommends you DON'T take the sleeve and bolt apart as they can be damaged. As you can see in the pictures its a simple matter to use a plastic tie wrap (or other method) to hold the bolt to the rear out of the way.
Bolt tied back with a plastic tie:
Now, using the proper polishing compound make it shine. Here again, a few machining marks may still be left, that is OK, but make it shine:
Several others have added some compounds they use. Just remember you want to POLISH the parts. Don't use an abrasive compound made to clean up rusty metal or you will take material off that could damage the parts. We want to polish them, not change their size or shape.
On various firearms I have used the same tools and techniques to smooth any parts that were rougher than I thought they should be. Hammers, guide rails, any parts that rub together. In a .22 firearm that uses blow-back action friction is your enemy as it will keep the bolt from fully cycling and cocking the hammer. Ammo does also matter and low power ammo can also cause this, but this is only dealing with making everything smooth and slick.
If you have any questions, just ask. Several have added tips and suggested products. Just remember, smoother is better!