I call her "bang bang".
Rifle Specs:
Lower Receiver:
The lower started off as a stripped Rock River Arms piece. It's got a neat double stamping that can be seen here: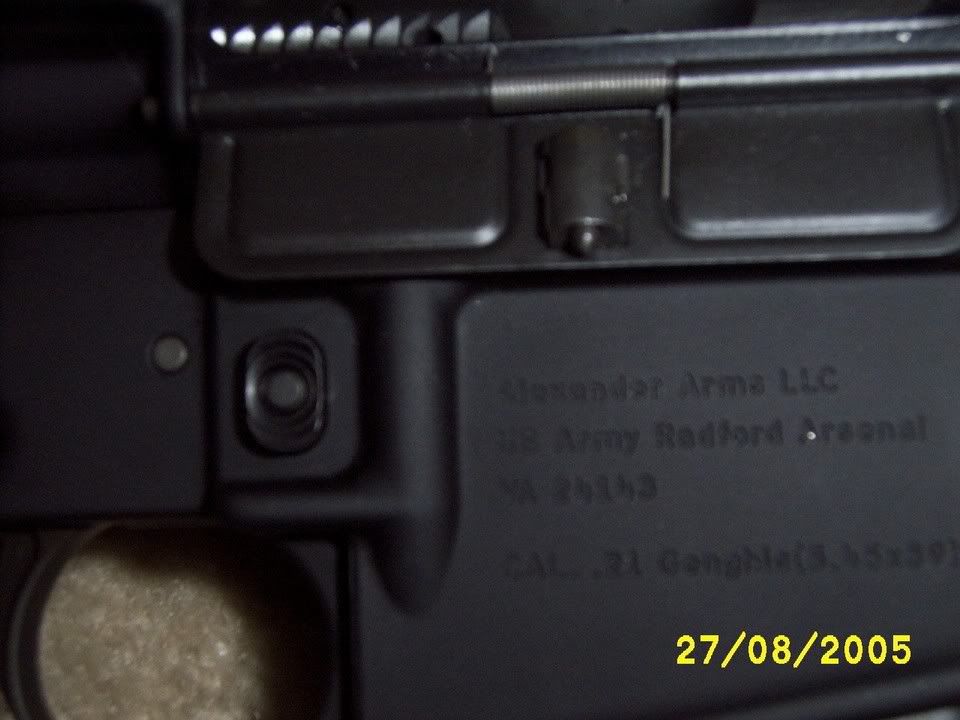 I put this together myself using a DPMS lower parts kit. I added a Magpul M93B stock and a Tango Down Battle Grip, both in Coyote Brown. I also added a Magpul enhanced trigger guard.
I really like the stock a lot. It's shorter than a regular collapsible stock when collapsed and longer than one when fully opened. It is also very sturdy and doesn't rattle or move at all. I like the stippling on the Tango Down Battle Grip a lot too. It's very grippy and the shape is more comfortable for me than an A2 grip. As a bonus, it's got room for 2 AA batteries in the storage compartment (I chose lithium AA's for the Eotech's back up power). It even comes with some foam to keep those batteries from rattling around in there. The Magpul enhanced trigger guard just looks cool, but as a bonus is completely void of any sharp edges.
Upper receiver:
The upper receiver is an LMT unit. It is an A4 unit with white T marks on the flat top and a 16 inch chrome lined barrel with a 1 in 7 inch twist, chrome chamber, and an A2 flash suppressor. I got a really good deal on this from arfcom with only 60 rounds through it. There wasn't even any wear on the brass deflecter. I used a CMT bolt, carrier and charging handle. More on the function later in the post.
I added a DPMS rear detachable back up iron sight. This is essentially like a cut down carry handle, but with National Match A2 sights. This turned out to be ok, but I don't like the small apertures (they're really tiny). They are good for precision shooting, but no longer fit my needs now that I have the Eotech (I'm going with a flip up type rear sight.). The DPMS is for sale or for trade, BTW in the optics forum on EE. The front sight is a standard forged front sight base with the bayonet lug and sling swivel. I removed the sling swivel because it rattled like all get out.
The secondary sight is an Eotech 552. This I really like. This is my first "red dot" type optic and it simply ROCKS. (I know I'll never need or use the night vision compatibility on this, but I got it in a trade brand new for a shotgun). More on this in the range report.
The rail is a Samson MRFS CX carbine and free floats the barrel. It surrounds the front sight base, giving you a little more rail to mount your accessories a little more forward if needed. It's fairly light at around 14 ounces (as far as free floats rails go) and has the white T marks. It does what it's supposed to do very well. As a bonus, it's a two piece unit, so you don't have to remove the front sight base, flash suppressor, or barrel. I simply cut of the delta ring with a rotary toll and removed the spring and keeper with the appropriate pliers.
On the rail is a Tango Down Vertical Grip in Coyote Brown. I really like the shape of this, it's very ergonomic. As a bonus, it has a cavernous waterproof storage area large enough to fit a bolt or other similarly sized items. I use it to fit three 3 volt batteries for the light. The only downside is it is not as tight fitting as I thought it should be. It moves around just a little bit. There's also a Pentagon X3HA 9 volt light mounted with a Daniel Defense offset light mount. The light is awesome at 135 lumens for 65 minutes and is recoil isolated designed specifically for firearms. The Daniel Defense offset light mount is sturdy and was painted Coyote Brown by it's former owner (I got it used). The rail covers, I got at the last gunshow. The package said they were Yankee Hill Machine, but I think they are knock offs. They are "Coyote Brown" and do what they are supposed to, which is make the rail more comfortable to handle. I use quotes in the color because they are not exactly the same color of the stock and grips. Close, but not exactly if this matters to you.
Lastly, the sling is an Eagle 3 point in OD green. It's attached to the front sight base with a snap closure. It's a well thought out design with another layer of fabric on back to protect your front sight base's finish. It attaches to the rear in the provided holes in the Magpul. It has HK style metal hooks that attach to the small loops on the front sight base and the rear stock. The hooks have elastic fabric that protect your rifles finish. It also has a quick release buckel that, when flipped, moves the weapon all the way to the offside and out of the way should you need to draw a secondary weapon. The rifle is still attached to you, just out of the way. I'm pretty happy with this sling for $26.
Stay tuned while I type out the range report. More to come very shortly...