It seems that I never can quite find the place to stop when it comes to AR-15s. I purchased my first one when I returned from my first duty station in 1989, (a PWA "commando" put together with who knows what parts) and I have owned at least one ever since then. Currently, I own several ranging from RRA, Bushmaster, Colt, Armalite, LMT, Essential, Spikes, and DSA. Most are built with a variety of uppers from BCM or LMT, and I've been extremely happy with them all. Still, I occasionally get the urge to try something new, and that was once again where I found myself a couple of months ago when I read over some Del-Ton discussions regarding their overall quality and reliability. In doing so, it quickly became apparent that this brand was somewhat polarizing in that there were definitely two camps of thought (both of which were widely separated). I finally decided that I would just order one and see what I thought for myself, so that's just what I did. I figured that the worst thing that could happen was that I'd wind up with a project to fix, and that isn't in and of itself a terrible thing since I do derive some entertainment from working on these guns. Like tinker-toys and Legos from my childhood, the possibilities are endless. On the other hand, I stood to gain a good little "beater" carbine for a bargain price if the opposite proved to be true. I've been pleasantly surprised before by lesser known brands (I love my Essential Arms lowers), so why not see if lightening will strike again?
I got on their website and ordered a basic M4 carbine with a Govt. profile 1x7 twist chrome lined barrel and no options aside from the RRA NM trigger. After a few weeks the rifle arrived, and I promptly put it aside until I had time to evaluate it. That time came 3 days ago, so I'm noting my "first impressions" so to speak. At this time I have yet to fire it (though I hope to in a couple of days). The weapon itself is shipped in a decent plastic foam lined case. It comes with a rather cheesy but functional copy of a GI Silent Sling (albeit with plastic buckles). Two "C-Products" mags were included as was a manual and a USGI sectioned cleaning rod kit in a butt stock case. Nothing spectacular, but a complete kit so to speak to get you started.
PROs:
•Upper and lower finishes match
•Solid film lubricant treatment on interior of upper receiver
•Bore is obviously chrome lined
•Chamber leade consistent with a 5.56 NATO chamber
•MPI marked bolt
•Correct black insert for extractor
•Properly staked carrier key
•Correct "F" marked front sight post
•Barrel parkerized (including UNDER) the front sight post
•"H" buffer assembly included
•Double shield M4 handguards
•Fairly smooth interior surface of receiver extension tube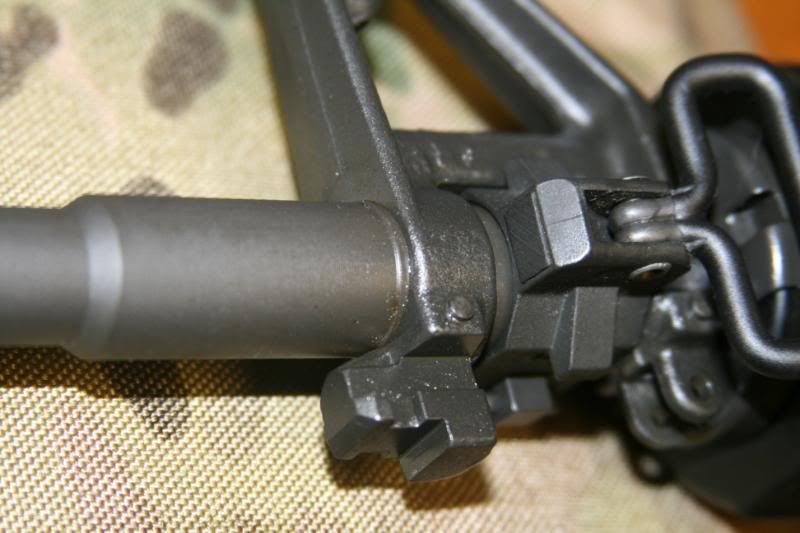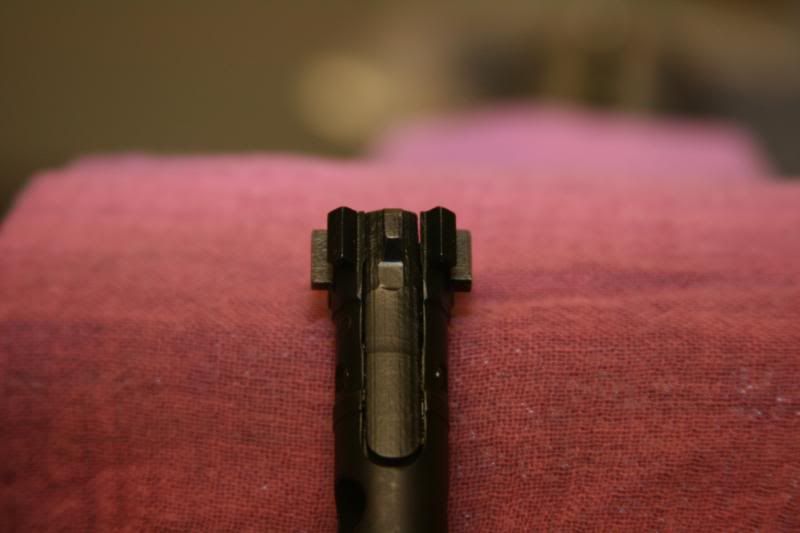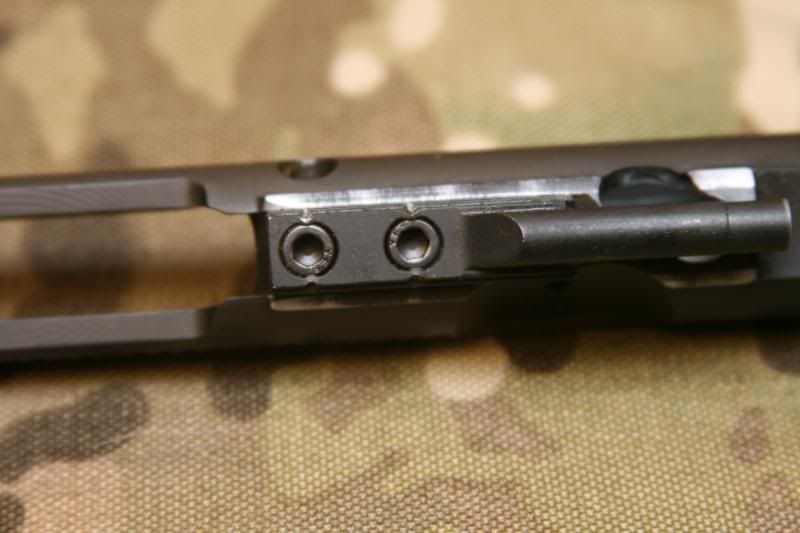 CONSs:
•Weapon was far from smooth during initial cycling
•Charging handle has many rough imperfections where it meets the receiver channel
•Surface imperfections noted on left side of upper receiver (cosmetic only)
•Uneven appearance of solid lubricating film (I've seen this on BCM uppers too)
•Finish imperfections noted on the barrel (likely caused by items rubbing the surface during shipment)
•Supplied hand guards adequate, but not as nice as original M4 hand guards. (still much better than Bushmaster's though)
•Pistol grip seemed a bit off-color and cheap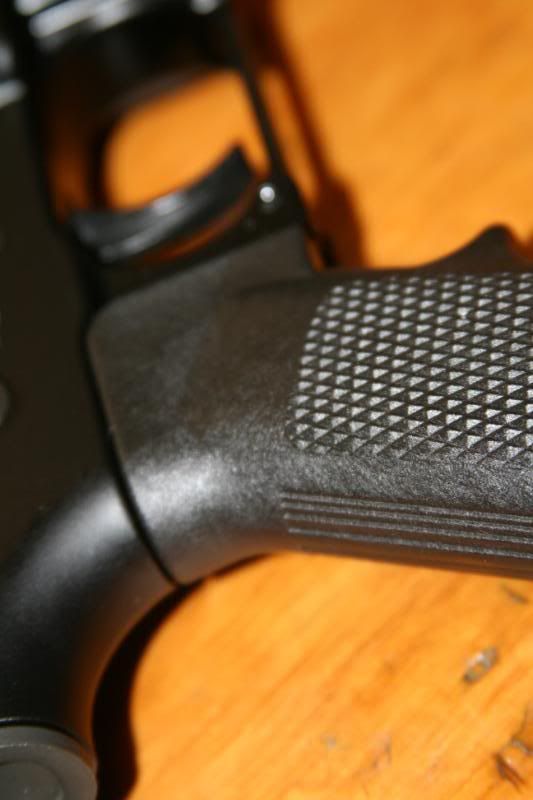 I tend to acquire parts, so I determined that I would make some replacements right off the bat. I had some Colt M4 hand guards lying around, so they were installed to replace the originals which were perfectly serviceable, just not quite as nice. Similarly, I had a whole pile of discarded pistol grips that I used to replace the original for cosmetic issues. Finally, I installed a USGI side sling mount after removing the factory one from the FSP (again, just because I could)
Next, I moved on to addressing the roughness apparent in the rifle's action. I began by cycling it several times and then disassembling it to check the wear points. This called my attention first to the charging handle which had many surface imperfections. I also found that the rear most edge of the charging handle channel was a bit rough and that the machining had left a slight edge that engaged the side of the charging handle. These are all issues that I have found on other rifles over the years in varying degrees of annoyance, but they are definitely not show-stoppers. Not able to help myself, I pulled out some ceramic sticks and Flitz polish to begin my standard regimen of smoothing a new gun out. Unlike (most) previous endeavors, however, this one took more time.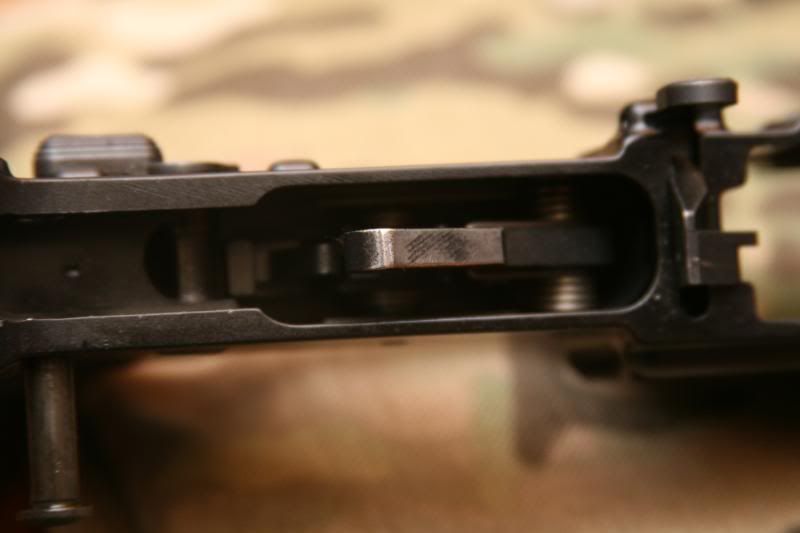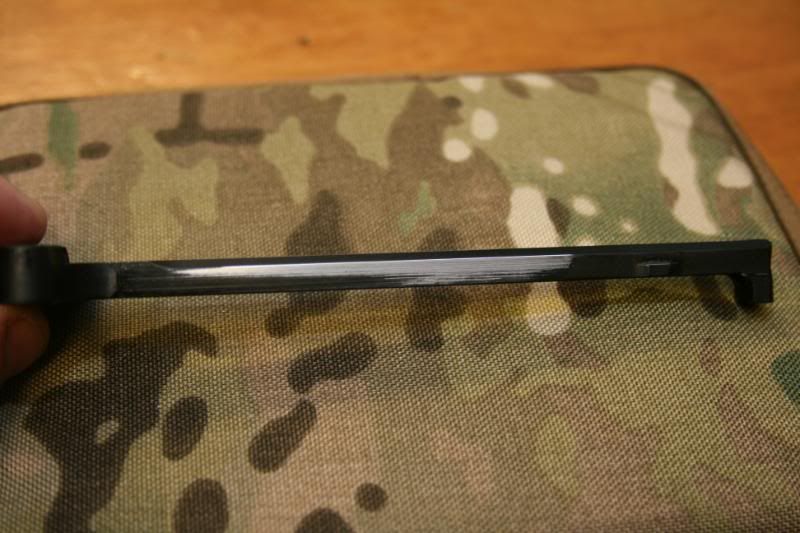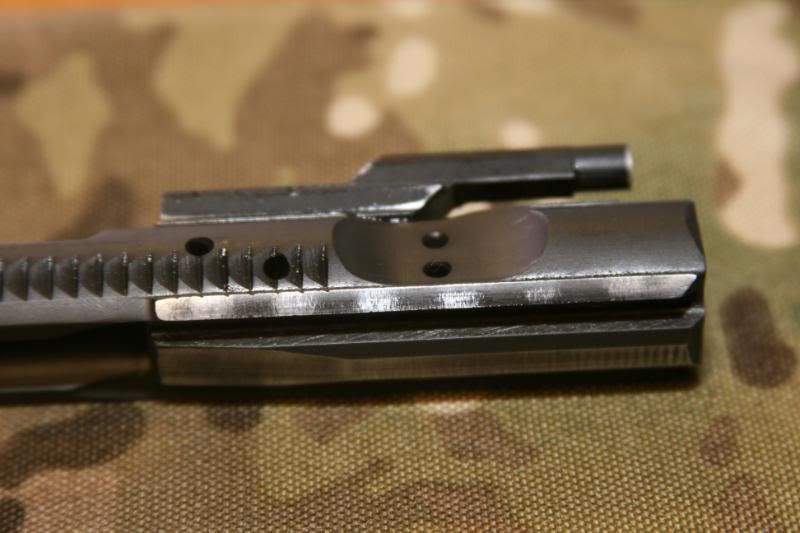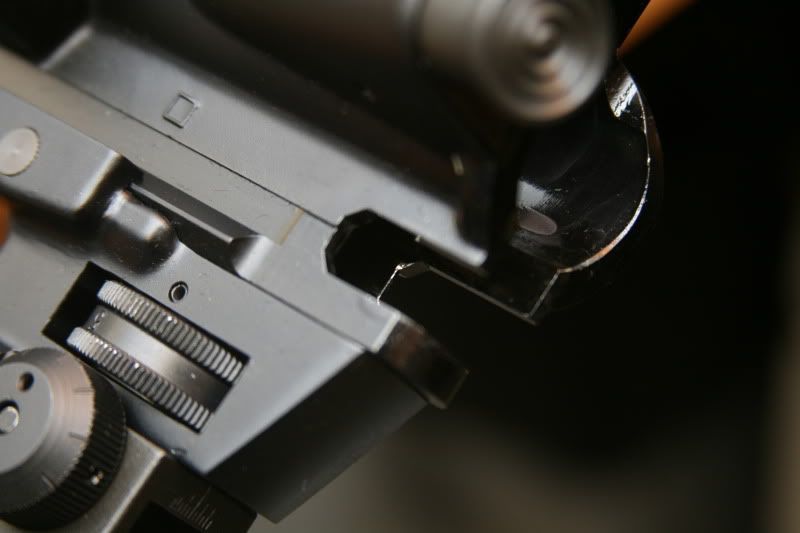 After a couple of hours work, the rifle is very much improved. This was accomplished by filing a radius on the rear edges of the receiver channel, smoothing the friction points of the charging handle, smoothing and polishing the bottom of the bolt carrier as well as the area on the hammer where it contacts, smoothing the 4 rails of the bolt carrier that contact the upper receiver. Granted, much if not all of this would eventually be accomplished by normal wear as the rifle breaks in, but I like to give them a head start (especially when they need it).
Some things I noted while smoothing the rails was that they are not exactly even. As the finish was removed, the two bottom ones began to exhibit a "tiger stripe" effect for lack of a better term; indicating that their surface was not exactly uniform. Not necessarily a big issue, but I can't recall seeing it before. This operation also gave me a chance to take a look at the bolt itself, and I noted that the surface did not appear as nice as most others that I've used over the years. When compared to a spare BCM bolt in my parts bin, I noted that the DTI bolt differed in that it had what looked like rough machining marks on the lugs and actual face of the bolt (more on this later) and that the tail of the bolt had a definitive ridge rather than blending in to the concave or "flared" surface leading up to the gas rings. Similarly, the extractor is not as well executed as a higher-tier weapon. Again, none of these issues is necessarily anything more than cosmetic, but it does indicate where some of the savings may be coming from. Despite the cosmetic issues that my purposefully critical eye noted, I am certainly looking forward to shooting it soon.
Friday, May 13th (yes…..Friday the 13th)
Armed with a brand new Del-Ton rifle, some Militech oil, and about 1000 rounds of ammunition I had on hand; I set off for my local range with the intent of shooting the snot out of this little rifle. The weapon was cleaned prior to the trip, and lubricated with Militech 1 oil and grease. The surfaces were not bathed in oil, they were lubricated as they would be if I were casing the rifle prepared for use in my patrol car. Ammunition used consisted of mostly current production military and military surplus ammo (IMI M855, SA M193, and Spanish SS109) because I wanted to use full power 5.56 NATO. The balance was a mixture of 55gr Remington UMC and Privi Partizan 75g OTM.
I prefer a 50yd zero on my carbines, so I settled down on the 25yd range to get a base line and found that the rifle was damned near zeroed as delivered. In the end I gave it two clicks up and one click right from mechanical zero and I was done. Once zeroed, I began shooting a mixture of targets at 25-50 yards from various positions with an emphasis on multiple round engagements on multiple targets to both bring the heat up on the gun and get some training out of the experience as well. Over the course of the next 4 hours or so I managed to get through 750 rounds of ammo without experiencing a single weapon related malfunction. In fact, only one round failed to fire, and that was due to the ammo because the primer had a very positive indentation. Boo for Remington UMC, no foul for Del-Ton. A few drops of oil were added to the BCG after 300 rounds, and again after 500, but neither time was the BCG dry or sluggish. The weapon got heated up quite a bit, and at the end when it was at it's dirtiest I finished out by firing a couple of magazines as fast as I could. Not surprisingly, there were no surprises.
As far as accuracy was concerned, I'm quite pleased. Bear in mind that I was shooting this rifle using stock iron sights, and at 44 years old, my eyes have a hard time focusing on the target and the front sight. I can get reasonable accuracy, but I'm not going to win any matches and I don't pretend to be an expert marksman. Still, I found it easy to hold a 2.5" centered group with any of the military or civilian 55-62 grain ammo. Switching to 75g Privi OTM, groups shrank to 1.5" (50 yards). Next time out I'll slap some optics on top and see how it really shoots with a decent rest and repeatable hold. For what it's worth, I doubt very seriously that I would have shot any better even with my Aimpoint equipped LMT MK 18, so for all practical purposes I was very pleased with how the Del-Ton shot.
After the fun part was over, I moved on to the cleaning which went about as you'd expect. There was an abundance of carbon build up on the bolt tail, but the rest of the bolt carrier group still had oil and grease in place, and I seriously doubt that had I had enough time to make it through the last 250 rounds, that any additional lubrication would have been necessary. Once all the gunk and grime were removed, I took a close look at the bolt in particular and noted that the face of the bolt looked odd. Upon closer inspection with the aid of a magnifying glass, several indentations consistent with peening were apparent. These were the surface inconsistencies noted in the initial inspection, but the wear of breaking the rifle in made them more apparent. Similarly, now that I know what I'm looking for I can also see these similar marks on the surface of the lugs (though the rear bearing surfaces have begun to wear in to the barrel extension). Given the placement, I have to assume that this is just evidence of Del Ton peening the surface to increase strength, though I have never seen such distinct markings. Look at the pictures and judge for yourself.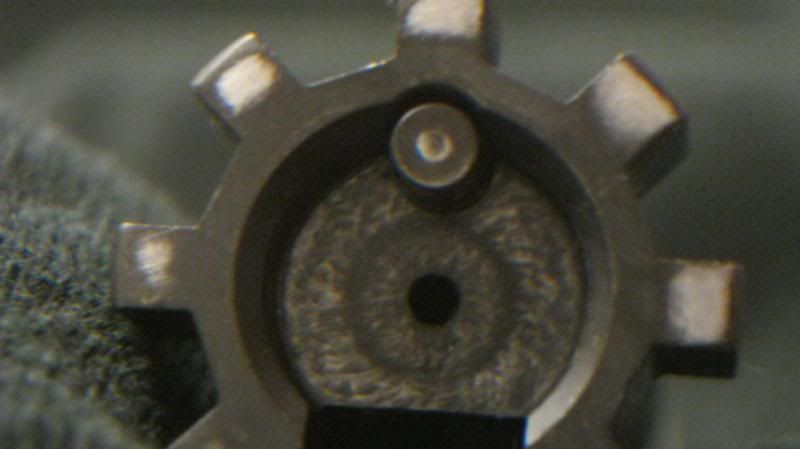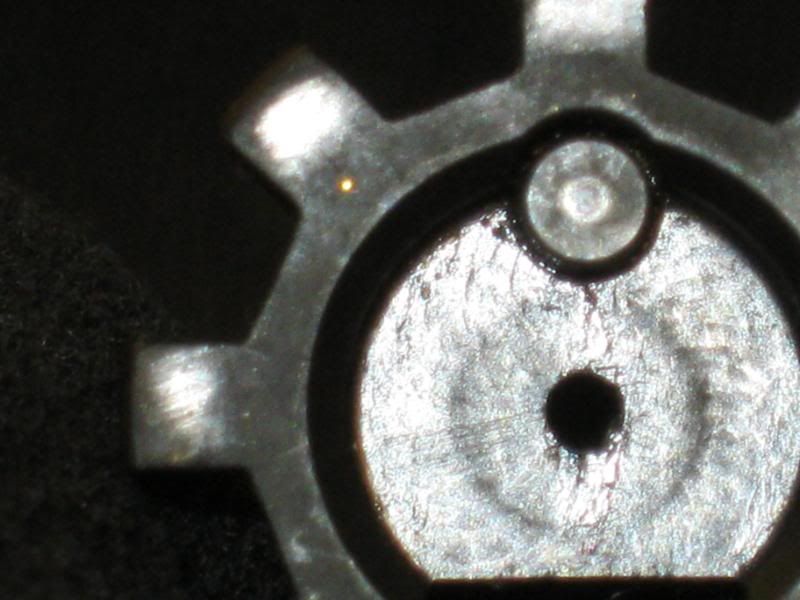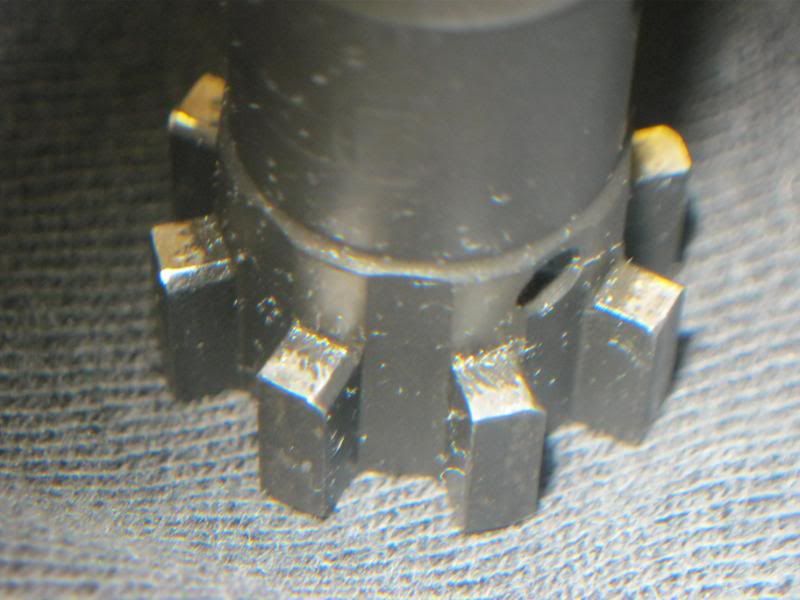 All in all I'm really happy with this little rifle. For around $900 I got an M4 with a 7 twist chrome lined NATO bore and chamber and match trigger. Little extras like the "H" buffer and MPI bolt just sweetens the pot, and the fact that it's a shooter that zeros so close to mechanical zero make it a winner in my book. Sure, it needed some initial attention or tuning, but I tend to do this on all of my ARs and it would have worked out fine without it I'm sure. I intend to continue wringing it out and seeing what if anything breaks, and I'm going to do my level best to keep it as slick and "stock" as possible. I guess out of the pile of black rifles I've accumulated over the years, I need at least one stock M4 rifle in the mix.
……though it could use a badger tactical latch and maybe an MOE grip and a…….dammit!
Saleen