Originally Posted By member boltcatch:
Top to bottom, BCG pulled from a new Sabre Defence upper, CMT M16 BCG, and RRA enhanced carrier.
Ref. thread:
Proper Staking of Carrier Key Screws - content link
Note that this was in 2006 the CMT at the middle have a very bad carrier key staking, not sure if they are properly staked now, I had one and I bought a new BCM gas key kit and I installed it and properly side staked it.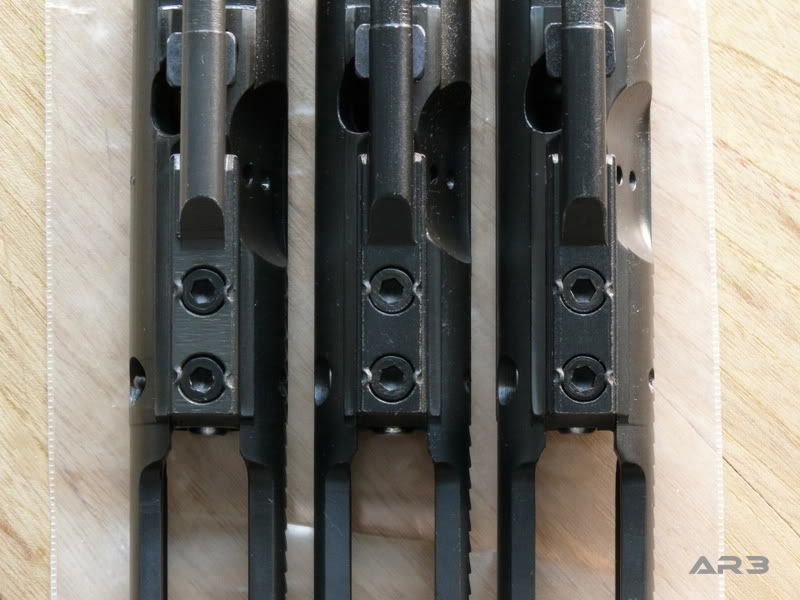 Here's some examples of properly side staked auto carriers, Colt at left the rest are LMT vintage pre-MIM gas keys.
Originally Posted By GunnySwagger:
Are these good to go? I've heard that CMT supplies parts to Colt, Noveske, LMT and other top notch brands, but that doesn't necessarily mean their BCG's are something to write home about. So, three questions:

1. What companies use CMT BCG's? (if any)

2. Where does CMT rank in the broad scheme of top notch BCG's, like BCM?

3. Who makes BCM's BCG's? (if known)
Answers:
1. Stag uses CMT BCG and all other AR parts.
2. CMT BCG are batch tested HPT & MPI same as other commercial type manufacturers.
3. BCM, Colt, and AR Performance BCG have the same manufacturer.