Originally Posted By Tim_W:
Agree, the 300 may be a good replacement for the HK MP5K 9mm subsonic but it is not a good choice for hunting unless it's intended use is poaching.
I do not want to sound insulting but that statement is completely incorrect and insulting. So shooting deer quietly is poaching. Does that include crossbow and bow hunters?
I or my daughter have killed 8 deer with 300 blackout.
I have also killed 2 foxes, a couple rabbits a few squirrels and a couple of wild dogs all excellent results
While I own a suppressor I cannot use it here in North Carolina for hunting YET? But there are some states that you can use one. For instance Virginia.
But notice all loadings but the one my Daughter shot were subsonic.
1st deer 2010 season 6 pointer missing an antler, neck shot drooped on the spot
178gr Amax
935fps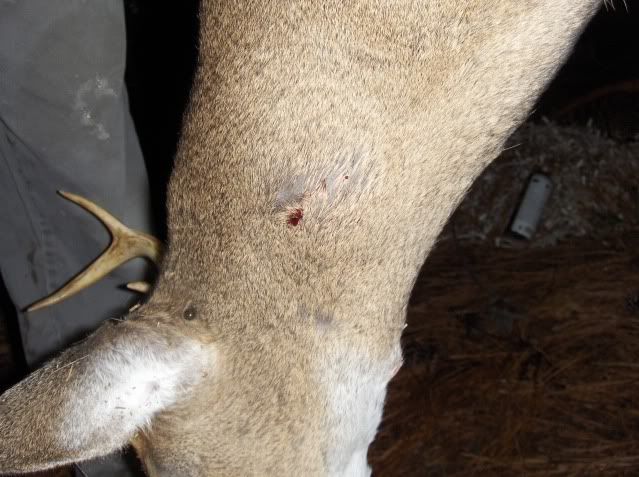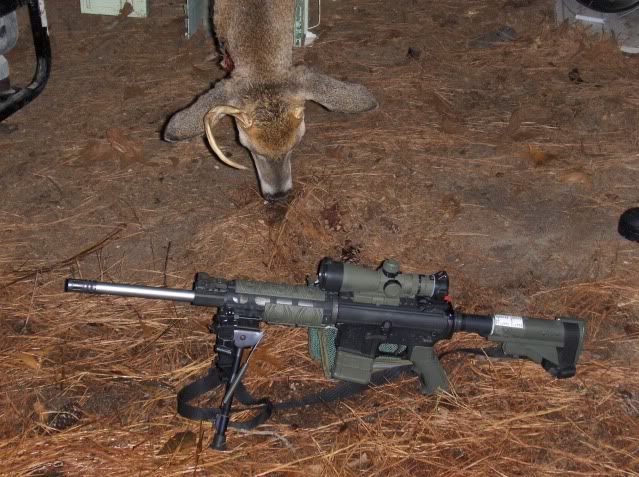 2nd Deer 2010 season 6 pointer did not get good pics of this one. Vitals shot bullet tumbled on exit. Made it 30 yds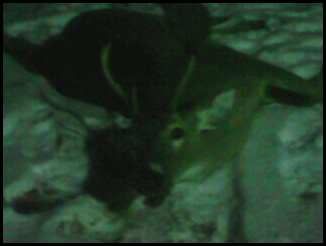 entrance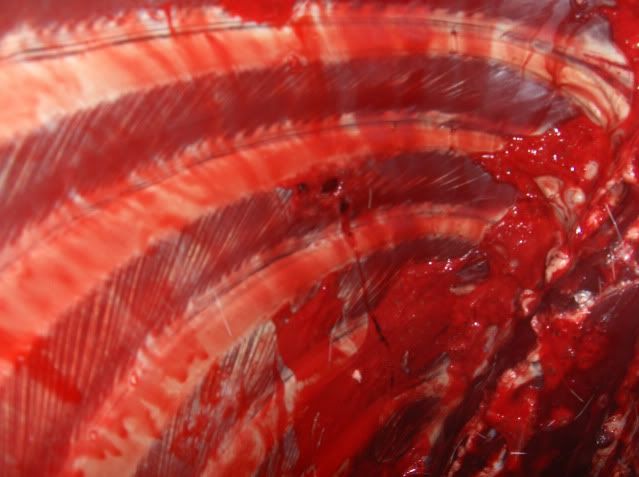 Exit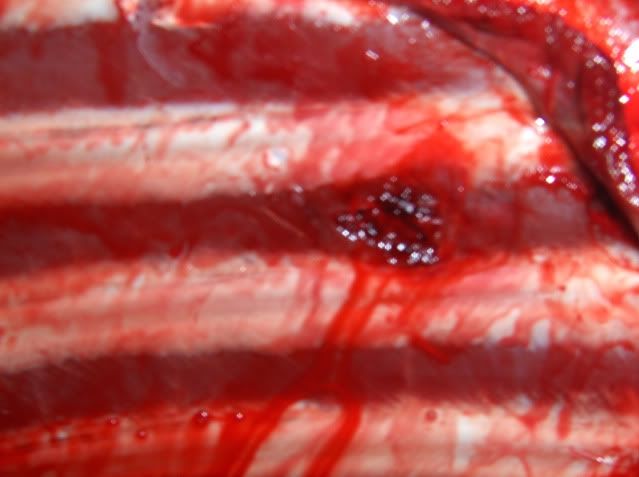 Daughter took this one this year
180gr Prototype low velocity expander
1475fps
Exit wound
did a lot internal damage made it less than 50 yds
1st one for me this past season
200gr Prototype low velocity expander
935fps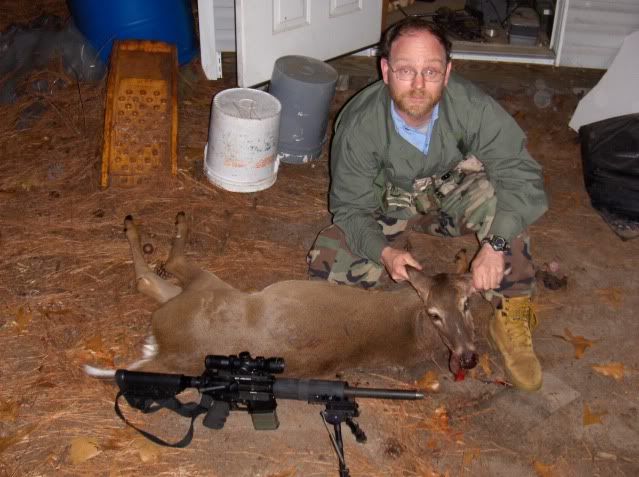 entrance
found bullet just under skin on other side hit bone the whole way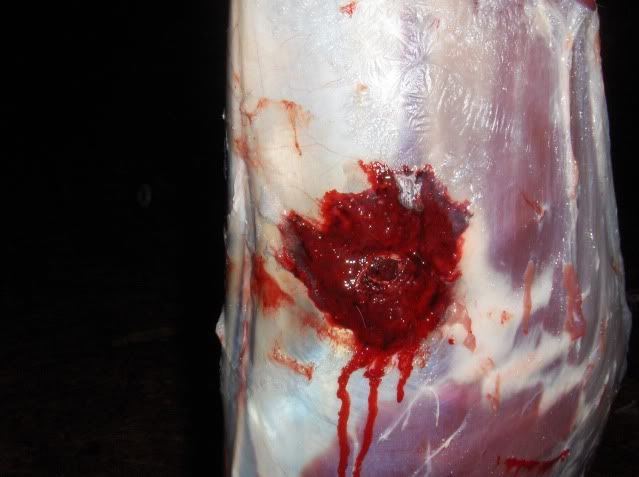 serious spine damage
2nd one this past season
Entrance
Exit
Lungs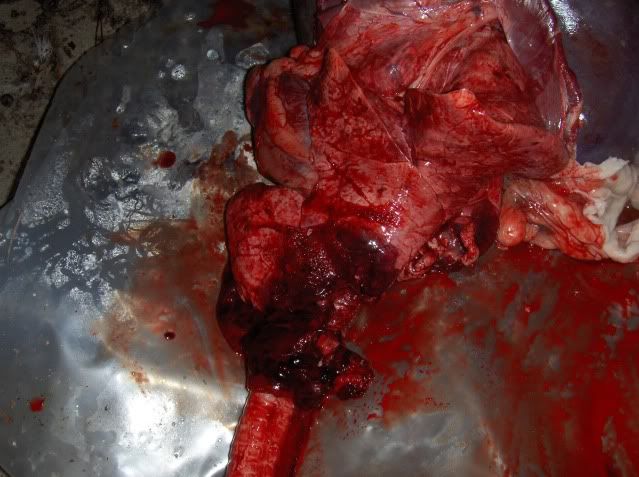 3rd one I actually thought was a large Doe, but ended up being a descent size button buck.
Right at the base of the neck and back. dropped where he was. he was still breathing a little when I got to him so finished him with my .22 1911 top of head.
recovered bullet in left shoulder.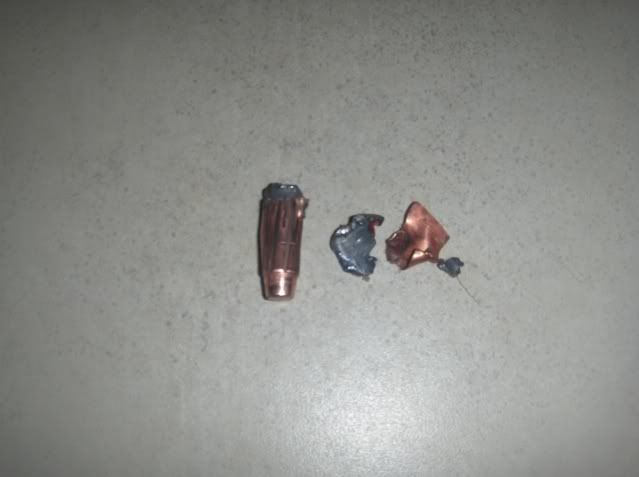 4th one was another small doe a pair came in so I lined up one and took her in the shoulder. she ran off about 30yds and was dead.
Double lung shot
Entrance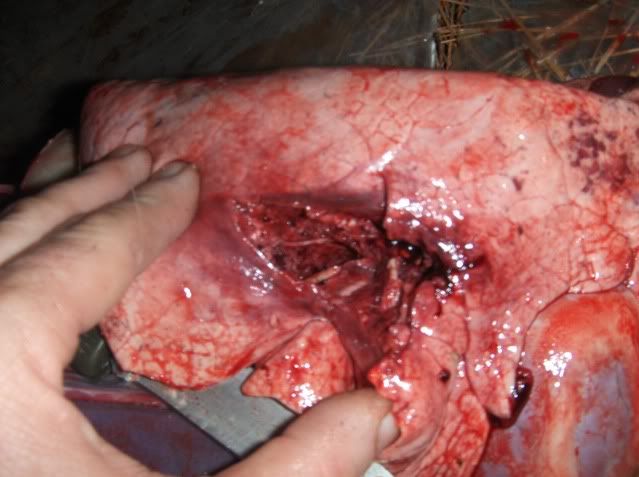 Exit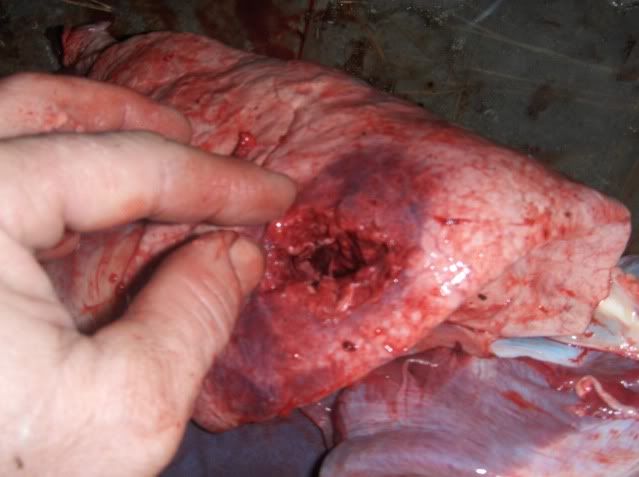 Now the funny part was when I shot the other one of course took off the opposite direction then the one I shot. When I got to where I shot her I found this on the ground: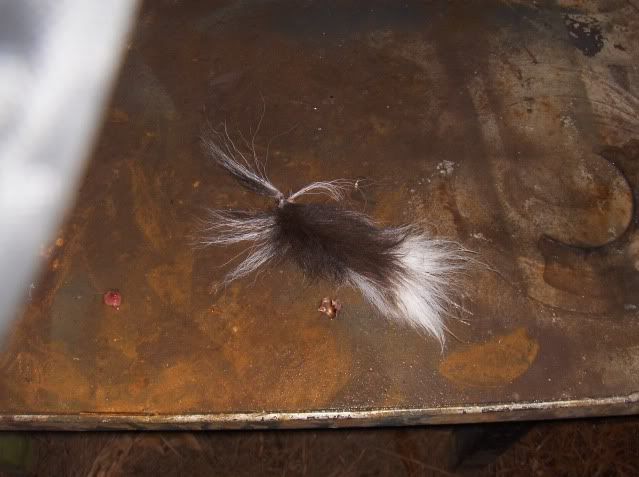 I was confused because I new where I had aimed and she was walking slowly when I took the shot, plus there was a blood trail
. So I followed the blood and there she was. In just that few minutes, I had forgotten about the tail until I drug her back to where I shot her and then saw the tail on the ground again. I looked at her tail and the whole thing was there. I realized that as she was walking she had walked in front of the other one and when I took the shot the bullet went thru and then clipped off the tail of the other one.
Last one was a mercy kill spike buck came in limping and only one antler.
His back leg looked like it had been hit with a shotgun pellet. bone was shattered and had started to heal all messed up. wound was infected. the other antler which I thought maybe had broken off had actually never started growing. We have hunters that run dogs in this county and this is seen a lot. guy tries taking a shot at a running deer with his 12 gauge and all he does is wound it
. I am not a fan of dog runners.
All in all a successful year. All six deer shot with .300 blackout recovered and processed. Meat in freezer and looking forward to next year.
But as some people keep posting the .300 blackout is not a good round for deer hunting
So must be a fluke.