Originally Posted By Dogue:
I'm guessing that the upper is not cut for M4 feedramps since it doesn't say in the description. Anyone with this upper that can give me the real scoop?
You are correct. No M4 ramps in the upper. I personally couldn't give two shits about M4 ramps, because they're not necessary. If you want M4 ramps though, the upper ain't got 'em.
Matched TNW upper/lower combo, with a 20-round Pmag. The colors match perfectly. The color is unique to any other lowers I've handled. It's very smooth, and has not been coated with anything. The color is black, but it has a slight blue hue to it, like a blued steel, almost.
Pmag fits in with very little wobble, but plenty of clearance to drop free. I no longer own any GI mags, so Pmags is all I can test with.
Color comparison to a RRA upper. Not too far off, but as I said before, the color is unique, The way the flash reflected off of the two surfaces was different, and makes it appear that there is a lot more color difference than there is. The lower seems to have reflected the flash more than the upper. Probably due to having a smoother surface...
The lowers also seem to have had something spilled on them. I don't know if this happened at the mfg. or at the distributor's, but there seem to be two different substances on them. One of them is a crusty clear substance, like dried out egg white (I haven't tried cleaning it off yet, so I don't know how persistant it will be). The other substance is a white powdery substance. Almost like what you get on a car battery when it corrodes. I'd guess it was left-over sulfuric acid from the anodizing process, but obviously, they went through a dying process, so it can't be that. Maybe some sort of a sealing chemical was used? Don't know, ultimately, don't really care... Going to give it a good rinse anyway.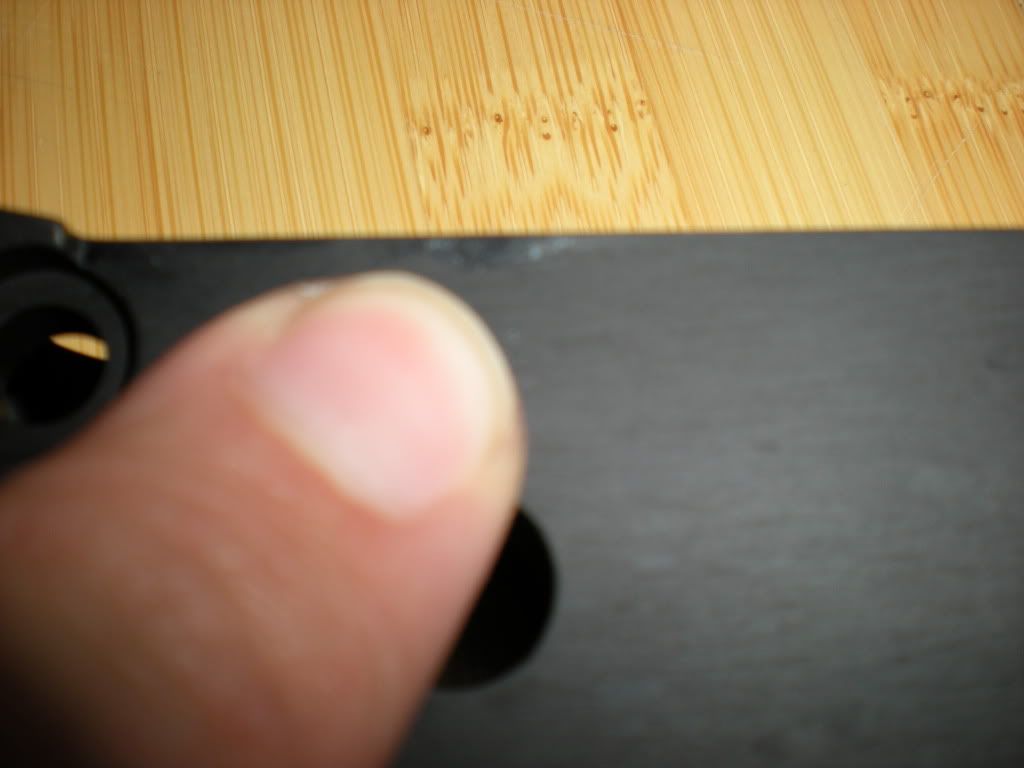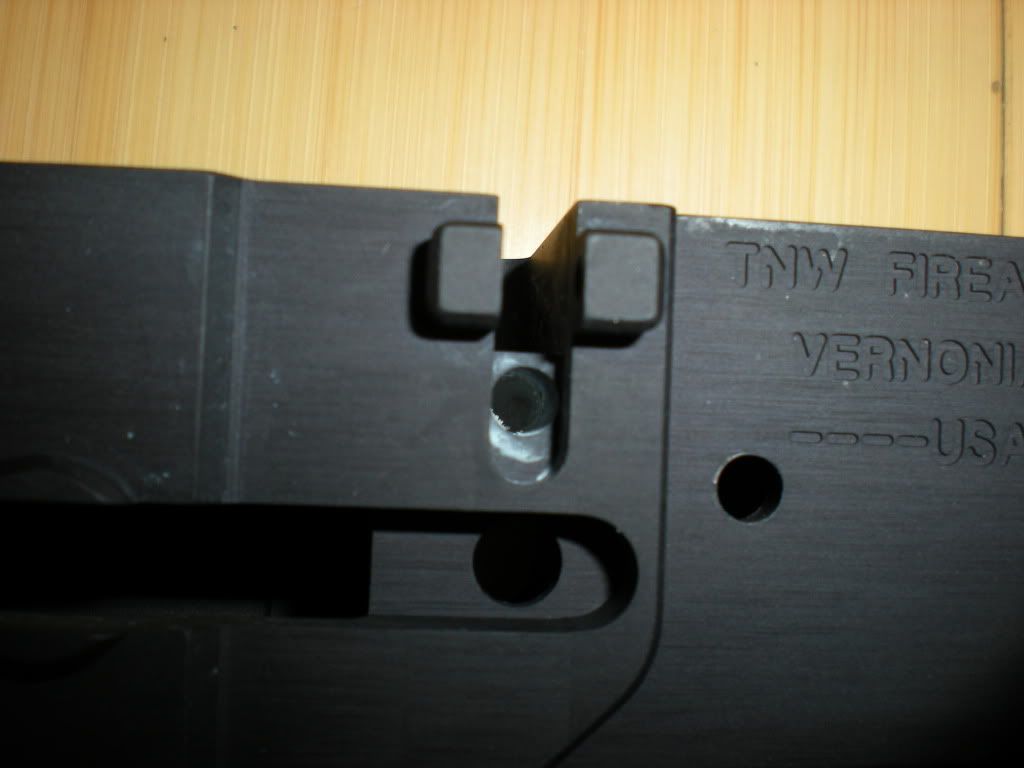 I also took a couple comparison shots between one of my doublestar lowers, with the teflon coating. The lighting from the flash, agan doesn't allow for an exact comparison of the colors in normal light, but these few seem to be the most representative of what I could capture. Each is a bit different, but you should be able to get the idea.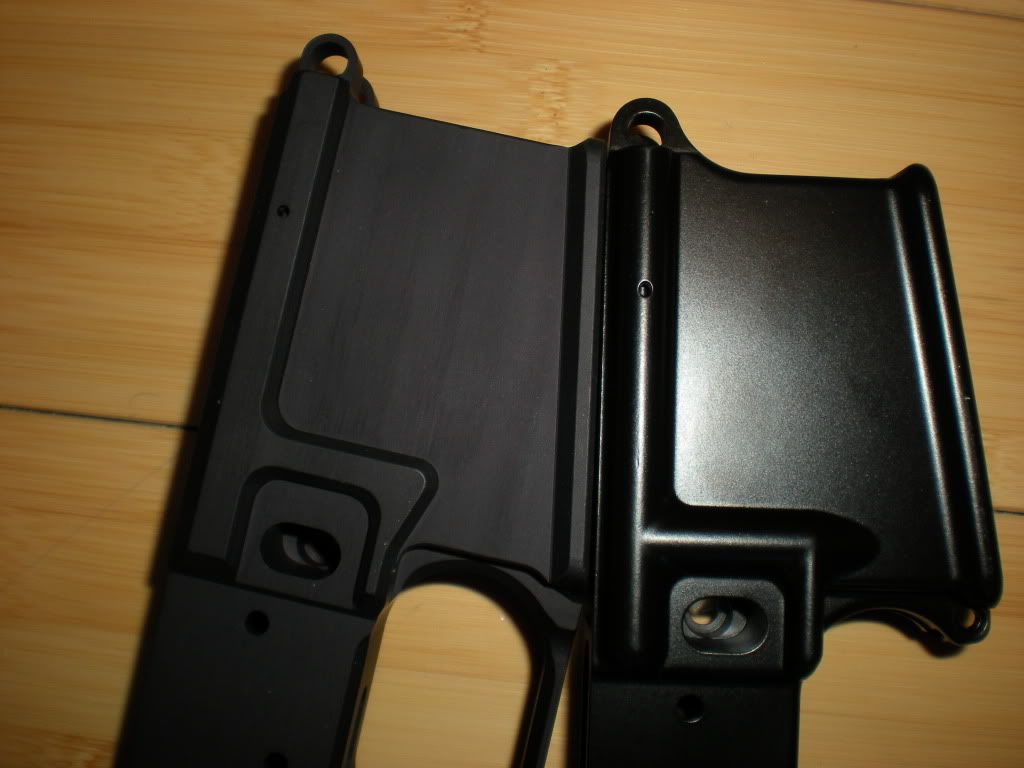 The overall surface machining seems to me to be SLIGHTLY amateurish. There are a few squiggles that are visible in just the right light. You have to hold it just right to be able to see it, but if it were me, I would have probably brushed them a bit better before sending them to finish. It's not a big deal, and you really do have to hold them just right in the light to see it, but it is one of those attention to detail things... I think this is a big part of why they're $80, instead of $200.
I took several shots, even took them outside, but I can't seem to really get them to show up on camera clearly. They are quite minuscule, and I'm a total amateur when it comes to photography. I even tried getting some outside light on them. You can catch just a hint of them in the photos below. The one that is really the easiest to spot is right above the mag catch bump, and is almost the exact same diameter.
In the 3rd pic, you can see a few more on the magwell too.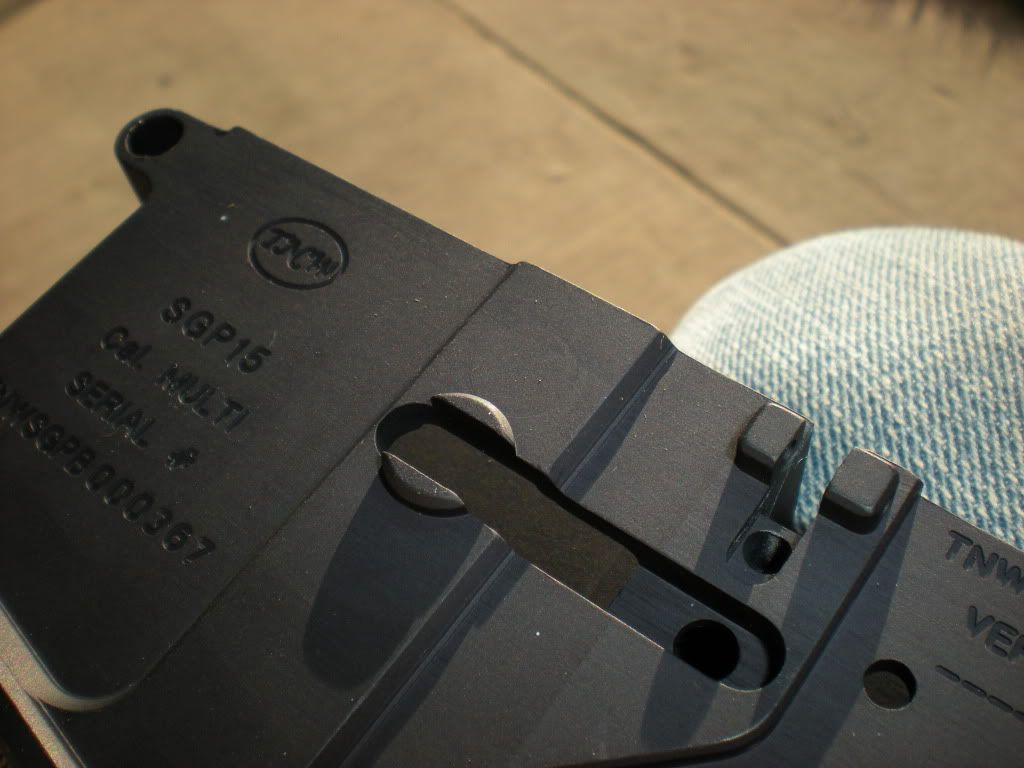 Upper and lower with RRA charging handle installed: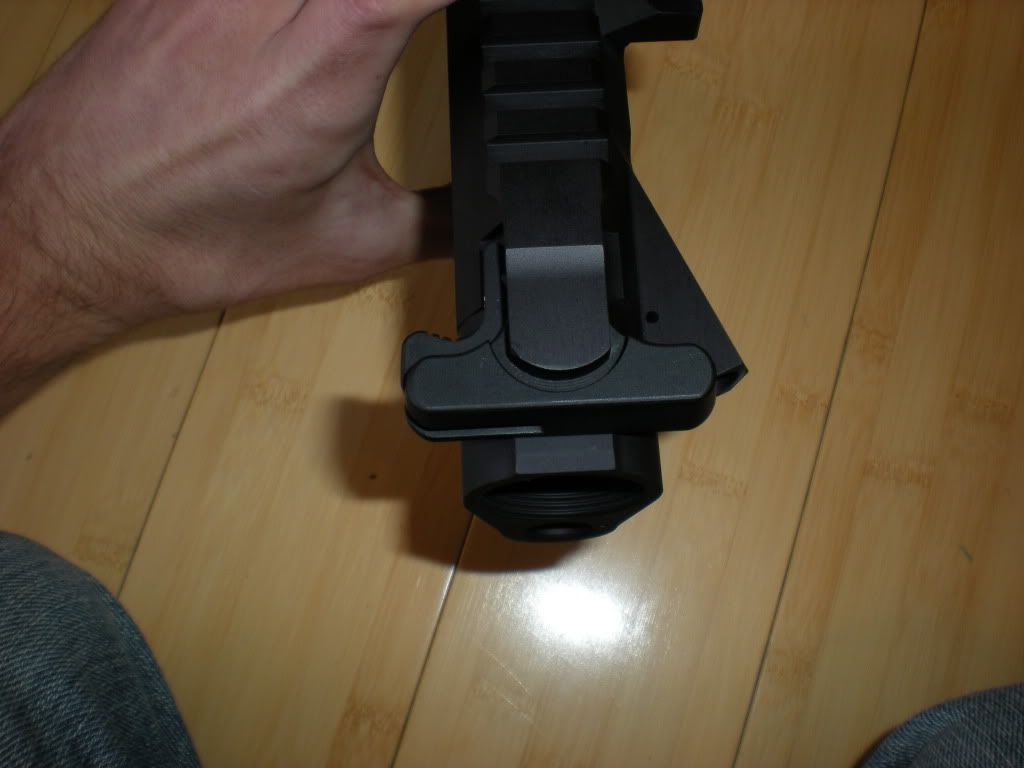 Upper internal machining is pristine: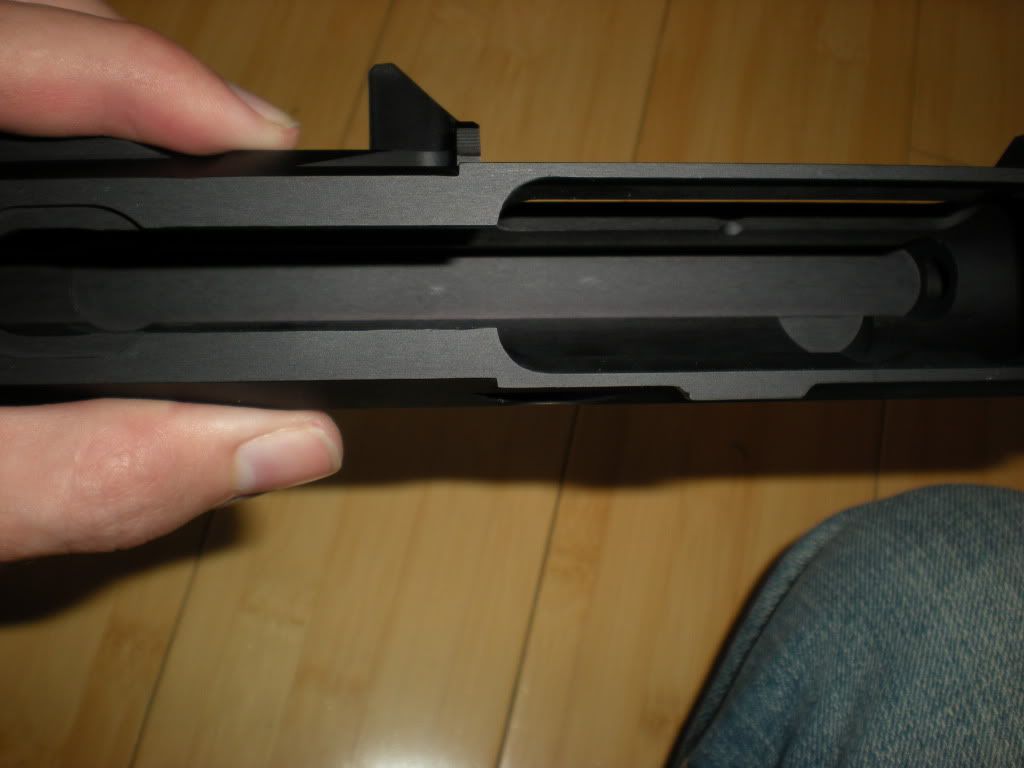 My overall first impressions are, I WANT TO BUILD ON THEM! They look like good pieces of hardware for what they cost. It's hard to speak for the quality and functionality without fitting everything to it, and seeing how well it goes together.
All in all, I think it's a HELL of a bargain for a billet upper and lower. You can get the pair of them for $178. Which is about what it usually costs for just the lower from most mfgs offering billet receivers.
Could they be better? Sure.
Is the difference between these and the lowers costing 2-3 times as much, enough to justify the difference in cost? That's up to the buyer, but in my book, absolutely not. If you're concerned about the surface machining, which, like I said before, isn't noticeable without looking closely, you could always shoot some duracoat, or similar product over them, and never know the difference.
I hate to say much more about them without building on them, because I really don't know what they're going to be like in terms of function, but all of the holes seem to line up properly (to the naked eye), and seem to be in the right places (to the naked eye).
I considered measuring them out with a slide caliper and a set of prints, but I was afraid I might have to take the bandsaw to them, if I discovered that they were even a thousandth of an inch off.