Being a ruhtard, I don't know anything about painting. I looked all over and couldn't find a link on how I should go about painting a PMAG, since I just got 10 green ones, but I need at least 4 to be black for my work gun. I got a smokin deal on these, that's why I didn't just buy black in the first place. $60 from an associate of a friend that needed money.
I took a shot at it and it worked pretty well so far. I need to take them out and bang em around a bit to see how well they actually do work out long term, but I'm happy so far.
Here's my writeup for other pigmentally challenged folks:
Started with my OD mag (though it looks a bit tan in the pic)
And a can of Satin Krylon Fusion (they didn't have flat and I'm impatient)
I've done two mags so far. I sanded one with 180 grid and didn't on the other. I wiped both down with a tack cloth
On to masking the windows:
Take a razor to the inside lip of the window and pull the tape of
I thought for a while about how I was going to hang on to this thing while I was painting it as well as keeping it up and out of the dust while it was drying. I came up with the idea of using some old, fake ass 550 cord that I bought by accident and using the masking tape to make a "reverse magpull" As you can see, I masked the upper part of the mag that goes in the gun. I didn't want to chance getting the paint flakes in the action, as it wears from mag changes. nobody really sees that part, anyway.
a quick spray and hang to dry between coats:
, so it's kind of shiny. the second one is much better.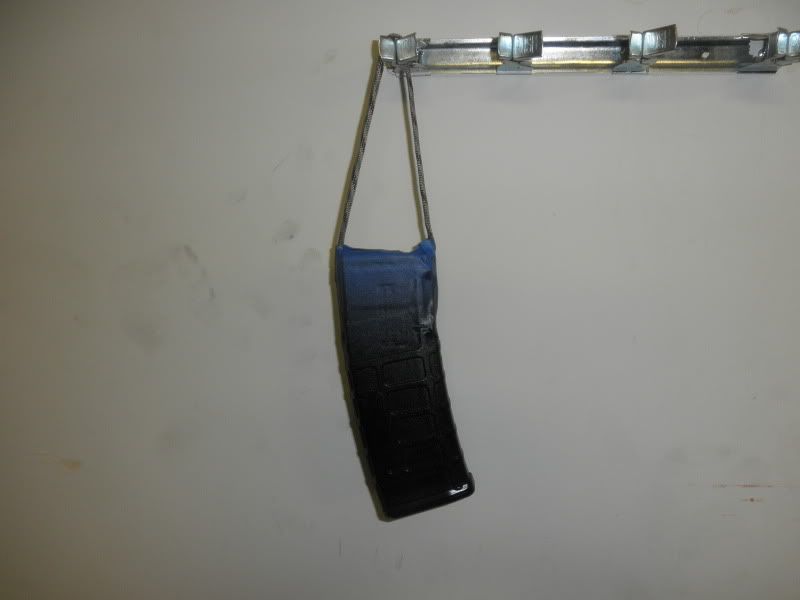 and voila:
I used a bit too much paint on this one
Before and after:
This is my first writeup, so it may be lame, but I felt like I brought nothing to the table, so I gave it a shot. If there's any interest, I'll post a follow up on durability once I run them a bit.