T ArmaNotSoLite, I was mistaken, it wasn't the Black Dog magazines, but the S&W .22 AR that has the half-staggered magazines. Observe: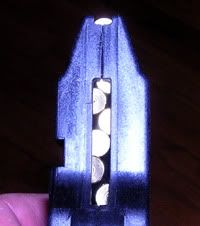 Now, puzzling this out a bit more, I'm reminded of an Ishapore 2A I owned years ago and the differences between the bolt face on the .308 2A vs. the bolt face on the .303 No.1mk.3. The extractor claw on the rimmed .303 was wider, flatter and deeper than that on the .308, other than that, it was basically shaped the same.
Thinking a bit more about it, I'm wondering about the possibility of using a .40 or .45 bolt face rather than a 9x19 as I'd hate to take off too much of the face with the locking lugs, doing so may cause safety issues.
T DasRonin, I think you're right, it may have to end up being gas operated. Scaling up the .22 bolt may not be able to handle the pressures involved with a .357m cartridge.