A long but VERY good read on the M4, some variants, accessories and optics including my favorite, the ATPAIL! Enjoy the read and pics.
Vic
In the line of fire: close-quarter combat fighters call for improved small arms
Andrew White

Increasing numbers of close-combat firefights in Iraq and Afghanistan mean the capability of small arms must be first rate. Andrew White reports
With a greater frequency in close quarter battles being fought by coalition forces in Afghanistan and Iraq, the importance of effective and accurate firearms has once again come to the forefront of tactical thinking.
As firefights are being initiated at short ranges within a hundred yards, especially within military operations in urban terrain (MOUT), users are requiring a small, mobile weapon system capable of delivering a one-shot, one-kill ratio, swiftly ending a contact and preventing it from progressing on to a hand-to-hand close- quarter combat situation.
As can be seen with US and British armed forces leading coalition efforts with offensive action in theatre, the short-term future for small-arms promises more of the same with a majority of militaries opting to rebuild and refurbish current systems with various improvements and upgrades.
Mark Zimmerman, technical support manager at weapons specialist Brügger & Thomet, tells Jane's: "Many NATO allies are in a quandary about existing weapon systems.
These armies need to modify their existing systems to accept various accessory items to improve the capabilities for missions in Iraq and Afghanistan."
The US Army is currently replacing its armoury of M16 assault rifles with the shorter M4 carbine weapon, which is more suited for fighting in close-quarters, according to Lieutenant-General David Melcher, military deputy for budget in the office of the assistant secretary of the army.
"In the near term, we're trying to pure-fleet the M4 for all those in direct combat and in theatre and [Training and Doctrine Command] is going to sort out what will ultimately be the basis of distribution throughout the army," Lt Gen Melcher continued.
Phasing in
The US Army has already replaced up to 10 per cent of Colt Defense's M16 weapons (approximately 200,000 systems) with the company's M4 carbine. Consecutive budgets of USD98 million and USD103 million have been earmarked for Fiscal Years 2008 and 2009. The US Marine Corps is expected to follow a similar strategy.
According to Colt's chief operating officer, Major-General James Battaglini USMC (retd), its main focus is to indent US Army Battle Combat Teams (BCT) and support teams with M4 rifles. However, Maj Gen Battaglini admitted that independently, Colt was looking at new products for future development.
"The near term strategy of the US Army over the next few years is to remain with 5.56 mm and M4 carbines," Battaglini stated. A timeline for the transition has not been confirmed and will depend on the requirements of the army and marines."
The US Army has been using 5.56 mm since 1963 and according to Colt, such a tremendous backlog and inventory, allied to significant investment over the years, means the most efficient method of providing an effective weapon for the future is to use the M4 as a basic platform with additional purchases of optics, designators and thermal sights.
"There are lots of great ideas out there, but the weapon still needs to withstand being put into soldiers hands and field conditions," says Maj Gen Battaglini, adding that because the M4 was working well, there was no reason to change a weapon system when selection, development and procurement of a new rifle would take years.
"We know that we are fulfilling the requirement of US forces. Reports from the ground say that the M4, over the past five years, have proven to be the right decision on the battlefield. Combat proven, versatile, strong and resilient," he continued.
The decision to update current weapons with the latest, technological ancillaries, has seen the introduction of a Rail Adapter System (RAS) on US Army M4 rifles. In use with various special forces units since its inception, RAS comprises four 'Picatinny' rails and replaces the standard handguard.
RAS, will allow operators to mount numerous add-on systems to their rifles, be they underslung grenade launchers; laser target designators; forward handgrips; whitelights or optical sights in a forward position over and around the barrel. It also comprises a back-up iron sight and according to Maj Gen Battaglini, is a perfect example of how industry is responding to changing requirements of troops on the ground.
M4 weapons are also to be upgraded with Trijicon's Advanced Combat Optical Gunsight 4X rifle combat optic also being considered by the UK Ministry of Defence's (MoD's) Future Integrated Soldier Technology (FIST) programme and accessories including an improved -AN/PEQ-2 Target Pointer/Illuminator/Aiming Light (TPIAL).
Assistant programme manager at USSOCOM SOPMOD, Michael Jones, who co-ordinates provision of weapon accessories primarily for the M4, says: "These accessories will increase operator survivability and lethality by enhanced weapon performance, target acquisition, signature suppression and fire control."
Weapon upgrade
Elsewhere, the Swedish armed forces are undergoing a similar strategy, which is set to extend the shelf-life of its existing AK5 assault rifle for a further 15 years and make it suitable for integration into the upcoming MARKUS future soldier programme.
Introduced in 1983 as a derivative of FN Herstal's FNC weapon system, manufacturer Saab Bofors Dynamics has been selected as contractor to modify 27,500 AK5 systems to the M4 compatible MIL-STD 1913 configuration for add-on equipment.
Updates will include a handguard rail system (similar to RAS) for ancillaries, better flash suppression; permanent bayonet lug; new butt-stock and pistol grip; transparent magazines; and sling system. With Swedish special forces already using an M4 carbine variant, complete with RAS attachments, the modification programme will bring a measure of interoperability alongside NATO countries.
According to the Swedish Defence Materiel Administration's product manager for small-arms systems, Per G Avidsson, the choice was to either purchase a new system or modify the existing weapons. "The Swedish soldier will be equipped with a modern weapon at a moderate cost to the taxpayer," he told Jane's.
Elsewhere, the UK MoD is gearing up to make a landmark decision on the future of its small-arms weapons mix. Sources within the organisation told Jane's that the UK MoD is now considering a number of weapons to take over from the SA80A2 assault rifle, which has an expiry date of 2020 at the very latest.
But the UK MoD's first key decision will be to confirm the calibre of its replacement assault rifle by 2008. The decision will take into account the MoD's strategy to equip each infantry section with four assault rifles, two with Underslung Grenade Launchers (UGL), two Light Machine Guns (LMG) and two Light Support Weapons (LSW).
According to one insider, the UK MoD's aim is to "deliver the right effects in the right scenarios with the right lethality, integrated with FIST and networks".
"Now we must start getting basic research in place and make the right decisions in the next couple of years to get the right systems in place by 2020. We must learn from the SA80 if we are to deliver a fully integrated and reliable lethality system and need this time to develop and trial it," he says.
Industry experts also confirm that the UK MoD had considered replacing its entire armoury of 300,000 5.56 mm SA80 rifles with Colt M16 systems, prior to Heckler & Koch's (H&K) GBP92 million (USD179 million) revamp of the weapon in 2000.
The medium term looks set to see the development of more compact and lethal personal defence weapons (PDWs) alongside product improvements of the ammunition while in the long term, expect lightweight family concepts with case-telescoped and caseless ammunition to reduce soldier's loads, in line with soldier modernisation strategies around the world.
Ear to the ground
FN Herstal, responding to the requirements of personnel on the ground and with modularity and integration in mind, has developed a 5.56 mm bullpup rifle called the F2000 Modular Assault Weapon System.
"F2000 is a typical product resulting from this marketing approach. It is the first product including the idea of modularity and integration since the beginning of the concept development," a spokesman for FN Herstal told Jane's.
"We don't really see a real technological revolution at short or medium term. We are still in a process of continuous improvement of the current technologies," he continued.
With an ambidextrous fire selection switch, a forward-round ejection port near the muzzle and interchangeable modules for peacekeeping, peacemaking and humanitarian operations, the F2000 is currently in service with Belgian special forces and the Slovenian Army.
With the weapon of choice for insurgents and Taliban fighters in Iraq and Afghanistan being the 7.62 mm AK47 variants, lethality has become a popular issue for war-fighters in theatre.
The US Army has commissioned a research group to study the effectiveness of the M855 5.56 mm round as used in the M16 and M4 weapon systems. Using equipment previously set aside to test artillery and armour, military small-arms rounds are pitted against commercial cartridges in different scenarios.
"This was not a calibre study. However, it did find that the family of 5.56 mm weapons and the older 7.62 mm M14 have the same effectiveness in the hands of a warfighter during the heat of battle," says Colonel Mark D Rider, officer in charge of the project.
Similarly, as the UK MoD is expected to stick with 5.56 mm ammunition, current research is also being carried out by QinetiQ and Dstl concentrating on lethality of small-arms fire. In the past, 5.56 mm rounds have been criticised for not having enough stopping power.
Operators deployed to Iraq and Afghan­istan have complained about the lack of 'dropping power' of a 5.56 mm round. But the study group has found that there is an 'increase' in the lethality of the M16 or M4 if operators used the technique of firing 'controlled pairs' (firing two rounds in rapid succession into a target, more commonly known as the 'double-tap'), a system already popular for pistol drills.
As has been seen with the UK MoD considering a mix of assault-rifle calibres within a section, there is now a growing trend for the development of multi-calibre families or weapons.
One such weapon, which would fit the MoD's requirements, is FN Manufacturing's special forces combat assault rifle (SCAR) family of rifles. Currently in low-rate production in the US after an operational requirements document generated by Special Operations Command in 2003, SCAR can be adapted to both 5.56 mm and 7.62 mm calibres.
The 5.56 mm SCAR L (Light) will replace the M4A1, close quarters battle rifle -and Mk12 systems currently used by USSOCOM with the 7.62 mm SCAR H (Heavy) weapon replacing the M14 and Mk11 sniper rifles.
Boasting 90 per cent 'ergonomic compatibility' and 60 per cent parts commonality, the SCAR systems include a choice of three barrel lengths (standard, close-quarters combat and sniper) allowing variable degrees of velocity and therefore lethality for each system, as required for specific tasks.
A spokesman for FN Herstal says: "This is the best way to proceed in order to meet the requirements from the armies. SCAR is a family of modern, light, well balanced rifles in both calibres."
Another company with a similar strategy in mind is H&K with the unveiling of its HK41 series, comprising both 5.56 mm and 7.62 mm weapons.
H&K has introduced this new family of weapons seeking an ethos for modularity; interoperability; lethality; maintainability; sustainability; and special -requirements (extreme weather and underwater shot capability).
Versatile variants
The 5.56 mm HK416 can be adapted to take 10 in, 14.5 in, 16.5 in and 20 in barrels and the HK417 to take 12 in, 16 in and -20 in barrels, enabling operators to pick and choose various round velocities at different ranges for specific mission tasks.
The HK416 is a gas-operated assault rifle, which relies on a piston system in place of the direct impingement gas system as used by the M16 and M4 weapon systems. With a 20-round magazine, the HK417 rifle comes in three variants (assault, recce and sniper models) and is designed for use by a 'designated marksman' with its increased accuracy, decreased rate of fire and magazine capacity.
The HK417 has undergone testing in Europe and the HK416 was unveiled in a new 6.8x43 mm variant at AUSA last year (2006).
A spokesperson for Heckler & Koch Great Britain's (HKGB) says: "Users are looking for flexibility and high levels of precision. Forward rails can be dismounted at the front end of the rifle without any resulting loss of zero."
With the HK416 in production for the US military and law enforcement, the HK417 is expected to start production this year following positive feedback from various NATO special forces units. According to HKGB, a 'few' NATO forces are interested in an ability for interchangeable barrels, -capable of fulfilling different roles.
"We are marketing it as an assault rifle with high accuracy levels," says Thornton, while outlining the possibility of upgrading the HK417 into a fully-fledged sniper rifle system in the near future.
Involved in research and development for the new UK MoD programme to replace the SA80A2 assault rifle for the British Army, as well as being strategically placed among all other NATO soldier modernisation programmes outside of the US, H&K still sees 5.56 mm calibre as a solid weapon calibre for assault rifles.
"Both 5.56 mm and 7.62 mm calibre weapons will remain the mainstays as well as PDW type weapons and I expected nothing to change today. The next period will see a different calibre perhaps, although the case for 6.8 mm is not yet proven. However, programmes are in place to look at that," he concludes.
But according to defence consultant and retired British Army officer, Dr Jim Storr, armed forces need to work on training and doctrine regimes as well as lethality issues to ensure greatest efficiency for small arms.
"An important part of infantry combat is psychological. The enemy give up when they think they are beaten and have reached a point when options are unacceptable. For example, if they don't withdraw or surrender, they die," Dr Storr says.
According to him, armed forces have not studied suppression sufficiently to understand how to win firefights. "If we had, we would amend training regimes to train to do better. Theory needs to be applied to training regimes," he continued.
He cites sniper marksmen as an example of effective fire, thanks to their slow and deliberate rate of fire and believes it is worth considering a similar strategy for infantry squads and sections. He even suggested that small-arms manufacturers could modify rifle functions to include 'repetition/single-shot' and 'safe' only, at the expense of 'automatic', therefore enabling more accurate, suppressive fire from a squad/section.
Dr Storr's theory certainly falls in line with current US Army thinking. According to Major General Walter Wojdakowski, commanding general of Fort Benning, Georgia, the most important aspect of the US Army's new small-arms strategy is training.
Following on from Maj Gen Battaglini's thoughts, that the M4 is good enough for contemporary warfare, the US Army has recognised that no matter how powerful or accurate a weapon claims to be, if the user is not sufficiently trained and proficient with the marksmanship principles, it will not be an effective asset in a contact.
To this end, the US Army has doubled the number of weapons appraisals needed to qualify as an infantryman to twice a year, with extra ammunition set aside for training purposes. Operators will also be required to wear combat body armour during training and the army has switched from fire-trench/fox hole supported fire positions during qualification tests in favour of the kneeling position, to simulate battle conditions experienced in Iraq and Afghanistan.
Training manuals are also being updated, alongside the Engagement Skills Trainer (EST 2000), an indoor, tactical marksmanship training facility.
As the role of military snipers changes with asymmetric warfare being conducted in Iraq and Afghanistan, so too are the requirements put upon the defence industry by operators.
Still looking to retain the lethal effect for a one shot, one kill ratio, snipers are sometimes involved in multitarget scenarios and need to cover a wide area for possible targets.
According to Tom Irwin, director at Accuracy International (AI), rapid fire, semi-automatic capabilities and less recoil are pre-requisites for current sniper missions.
"Operators want to make the most with a minimum number of rounds. In current warfare situations, such as mountainous and desert terrain in Afghanistan, long range and high accuracy has become very effective and very popular," he says.
AI's latest offering, the .50-calibre, semi-automatic AS50, was due to finish trials with US SOCOM teams in January before they took delivery of the system. Irwin hopes it will go into full production this year for sale to other nations.
The AS50 weapon has been developed as part of a contract awarded by Naval Surface Warfare Centre to AI in 2002 to supply a five-shot, anti-materiel system to satisfy the exacting demands and expanding mission requirements of US SOCOM.
Making up time
The AS50's main characteristic, according to AI, is its high accuracy and low recoil, which allows the shooter to stay on target after a shot, achieving a rapid rate of fire. "High accuracy and rapid fire are not normally characteristics of .50 calibre semi-automatic sniper rifles. Rapid fire is not a characteristic of bolt action .50s either," says Irwin.
Capable of a 1.5 minute of angle (MoA), the AS50 includes a muzzle brake with low flash signature and minimal ground disturbance, 692 mm barrel, adjustable bipod and safety interlock to prevent the weapon being stripped with the safety lever on 'fire'.
US SOCOM sniper teams have previously used systems including the Barrett M82A1A .50-calibre special application scoped rifle (SASR), complete with airtight and watertight carrying case and 10-round magazine.
The 7.62 mm sniper systems, which have traditionally been used for minimal collateral damage in hostage situations (where ranges rarely exceed 1,000 m), are heading for a slump in popularity during the short term, although they should survive the long term, according to Irwin.
He foresees .338-calibre, which can be used for all applications, increasing in popularity and tips the emergence of semi-automatic .338 and 7.62 mm systems as 'plausible', although they will comprise less accuracy, he says.
The .338-calibre weapons have an effective range of 1,500 m, which falls neatly in between the 1,000 m range of 7.62 systems and the 2,000 m range of 0.50-calibre, anti-materiel weapons capable of firing through vehicle engines. The .300 WinMag sniper systems are also effective up to 1,200 m.
AI plans to continue developing slightly heavier weapons because they provide a more stable platform for the operator. "Lighter weapons are easier to carry but do not have the same effectiveness. People who use our weapons prefer to carry something a little bit heavier because it gives them what they want."
Similar to assault rifles, the biggest advancement in improving the effectiveness of sniper weapons in the near future will be optics, according to Irwin. To this end, AI is in talks with night vision specialist companies including QioptiQ, Leica and Zeiss to make sure its weapon systems are compatible with their equipment.
Subsonic sniper systems will continue to be sold, if only in small quantities to "certain groups", according to Irwin. AI's AW (Arctic Warfare) Suppressed system comprises a suppressed barrel with subsonic ammunition, capable of an effective range of between 200-300 m.
Personal defence
The debate over calibre choice for PDWs continues as armed forces search for a suitable half-way house between an assault rifle and pistol for non-combatant troops on deployment.
FN Herstal continues to stoically support its 5.7x28 mm P90 system. A spokesman for FN says that the weapon system and calibre, which have been available together for seven years, has been recognised by the NATO Quick Reaction Force as the best choice of ammunition. "We have everything in our hands for the PDW," he explained.
The German Army, Air Force and Navy have have selected the 4.6x30 mm calibre after choosing to procure 870 MP7 PDWs from H&K. The German defence ministry has purchased 434 of the systems which have already been delivered.
With army, navy, special forces and military police close-protection teams currently using the MP7A1, the MP7 will be assigned to drivers, pilots and artillery personnel.
However, other competitors in this market continue to remain with 9 mm ammunition. Brügger and Thomet's MP9 and H&K's MP5K systems are cases in point.
B&T's Mark Zimmerman believes 9 mm X 19 mm PDW ammunition is preferable because of its universal nature, allowing the same rounds to be fed into pistols as well.
The MP9, which weighs less than the Italian Beretta M125, the US Ingram M-10 and the Czech VZ61 (all 9 mm except the VZ61, which is 7.65 mm) and is less than half the weight of FN's P90 when empty, but is still awaiting its first major order.
Capable of penetrating 20 layers of Kevlar and 1.6 mm of titanium and with the 9 mm compatibility to accept 'endless types' of ammunition, it offers a generous degree of interoperability for NATO allies interested in purchasing the system, according to Zimmerman.
Referring to the future of PDW systems, Thornton says there is demand from the marketplace for both 9 mm and 4.6 mm with the former the most popular round for law enforcement and special forces.
Industry sources add that HKGB was in contract negotiations to deliver a further tranche of Automatic Grenade Launcher (AGL) systems to the British Army. One source says the systems, being used on operations in Helmand province, Afghanistan, had been 'well received and well adopted' by UK forces.
Infantry cover
The past decade has seen the US Army develop portable guns firing high-explosive air-burst (HEAB) projectiles in order to engage enemy troops in defilade; hiding behind cover that protects them from -direct fire.
Estimates of an increase in effectiveness of several hundred per cent over direct-fire rifles, machine guns and grenade launchers drove some demanding technical requirements. To achieve the goal of detonating the shells immediately over the target requires a fire-control system (FCS) that incorporates a rangefinder, a ballistic computer, a compensating sight and an electronic fuze-setter. The ammunition also needs an accurate but inexpensive time fuze. The process of firing consists of the user lasing the target to obtain the exact range; the ballistic computer calculating the elevation required to drop the shell directly over the target, and adjusting the aiming mark in the sights accordingly and also calculating the exact time of flight of the shell to set the fuze as the gun is fired.
Two different weapons are currently being developed to use this technology, both in 25 mm calibre. These are the automatic XM307 ACSW (Advanced Crew-Served Weapon) by General Dynamics, which is intended to replace the 40 mm MK 19 automatic grenade launcher (AGL) plus many of the .50 M2HB Browning heavy machine guns (HMG); and the XM25 shoulder-fired, semi-automatic grenade launcher by Alliant Techsystems, to which the closest equivalents are the multi-chamber 40 mm grenade revolvers such as the six-shot Milkor MGL-140.
Although the 25 mm weapons share the same calibre, the XM25 ammunition has shorter cartridge cases and develops a lower muzzle velocity in the interests of limiting recoil. It has a range of up to 700 m compared with 2,000 m for the XM307.
The existing 40 mm grenade launchers also use two families of ammunition. These are the 40x53 SR High Velocity (40 mm HV - about -240 m/s muzzle velocity), designed for the Mk 19 and similar crew-served AGLs, and the 40x46 SR Low Velocity (40 mm LV - 76 m/s) used in shoulder-fired guns such as the single-shot M79 and the under-barrel M203 fitted to many rifles, as well as the revolvers already mentioned.
In the light of these developments, it might be expected that the 40 mm GLs would gradually fade away as the 25 mm weapons came into service and were subsequently exported. However, the manufacturers of the 40 mm guns and ammunition do not see it that way, and have responded to the threat with a burst of innovative products.
New 40 mm AGLs have been developed that are considerably lighter than the old Mk 19. These include the internationally developed (General Dynamics and Nammo) Mk 47 Striker, in use with US special forces, and the Singapore Technologies Kinetics (STK) Super Light Weight AGL. The XM307 still has a weight advantage, but the gap has closed.
Of greater significance is the development of airburst systems for use with the 40 mm AGLs. This was integral with the concept of the Mk 47, with Nammo Raufoss responsible for producing the ammunition. Nammo is developing two variations to suit different gun mechanisms. For the Mk 47, which fires from a closed bolt, the Mk 438 time fuze is set by induction while the round is in the chamber. The qualification of this fuze is ongoing and it is expected to be in service by mid-2007.
For the Heckler & Koch GMG (Grenade Machine Gun), recently adopted in small numbers by the UK, a different system is needed as the gun fires from an open bolt. The fuze is therefore set by radio frequency programming about 4-5 m after the shell has left the muzzle. This system is expected to be qualified and available in 2008. Clearly, it is independent of the gun and could therefore by utilised by any 40 mm AGL by providing a bolt-on sight/FCS/fuze-setter and using the appropriate ammunition. In both cases, the Mk 285 projectile produces fragments which are mainly distributed sideways and backwards to catch troops behind cover, rather than forwards as with a conventional shell.
STK is also offering an airburst system with its 40 mm AGLs. STKs S418 ammunition incorporates a modified version of the RWM Schweiz time fuze used in the AHEAD 35 mm cannon ammunition, and is programmed as the projectile passes through a muzzle-mounted electronic fuze setter. This upgrade can also be applied to other AGLs.
The 40 mm AGLs are therefore matching the capabilities of the XM307. The 25 mm system has the advantages of a much lower ammunition weight and a flatter trajectory (with the associated shorter flight time), but weight may not be a major issue for armies which primarily mount these weapons on vehicles. Of greater importance may be the substantial cost savings in staying with the 40 mm guns, as existing systems will be able to be adapted to the new airburst technology and will also continue to use the low-cost, widely available conventional 40 mm HV ammunition.
To add to the attractiveness of this option, such ammunition continues to be improved. At the request of the US Marine Corps, Nammo Raufoss is working on a "product improved" version of the M430 HEDP round, with (among other things) improved penetration, added incendiary behind-armour effects and the option of using an airburst fuze.
Future developments include the long-promoted 'Metal Storm' concept, using several -rounds stacked in one barrel, which is now proceeding in conjunction with STK, which was showing the Redback roof-mounted launcher at Eurosatory. The 40 mm projectiles are based -on STK's conventional range. This concept may well have some applications in shoulder-fired grenade launchers, as it offers multiple shots without the weight and complexity of an autoloader or revolver.
Looking further ahead, the US is working on a guided grenade called the Self Correcting Projectile for Infantry Operations (SCORPION). Once the grenade is launched it will sense its trajectory and will correct its course using a tiny jet on one side of the projectile, which pushes it to one side or another to correct errors in the grenade's flight path from wind or other factors. This will be associated with a system on the gun that will automatically upload the range, muzzle velocity and quadrant elevation of the gun. The project is currently at an early stage.
In conclusion, it is clear that both the HV and LV 40 mm grenades have a lot of life in them yet, and their larger size and weight provides inherent advantages in effectiveness. The manual loading of the LV launchers also allows much longer specialised projectiles to be used, such as smoke and parachute-borne illuminating flares. Far from sweeping all before them, the 25 mm systems will have a fight on their hands once they eventually appear.
Swedish forces firing General Dynamics' Striker MK47 lightweight automatic grenade launcher.
(General Dynamics)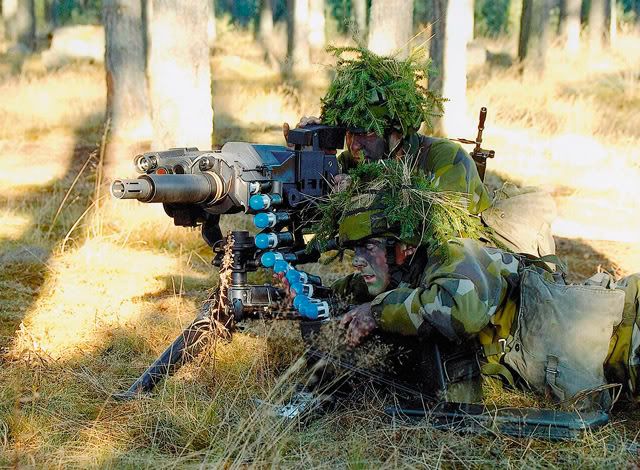 H&K's personal defence weapon MP7.
(Heckler & Koch)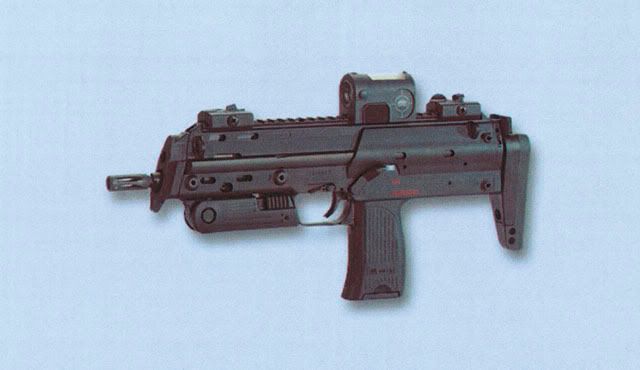 Soon all US troops operating in Afghanistan will be equipped with M4 carbines as the M16 assault rifle is eventually phased out by the US Army and US Marine Corps.
(US DoD)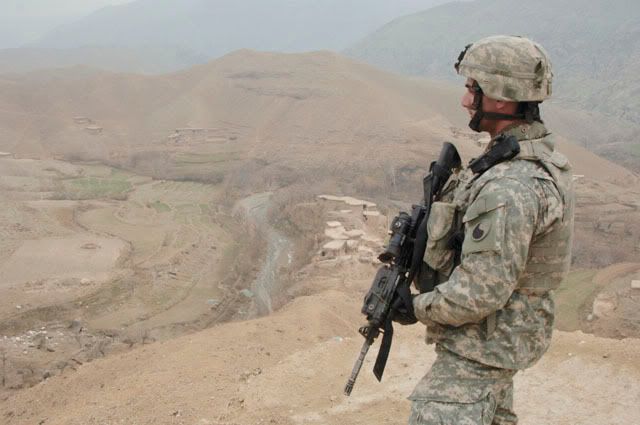 Colt Defense's M4 carbine is a popular choice with special forces units around the world.
(Australian DoD)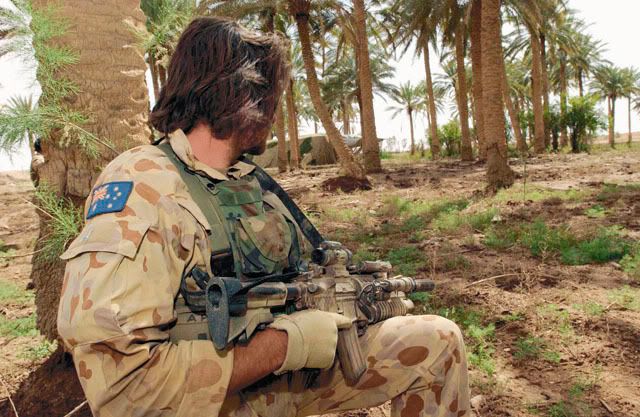 FN Herstal's F2000 5.56mm assault rifle.
(FN Herstal)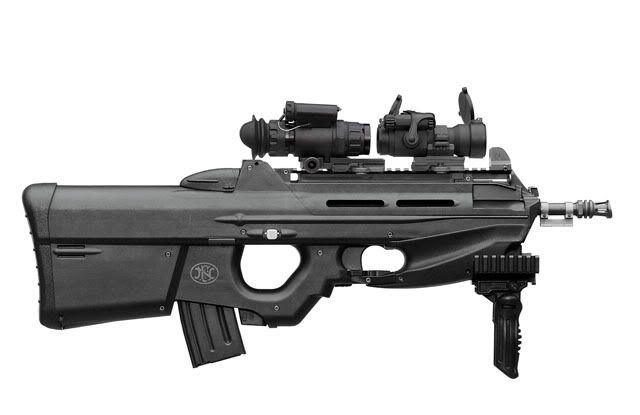 A US Army operator complete with the 7.62 mm HK417.
(Heckler & Koch)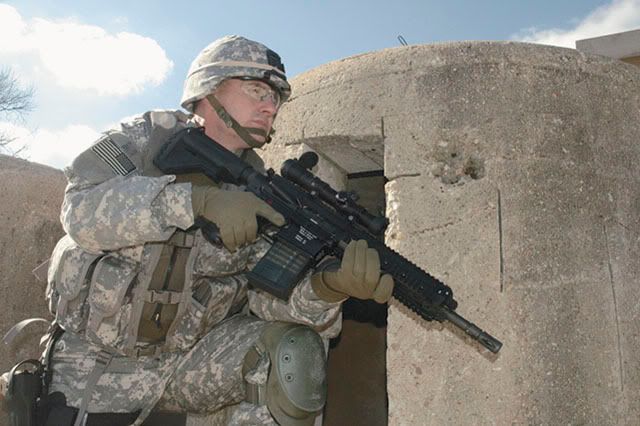 Trijicon's Advanced Combat Optical Gunsight (ACOG) complete with red-dot sight.
(Trijicon)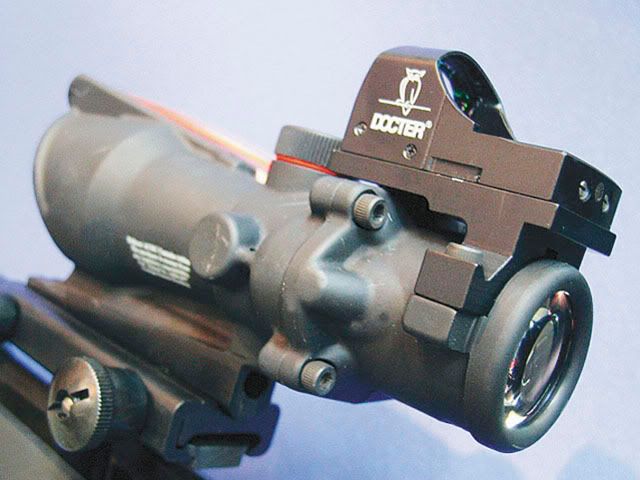 The SA80A2, as modified by Heckler & Koch, complete with underslung grenade launcher.
(UK MoD/Crown Copyright)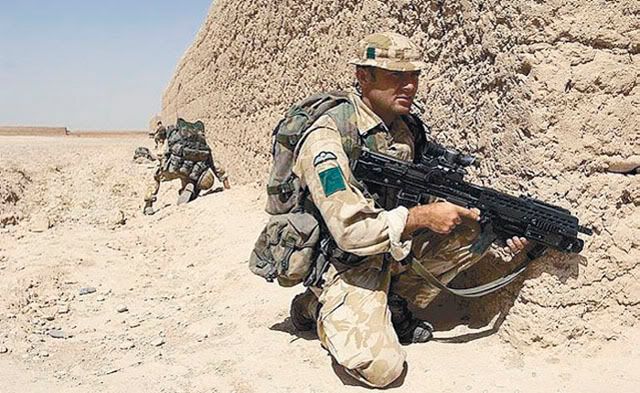 Accuracy International's new AS50 sniper system, developed specifically for US SOCOM.
(Accuracy International)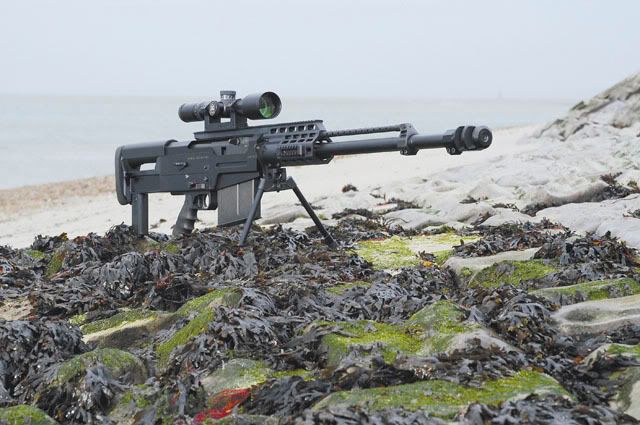 The 7.62mm AK47 assault rifle, preferred weapon of indigenous forces in Iraq and Afghanistan.
(US Marine Corps)