9/26/2005 - SOUTHWEST ASIA (AFPN) -- A crew of six Airmen at a forward deployed location climbed aboard a C-130 Hercules together recently for the first time in their careers. But something distinguished this mission from others they had flown --it was the first time an all-female C-130 crew flew a combat mission.
Capt. Carol Mitchell, aircraft commander; 1st Lt. Siobhan Couturier, pilot; Capt. Anita T. Mack, navigator; Staff Sgt. Josie E. Harshe, flight engineer; and loadmasters Tech. Sgt. Sigrid M. Carrero-Perez and Senior Airman Ci Ci Alonzo are all permanently assigned to the 43rd Airlift Wing at Pope Air Force Base, N.C., and currently are deployed to the 737th Expeditionary Airlift Squadron flying cargo and troops in and out of Iraq, Afghanistan and the Horn of Africa.
While some would call their mission "historic," they feel this mission should be recognized like every other flight -- a successful combat mission.
"I enjoyed flying with this crew, but I don't think we should go out of our way to have all-female crews," said Captain Mitchell. "It took a long time for women to become accepted as aircrew members, and now that we are, we would be taking a step back by singling ourselves out rather than blending in with the rest of the Air Force."
Airman Alonzo agrees. "It was a great experience not many females can say they've had," she said. However I don't believe the Air Force should seek out all-female crews -- instead, we should focus on experience.
"(The Air Force) should have the best crews they can put together. Nothing other than qualification and ability should be considered," said Captain Mack.
Not only did this all female crew fly together for the first time, 6,800 miles from home-station, but they flew the mission on a Vietnam-era airplane -- a significance the crew did not miss.
"Our (aircraft) was a 1962 model. (It) came off the line when women weren't accepted as C-130 aircrew, let alone in combat," said Sergeant Harshe.
After the excitement of this all-female C-130 crew flying the first combat mission together wore off, they focused on what really mattered.
"(What matters is) knowing we're making a difference and seeing it with every mission we fly," said Airman Alonzo. "(It's also) moving troops into the theater where they're needed, seeing the excitement and relief on the faces of the guys and gals we take out of theater who have been there for six months to a year and are on their way home to their loved ones."
During the mission, the crew transported 151 Marines and their equipment.
Another thing they all agreed upon, the mission was a true experience.
"It was a fun thing to be able to say you did, if only once. Not that it is better, this was just different, and probably won't happen for us again anytime soon just because of the sheer numbers," said Sergeant Harshe.
Captain Mitchell said one additional benefit of this all female flight was gaining a different perspective.
"One way to avoid (complacency) is to mix the crews up a little, fly with some different people to get a different perspective," she said. "And what better way to mix the crews up than by putting all the girls on the same crew?"
While the all-female crew did accomplish a unique milestone together, they point out that the significance of their mission success is that every crewmember achieved personal goals to get there.
"I encourage any girl or woman to do what she wants. Too often I hear people say they can't do something (but it is) because they don't realize they have the opportunity," Captain Mack said. "I would tell any person flying is an attainable goal for anyone who wants to work for it. As they say, you are only limited in what you can do by what you can dream."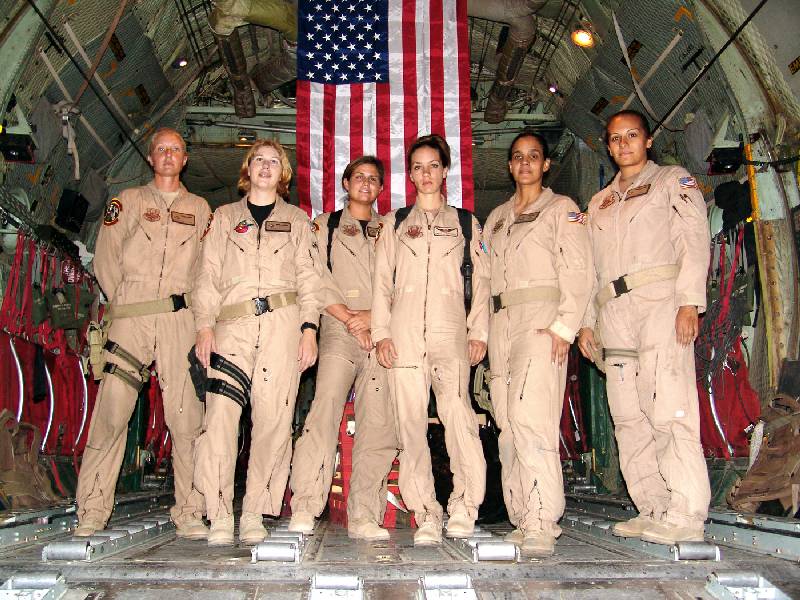 Ken RSA